The global mining equipment market size was estimated at USD 112.7 billion in 2022 and is expected to hit around USD 191.5 billion by 2032, poised to grow at a compound annual growth rate (CAGR) of 5.50% from 2023 to 2032.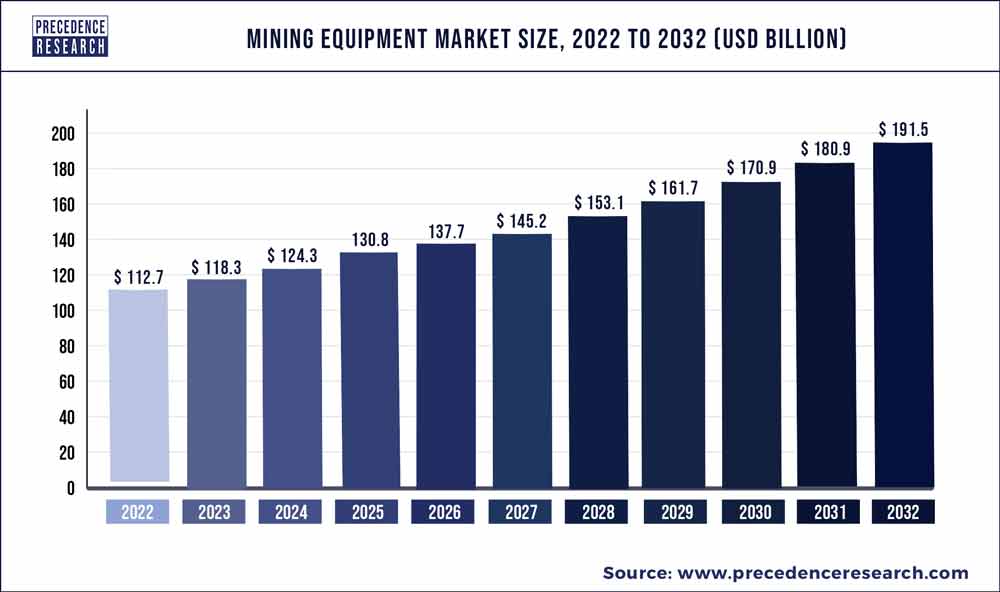 Access our Premium Real Time Data Intelligence Tool, Visit: Precedence Statistics
Key Takeaways:
Asia Pacific mining equipment market was valued at USD 36.8 billion in 2022 and is expected to grow at a CAGR of 7% from 2023 to 2032.

The underground mining equipment segment is expected to grow at a CAGR of 15.3% from 2023 to 2032.

By application, coal segment was accounted 39% revenue share in 2022

The surface mining equipment market has reached at USD 35 billion in 2022

The metal mining application is expected to grow at a CAGR of 6% from 2023 to 2032.
Mining is the process of extracting natural products from earth including coals, metals, and more. And the equipments used in extraction are known as mining equipment. The material is excavated underground using specialized mining equipment like trucks, loaders, diggers, etc., and is often transported to the surface for further processing using skips or lifts.
One of the top priorities in the mining sector is worker safety. To assist ensure worker protection, many industry players are tackling safety issues by automating tasks that were previously completed by people labor. In mines all throughout the world, automation, the use of machines and other control systems to complete jobs that would otherwise be carried out by people, is becoming more and more prevalent. Mines can create final goods of a higher quality because automation provides them more control over their production processes. Most notably, automation has improved worker safety in mining in a variety of ways. Hence, with the use of technology safer environment for workers can be created.
Growth Factors
An increase in urban population drives up demand for oil and natural resources, which is predicted to drive up demand for mining equipment and propel the expansion of the mining equipment market. The interconnectedness of population expansion and natural resources affects the disruption of the climate capacity to adapt to it, particularly in developing nations with quick-changing demographics and economies that depend heavily on natural resources.
The utilization of natural resources, environmental pollution, and changes in land use like urbanization will all increase with a growing population. The changes in global demographic patterns will directly affect local habitats through resource usage and climate change.
In addition, for the next 20 years, emerging economies like Asia and Africa are expected to account for more than 50% of global urban expansion. One of the major factors driving the market's growth is the increase in industrialization and urbanization around the world. The steady economic progress is also giving customers in the Asia-Pacific region more money to spend, which has eventually increased demand for natural resources.
Moreover, the population has increased significantly during the past few years, which has increased mineral consumption. Rise in population drives the need of such products as these products are used by almost every individual and hence, it is expected that rising population can lead to drive the market. A further factor supporting the boom in mineral demand is an increase in household earnings, which is beneficial for the market's expansion.
Propulsion Insights
During the projected period, the diesel segment is anticipated to be the largest. The growth of surface mines around the world has fueled the demand for diesel mining equipment. The diesel category is anticipated to rule the market in terms of value during the projection period due to the strong torque at low speed that diesel engines deliver.
CNG/LNG burns cleanly hence, natural gas is a fantastic option for different kinds of heavy and medium-duty vehicles. Businesses with fleets of mining can significantly cut their carbon footprint by switching to renewable natural gas.
Mining Equipment Market Share, By Application, 2022 (%)
| | |
| --- | --- |
| Application | Revenue Share in 2022 (%) |
| Metal | 24% |
| Non-Metal | 9% |
| Coal | 39% |
| Gas and Oil Extraction | 28% |

Application Insights
On the basis of application, the mineral segment is expected to be the largest market to show a tremendous growth during the forecast period. The demand for minerals and metals is being driven by global industrialization, urbanization, and population expansion. In the coming decades, demand for renewable, clean energy, and even some conventional energy is predicted to rise dramatically, putting even more attention on supply, security, and environmental effect issues.

Competition for minerals will increase as sustainable energy and electric vehicle technologies receive more attention. Due to demand from developing nations, the coal mining industry is expected to have a substantial market. Improvements in roof control, conveying systems, and other technical developments in coal extraction methods and technology satisfy these objectives.
Due to demand from rising economies, the metal ore mining industries are anticipated to rise steadily. The sector is also impacted by demand in various nations around Asia Pacific due to the region's development.
Category Insights
Depending upon the category, the underground mining machinery segment is the dominant player and is anticipated to have the biggest impact on mining equipment market. Underground mining operations have seen a boost globally as a result of the growth in energy generation. Additionally, because explosions are made underground and no hazardous chemicals are released into the environment, underground mining is less harmful to the environment than surface mining. Moreover, energy consumption has significantly increased in recent years as a result of rapid urbanization and growing industrialization.
Due of technical advancements, contemporary automated excavators and mining trucks are more effective than earlier ones. In the event of a malfunction or operational issue, they promptly convey information to service centers, reducing information flow time and costs.
Surface mining machinery is projected to increase at a significant rate. The supply in contracts with mining enterprises has increased due to the use of automated equipment like dump trucks and the arrival of new technologies in mining.
Mining Equipment Market Share, By Region, 2022 (%)
| | |
| --- | --- |
| Regions | Revenue Share in 2022 (%) |
| North America | 29% |
| Asia Pacific | 39% |
| Europe | 19% |
| Latin America | 8% |
| MEA | 5% |

Region Insights
The highest market share and dominant position in the mining equipment market belongs to Asia-Pacific. During the projection period, Asia Pacific is expected to surpass other regions in terms of market share for mining equipment. Additionally, in order to increase electricity production and to gather minerals and ore for export, governments in these areas are boosting their support for mining. Additionally, growing investments in cutting-edge excavation tools and equipment in nations like Australia and India as well as other developing nations are anticipated to fuel market expansion. Additionally, due to the investment in infrastructure development and the booming power and cement industries, India is predicted to have tremendous growth.
Due to the early adoption of these machines, North America is anticipated to increase significantly. Also, it is projected that the mining industry would expand significantly and sustain stable mining equipment demand. In terms of mining, Europe is also established and industrialized. It is expected to continue to develop as a result. During the anticipated period, the market is anticipated to see an increase in governmental and private sector spending in the field of sustainable development.
Sales of mining equipment made in Germany are expected to reach record levels in predicted years. This might be the outcome of the country's expanding mineral mining industry. Aluminum, kaolin, salt, feldspar, and other commodities are all produced in large quantities throughout the nation. Due to the need to mine raw materials, specialized underground mining equipment including loaders, diggers, and trucks is becoming more and more popular.
Key Market Developments
In reflecting the company's unified focus on growth in such sectors, Komatsu announced intentions to rebrand its underground hard rock equipment, surface wheel loaders, and new range of blasthole drills. During its renaming, a few goods were added. The Komatsu ZT44 track drill was the first product to be rebranded.
Report Scope of the Mining Equipment Market
Report Coverage
Details
Market Size in 2022
USD 112.7 Billion

Market Size by 2032

USD 191.5 Billion

Growth Rate from 2023 to 2032
CAGR of 5.50%
Base Year
2022
Forecast Period
2023 to 2032
By Solution
By Propulsion

By Application

By Powertrain Type

IC Engine Vehicle
Electric Vehicle

By Category

Crushing, Pulverizing, Screening Machinery

Mineral processing Backhoe Loader

Surface Mining Machinery (Crawler Excavators, Crawler Dozers, Motor Graders, Rigid Dump Trucks, and Articulated Dump Trucks)

Underground Mining Machinery (Electric Shovels, Hydraulic Excavators, Wheeled Loaders, Mining Dozers, Mining Trucks, and Drills)

Regions Covered

North America
Europe
Asia Pacific
Latin America
Middle East & Africa

Companies Mentioned

Akzo Nobel N.V.
Arkema Inc., Linde Plc
The Chemours Company
Shell plc
Henkel AG & Co.
CPMC Holdings Ltd.
Ball Corporation
Toyo Seikan Co. Ltd.
Guangdong Sihai Iron-Printing and Tin-Making Co., Ltd.