The global muscle stimulator market was valued at USD 694 million in 2022 and is expected to surpass around USD 955.53 million by 2032, expanding growth at a CAGR of 3.3% during the forecast period 2023 to 2032.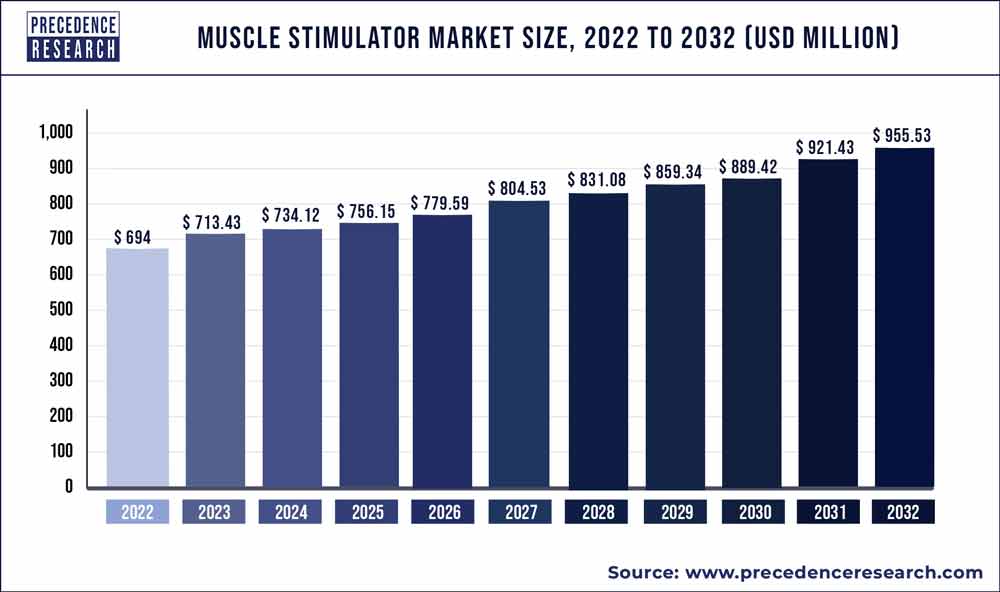 Access our Premium Real Time Data Intelligence Tool, Visit: Precedence Statistics
Key Takeaways:
By modality, the portable and handheld segment hit the highest market share of over 79% in 2022.
By application, the pain management segment has generated a 55% market share in 2022.
By end user, the physiotherapy facilities segment held 41% market share in 2022.
The North America region has accounted for 47% of the total revenue share in 2022.
Market Overview
Muscle stimulators are electric devices that are used to treat muscle pain and spasms. Muscle stimulators' primary priorities are enhancing muscle motility, blood flow, muscle trimming, and muscular power muscle motility, blood flow, muscle trimming, and muscular power. Muscles can be made to contract and relax by supplying or conducting electrical currents outside of the mortal body. It has been created in such a manner that electronic equipment is used to transport the current to a requested area of the body in mortal people through a series of operators/electrodes that are nothing but adhesive pads.
Patients with a wide range of physiological disorders affecting respiratory, cardiovascular, neurological, intestinal, and skeletal muscle function find it difficult and complex to recover from long-term therapy (ICU) for COVID-19 in these cases muscle stimulators help work normally and back to the daily routine. Small electrical impulses are employed in the skeletal muscle as part of a procedure called neuromuscular stimulation (NMES) to induce contractions when people find it difficult or impossible to do work. NMES has been linked to advantages such as increased muscle and bone strength, enhanced blood flow, and decreased edema. Moreover, COVID-19 patients utilize simulators to control their pain, therefore the category is anticipated to expand as a result of the pandemic.
Report Scope of the Muscle Stimulator Market
| | |
| --- | --- |
| Report Coverage | Details |
| Market Size in 2023 | USD 713.43 Million |
| Market Size by 2032 | USD 955.53 Million |
| Growth Rate from 2023 to 2032 | CAGR of 3.3% |
| Base Year | 2022 |
| Forecast Period | 2023 to 2032 |
| Segments Covered | Product Type, Modality, Application, End-user, and Geography |
| Companies Mentioned | AxioBionics, Beurer GmbH, BioMedical Life Systems, Colfax Corporation, EMS Physio Ltd., Liberate Medical, OG Wellness Technologies Co., Ltd., RS Medical, Zimmer MedizinSysteme GmbH, Zynex Medical |
Market Dynamics
The developing prevalence of muscle triggers among physiotherapists, mechanical progressions in clinical gadgets, and accentuation on torment-the-board treatments in sports medication are the key variables driving the market. Additionally, the rising predominance of outer muscle problems among residents is supposed to additional drive the market development. Wrong body pose, absence of wellness exercises, and undesirable eating routine propensities are normal elements causing outer muscle problems. As per the study by the National Center for Biotechnology Information (NCBI), in 2016, around 41.0% populace of Great Britain was impacted by outer muscle problems. Additionally, according to the American Academy of Orthopedic Surgeons, in 2016, around 126.6 million Americans were impacted by the outer muscle condition.
Also, the display of mechanically progressed items, for example, wearable muscle trigger gadgets is projected to drive market development before very long. For example, PowerDot - a minimized and wearable muscle trigger sent off in 2017-is utilized to forestall muscle irritation and fixing. Likewise, the rising interest for remote and convenient muscle trigger and their similarity with cell phones is setting out development open doors for the market players.
Transcutaneous electrical nerve stimulation, which offers momentary pain relief, is one of the most popular types of electrical stimulation used in pain treatment. Back pain can be treated using the electrothermal treatment and electrical nerve stimulation, among other disorders. People with low back discomfort brought on by intervertebral disc issues may benefit from intradiscal electrothermal therapy (IDET). Due to the widespread usage of respiratory muscle stimulators in the treatment of COVID-19 patients, the pandemic has had a somewhat favorable effect on the market. For instance, the VentFree Respiratory Muscle Stimulator from Liberate Medical was given emergency FDA approval in May 2020. The therapy started as soon as ventilation begins and continued until patients are weaned off ventilation because of the device's non-invasive stimulation delivery method.
The rise in musculoskeletal disorders, technological development, focus on pain management treatments in sports medicine, and growing preference among physiotherapists for the disorders as muscle stimulators help to reduce muscle spasms, discomfort, and pain, restore muscle tone, and rehab various body parts. Due to this muscle stimulator benefit, physiotherapists are using it more often to treat the intended patient population. Musculoskeletal problems are also brought on by poor diets and a lack of fitness activities in the overall population.
COVID-19 Impact
Global demand for life-saving medical products has surged as a result of the extraordinary COVID-19 scenario. The prolonged ICU care of many COVID-19 patients has resulted in physiological impairments affecting neurological, musculoskeletal, cardiovascular, and respiratory function. Some individuals have also shown paralysis of the skeletal system and breathing muscles. Rehabilitation of such people is becoming a significant task on a worldwide scale. The market forecast is favourably impacted by the need for various muscle stimulation devices, such as respiratory muscle stimulators. Trade restrictions on medicinal goods and chemicals across borders have disrupted supply systems. The COVID-19 pandemic has harmed the most important sections of the muscle stimulator field by interfering with clinical studies and the patient supply of medications. Numerous outpatient procedures, including testing, treatments, and surgical procedures, were drastically reduced in 2020 during the COVID-19 pandemic.
Segments Insight
Product Insights
The Transcutaneous Electrical Nerve Stimulation (TENS) segment held the major share in 2022 and is expected to keep up with its predominance over the analysis period. The developing pervasiveness of joint inflammation and growing sports wounds are a portion of the unmistakable variables enlarging the market development. As per the Centers for Disease Control and Prevention (CDC), in 2017, around 54.4 million U.S. grown-ups were determined to have joint pain. This number is expected to be 78 million by 2040. This developing pervasiveness of joint pain is supposed to drive development over the projected period.
On the other hand, Neuromuscular Electrical Stimulation (NMES) is supposed to be the fastest developing section during the study period. This muscle trigger is for the most part used to reestablish or supplant engine capacities in patients who experienced upper engine neuron harm because of stroke or Spinal Cord Injury (SCI). As per the factsheet introduced by the National Spinal Cord Injury Statistical Center in 2019, in the U.S. around 17,730 instances of SCI are enlisted consistently and at present, 291,000 individuals are experiencing this condition. As the commonness of SCI is expanding, the interest in NMES is expected to increase over the study period.
Modality Insights
The portable devices market has the largest share in 2022 and is assessed to witness the most remarkable CAGR of 4.4% during the forecast period. Versatile muscle triggers are utilized broadly for forestalling muscle decay, unwinding muscle fits, overseeing persistent agony because of joint inflammation, and expanding blood flow. Also, many central participants in the market are offering different creative triggers under this portion.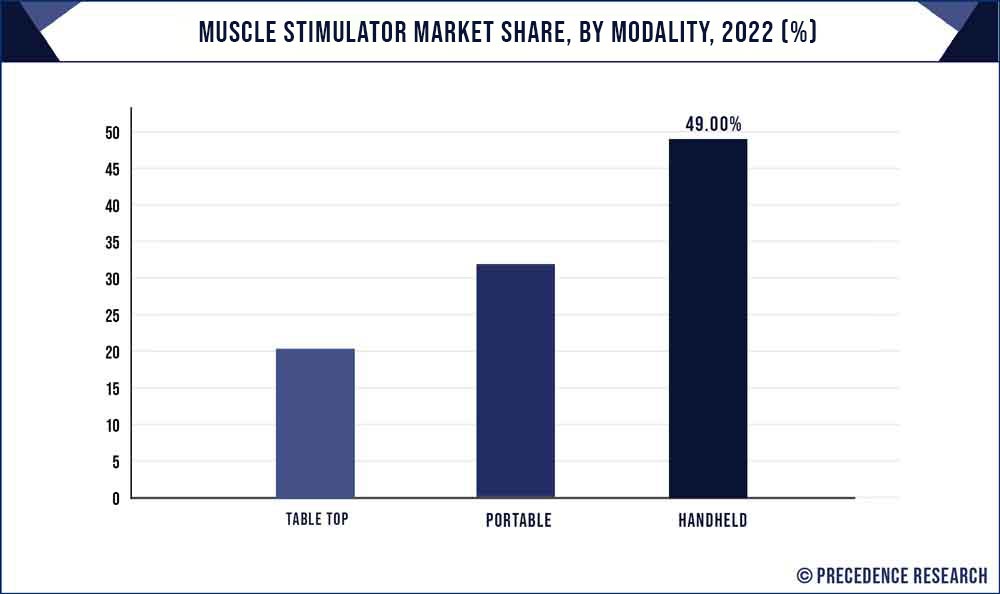 For example, the organization NeuroMetrix, Inc. offers a versatile help with discomfort pack, which is a TENS unit that fits like support on patients and gives the feeling of relief from discomfort. The organization Zynex, Inc. is offering JetStream, a versatile framework that can be utilized at home for treatment. OMRON Corporation is as of now giving a little measured compact electrotherapy TENS gadget that can be utilized for giving help with sore and throbbing muscles. These elements are expected to drive the worldwide muscle trigger market development over the estimated period.
Application Insights
Pain management applications have a major market share of 56% in 2022. Developing utilization of muscle triggers for overseeing intense and constant agony and developing pervasiveness of joint inflammation is the central point expected to drive the portion market over the analysis period.
This section is expected to develop at a huge rate inferable from expanding geriatric population that experiences muscle torment and the developing commonness of constant torment. For example, as per the CDC, in 2016 20.4% of grown-ups in the U.S., were experiencing ongoing torment, and 0.8% of U.S. grown-ups had a high effect of ongoing torment. A comparable circumstance is pervasive in numerous European and Asian nations. This developing commonness of persistent agony is expected to drive market development over the forecast period.
End-user Insights
The physiotherapy facilities segment holds the market with the highest share and is expected to witness the most significant CAGR of 4.7% during the period of analysis. Developing the inclination of physiotherapists toward triggers when contrasted with manual procedures is the main reason for the development of these segments.
On the other hand, increasing patient visits for looking for exciting treatments and the accessibility of these treatments at a reasonable expense at physiotherapy centres are the central point expected to drive the market development. Likewise, the clinical repayment given to patients looking for these treatments is additionally expected to drive segment development over the study period.
Muscle Stimulator Market Share, By Region, 2022 (%)
| | |
| --- | --- |
| Regions | Revenue Share in 2022 (%) |
| North America | 47% |
| Asia Pacific | 21% |
| Europe | 26% |
| Latin America | 4% |
| MEA | 2% |
Regional Insights
North America dominates the market in 2022 and is probably going to keep up with its situation over the analysis period. The presence of key members, huge speculations by legislatures for the advancement and improvement of clinical gadgets, and the early display of novel muscle triggers are enhancing the development of the region. Besides, the high buying force of customers and expanded reception of trend-setting innovations and inventive clinical gadgets are additionally expected to drive the development.
The Asia Pacific is expected to be the fastest developing area during the forecast period. Developing mindfulness connected with wellbeing and wellness, growing reception of agony the executives' treatments, and rising utilization of brilliant gadgets for keeping up with wellbeing are the key development energizers of the area. Additionally, expanding instances of sports wounds in this area are ready to work up the interest for muscle triggers during the period of analysis.
Recent Developments
In June 2021, CyMedica Orthopedics, Inc's IntelliHab system, an app-connected muscle stimulator, received U.S. FDA clearance for the treatment of osteoarthritic knee pain.
In April 2021, DJO Global Inc. acquired MedShape Inc., which was a leading provider of musculoskeletal trauma products.
In September 2020, NeuroMetrix Inc. rolled out the Quell Watch App for Apple Watch users. Quell is a wearable TENS device for foot, knee, and leg pain.
In November 2020, MedShape, DJO made four acquisitions with LiteCure Laser Therapy, Trilliant Surgical, Mathys, and Stryker's arthroplasty product lines.
In November 2020, Lutronic sent off Accufit, another gadget for designated muscle enactment with IntelliSTIM.
In May 2020, Liberate Medical got crisis endorsement from FDA for VentFree Respiratory Muscle Stimulator plans to lessen how long patients stay on ventilators.
Company Profiles and Competitive Intelligence
The key market players are constantly engaged in various developmental strategies like a partnership, collaborations, new product launches, and acquisitions to strengthen their market position and gain market share.
Some of the Prominent Players Include:
AxioBionics
Beurer GmbH
BioMedical Life Systems
Colfax Corporation
EMS Physio Ltd.
Liberate Medical
OG Wellness Technologies Co., Ltd.
RS Medical
Zimmer MedizinSysteme GmbH
Zynex Medical
Segments Covered in the Report
(Note*: We offer report based on sub segments as well. Kindly, let us know if you are interested)
By Product Type
Neuromuscular Electrical Stimulation
Functional Electrical Stimulation
Transcutaneous Electrical Nerve Stimulation
Interferential
Burst Mode Alternating Current
Micro Current Electrical Neuromuscular Stimulator
Others
By Modality
Handheld
Portable
Table Top
By Application
Pain Management
Neurological Disorder
Musculoskeletal Disorder

Muscle Rehabilitation
Muscle Atrophy
Muscle Toning & Strengthening
Muscle Spasticity & Spasms

Others
By End-user
Hospitals
Ambulatory Surgical Centers
Physiotherapy Clinics
Sports Clinics
Home Care
By Geography
North America
Europe
Asia-Pacific
Latin America
Middle East & Africa (MEA)