The global artificial muscle market is surging, with an overall revenue growth expectation of hundreds of millions of dollars during the forecast period from 2023 to 2032.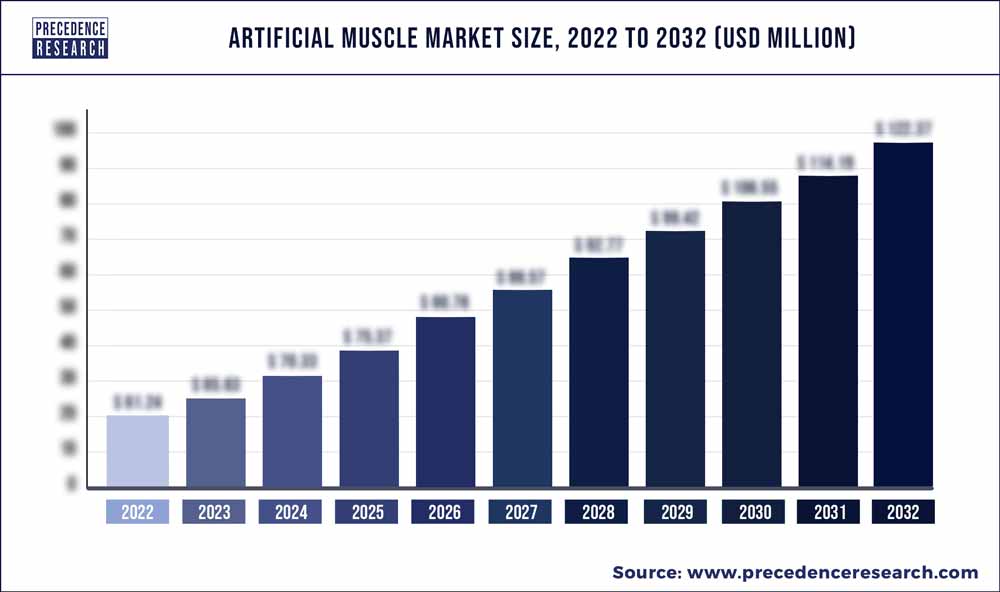 Key Takeaways:
North America generated the maximum revenue share in 2022.
By Type, the electric field actuation segment captured the largest revenue share in 2022.
By Application, the automotive segment contributed the largest revenue share in 2022.
Market Overview:
Artificial muscles, often referred to as muscle-like actuators, are devices that mimic how human muscles work and can enlarge, contract, change their stiffness, or spin in response to an external force (current, voltage, temperature, or pressure). Materials like polymers, carbon nanotubes, shape-memory alloys, and electroactive polymers can all be used to create artificial muscles. Every substance has a different set of special qualities and ways of producing motion.
Growth Factors:
A number of important factors including developments in materials science and engineering, have contributed to the development of innovative materials with special properties that closely mirror those of real muscles, have led to the tremendous expansion of the artificial muscle market in recent years. These substances, such as shape memory alloys (SMAs) and electroactive polymers (EAPs), allow the development of artificial muscles that can contract and expand in response to thermal or electrical stimuli.
The growing demand for robotics and prosthetics is a growth factor for the artificial muscle market. Artificial muscles provide a number of benefits over conventional actuators, such as a lightweight and compact design, a high power-to-weight ratio, and a better capacity to correctly imitate human movements. As a result, they are increasingly being incorporated into robotic systems and prosthetic devices, driving the demand for artificial muscles.
Report Scope of the Artificial Muscle Market:
| | |
| --- | --- |
| Report Coverage | Details |
| Largest Market | North America |
| Base Year | 2022 |
| Forecast Period | 2023 to 2032 |
| Segments Covered | By Type and By Application |
| Regions Covered | North America, Europe, Asia-Pacific, Latin America, and Middle East & Africa |

Market Dynamics:
Driver:
Robotics and automation
Artificial muscle demand is being fueled by the expanding use of robotics in a variety of sectors, including manufacturing, healthcare, and logistics. The capabilities and performance of robots are improved by these muscles, which allow for more precise and natural movements. Due to their capacity to carry out repetitive operations with a high degree of accuracy, efficiency, and safety, robots have become an essential part of the modern industrial landscape. They are used in production facilities to put things together, in warehouses to perform selecting and sorting tasks, and in hospitals to perform operations and provide patient care.
The demand for robots that can imitate human movements and interact with their surroundings in a more sophisticated way is increasing as a result of technological breakthroughs. The flexibility and range of motion of conventional robotic actuators like electric motors and hydraulic systems are constrained. They frequently weigh a lot, are big, and require intricate mechanical linkages to move in the proper directions. Artificial muscles, on the other hand, have a number of benefits that make them perfect for robotics applications.
Electroactive polymers (EAPs), often known as artificial muscles, are pliable, lightweight materials that can contract and deform in response to electrical stimulation. They may closely resemble the characteristics of real muscles, enabling robots to move more naturally and fluidly. This capacity is crucial in applications where robots must handle delicate things or carry out duties that call for a high degree of dexterity. Artificial muscles can provide a lot of force while keeping a low weight since they have a high power-to-weight ratio. For mobile robots where weight reduction is essential for energy economy and maneuverability, this quality is critical. Robots can move more quickly and easily without sacrificing performance by using artificial muscles.
The rising popularity of collaborative robots, commonly known as cobots, is increasing the demand for artificial muscles in robotics. These robots are made to collaborate with people and aid them in activities that call for strength or dexterity. Artificial muscles allow cobots to engage with people in a softer, more compliant manner, lowering the possibility of damage from unintentional touch.
Restraint:
High cost
One of the main factors impeding the expansion and application of this technology in numerous industries is the high cost of creating and developing artificial muscles. This restraint can be related to a number of elements that affect how much artificial muscles cost overall. Considerable experimentation and testing are done during the research and development (R&D) phase of creating artificial muscles in order to find and perfect the best materials and production processes. This research and development process necessitates a large investment in buildings, equipment, and qualified staff.
A further expense is frequent cooperation between academic institutions, research organizations, and business stakeholders in the creation of novel materials and technologies. Specialized manufacturing procedures are needed to produce artificial muscles. These procedures might entail complex procedures like an electrochemical deposition, chemical synthesis, or 3D printing, which call for high-end machinery and qualified personnel. Such production facilities can be expensive to set up and maintain, especially when working with cutting-edge and new technology.
Additionally, the components of artificial muscles can be costly. It may be necessary to utilize sophisticated polymers, shape memory alloys, or conductive nanoparticles to give these materials the precise qualities they need, such as great flexibility, durability, and responsiveness. These specialized materials can be expensive to produce and source because of issues including low supply, difficult synthesis processes, and high demand. Artificial muscles can be adopted in a variety of sectors, however, their exorbitant costs may prevent this. When attempting to enter the market or expand their operations, small and medium-sized enterprises (SMEs) or startups in particular may run into financial obstacles. Potential adopters may be discouraged from using artificial muscles in their goods or procedures because to the hefty initial investment and continuing operating expenses.
Opportunity:
Rising use in healthcare
Numerous opportunities for improvements in healthcare are presented by the use of artificial muscles in medical equipment. These electroactive polymers (EAPs) have the potential to revolutionize a number of applications, including surgical instruments, medication delivery systems, and assistive devices for people with disabilities. Artificial muscles have the potential to improve the functionality of rehabilitation and assistive technology. Patients can restore mobility and move more naturally by incorporating synthetic muscles into exoskeletons or orthotic devices.
These tools can help patients restore strength and motor control by helping with gait training, limb support, and muscle rehabilitation. Traditional prosthetic limbs frequently do not move or react naturally as actual limbs do. Through their ability to mimic the contraction and expansion of natural muscles, artificial muscles present a promising solution. New muscles can be included in prostheses to give people who have lost limbs greater intuitive and accurate control over their new limbs, improving independence and quality of life.
To improve the capabilities of surgical instruments, artificial muscles can be included. Surgeons can perform more dexterous and accurate motions during minimally invasive operations, for example, by using artificial muscles in robotic surgical systems. This may result in better surgical results, less intrusive procedures, and quicker patient recoveries. In many types of medical therapies, the regulated release of drugs is essential. To offer accurate and on-demand drug administration, artificial muscles can be used in drug delivery systems. These muscles have the capacity to function as pumps or valves that release medicine at specific bodily locations in response to external inputs. This kind of tailored medication administration can boost treatment effectiveness, reduce adverse effects, and increase patient compliance.
Impact of COVID-19:
The market for artificial muscle has also been significantly impacted by the Covid-19 outbreak on a global scale. The market for artificial muscles slowed considerably in the early stages of the pandemic as many sectors encountered operational interruptions. Lockdown procedures, supply chain, and lower consumer spending all resulted in a drop in demand for goods based on artificial muscle. Companies had difficulties in the procurement, manufacture, and distribution of raw materials, which resulted in delays and lower productivity. The demand for artificial muscle did, however, gradually revive as the epidemic spread.
In order to reduce the human touch and guarantee operational continuity, the need for robotic systems and automation has expanded across a variety of industries, including healthcare, manufacturing, and logistics. Advanced robotic systems, such as exoskeletons for healthcare professionals or prosthetic limbs for amputees, are developed in large part because to artificial muscles. As a result, the market for goods based on synthetic muscles began to recover.
Additionally, the pandemic brought attention to the value of telemedicine and other remote healthcare options. The integration of artificial muscle technology in wearable medical devices and remote patient monitoring systems was made possible by the rising emphasis on remote diagnosis and treatment alternatives.
Segments Insight:
Type Insights:
In 2022, electric field actuation held the maximum share due to the increasing adoption of electric vehicles. Electric fields are used in EVs for actuating various components such as brake systems. Electric field actuation technologies also enable advancements in haptic feedback systems in the consumer electronics market. As consumer electronics continue to innovate, the demand for electric field actuation solutions is expected to increase. Electric field actuation drivers play a crucial role in the operation of artificial muscles and significantly impact the artificial muscle market. These drivers are responsible for generating electric fields that actuate and control the movement of artificial muscles, enabling them to contract or expand in a controlled manner.
Application Insights:
In 2022, the automotive industry held the maximum share due to technological advancements such as autonomous driving technologies, connected car features, etc. The rise of shared mobility services such as ride-hailing platforms like Uber and Lyft also boosted the market growth. The automotive industry has witnessed a growing interest in the development and implementation of artificial muscles, also known as electroactive polymers (EAPs).
Regional Insights:
In 2022, North America held the maximum share due to a strong tradition of research and development in various scientific fields, including materials science and robotics. This has led to significant advancements in the development of artificial muscles, with many research institutions and universities. The United States has a reputation for being at the forefront of technological innovation.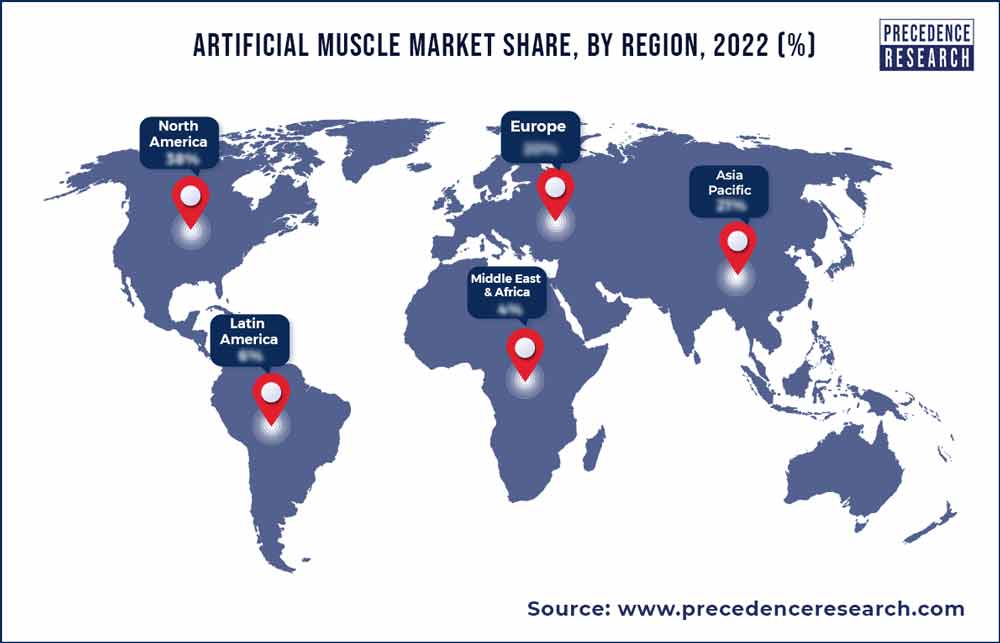 Many American companies and startups are actively involved in developing and commercializing artificial muscle technologies for various applications, such as robotics, prosthetics, haptic feedback systems, and aerospace. The availability of venture capital and government funding for research and development in the United States has also contributed to the growth of the artificial muscle market. These investments support the development of new technologies, product prototypes, and commercialization efforts, making the market more vibrant and competitive.
Recent Development:
In 2021, new high-performance artificial muscle technology was developed by NAU mechanical engineers.
Key Market Players:
NAU
Bayer (Artificial Muscle, Inc.)
Steeper Inc
Coapt, LLC
Biomimetic Products LLC.
Korea Advanced Institute of Science and Technology
Chas A Blatchford and Sons
Blatchford
Otto Bock
WillowWood
Segments Covered in the Report:
(Note*: We offer report based on sub segments as well. Kindly, let us know if you are interested)
By Type
Electric Field Actuation
Pneumatic Actuation
Thermal Actuation
By Application
Industrial
Medical
Consumer
Automotive
Aerospace
By Geography
North America
Europe
Asia-Pacific
Latin America
Middle East and Africa