The global nanobots market size was valued at USD 6.96 billion in 2022 and is expected to hit around USD 32.19 billion by 2032, expected to register growth at a CAGR of 16.60% during the forecast period 2023 to 2032.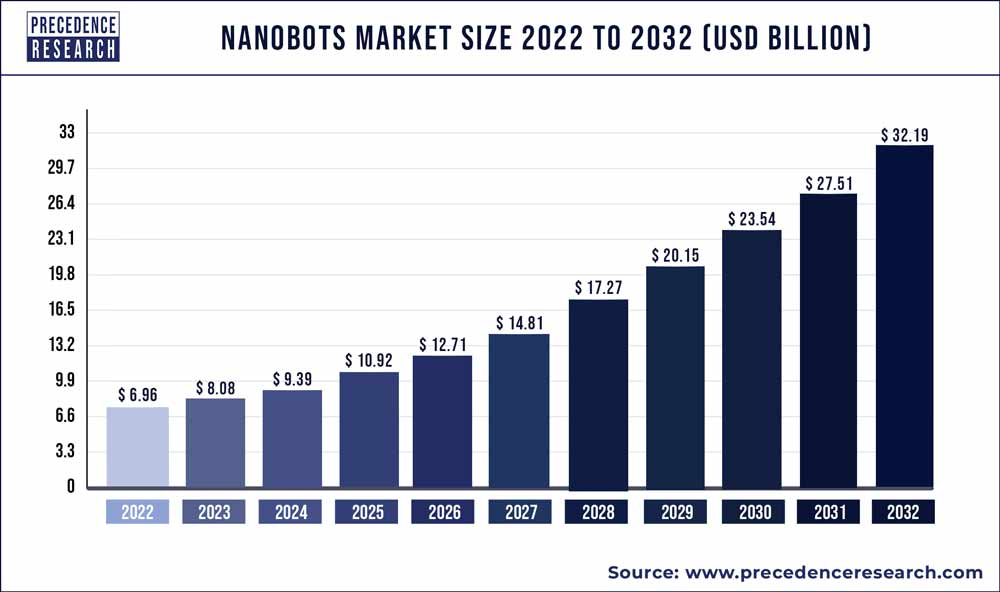 Nanobots are robots that are 50-100 nm diameters and perform a specific function. They are particularly effective for medication delivery. Normally, medications pass through the entire body before reaching the diseased location. Using nanotechnology, the medicine may be precisely targeted, making it considerably more effective and reducing the possibility of adverse effects. It depicts a system that employs nanobots to detect blood sugar levels. Special sensor nanobots can be introduced into the bloodstream beneath the skin, where microchips covered with human molecules and tailored to generate an electrical impulse signal monitor the blood sugar level. Robotics is already being developed for use in life sciences and medicine. Routine surgical operations may be programmed into robots. Nanobiotechnology adds a new dimension to robotics, resulting in the development of nanorobots, also known as 'nanobots'.
Nanobots will be downsized for entry into the body through the vascular system or at the end of catheters into different veins and other cavities in the human body, rather than executing treatments from outside the body. Human-programmed surgical nanobot might function as an autonomous on-site surgeon within the human body. An on-board computer may execute and coordinate operations such as pathological search, diagnosis, and lesion removal or correction via nanomanipulation. Such notions, which were long deemed science fiction, are today thought to be within the realm of possibility. Nanobots will be able to do accurate and sophisticated intracellular surgery that is beyond the capabilities of human manipulation.
Nanorobotics is a new field that focuses on programming, operating, and constructing nano-scale robots. Nanorobots may execute a variety of tasks using nanoscale components. These robots can also identify different types of cancer and play important roles in the treatment or prevention of disease-causing microorganisms in humans. Nanorobots can also be used in pharmacokinetics, diabetes monitoring, biomedical instrumentation, and surgical procedures. Nanorobots can detangle medicinal medicines when they come into touch with target cells in the body. Pharmaceutical and biotech businesses are collaborating with governments throughout the world to combat the COVID-19 epidemic, from vaccine research to planning for drug supply chain issues. As many affluent nations face a scarcity of these medications, the increased demand for COVID-19 management therapies has created enormous potential for businesses.
Advances in nanotechnology and increased spending for nanorobot research & development by key companies are driving the growth of the nanorobots market. One of the primary reasons driving market expansion is the growing backing of governments in many developed countries to create regenerative pharmaceuticals using nanotechnology. The capacity of nanorobots to reach diverse bodily areas carrying medicinal components, which aids in focused therapy of patients suffering from chronic illnesses such as cancer, is one of their most promising applications. Nanorobots can also be used as microscopes and spectroscopes in the pharmaceutical production process. As a result, all of these factors contribute significantly to the growth of the nanorobots market.
Growth Factors
A race for nanorobots is taking place in the same manner that technological research and development spurred the space race and nuclear weapons race. There is plenty of room for nanorobots to be considered among developing technologies. Some of the reasons are that large corporations have recently been involved in the development and research of nanorobots. Bankers are also carefully investing in order to get rights and royalties on potential nanorobot commercialization. Some features of nanorobot litigation and related monopolistic problems have already surfaced. A high number of patents for nanorobots have lately been awarded, largely to patent agents, firms specializing only in establishing patent portfolios, and attorneys. Following a long sequence of patents and litigations, such as the development of radio or the war of currents, developing sectors of technology tend to become monopolies, which are often dominated by major firms.
Nanobots are injected into patients to conduct cellular diagnosis or therapy, and the diagnosis or treatment involves the nanoscale, molecular, or atomic level. Nanorobot treatments may involve changes in structure and content at the molecular or submolecular level. The diverse uses of nanorobots take advantage of the unique features of nanoscale materials and technologies. Hundreds of firms attempted to enter this burgeoning new area in 2019. Pumeram, situated in Prague, has already funded EUR 11.5 million to produce rocket, spheroid, and even screw-shaped nanobots that would aid in the treatment of disorders ranging from skin and dental maladies to reproductive issues. Cancer-killing nanobots developed by the firm have already been tested. Google's collaboration with the huge pharma business GlaxoSmithKline to develop its nanobot powerhouse demonstrates the importance of nanorobotics in the future. Eligo, a French firm, obtained USD 27.4 million till mid-2019 to implant protein-based nanobots in the intestines and is now focusing on advancing several clinical projects into people.
By 2020, researchers all around the world will have created expert nanobots capable of performing a wide range of human procedures. External magnetic fields will be used to program and steer them. Nanobots can use needles to do eye operations, drill a corkscrew through artery obstructions, and gather biopsies. Since the coronavirus epidemic began in late 2019, experts have been rushing to learn more about SARS-CoV-2, a variant of a virus family known as coronaviruses due to its crown-like structure. Several researchers are suggesting the use of nanoparticles comparable in size to the virus causing COVID-19 that might attach to SARS-CoV-2 viruses, destroying their structure with a combination of infrared light therapy, and this is predicted to enhance the market if the technique is successful.
Report Scope of the Nanobots Market
| | |
| --- | --- |
| Report Coverage | Details |
| Market Size in 2023 | USD 8.08 Billion |
| Market Size by 2032 | USD 32.19 Billion |
| Growth Rate from 2023 to 2032 | CAGR of 16.60% |
| Base Year | 2022 |
| Forecast Period | 2023 to 2032 |
| Segments Covered | Type, Type, Type of Manufacturing, End User, Geography |
| Companies Mentioned | Oxford Instruments (UK), Thermo Fisher Scientific (US), Bruker Corporation (US), JEOL Ltd (Japan), Agilent Technologies, Inc. (US), EV Group (EVG) (Germany), Park Systems. (South Korea), AIXTRON (Germany), NT-MDT SI (US), Cavendish Kinetics, Inc. (US), Nanonics Imaging Ltd. (Israel), Angstrom Advanced Inc. (US), WITec Wissenschaftliche Instrumente und Technologie GmbH (Germany), ZYMERGEN INC. (US), Ginkgo Bioworks (US), Synthace (UK), Imina Technologies SA (Switzerland, Kleindiek Nanotechnik GmbH (Germany) |

Type Insights
During the forecast period, the nanomanipulator type will account for the majority of the nanorobotics market by type. The first nanorobotics systems capable of nanopositioning are nanomanipulators. As robotics is involved in nanomanipulation for the creation of many nanomanipulation systems, nanomanipulators were initially employed in physics and chemical sectors. These systems were shown to have greater capabilities comparable to industrial manipulators. Nanomanipulators, which were among the first commercially available nanorobotic devices, are primarily used to control atoms and molecules in nanorobotics.
Application Insights
Because of its healthcare benefits, nanorobotics is frequently employed in nanomedicine. In 2022, nanomedicine accounted for the biggest proportion of the total nanorobotics market by application. In 2022, the market for biomedical applications held the second-largest proportion of the entire market by application.
Current research is focused on creating nanorobotic applications for hematology. This includes anything from creating artificial means of delivering oxygen in the body after serious trauma to developing superior clotting capabilities in the case of a catastrophic bleed. Respirocytes are fictitious nanobots designed to act as artificial red blood cells. Respirocytes might be injected into the bloodstream to transfer respiratory gases until the patient is stabilized in emergencies where a patient stops breathing and blood circulation stops. Nanobots having chemical sensors integrated in them can be programmed to identify tumor cells in the body. Proposed designs now involve the use of integrated communication technology, which produces two-way signaling.
Region Insights
During the projected period, the European nanobots market is predicted to develop at the fastest CAGR. The strong growth of this region's market can be due to Europe's aging population and rising governmental healthcare spending. Furthermore, because Europe was one of the first areas to grasp the promise of nanorobotics, a high level of public and private investment contributes to the rapid expansion of nanorobotics in Europe. In terms of CAGR, the European market is closely followed by APAC, which is predicted to develop at the second-fastest rate in the total market.
Over the projection period, North America is likely to have a significant market share. The significant increase in support for nanorobotics from the Defense Advanced Research Projects Agency (DARPA) and the National Science Foundation is one of the driving causes for the region's growth (NSF). The growing usage of nanotechnology, along with high healthcare expenditure, is predicted to have a favorable influence on the region's market. Due to the fast expansion of the industry, technological innovation, and the existence of many chances in the regional market, Asia Pacific is expected to hold substantial shares from 2023 to 2032. The rest of the globe market is expected to expand the slowest due to limited resources and treatment facilities; hence, delayed technological advancement may hinder the expansion of the nanobots/nanorobots sector in this region.
Key market players
Oxford Instruments (UK)

Thermo Fisher Scientific (US)

Bruker Corporation (US)

JEOL Ltd (Japan)

Agilent Technologies, Inc. (US)

EV Group (EVG) (Germany)

Park Systems. (South Korea)

AIXTRON (Germany)

NT-MDT SI (US)

Cavendish Kinetics, Inc. (US)

Nanonics Imaging Ltd. (Israel)

Angstrom Advanced Inc. (US)

WITec Wissenschaftliche Instrumente und Technologie GmbH (Germany)

ZYMERGEN INC. (US)

Ginkgo Bioworks (US)

Synthace (UK)

Imina Technologies SA (Switzerland

Kleindiek Nanotechnik GmbH (Germany)
Segments covered in the report
(Note*: We offer report based on sub segments as well. Kindly, let us know if you are interested)
By Type
By Application
Biomedical

Nanomedicine

Others
By Type of Manufacturing
Biochips

Nubots

Bacteria-based Nanobots

3D Printing

Other Types
By End User
Hospitals

Diagnostic Centers

Research Laboratories

Others
By Geography
North America
Europe
Asia-Pacific

China
India
Japan
South Korea
Malaysia
Philippines

Latin America

Brazil
Rest of Latin America

Middle East & Africa (MEA)

GCC
North Africa
South Africa
Rest of the Middle East & Africa