The global nuts market size was estimated at USD 59.86 billion in 2022 and it is anticipated to reach around USD 101.76 billion by 2032, growing at a CAGR of 5.5% during the forecast period 2023 to 2032.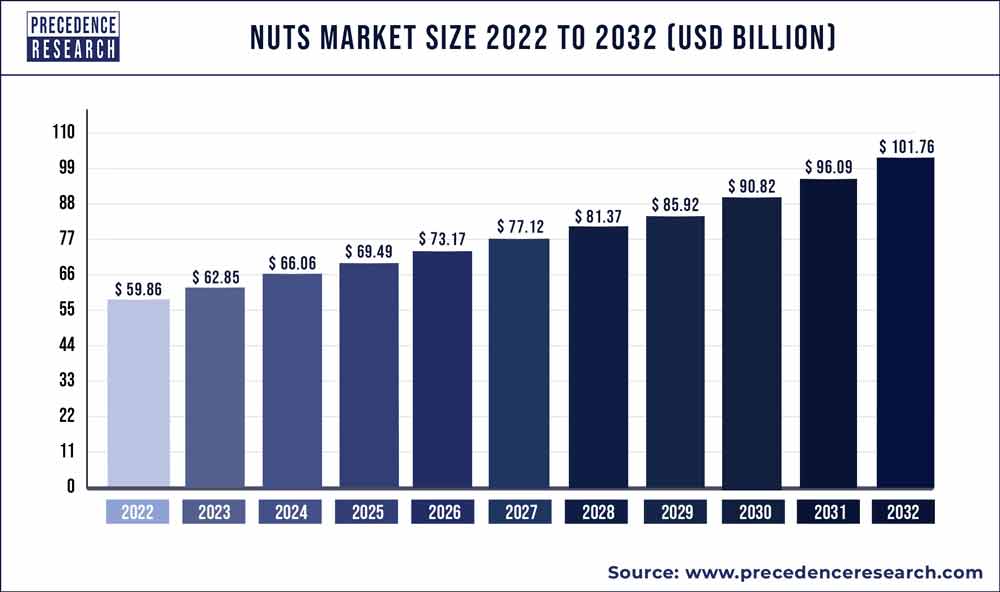 Access our Premium Real Time Data Intelligence Tool, Visit: Precedence Statistics
Key Takeaways:
Europe region contributed more than 33% of revenue share in 2022.
Asia-Pacific region is expected to expand at the fastest CAGR Between 2023 and 2032.
By Product, the peanuts segment dominated the market in 2022 and is expected to maintain its dominance during the forecast period.
By Product, the hazelnuts segment is anticipated to grow significantly.
By Distribution Channel, the offline segment led the market with the highest market share in 2022.
By Distribution Channel, the online segment is anticipated to grow significantly throughout the forecast period.
Europe Nuts Market Size By 2032
The Europe nuts market size was valued at USD 19.75 billion in 2022 and is projected to surpass around USD 32.95 billion by 2032, expanding at a CAGR of 5.3% between 2023 and 2032.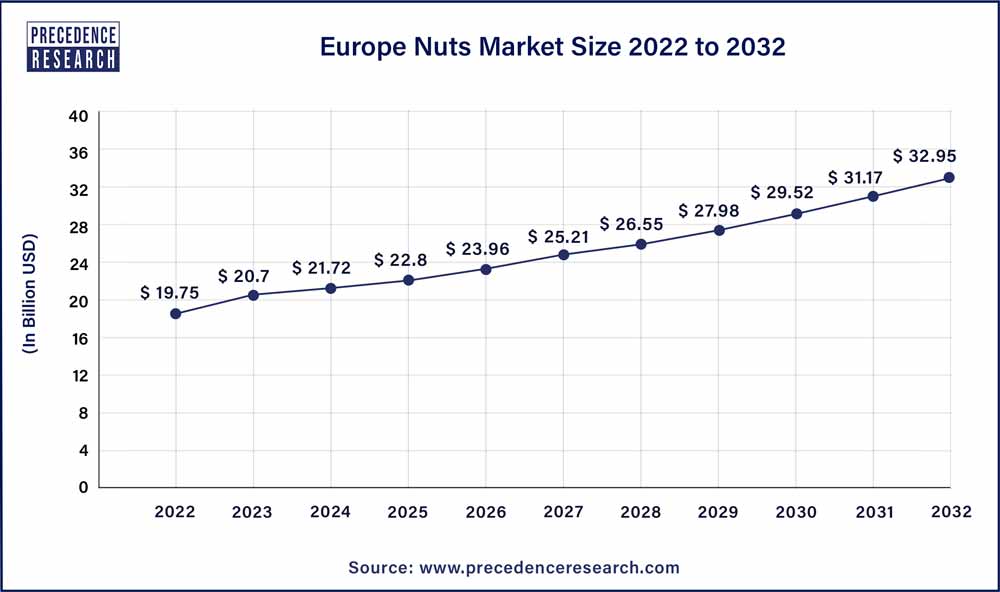 Europe dominates the global nuts market; the region is expected to sustain its dominance throughout the forecast period. Recent years have seen a considerable growth in sales of nuts in Europe, fuelled by various causes, including customer preferences, health consciousness, and changing dietary trends.
The rising public consciousness of the health advantages of nut eating has been crucial. Nuts are a great source of important nutrients like fiber, healthy fats, vitamins, and minerals. Additionally, they contain antioxidants, which have been connected to a lower risk of heart disease and better general health. The demand for nuts as a healthy snack has surged due to consumers' greater health consciousness. Secondly, the market in the region is expanding as the rise of vegetarian and vegan diets has boosted nut consumption in Europe. Nuts often serve as a valuable source of protein and healthy fats for individuals following plant-based diets. As the popularity of these dietary choices continues to soar, the demand for nuts as a meat and dairy alternative has grown exponentially.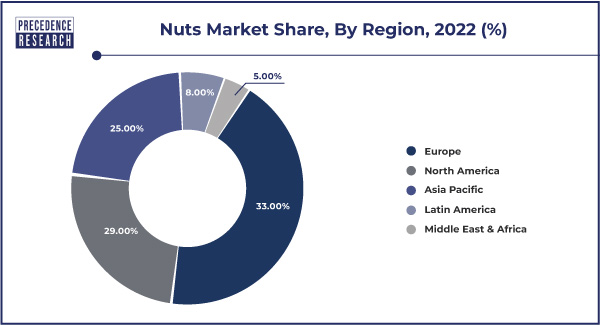 Asia Pacific is Expected to Witness the Fastest Rate of Growth During the Forecast Period.
Asia Pacific region's nuts market has experienced rapid growth in recent years, spurred on by a number of factors that have altered consumer preferences, dietary habits, and the general structure of the food industry. Growing knowledge of the advantages of nut eating for health has been a key driver in developing health and wellness trends. Nuts are popular among health-conscious customers because they contain minerals, good fats, and antioxidants. They are frequently connected to better cognitive performance, weight management, and heart health.
Rapid urbanization in many Asian nations has resulted in busier lifestyles and an increased need for quick and wholesome snacks. Nuts provide a convenient, non-perishable, and wholesome snack that precisely fills this need. Nuts are versatile ingredients in Asian cuisines, contributing to sweet dishes. Their use in traditional recipes and innovative fusion dishes has broadened their appeal, making them a staple in many Asian kitchens.
Market Overview:
The nuts market is a broad industry with a wide range of nuts valued for flavor and health properties. Various nuts, including almonds, walnuts, cashews, peanuts, pistachios, hazelnuts, and macadamia nuts, are available in the market. Nuts are well-known for being a rich source of fiber, protein, healthy fats, and vitamins (including vitamins E and B). Nut consumption has been linked to a number of health advantages, including improved heart health, better control of weight, and a lower risk of developing chronic illnesses, including diabetes and some malignancies.
Nuts are frequently used as snacks in baking and cooking and as ingredients in various goods, such as nut butter, trail mix, and granola bars. The demand for nuts as a protein-rich substitute has increased due to the current move toward plant-based diets. Consumers are also looking for healthier snack options, which is increasing their intake of nuts.
Growth Factors:
The increased consumption of nuts has predicted the expansion of the market because of global urbanization and consumer disposable income. The industry is accelerated by the rising demand for fast food such as nut snacks in developed nations. Increasing population growth is also a driving factor. The rising population of the world is again expected to boost the demand for nuts; the anticipated population of the entire planet is 8.5 billion people in 2030, and 9.7 billion in 2050.
Report Scope of the Nuts Market:
| | |
| --- | --- |
| Report Coverage | Details |
| Market Size in 2023 | USD 62.85 Billion |
| Market Size by 2032 | USD 101.76 Billion |
| Growth Rate from 2023 to 2032 | CAGR of 5.5% |
| Largest Market | Europe |
| Base Year | 2022 |
| Forecast Period | 2023 to 2032 |
| Segments Covered | By Products and By Distribution Channel |
| Regions Covered | North America, Europe, Asia-Pacific, Latin America, and Middle East & Africa |

Market Dynamics:
Driver:
Increasing snacking trends
The manner in which people eat has changed over time, and for many, snacking has taken on a significant role in everyday life. According to an IFIC survey, nearly three-fourths of American adults eat at least once a day, and more than half say they struggle with stress, which frequently leads to additional snacking. The demand for nuts as snacks has been directly impacted by this change in eating patterns. Many key players operating in the industry keep adding new products as one of the strategies to remain competitive. For instance, PLANTERS announced numerous special holiday treats in 2022, such as Brittle Nut Medley, Butter Cinnamon Pecans, and Cocoa Almonds.
The rising health consciousness among consumers is one of the main factors influencing the adoption of nuts as snacks. Due to their nutritional significance, nuts are viewed as a healthy alternative to other snack foods. They are a natural source of important vitamins, minerals, fiber, and proteins. Nuts also include a lot of good fats, notably monounsaturated and polyunsaturated fats, which are considered good for the heart. Nuts are the perfect on-the-go snack because they are naturally portable and do not need to be prepared. This ease of use fits the hectic modern lifestyle when individuals frequently look for quick and wholesome options between meals.
Restraint:
Price volatility
In the market for nuts, price fluctuation poses a serious problem for buyers and sellers. This volatility is caused by a complex interaction of factors that impact supply and demand dynamics for different kinds of nuts. Since nuts are agricultural products, the weather significantly impacts how well they are produced. Negative weather conditions like droughts, storms, or frost can harm nut crops, resulting in fewer supplies and higher costs.
On the other hand, particularly favorable weather conditions may result in bumper crops, which will lower prices. Changes in supply and demand have an impact on the nuts market. Prices typically rise when demand for nuts rises, possibly due to purported health benefits or gastronomic fads. Conversely, prices may decrease if supply exceeds demand. Changes in trade agreements, political unrest in regions that produce nuts, such as the Russia-Ukraine war, and trade conflicts on a global scale can all affect the supply of nuts. The flow of nuts across borders can be impacted by tariffs and trade restrictions, affecting prices.
Opportunity:
Rising popularity of plant-based diets
The nuts market is observed to get expand in the upcoming years due to the growing popularity of plant-based diets. Nuts, a staple food in these diets, largely meet the nutritional requirements of those who follow plant-based diets. The market for nuts will benefit significantly from the trend towards plant-based diets. Nuts are a great source of protein for people following a plant-based diet. Numerous nuts, including almonds, peanuts, and cashews, have high protein content and are therefore popular with vegans and vegetarians. The demand for nuts high in protein is still rising as plant-based lifestyles become more and more common, driven by environmental and health concerns.
Nuts are a great source of good fats, especially monounsaturated and polyunsaturated fats. These fats are necessary for a balanced diet and have a number of health advantages, including improved heart health. As customers' attention to their health increases, they are substituting more nutritious natural fat sources like nuts for less nutritious ones. Thereby, the growing popularity of plant-based diets will offer a set of opportunities for the nuts market to grow.
Product Insights:
The peanuts segment accounted for the largest share in 2022 and is expected to maintain its dominance during the forecast period. The demand for peanuts has increased significantly in recent years due to a number of factors related to consumer demand, agriculture, and international trade. Several important elements contributing to its expansion include the desire for healthier snack options, which has grown due to rising health consciousness, and peanuts, regarded as a wholesome option. They appeal to consumers concerned about their health because they are high in protein, fiber, and good fats. Peanuts are a convenient and portable snack option, making them suitable for on-the-go consumption. The busy lifestyles of many consumers have driven the demand for convenient, ready-to-eat snacks like peanuts.
Emerging economies, particularly in Asia Pacific, have witnessed increased disposable income and changing dietary preferences. Peanuts are a cost-effective source of nutrition, making them a popular choice in these regions.
On the other hand, the hazelnuts segment is expected to have the fastest rate of growth during the forecast period. Hazelnuts have gained popularity due to their distinctive flavor and texture. They are in demand among chefs and home cooks alike since they can be used in various ways, including whole, chopped, roasted, and ground, to improve the flavor and texture of various foods, from salads to desserts. The hazelnut market is being significantly impacted by the success of Nutella; a chocolate spread made from hazelnuts. The demand for hazelnuts as a main ingredient rises along with the expansion of the chocolate industry.
Distribution Channel Insights:
The offline segment had the most shares in 2022. For a number of compelling reasons, consumers are starting to seek physical outlets for the nuts industry. Although online shopping has become extremely popular in recent years, the nuts sector has particular characteristics that make offline channels crucial for many customers.
Buying nuts in person is a sensory experience that cannot be duplicated online. Customers value the chance to see, touch, and smell a product before deciding. This tactile engagement enables children to judge the quality and freshness of the nuts, which is essential for a product like nuts, whose flavor and texture can vary substantially. In-person encounters with knowledgeable store workers who may offer individualized guidance and recommendations based on dietary needs and preferences are made possible through offline channels.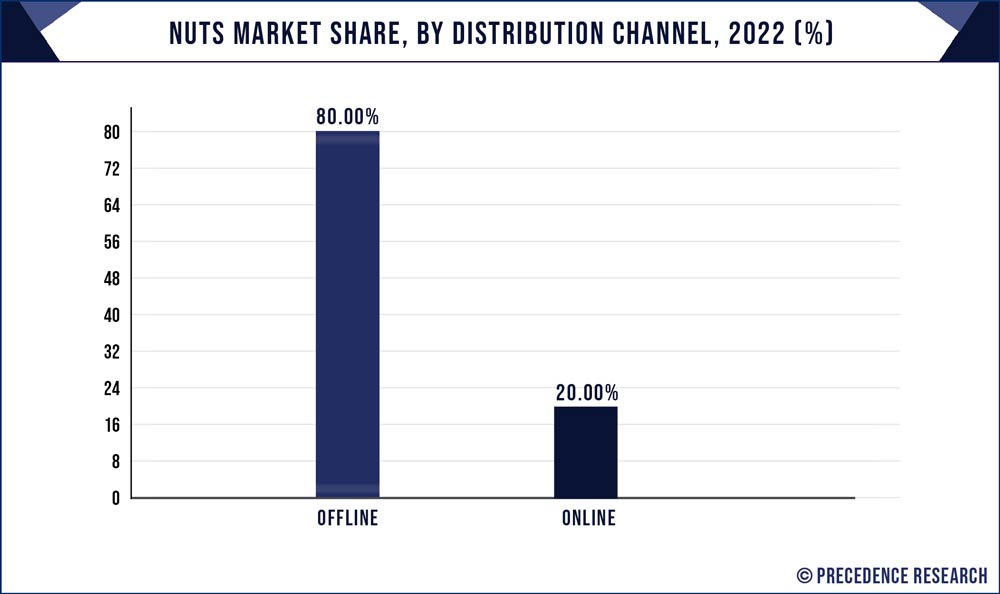 The online segment is predicted to grow at the fastest rate during the forecast period. In recent years, the online market for nuts has grown significantly, propelled by a number of important factors that have altered consumer behavior and the structure of the food business. Online buying offers unmatched comfort. Various nut options are available online, including different varieties (almonds, cashews, and walnuts), flavours (roasted, salted), and container sizes. This wide range of options meets a variety of consumer preferences.
Recent Developments:
In July 2023, a new line of snack nut types, including cashews, peanuts, almonds, and mixed nuts, has been introduced by IGA's Exclusive Brands.
In October 2022, on International Coffee Day, the Bevzilla brand introduced a unique and intriguing taste of coffee powder called Turkish Hazelnut. For all coffee enthusiasts, this new hazelnut flavor is a fantastic delight.
In June 2022, the most popular cookie brand in India, Britannia Good Day, introduced the brand-new Good Day Harmony pack, which has four different nut varieties in each cookie, including hazelnut, cashew, pista, and almond.
Key Market Players:
Diamond Foods, Inc.
John B. Sanfilippo & Son
Kraft Foods Inc.
Olam International Ltd
Borges Agricultural & Industrial Nuts
Hines Nut Company
Mariani Nut Company
WeAreBio
Germack Pistachio Company
Hampton Farms, Inc.
Market Segmentation:
(Note*: We offer reports based on sub-segments as well. Kindly, let us know if you are interested)
By Products
Almonds
Peanuts
Cashew
Walnuts
Hazelnuts
Pistachios
By Distribution Channel
By Geography
North America
Europe
Asia-Pacific
Latin America
Middle East and Africa