The global paclitaxel injection market was valued at US$ 4.51 billion in 2021 and is expected to reach over US$ 11.16 billion by 2030, registering growth at a CAGR of 12.5% during the forecast period 2022 to 2030.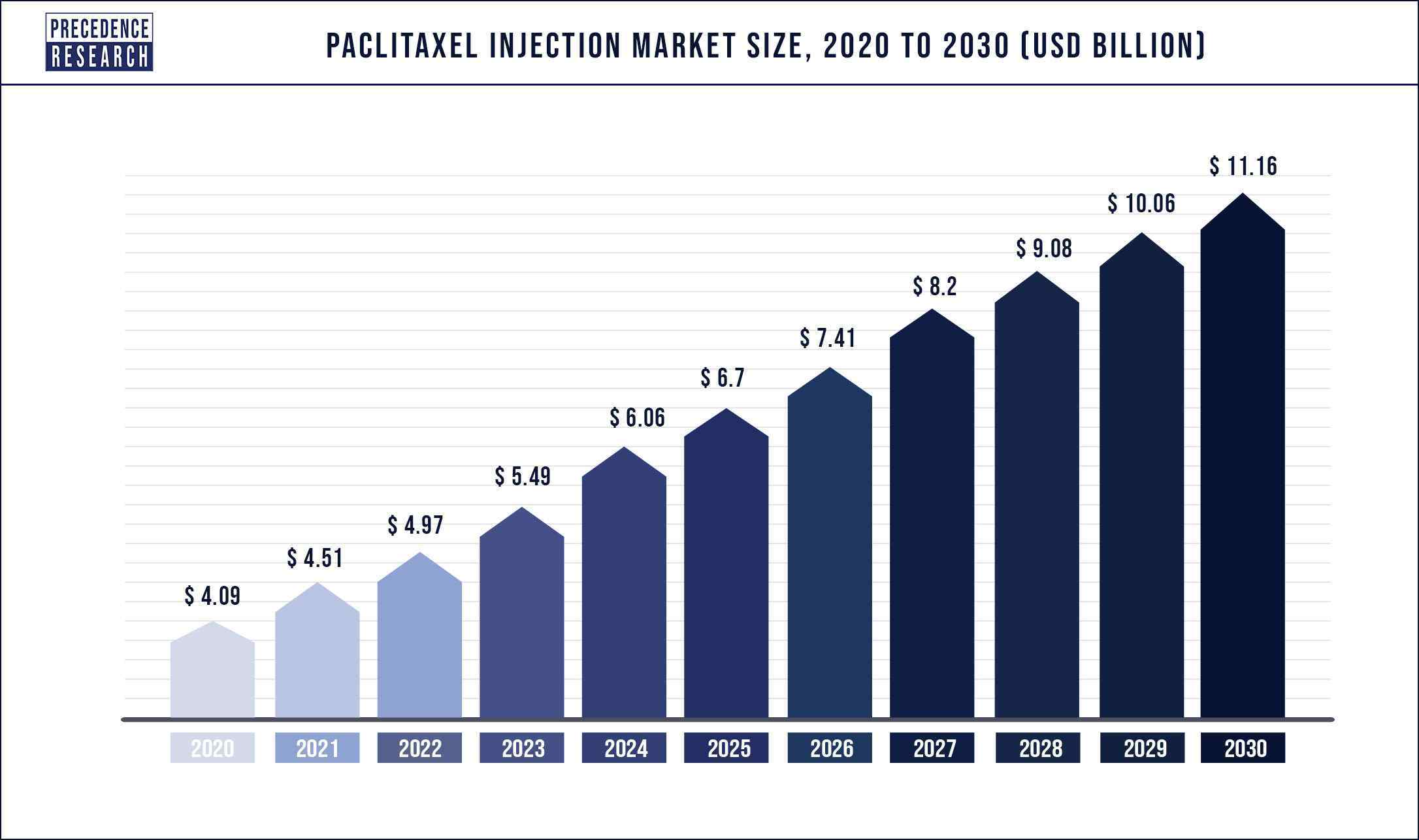 Major Trends in the Paclitaxel Injection Industry:
The growing incidence of cancer is one of the most important factors that are driving the progress of paclitaxel injection market. Taxol (paclitaxel) is a medication used in chemotherapy that interferes with the development of cancer cells and decelerates their growth and expansion in the body. It is a partof the group of medicines identified as antineoplastics and it functions by impeding the development of cancerous cells. Paclitaxel has higher efficiency against the growth of cancer in comparison with other medication; apart from that paclitaxel injection is also easily accessible in the market which supports its high demand. Major companies manufacturing paclitaxel injection is concentrating on growth of more upgraded paclitaxel injection thatcan be an extraordinary opportunity for this industry to grow. Several opposing effects such as allergy, blood clot, diarrhea, leucopenia, and weight loss can hinder the progress of the market. Moreover, high cost of the medication, which is less reasonable in low-income countries, might also hinder the development of paclitaxel injection market in the near future.
Paclitaxel injection is accessible in a generic form for the treatment of cancer. It has also been included in the essential medicines model list (EML) of WHO. The EML, issued by the World Health Organization (WHO), comprises of the medicines considered to be utmost effective and harmless to meet the maximum important requirements in a health arrangement. The list is regularly used by countries to support develop their particular local lists of crucial medicine. All these features are the major basis for a wide scope and easy accessibility of the paclitaxel injection around the world and in return have augmented the requirement for it as well. This easy accessibility of the paclitaxel injection is one of the key drivers for the paclitaxel injection industry. The upgraded supply chain of the pharmaceutical business internationally, and swift logistics has remained major point of assistance in keeping the demand-supply proportion intact.
Crucial factors accountable for market growth are:
Growing incidence of cancer worldwide
Better efficiency of paclitaxel over other preparations in cancer treatment
Ease of availability
Increasing expenditure by major companies on research and development for advance of more effective paclitaxel injection
Launch of new products
Increasing per capita healthcare spending in developing regions
Scope of the Paclitaxel Injection Market
| | |
| --- | --- |
| Report Highlights | Details |
| Market Size | US$ 11.16 Billion by 2030 |
| Growth Rate | CAGR of 12.5% From 2022 to 2030 |
| Base Year | 2021 |
| Historic Data | 2017 to 2021 |
| Forecast Period | 2022 to 2030 |
| Segments Covered | Indication, End User |
| Regional Scope | North America, Europe, Asia Pacific, Latin America, Middle East & Africa (MEA) |
| Companies Mentioned | Celgene Corporation, Sagent Pharmaceuticals, Abbott Laboratories, Bristol Myers Squibb, Fresenius Kabi Oncology Ltd, Luye Pharma Group, Onco Therapies Ltd (Strides Arcolab Ltd.), NOVASEP, Pfizer |
COVID-19 Impact on Global Paclitaxel Injection Market
The COVID-19 pandemic is having a collateral well being effect on availability of surgical care to millions of patients worldwide. The effect of COVID-19 on operating practice is extensive, ranging from staffing and workforce issues, procedural arrangement, risk of viral transmission intra-operatively, and the fluctuations to perioperative preparation. The affected individuals are being deprived of operating access, with undefined loss of function and hazard of adverse diagnosis as a collateral consequence of the pandemic. Individuals suffering from cancer are understood to be at greater risk of developing severe complications from the SARS CoV2 and simultaneously treatment adjournments can result in poorer oncological consequences. Proper planning is thus important to endure with cancer treatment facilities and concurrently avoiding the danger of contamination to the patients and healthcare staff and not permitting community spread of the viral infection.
Significant Market Trends:
Breast Cancer Segment Reported Foremost Market Stake in 2020
Breast Cancer segment displayed the major share in the global paclitaxel injection market in 2020. High incidence of breast cancer globally and high investment in the development of effective breast cancer treatment are the key reason for highest market stake of breast cancer. As per the data published by cancer.org, around 13% (1 in 8 females) will be detected with breast cancer in their lifetime and around 3% (1 in 39 females) will die from breast cancer. Greater than 3.8 million women with a past of breast cancer were living in the United States in 2019. Some of these females were free from cancer, while rest still had indication of cancer and might have been undertaking treatment. Higher than 150,000 breast cancer survivors are alive with metastatic ailment, three-fourths of these were initially detected with stage I-III.
The non-small cell lung cancer is anticipated progress at the highest CAGR over the forecast duration mainly due to string product pipeline.
Hospitals Dominated the Market Revenue By End User Segment
Hospitals are well-equipped with the entire infrastructure that is required to carry out cancer treatments such as chemotherapy. Moreover, hospitals have sufficient funds to stock important drugs for use in multiple patients. These factors contribute to the growth of hospitals within the end user segment.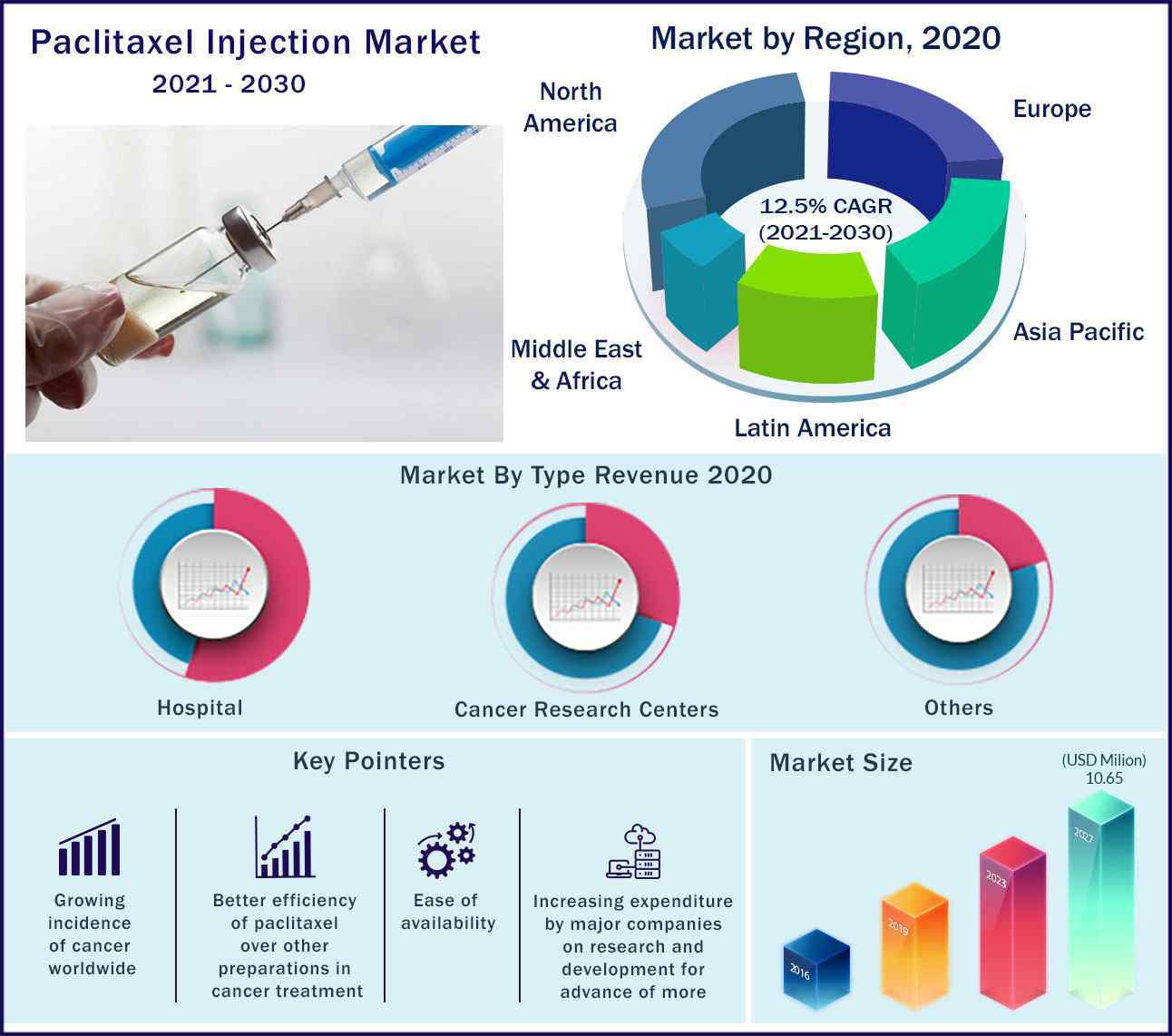 North America is Estimated to be the Largest Market for Paclitaxel Injection
The detailed research report covers significant prospects and inclinations of paclitaxel injection products throughout different regions including Europe, North America, Asia-Pacific, Africa, Middle East, and Latin America. By region, paclitaxel injection market is led by North America due to heavy expenditure in cancer research and existence of skilled physicians. Europe reported the second maximum share predominantly due to presence of evolved reimbursement scenario. On the contrary, Asia-Pacific is anticipated to witness the rapid growth rate, on account of increasing investment by major manufacturers, high prevalence of cancer, and growing per-capita healthcare expenditure.
Top Players contending in the Market:
The companies focusing on research and development are expected to lead the global paclitaxel injection market. Leading competitors contending in global paclitaxel injection market are as follows:
Celgene Corporation
Sagent Pharmaceuticals
Abbott Laboratories
Bristol Myers Squibb
Fresenius Kabi Oncology Ltd
Luye Pharma Group
Onco Therapies Ltd (Strides Arcolab Ltd.)
NOVASEP
Pfizer
In order to well recognize the present status of enzyme-linked immunosorbent assay (ELISA), and policies implemented by the foremost nations, Precedence Research projected the future progress of the paclitaxel injection market. This research report bids quantitative and qualitative insights on paclitaxel injection market and valuation of market size and progress trend for probable market segments.
Key Market Developments:
In March 2019, Celgene Corporation declared two updates for ABRAXANE (paclitaxel protein-bound elements for an injectable suspension) for the effective treatment of primary phase pancreatic cancer and metastatic triple-negative breast cancer.
Major Market Segments Covered:
By Indication
Prostate Cancer
Breast Cancer
Non-Small Cell Lung Cancer
AIDS related Kaposi's Sarcoma
Ovarian Cancer
Stomach Cancer
Cervical Cancer
Esophageal Cancer
Testicular Cancer
Lung Cancer
Pancreatic Cancer
Others
By End User
Cancer Research Centers
Hospital
Others
By Geography
North America
Europe

Germany
France
United Kingdom
Rest of Europe

Asia Pacific

China
Japan
India
Southeast Asia
Rest of Asia Pacific

Latin America

Brazil
Rest of Latin America

Middle East & Africa (MEA)

GCC
North Africa
South Africa
Rest of Middle East & Africa