The global pain management therapeutics market was valued at USD 72.41 billion in 2021 and is predicted to hit over USD 105.77 billion by 2030, expanding growth at a CAGR of 4.3% during the forecast period 2022 to 2030.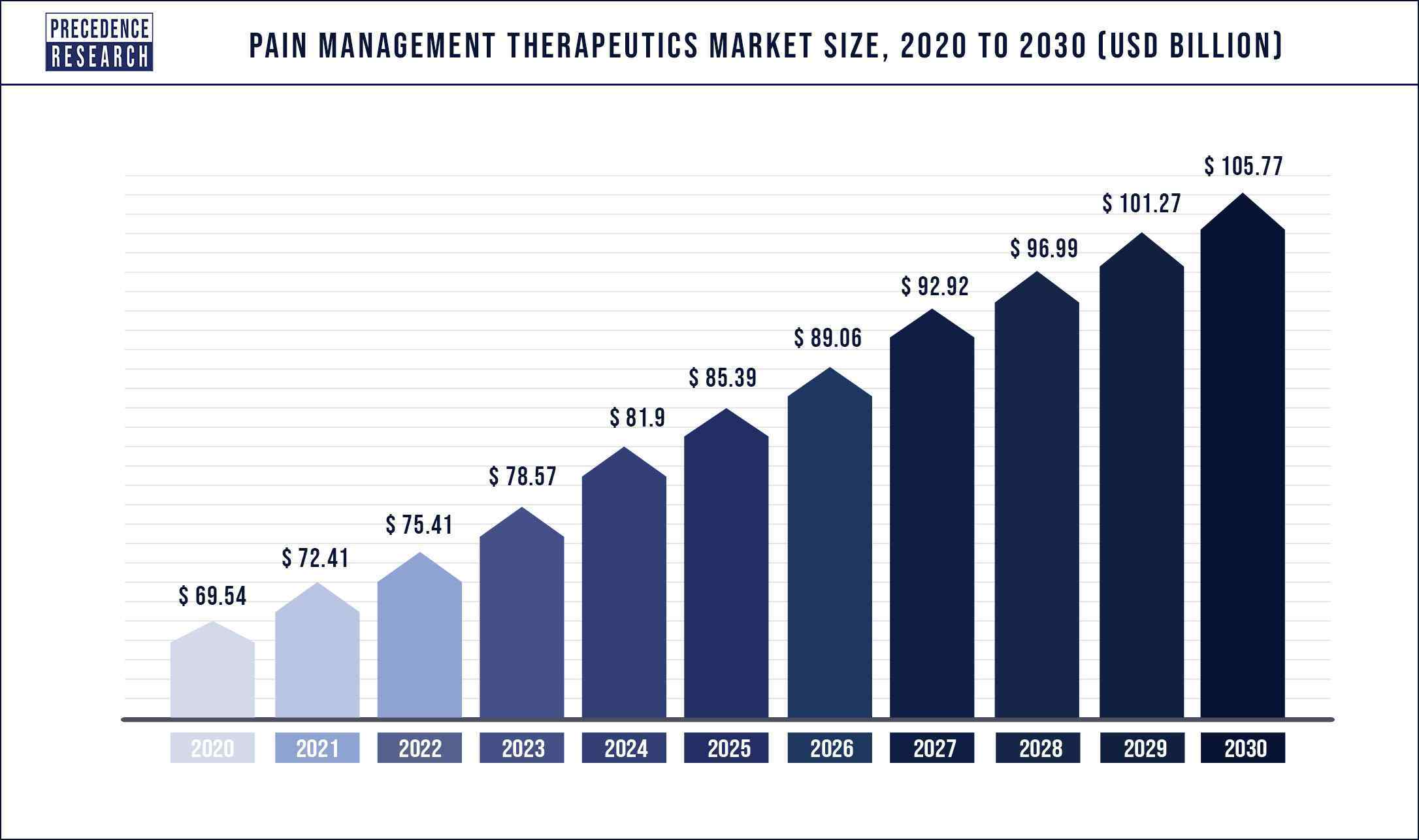 Key market Insights:
According to the data published by National Center for Complementary and Integrative Health, more than 20% of adult population in the United States was suffering from chronic pain and around 8% had severe chronic pain in the year 2018. In multiple studies it has been demonstrated that females are more susceptible to pain as compared to males. Almost 27% of women suffer from pain whereas around 24% of men undergo pain in the United States. Doctors generally prescribe Non-steroidal anti-inflammatory drugs (NSAIDs) in the initial phases of pain, followed by more targeted treatment selections. Prescription medicines are simple to use and are also economical when administered at a primary level. Augmented awareness about accessibility of medicines for pain management is driving the consumption and reception of pain management medications over other therapy options. Therefore, high awareness, easy access, quick action, and cost effectiveness have formed pain management medications more preferable over other therapy options. However, newer treatment options are constantly being tested. The key manufacturers are exploring effective ways to implement the network model for research and development. The continuing research and development help businesses to analyze new treatment combinations and its effectiveness for better pain administration. The focus is shifting towards personalized drugs, biologics, and quick dose lifestyle medicines that account for above 70% of the medications in development. The product lines are currently more inclined towards amending disease rather than concentrating on symptoms. Manufacturers are moving from chemical-based medications to biological products based therapeutics. Furthermore, the sympathetic administrative reform is also helping in the development of novel and active pain management medications.
Crucial factors accountable for market growth are:
Increasing geriatric population
Rising number of accidents worldwide
Growing prevalence of chronic disorders
Rise in per-capita healthcare expenditure
Increasing number of surgeries
Constant approvals for new easy-to-use and effective medications
Increasing cases of cancer in developing regions
Growing research and development expenditure
| | |
| --- | --- |
| Report Highlights | Details |
| Market Size | USD 105.77 Billion by 2030 |
| Growth Rate | CAGR of 4.3% from 2022 to 2030 |
| Base Year | 2021 |
| Historic Data | 2017 to 2021 |
| Forecast Period | 2022 to 2030 |
| Segments Covered | Drug Class, Indication, Distribution Channel |
| Regional Scope | North America, Europe, Asia Pacific, Latin America, Middle East & Africa (MEA) |
| Companies Mentioned | Teva Pharmaceutical, Pfizer, Abbott, Mallinckrodt Pharmaceuticals, Endo International, GlaxoSmithKline, AstraZeneca, Depomed, Merck, Novartis |
Significant Market Trends:
NSAIDs Segment Reported Foremost Market Stake in 2020
NSAIDs recorded the major market stake in the worldwide pain management therapeutics market in 2020. Availability as over-the-counter drugs and low-cost are the major reason for high market share of NSAIDs. Other factors such as ease of use and quick relief from pain boost the demand for Non-steroidal anti-inflammatory drugs (NSAIDs).
Opioids are anticipated to advance at the maximum CAGR through the forecast period due to launch of new products and high use in the alleviation of cancer pain.
Neuropathic Pain is Projected to Dominate the Indication Segment of Pain Management Therapeutics Market Revenue
Neuropathic pain is triggered by damage or ailment distressing the somatosensory nervous system. The neuropathic pain is mostly chronic in nature. Phantom limb syndrome is one example of neuropathic pain. This condition arises when a leg or an arm has been detached because of injury or illness, however the brain still receives pain messages through the nerves which formerly carried impulses from the absent limb. The misfiring of nerves causes pain. Due to the chronic nature of neuropathic pain, the pain-relieving medications are administered on a regular basis contributing to high revenue share.
Retail Pharmacy is Projected to Dominate the Distribution Channel Segment of Pain Management Therapeutics Market Revenue
High demand for over-the-counter medications and strong network of retail pharmacies are the major reasons responsible for high market share of oncology.
North America is Estimated to be the Largest Market for Pain Management Therapeutics
The research study covers key prospects and trends of pain management therapeutics products throughout different regions including Europe, North America, Asia-Pacific, Middle East and Africa, and Latin America. Regionally, pain management therapeutics market is dominated by North America due to high incidence of chronic disorders and presence of skilled researchers. On the other hand, Asia-Pacific is anticipated to witness the rapid growth rate, on account of increasing investment by major manufacturers, increasing cases of accidents, and high production of generics in the region.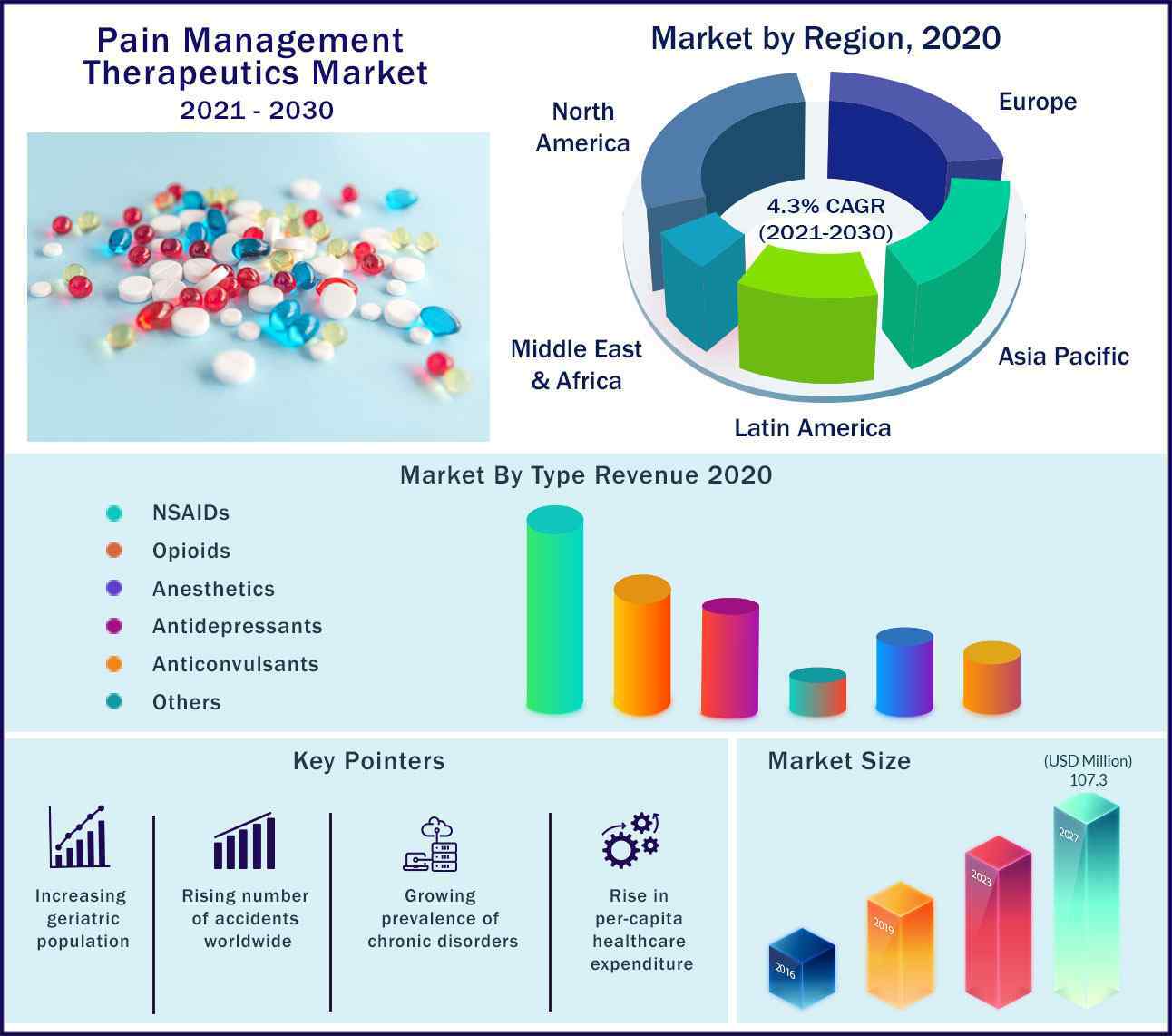 Top Players contending in the Market:
The companies focusing on research and development are expected to lead the global pain management therapeutics market. Leading competitors contending in global pain management therapeutics market are as follows:
Teva Pharmaceutical
Pfizer
Abbott
Mallinckrodt Pharmaceuticals
Endo International
GlaxoSmithKline
AstraZeneca
Depomed
Merck
Novartis
In order to better recognize the current status of pain management therapeutics, and policies adopted by the foremost countries, Precedence Research predicted the future evolution of the pain management therapeutics market. This research study bids qualitative and quantitative insights on pain management therapeutics market and assessment of market size and growth trend for potential market segments.
Major Market Segments Covered:
By Drug Class
NSAIDs
Opioids
Anesthetics
Antidepressants
Anticonvulsants
Others
By Indication
Arthritic Pain
Neuropathic Pain
Chronic Back Pain
Post-Operative Pain
Cancer Pain
Others
By Distribution Channel
Online Pharmacy
Retail Pharmacy
Hospital Pharmacy
By Geography
North America
Europe

Germany
France
United Kingdom
Rest of Europe

Asia Pacific

China
Japan
India
Southeast Asia
Rest of Asia Pacific

Latin America

Brazil
Rest of Latin America

Middle East & Africa (MEA)

GCC
North Africa
South Africa
Rest of Middle East & Africa