The global pallets market size was estimated at USD 66 billion in 2022 and is expected to hit around USD 110.09 billion by 2032 and is poised to grow at a compound annual growth rate (CAGR) of 5.3% from 2023 to 2032.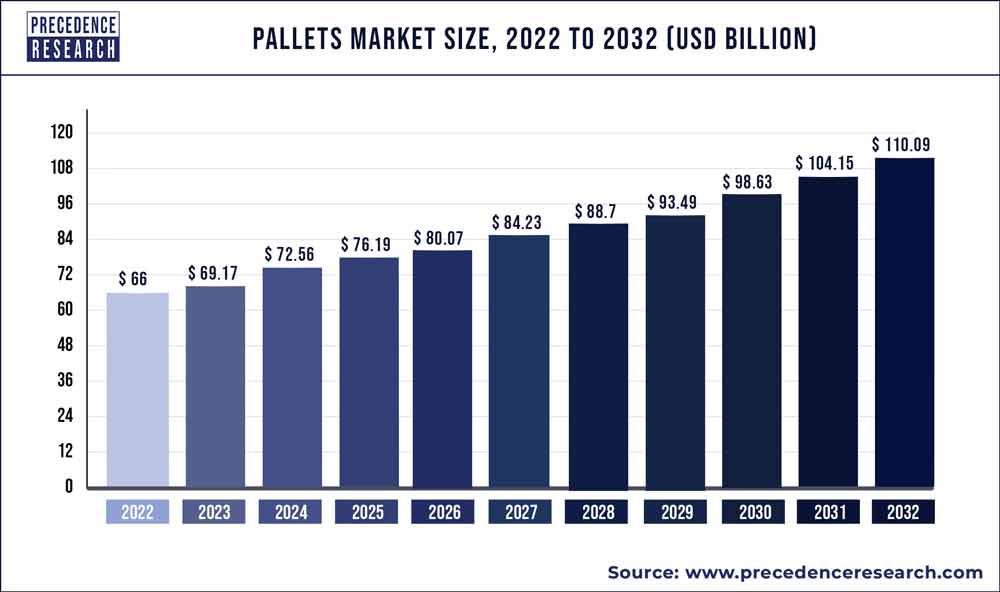 Access our Premium Real Time Data Intelligence Tool, Visit: Precedence Statistics
Pallets are horizontal support platforms that help move products from one location to another with a forklift or a front loader. They are one of the most often used substrates for stacking products, and they are typically stabilized using stretch wrap, pallet collars, glue, or other techniques. Depending on the intended use, they can be produced using a variety of materials, including wood, plastics, metal, etc. Workers may stack larger items on a single pallet without risk of damage since they are considerably tougher than some other containers like plastic wraps and cardboard boxes. Many manufacturers and shippers of business items utilize them widely because of these qualities all over the world.
The need for logistics services is being greatly boosted by the rising smartphone sales, expanding internet usage, and expanding e-commerce sector, which in turn is bolstering the growth of the pallet market globally. In addition, rising consumer spending on housing and infrastructure due to consumers' rising income levels, in conjunction with the fast industrialization and urbanization, is raising the need for pallets globally. Additionally, manufacturers are spending money on research and development (R&D) projects to incorporate technical advancements into the pallet manufacturing process. For instance, they have made multiple-trip pallets available, which help to lower trip costs, eliminate solid waste, and boost operational effectiveness. Due to its capacity to be recycled and reused, plastic pallets have also seen tremendous growth in appeal across a variety of industries.
Growth Factors
Growing use of plastic pallets in the pharmaceutical, chemical, food, and beverage industries due to their superior qualities such as lightweight, easy handling, and shock absorption among others; expanding e-commerce activities in the world; and an increase in demand for wooden pallets due to low cost, lightweight, and high strength when compared to other kinds of materials used as pallet decks or surfaces are just a few of the key factors driving this growth in the pallets market.
Report Scope of the Pallets Market
| | |
| --- | --- |
| Report Coverage | Details |
| Market Size in 2023 | USD 69.17 Billion |
| Market Size by 2032 | USD 110.09 Billion |
| Growth Rate from 2023 to 2032 | CAGR of 5.3% |
| Base Year | 2022 |
| Forecast Period | 2023 to 2032 |
| Segments Covered | Materials, Type, Application, Structural Design, End Use and Geography |
| Companies Mentioned | DS Smith Plc, Smurfit Kappa group, Conitex Sonoco, Oji Holdings Corporation, Multi-wall Packaging, KraftPal Technologies Ltd., Europal Packaging, Tat Seng Packaging Group Ltd., Dopack, Interpal Industries Pte Ltd., Pheng Hoon Honeycomb Paper Products Pte. Ltd., Mabuchi Singapore Pte Ltd., The Alternative Pallet Company Ltd., Kimmo (Pty) Ltd., Tri-Wall Holdings Limited, GreenLabel Packaging, Palletkraft Europe Ltd., Packprofil Sp. z.o.o., The Corrugated Pallet Company, Elsons International. |
Key Market Drivers
Rise in awareness regarding benefits of plastic pallet - The expansion of the pallets market is being driven by an increase in demand for plastic pallets as a result of increased consumer awareness of the advantages of plastic pallets. Pallets made of plastic are easier to handle during shipment. Additionally, they come highly suggested in sectors like food and beverage, pharmaceuticals, chemicals, and others where there is a greater chance of chemical contamination. Plastic pallets can also be utilized in clean room applications since they are simple to disinfect and clean. Such elements are influencing the pallets industry's need for plastic pallets.
Liberalization of Economies and Growing World Trade - The global economy has grown rapidly in recent decades. Unexpectedly rapid expansion in global commerce has contributed to some of this development. Technological advancements and deliberate initiatives to remove trade obstacles both contribute to trade growth. While the majority of developing countries have not, others have opened their economies to fully take advantage of trade possibilities. Countries' integration into the global economy has been demonstrated to be a key instrument for fostering economic growth, development, and the eradication of poverty. Over the past 20 years, global commerce has increased at an average pace of 6% annually, which is twice as quickly as world output.
Key Market Challenges
Volatility of Raw Material Prices - The fluctuation of raw material prices is one of the reasons limiting the expansion of the pallet business. Plastic, which is composed of polyethylene (PE) and polypropylene, is one of the most often used raw materials in the construction of pallets (PP). Over the years, they have seen a huge price increase as a result of supply-chain instability. As a result, the cost of producing plastic pallets has gone up, which has undoubtedly increased the cost to end users and decreased the market for these pallets. The margins of all different stakeholders in the global pallet market value chain, including vendors, are impacted by any change in the price of these raw materials, which worries both pallet manufacturers and end-users.
Key Market Opportunities
Increasing Freight Volumes: Pallets are used for transportation, which drives the market. The freight industry consists of businesses that transport bulk goods as a part of an integrated, multimodal logistics network. By 2050, the amount of maritime freight transported globally will have more than tripled, and more than one-third of all logistical expenditures will be made on road freight. Pallets are frequently utilized in both circumstances. Pallets are required for the transportation of some items. A motorbike, for instance, is a product that requires the use of pallets. Its two-wheel base prevents it from standing on its own, and depending on a motorbike stand won't prevent it from tumbling, particularly inside a moving freight vehicle.
Adoption of pallets for transportation purposes- The market is driven by the use of pallets for transportation. In the multimodal, integrated logistics network that makes up the freight sector, there are companies that transport bulk products. The Organization for Economic Cooperation and Development (OECD) predicts that by 2025, the volume of freight moving across the world will have increased by more than four times, with road freight accounting for about one-third of all logistics expenditures worldwide. One product where the usage of pallets is crucial is the motorbike, as an example. Because its base is made up of two wheels, it is unable to stand solidly on its own, and depending on a motorbike stand would not guarantee that it would not topple, particularly when inside a moving cargo vehicle. Putting the product on a pallet and securing it firmly prevents it from dropping or colliding with other priceless goods. Therefore, the need for pallets will continue to rise in the future as a result of rising freight volumes.
Segmental Insights
Materials Insights
In terms of value in 2022, high-density polyethylene (HDPE) held the highest share with 73% of the market for materials. HDPE pallets are popular among end-user organizations because they are simple to maintain, provide great impact resistance, as well as good solvent and corrosion resistance. Furthermore, when handled roughly by forklifts and other material handling equipment, HDPE pallets sustain little to no damage. Additionally, HDPE pallets have strong chemical and weather resistance, which makes them appropriate for use in food and pharmaceutical industries.
Polypropylene (PP) materials are anticipated to see the largest increase between 2023 and 2032 because to their exceptional durability and suitability for heavy-duty applications in a small supply chain. PP pallets are more expensive than HDPE pallets, but because of their superior longevity, PP pallets may make more return trips than HDPE and ultimately end up being more cost-effective. Due to their high cost, PP pallets can only be used in closed-loop applications and cannot be used as export or one-way pallets. However, businesses are choosing returnable pallets more frequently in order to cut down on plastic waste and solve sustainability issues brought on by disposable or one-way pallets, which is anticipated to increase demand for PP pallets.
Type Insights
In 2022, nestable pallets held a commanding 44.6% revenue share in the type segment of the plastic pallets market. Because they may nest inside of one another, they take up less room during return freight and are more economical than other types of pallets. Additionally, they are less costly than their rackable and stackable equivalents, which makes them perfect for use in open-loop supply chains or export.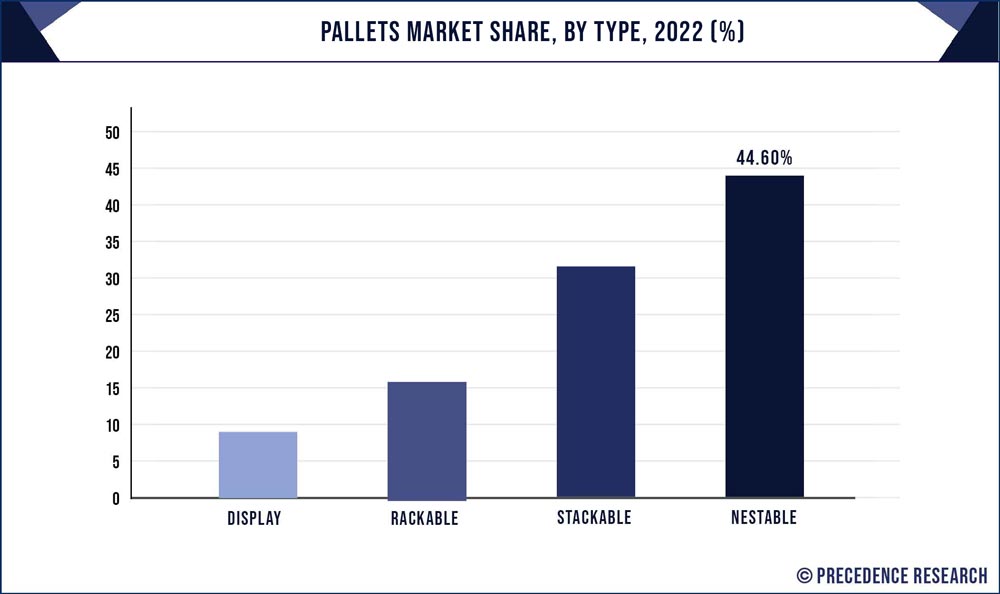 Rackable pallets are made to be stored on racks; because they may be arranged evenly apart in vertical order on the racks, these pallets enable end-use businesses to utilize their floor space. In order to handle big loads, racking pallets typically contain a picture frame or runner frame at the bottom.
In contrast to a nestable pallet, a stackable pallet features a sturdy platform as its basis. When being delivered back to the source, these pallets are often piled on top of one another. Due to its construction, stackable pallets offer the most stability to the loaded products, making them a popular pallet option for shipping goods over extended distances. Because of its more durable architecture than rackable pallets, stackable pallets are frequently utilized in heavy-duty applications.
Due to the frequent handling and shipping of heavier components from suppliers' facilities to vehicle assembly plants, larger pallets are favored in the automotive sector. Over the course of the projection period, the demand for stackable pallets is anticipated to benefit from the constant growth of the heavy metal and automotive manufacturing industries.
End Use Insights
With more than 23.9% of the worldwide sales in 2022, the market's leading end-use category was food and beverage. Farmers and agricultural businesses that handle fresh produce as well as businesses that store, handle, and transport meat, dairy, baked goods, and other processed foods were the main drivers of demand.
Plastic pallets are frequently used in the chemical industry to handle a variety of powder, granule, and liquid form goods. Pallets are used for loading, unloading, and transportation of chemicals, minerals, metals, and plastic polymers including PET, PP, ABS, and others. Due to their inexpensive cost and widespread availability, wooden pallets are frequently used in the chemical industry for export applications. However, because to their durability, sustainability, and hygienic qualities, chemical firms have started to choose plastic pallets more and more in recent years.
In the pharmaceutical sector, product hygiene for material handling and packaging is crucial. Due to their difficulty in cleaning and ability to house germs and fungi, wooden pallets provide a danger of contamination. However, plastic pallets are a great option for material handling in the pharmaceutical business because of their excellent chemical resistance and lack of contamination.
Pallets Market Share, By Region, 2022 (%)
| | |
| --- | --- |
| Regions | Revenue Share in 2022 (%) |
| North America | 24.50% |
| Asia Pacific | 32.60% |
| Europe | 28.40% |
| Latin America | 8.20% |
| MEA | 6.30% |
Geography Insights
With approximately 32.7% of the worldwide revenue share in 2022, Asia Pacific was in the lead and is expected to continue to grow at the quickest CAGR from 2022 to 2030. The market in the area will develop at the greatest rate from 2022 to 2030 due to a number of important factors, including the region's rapid industrialization and the exponential rise of e-commerce.
Between 2023 and 2032, North America, which was the second-largest market in 2022, is predicted to see a significant CAGR. Favorable trade agreements, like as the T-MEC between the United States, Canada, and Mexico, are expected to boost regional industrial activity and thereby the North American market. On March 11, 2020, the EU (European Union) published its new "Circular Economy Action Plan," in which they set a goal to have all of the EU market covered by reused and recycled material by 2030 in a way that is financially sustainable. Reuse, recycling, and biodegradable packaging are also major priorities in the European Union. Additionally, it is expected that such encouraging actions will encourage the usage of recyclable plastic pallets in the region.
Recent Developments
In May 2022, Cabka signed a contract with Target, a significant US-based general merchandise retailer with close to 2,000 locations. For Cabka, the arrangement had significant value in terms of potential future earnings. The contract between Cabka and Target demonstrated Cabka's expansion strategy in the US, namely using the prospects in the big container and bespoke solutions area.
In September 2021, Menasha's subsidiary ORBIS Europe partnered with pooling firm RECALO. With the help of the cooperation, ORBIS hoped to provide its clients with extra advantages, regardless of whether they chose to hire the load carriers or make use of the full range of RECALO pooling services.
Key Market Players
DS Smith Plc
Smurfit Kappa group
Conitex Sonoco
Oji Holdings Corporation
Multi-wall Packaging
KraftPal Technologies Ltd.
Europal Packaging
Tat Seng Packaging Group Ltd.
Dopack
Interpal Industries Pte Ltd.
Pheng Hoon Honeycomb Paper Products Pte. Ltd.
Mabuchi Singapore Pte Ltd.
The Alternative Pallet Company Ltd.
Kimmo (Pty) Ltd.
Tri-Wall Holdings Limited
GreenLabel Packaging
Palletkraft Europe Ltd.
Packprofil Sp. z.o.o.
The Corrugated Pallet Company
Elsons International.
Market Segmentation
(Note*: We offer report based on sub segments as well. Kindly, let us know if you are interested)
By Materials
Wood
Plastic via Injection Molding
Plastic via Other Methods
Corrugated Paper
Metal
By Type
Rackable
Nestable
Stackable
Display
By Application
By Structural Design
By End Use
Food & Beverage
Pharmaceuticals
Cosmetics & Personal Care
Consumer Electronics
Engineering Products
Chemicals
Textile and Handcraft
Agriculture and Allied Industry
Building & Construction
Automotive
By Geography
North America
Europe
Asia-Pacific
Latin America
Middle East & Africa (MEA)