The global pancreatic cancer market size was estimated at USD 2.22 billion in 2022 and it is expected to be worth around USD 7.91 billion by 2032, growing at a remarkable CAGR of 13.6% between 2023 and 2032.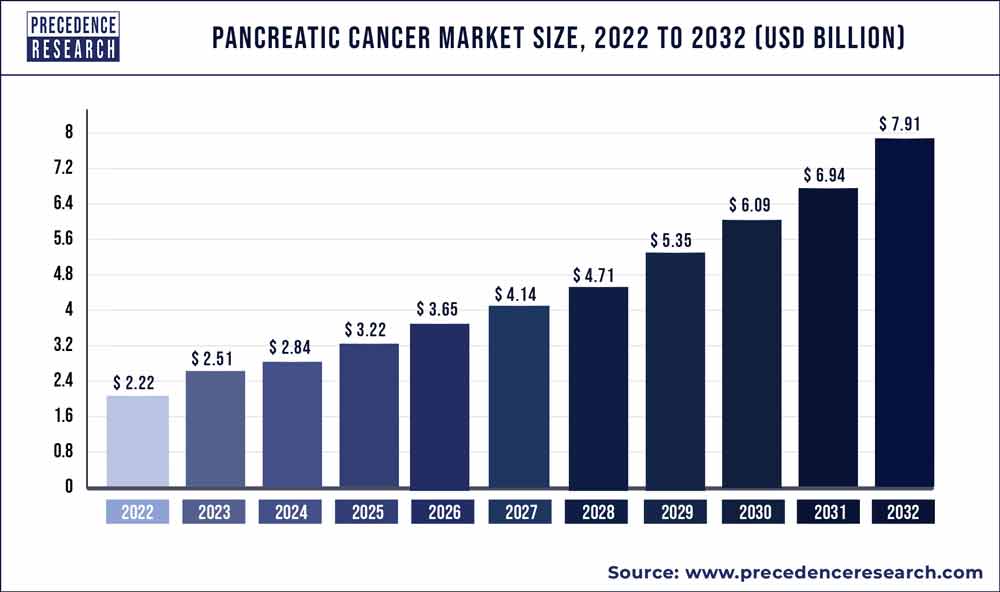 Globally, the pancreatic cancer market is increasing due to increasing cancer prevalence, rise in research and development, and a rising population. Additionally, cancer treatments are growing due to increasing funding and initiatives by government and private research organizations coupled with their collaborations with pharmaceutical companies is expanding the growth of the market.
Key Takeaways:
North America generated more than 39% of revenue share in 2022.
By Type, the chemotherapy segment is expected to expand at the fastest CAGR from 2023 to 2032.
By End-users, the clinic segment is projected to grow at a remarkable CAGR from 2023 to 2032.
Report Scope of the Pancreatic Cancer Market:
| | |
| --- | --- |
| Report Coverage | Details |
| Market Size in 2023 | USD 2.51 Billion |
| Market Size by 2032 | USD 7.91 Billion |
| Growth Rate from 2023 to 2032 | CAGR of 13.6% |
| Largest Market | North America |
| Base Year | 2022 |
| Forecast Period | 2023 to 2032 |
| Segments Covered | By Type and By End-users |
| Regions Covered | North America, Europe, Asia-Pacific, Latin America and Middle East & Africa |

Key Market Drivers:
Rise in the prevalence of cancer
Overall, there is a rapid increase in the prevalence of cancer cases and its growth is driven by factors such as unhealthy diet, physical inactivity, tobacco and alcohol consumption, air pollution and physical inactivity. Additionally, the incidence of cancer cases rises dramatically due to build up of cancer cases specific to age and the less effective repair mechanisms to be less effective as the person grows old. Additionally, the increase in chronic infections attributed as risk factors for cancer cases is rising, majorly in low-middle income countries. For instance, approximately 13% of cancers diagnosed in 2018 globally were attributed to carcinogenic infections, including Hepatitis C virus, HPV, and Epstein-Barr virus. Furthermore, according to oncology statistics, cancer cases are estimated to increase by 12.8 percent in 2025. As a result, rising cancer prevalence will increase the market's expansion.
Key Market Restraint:
Side effects of treatment
The oncology treatments are precise, genuine, and come with numerous side effects. Pancreatic cancer treatments have various side effects during the treatment and after the treatment depending on patient to patient. Chemotherapy is the most used treatment in cancer treatment, and it is designed to destroy the pancreatic cancerous cells although it also destroys the healthy cells from the body affecting the health and significant impact on side effects that re-experienced by patients. Additionally, radiation therapy used in treating cancers causes certain side effects, for example, the exposure of radiation makes the skin red, patients become nauseous, lose appetite and even diarrhea in some cases. As a result, the side effects of pancreatic cancer treatment hinder market growth.
Key Market Opportunity:
Increase in research and development
The increase in epidemiologic, molecular, and basic clinical research is leading to improved prevention, diagnosis, and treatment. As there in an increase in clinical research and development so is the increase in the pharmaceutical business. For example, according to the study, in 2019, pharmaceutical companies spent $83 on clinical research and development, which is about 10 times than the money spent in 1980s. Additionally, the number of new drugs approved over time has increased, for instance, between 2010 and 209, the new drugs approved for sale increased from 60 percent. As a result, the growing business for pharmaceuticals increases the market for pancreatic cancer treatment due to the development and investment in cancer drugs and medicines. Therefore, a rise in clinical research is a good opportunity for pancreatic cancer treatment.
Segments Insight:
Type Insights:
Based on type of treatment, pancreatic cancer market is fragmented into chemotherapy, targeted therapy, immunotherapy, hormone therapy and others. Chemotherapy is expected to grow in the forecast period. Advantages like prevention of cancer from spreading, killing cancer cells, slowing the growth of cancer coupled with employing powerful chemicals in killing fast growing cells are driving the growth of the chemotherapy treatment. Additionally, chemotherapy has other advantages like curing the cancer without other treatments, also used in other surgeries to kill the cancerous cells. Furthermore, Chemotherapy also eases the signs and symptoms of cancer and prepares the patients for other treatments.
Moreover, Chemotherapy is used in any stage of pancreatic cancer in killing the cancer cells and the drugs are administered in cycles with alternating period of diagnosis and recovery. Additionally, chemotherapy for pancreatic cancer can be given during surgery or in conjunction with radiation therapy. In most of the pancreatic cancer cases, chemotherapy is effective when two or more drugs are given together and in case of advanced chemotherapy, drugs like 5-fluorouracil (5-FU) or capecitabine, Gemcitabine and Platinum drugs like cisplatin or oxaliplatin are employed. For instance, according to a clinical research trial of pancreatic cancer treatment, the first trial observed a significant increase in patient survival when the type of chemotherapy administered following surgery was changed from a single drug to a multi-drug regimen. Patients in the trial who received the multi-drug regimen survived on average for 4.5 years after treatment, which was significantly longer than anticipated.
End-Users Insights:
Based on the end-users, pancreatic cancer market is fragmented into hospitals, specialty clinics and others. Clinics are expected to grow in the forecast period. The primary drivers of the growth of specialty clinics or cancer centers are genuine treatment combined with high-quality services. The availability of the clinical staff members is a benefit of specialty clinics because oncologists and medical professionals share the same entity and specialization, and the patient can easily and affordably receive a diagnosis and treatment. Along with that, it becomes simpler to manage insurance, patient scheduling, and access to the latest advances in the treatment of cancer because specialty clinics only provide specialized types of medicine, for example cancer centers for cancer patients. These specialized facilities also offer multidisciplinary oncology research, education, prevention, diagnosis, and treatment.
Additionally, since cancer is a significant health issue, the government is investing more money in the construction of cancer specialty centers and the financial support of cancer patients, and these governmental organizations offer funding for cancer research. For instance, many other research institutes and organizations around the world support clinical oncology research, including the Centers for Disease Control and Prevention (CDC), the National Cancer Institute (NCI), the Government of India, the Ministry of Health of the People's Republic of China, and many others. The majority of these specialty clinics offer research into cancer thereby expanding the growth of the market.
Regional Insights:
By region, North America is expected to grow in the forecasted period. The growth in this region is attributed to the high adoption of cancer treatments especially the pancreatic treatment procedures, increasing healthcare infrastructure, presence of a large target population is propelling the demand for the pancreatic cancer market. Additionally, in United States, Cancer ranks second for causing death and according to o the America's Cancer Society for pancreatic cancer, about 64,050 people will be diagnosed with pancreatic cancer in 2023 and estimation of around 50,550 people will die of pancreatic cancer.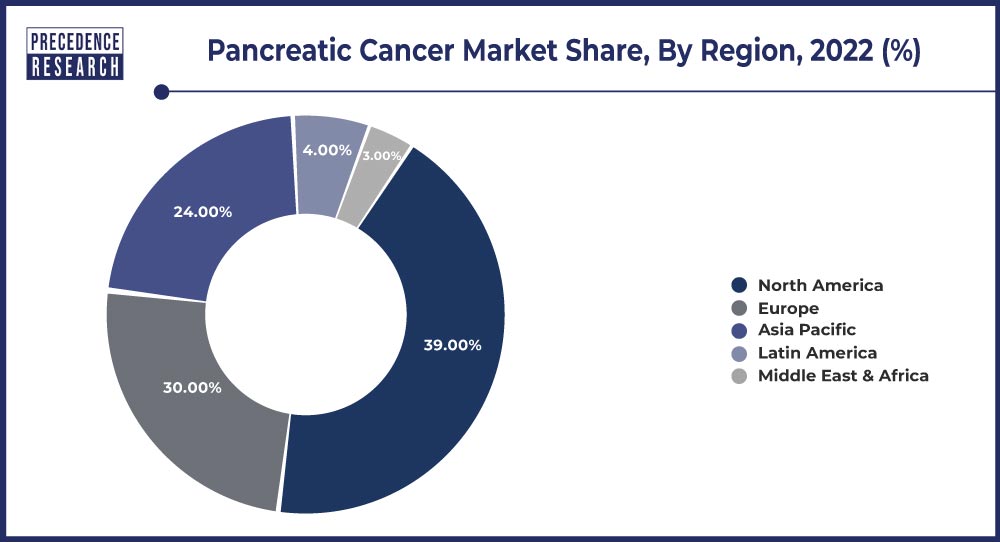 Additionally, rising clinical research in Canada, as it captures around 4% of global clinical trials and is globally recognized for its expertise clinicians and researchers who are globally recognized for major medical discoveries and innovations in complex therapeutic areas. The research regarding pancreatic cancer is growing and recently, to treat pancreatic cancer, which has the lowest survival rate of all cancers, the Canadian Cancer Trials Group (CCTG), PA.7 clinical trial combines innovative immunotherapy drugs with conventional chemotherapy, a successful combination for treating certain cancers like kidney and lung. As a result, pancreatic cancer innovations in North America are paving the way for the market's expansion.
Recent Developments:
March 2023, Novartis is currently in Phase I of the clinical development of LGK-974 for metastatic pancreatic cancer. The phase transition success rate (PTSR) benchmark for moving into Phase II for Phase I drugs for Metastatic Pancreatic Cancer is 88%, according to GlobalData.
July 2021, NIS793 from Novartis has been given Orphan Drug Designation by the FDA for pancreatic cancer.
October 2022, California-based to evaluate ERAS-007 in combination with Pfizer's Ibrance (palbociclib), Erasca announced that it is extending its current partnership with the pharmaceutical giant.The extended clinical trial collaboration and supply agreement will see both biopharmas embark on a clinical proof-of-concept study.
January 2022, for Multitargeted T-cell therapy was granted orphan drug status by the U.S. Food and Drug Administration (FDA) for the treatment of pancreatic cancer. When used in conjunction with chemotherapy, this treatment has the potential to produce long-lasting effects in people with advanced or metastatic pancreatic cancer.
February 2022, A partnership between Eli Lilly and Company and UNICEF was announced with the goal of enhancing healthcare resources for the roughly 10 million children and adolescents with non-communicable diseases.
July 2021, The FDA granted the monoclonal antibody NIS793 from Novartis the Orphan Drug Designation (ODD) for pancreatic cancer.
Key Market Players:
Pfizer Inc.
F. Hoffmann-La Roche Ltd
AstraZeneca
Teva Pharmaceutical Industries Ltd
Bayer AG
Amgen Inc.
Astellas Pharma Inc.
Novartis AG
Eli Lilly and Company
Astellas Pharma Inc.
Segments Covered in the Report:
(Note*: We offer report based on sub segments as well. Kindly, let us know if you are interested)
By Type
Chemotherapy
Targeted therapy
Immunotherapy
Hormone therapy
Others
By End-users
Hospitals
Speciality Clinics
Home care
Others
By Geography
North America
Europe
Asia-Pacific
Latin America
Middle East and Africa