The global port infrastructure market size was estimated at USD 151 billion in 2022 and is expected to hit around USD 249.49 billion by 2032, poised to grow at a compound annual growth rate (CAGR) of 5.2% from 2023 to 2032.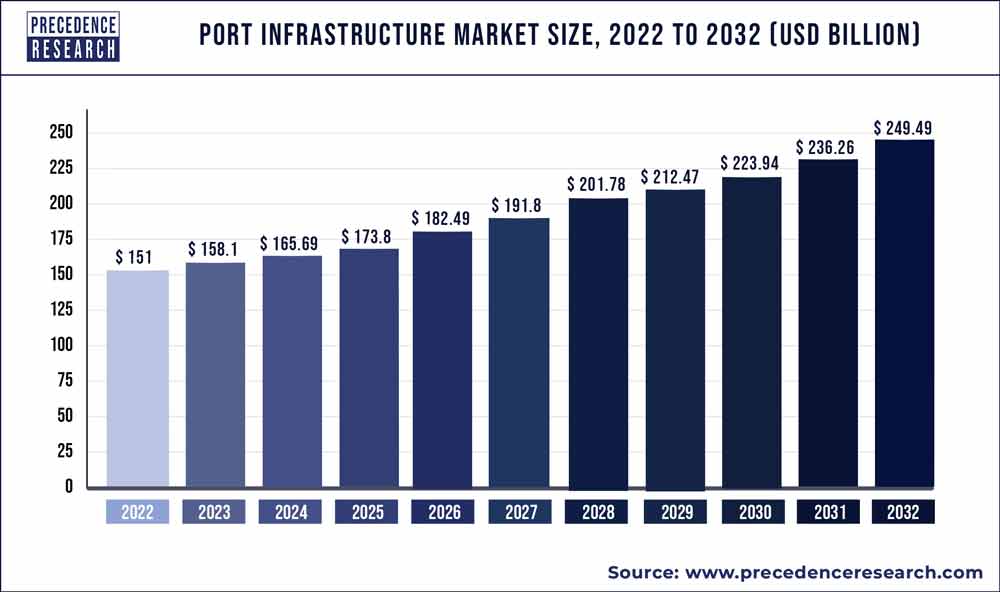 Key Takeaways:
By port type, the sea port segment accounted for 74% market share in 2022.
By application, the cargo segment has exhibited an 82% revenue share in 2022.
By construction type, the equipment segment made up 51% market share in 2022.
Asia-Pacific dominated the market with a revenue share of around 47% in 2022.
Infrastructure and facilities used to provide transportation-related port services are referred to as port infrastructure. By adapting near shore extensions and offshore ports, and by building adaptable and robust solutions for future ship and vessel types, and hinterland logistics, port infrastructures will support and become more integrated with port operations, waterborne logistics, and hinterland logistics.
Particularly in an open and globalized economy, transportation infrastructure is crucial to the nation's economy. serving as significant transportation nodes that facilitate the transit of goods the delivery of freight (including components, parts, and finished consumer goods) to enterprises in nearby towns and on international markets using various forms of transportation, including rail, truck, air, and sea. These ports enable the transfer of commodities between the seaports and other settlements. They also include smaller inland and intercoastal ports. Cargo transfers between various forms of transportation are referred to as intermodal transportation.
Report Scope of the Port Infrastructure Market
| | |
| --- | --- |
| Report Coverage | Details |
| Market Size in 2022 | USD 158.1 Billion |
| Market Size by 2032 | USD 249.49 Billion |
| Growth Rate from 2023 to 2032 | CAGR of 5.2% |
| Base Year | 2022 |
| Forecast Period | 2023 to 2032 |
| Segments Covered | Port Type, Application, Construction Type, Infrastructure, Facility, and Geography |
| Companies Mentioned | CS Group, Larsen & Toubro Ltd., Man Infraconstruction Ltd., Hyundai Engineering, Colas, Essar Ports Ltd., IL&FS Engineering & Construction Company Ltd., Consolidated Engineering Construction Co, Bechtel, and Danube Ports Network Company, Adnani Ports and SEZ, APM Terminal, IQPC, The Great Eastern Shipping Company. |
Growth Factors
Increased government spending on port infrastructure is anticipated to assist the market for port infrastructure globally by ensuring safe and fruitful commercial activity. Additionally, it is anticipated that demand for the sector will rise as a result of the expansion and demand for liquefied natural gas exports via sea transport. Additionally, a lot of businesses depend on maritime shipping to import and sell goods internationally.
Governments are anticipated to increase their port infrastructure investments in order to assure secure and productive economic activity, which will help the port infrastructure market internationally. Demand for the industry is also predicted to increase due to the expansion and requirement for liquefied natural gas exports via marine transport. A lot of companies also depend on maritime shipping to import and export commodities worldwide. These elements are fueling global demand for port infrastructure. Since infrastructure and connection are the foundations of any nation, they support the trade of each nation with the rest of the globe. Consequently, this infrastructure is crucial to the entire growth of economies. In any commerce, distance and the method of transportation are the most crucial elements. By saving time, reducing traffic and congestion, and transporting heavier cargo, low-cost transportation enhances business operations. Marine commerce operations are growing in acceptance on a global basis due to this advantage over other modes of transportation. The construction of additional ports to handle marine traffic is also being promoted as a possibility in rising nations due to the strengthening of economic links and the growth of trade volumes. New ports are being built quickly in nations like China and India; for instance, India increased the number of its ports from 199 in 2008 to 217 in 2018. Additionally, there have been private entities involved in the construction of ship ports in several nations.
Moreover, the government has implemented a number of policy initiatives intended to promote growth in the port industry, certain policy reforms are required to quicken countries port sector's development. These reforms ought to focus on enhancing the port infrastructure at ports, implementing new land policy for significant ports, establishing a port regulator at each port to oversee services and technical and performance standards, streamlining the environmental clearance process for port projects, creating a special purpose vehicle for investing in ports, developing significant new ports, and so forth. The marine industry of the nation is closely tied to trade activity. As commerce diversifies and expands, demand for its ports and trade infrastructure will only increase, providing strong justification for the quick and effective growth of port sector.
Segment Insights
Port Type Insights
Depending upon the port type, the sea port segment is the dominant player and is anticipated to have the biggest impact on port infrastructure market. As a result of expanding global trade, there is a growing desire for better global connection via waterways, both for passenger transit and freight shipping. Through the use of sea ports, massive amounts of cargo may be transported across continents. Hence, this segment is expected to grow. Sea ports are essential to economic activity, particularly in coastal regions. The demand for appropriate and enhanced port infrastructure has grown dramatically as a result of an annual increase in the throughput of passengers travelling by sea and goods transport. This situation is anticipated to increase the market opportunity for port infrastructure worldwide.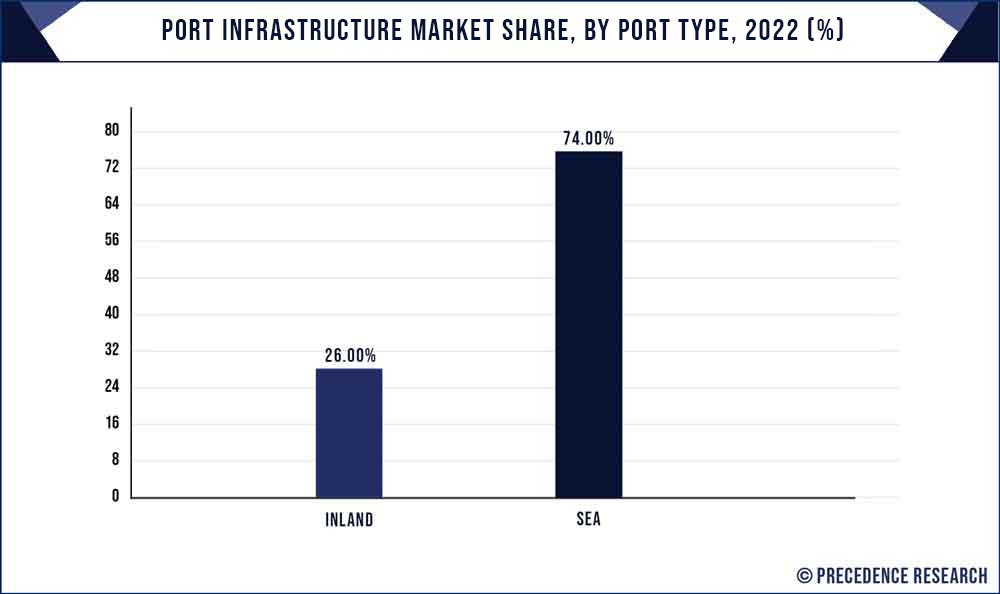 Superior logistics, the availability of huge buildings, near proximity to rail and highways, plenty of truck parking, less congested traffic, and financial incentives are all provided by inland ports. Speed to market with finished goods and the most affordable shipping are more important than ever in today's new global economy.
Application Insights
During the projected period, the cargo segment is anticipated to be the largest in the port infrastructure market. The cargo market is predicted to grow dramatically as a result of growing global trade and extended supply chains. More cargo shipping is used when the volume of exports and imports between continents rises. There is a huge need for cargo transportation, particularly for heavy load items, as equipment parts and final goods delivery are moved over rivers on a significant scale. Due to the increased shipping of various items around the world, the demand for cargo has increased in recent years due to the growth of e-commerce. Most of the trades and transportation are of cargo type due to its necessity. Hence, this segment is expected to be the largest.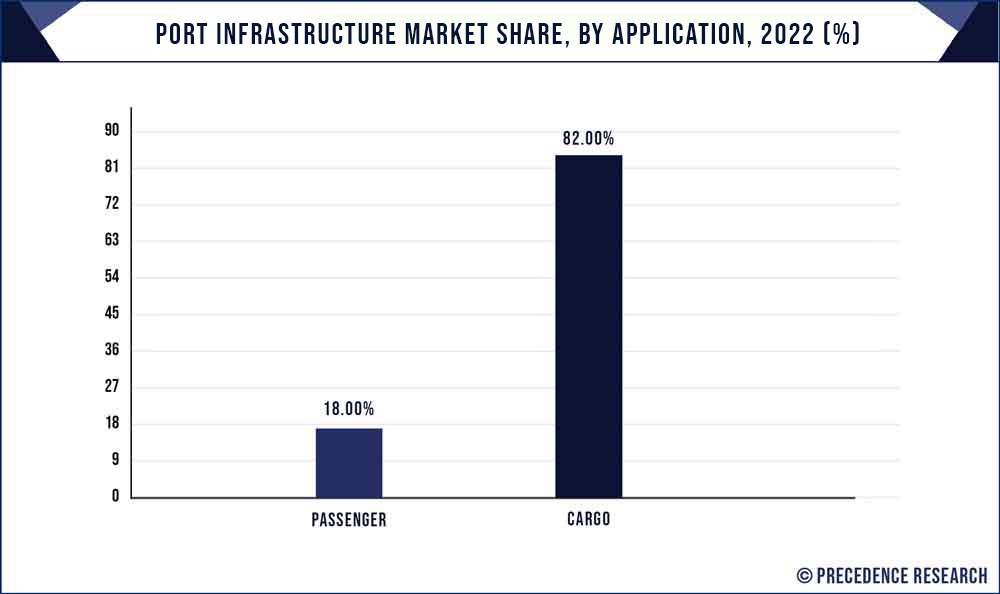 The most crucial elements in any trade are the form of transportation and the distance. Low-cost transportation enhances business operations by minimizing traffic and congestion, saving time, and transporting heavier cargo. Marine commerce operations are becoming more and more well-liked on a global scale as a result of this advantage over other modes of transportation. Passengers have been effected by the pandemic and almost half of the passengers have decreased post pandemic in almost every part of the globe.
Port Infrastructure Market Share, By Region, 2022 (%)
| | |
| --- | --- |
| Regions | Revenue Share in 2022 (%) |
| North America | 18% |
| Asia Pacific | 47% |
| Europe | 26% |
| Latin America | 5% |
| MEA | 4% |
Regional Insights
The dominant position in the port infrastructure industry belongs to North America. The existence of ports that make a substantial contribution to regional trading operations is the primary driver fueling the market's expansion in the North American region. U.S. and Canada are the countries with most important ports that connect North America to the rest of the world. All the major transactions and transportation activities makes this region in a dominant position.
Asia-Pacific is considered as fastest growing region. The ship port infrastructure market is anticipated to grow at the quickest rate during the projected period in the Asia Pacific region. India and China, two rapidly developing economic giants, as well as many Southeast Asian economies and their expanding maritime trade operations, will all make a substantial contribution to the market's regional expansion. Similar to India, this maritime transport is used for more than 95% of India's trade in terms of volume and 70% of trade in terms of value. The development of the market in this region will be aided by several government-supported initiatives and policies in the neighboring nations. Moreover, China, Japan, and India, three of the largest economies in South Asia, are boosting their investments in infrastructure to expand their influence in the Indian Ocean and get access to resources and prospective high-growth markets in the Middle East and Central Asia. For the region's port infrastructure industry, the development plans for the Sagarmala project in India and the deep-sea Angola port in China, respectively, would serve as prospective growth platforms. However, the presence of antiquated and frequently crowded docks in nations like India, Pakistan, Myanmar, and Bangladesh has in turn led to a growth in economic activity in China and Japan, which have more modern maritime facilities.
The worldwide port infrastructure industry is predicted to have highly lucrative growth due to increased regional competition among nations with extensive coasts, particularly in Asia Pacific.
Over the course of the projected period, there will be tremendous development potential due to the expanding investments being made in Latin America to enhance transportation, support commodity exports, and meet local consumer demand. The region is distinguished by the presence of 15 terminals and 92 anchorages, many of which require upgrading. As a result, the port infrastructure market in the area has great growth potential.
Key market developments
A 50-year concession has been granted to GT USA Wilmington to run the port's infrastructure and invest $600 million in modernising and enlarging the port terminal. The port is working to increase roll-on/roll-off cargo capacity and increase cargo throughput capacity from 350,000 TEUs to 600,000 TEUs (Twenty Foot Equivalent Unit).
Key market players
CS Group
Larsen & Toubro Ltd.
Man Infraconstruction Ltd.
Hyundai Engineering
Colas, Essar Ports Ltd.
IL&FS Engineering & Construction Company Ltd.
Consolidated Engineering Construction Co
Bechtel, and Danube Ports Network Company
Adnani Ports and SEZ
APM Terminal
IQPC
The Great Eastern Shipping Company
Segments covered in the report
(Note*: We offer report based on sub segments as well. Kindly, let us know if you are interested)
By Port Type
By Application
By Construction Type
Terminal
Equipment
Others
By Infrastructure
Container
Energy
Break-bulk
Roll-on/roll-off ports (ro-ro ports)
By Facility
Deep-water seaport
Seaport
River port
Harbor
Pier, Jetty or wharf
Port terminal
Off shore terminal
Canal
By Geography
North America
Europe
Asia-Pacific
Latin America
Middle East & Africa (MEA)