The global power MOSFET market size was estimated at USD 24 billion in 2021 and is expected to reach USD 38 billion by 2030 and is poised to grow at a compound annual growth rate (CAGR) of 5.24% over the forecast period 2022 to 2030.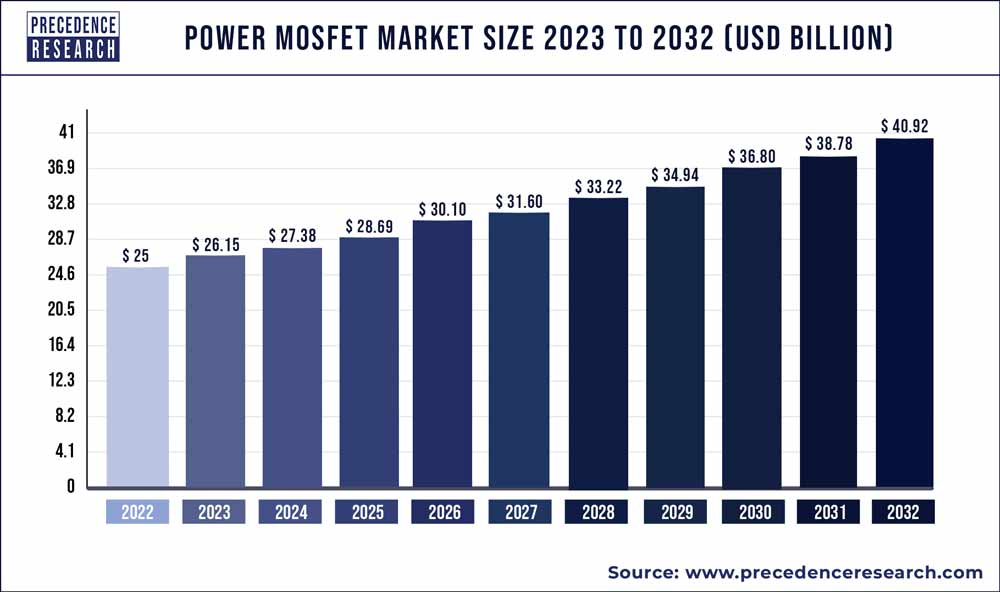 Key Takeaways:
The North America power MOSFET is projected to reach USD 2.8 billion by 2030 with a CAGR of 3.6% from 2022 to 2030.

By type, the enhancement mode segment contributed 57% in 2021 and is expected to grow at a CAGR of 6.4% between 2022 to 2030.

By power rate, the low power segment has reached at 41% market share in 2021 and is predicted to hit at a CAGR of 4.5% from 2022 to 2030.

By application, the automotive segment is anticipated to hit at a CAGR of 8.6% from 2022 to 2030.
MOSFET is an electromechanical switching device that uses an influence semiconducting material to change the masses as wanted. It not only provides power organization to advance liveliness efficiency in numerous industrial applications, consumer devices, and electric cars, but it is also a cost-effective replacement for bipolar junction transistors (BJT). It is presently operated to increase switching speed, stop energy loss, and enhance electric indications in electronic equipment, such as renewable energy sources and electric automobiles. Bipolar junction transistors have been substituted with power MOSFETs, a more affordable electronic switch technology. Electric automobiles are using power MOSFETs more often to recover substituting rapidity, avert electrical failure, and enhance electrical signals.
The top industries with the highest demand, for instance, are the automotive and industrial verticals. Given that it is used in so many different electric devices, the control MOSFET takes a lot of latent popularity in the future. With moderate expenditures in innovation, investigation, and testing over the future centuries, the marketplace is anticipated to create a little amount of cash. Power MOSFET sales are on the verge of maturity, and in the ensuing years, important companies should expect modest revenue growth. During the anticipated timeframe, there is significant room for expansion in the commercial and intermediate voltage MOSFET segments. Even though the industry is growing, these organizations are anticipated to bring in a sizable sum of money in comparison to other types of control MOSFETs.
Growth factors
As it is currently used in many electric devices, the power MOSFET has a great deal of potential. With moderate expenditures on testing, development, and research, the market is anticipated to produce a small amount of cash in the upcoming years. During the anticipated timeframe, there is significant room for expansion in both the industrial and medium-power MOSFET segments. Even though the industry is still in its early stages of development, these systems are anticipated to bring in a sizable sum of money in comparison to other kinds of power MOSFETs. Bipolar junction transistors have been superseded by power MOSFETs because they are more affordable electronic switch technology. To increase switching efficiency, avoid energy loss, and enhance electrical impulses in various technologies, powered MOSFET stays progressively employed in electronic cars.
The top industries with the largest demand are those in industry verticals like motorized and engineering. It is anticipated that this will have a substantial impact on the supply of power MOSFETs due to the rising demand for advanced technologies over time, including voice technology, home automation, as well as other electronic items, together with the limited number of wafer manufacturer's positions globally. Additionally, the global coronavirus outbreak and trade disagreements between the United States and other nations with China have influenced and influenced the semiconductor and equipment business. However, the energy MOSFET market is anticipated to present attractive prospects because of the growth of the market for mixed electronic automobiles worldwide. Power MOSFET usage in hybrid vehicles encourages an energy economy with a higher switching speed, which further fuels the market's expansion.
Report Scope of the Polyvinyl Chloride (PVC) Market
| | |
| --- | --- |
| Report Coverage | Details |
| Market Size in 2022 | USD 25.26 Billion |
| Market Size by 2030 | USD 38 Billion |
| Growth Rate from 2022 to 2030 | CAGR of 5.24% |
| Base Year | 2021 |
| Forecast Period | 2022 to 2030 |
| Segments Covered | Type, Power Rate, Application, Geography |
| Companies Mentioned | Digi-Key Electronics, Fairchild Semiconductors, Hitachi Power Semiconductor Device Ltd., Infineon Technologies AG, IXYS Corporation Power Integration, Microchip Technology Inc., Mitsubishi Electric Corporation, NXP Semiconductors, Panasonic Corporation, Power Integration Inc., Renesas Electronics Corporation, STMicroelectronics, Sumitomo Electric Industries Ltd., Texas Instruments., Toshiba Electronic Devices, Vishay Siliconix |

Type Insights
The power MOSFET industry is broken down into depletion mode and augmentation mode power MOSFETs for type analysis. Enhancement Mode In 2021, Power MOSFET held the largest market share 57%. A power module with a high-rated current is created by integrating semiconductor materials and is known as an enhancement mode power MOSFET. Multiple chips are put on an independent substrate and a copper base plate to create an enhancing mode power MOSFET. Owing to its unmatched strength and competence, improvement control source MOSFET is attractive additional and further widespread worldwide. It represents the following development in power management. Enhancement power supply MOSFET is gaining popularity all over the world due to its unmatched durability and efficiency. Electricians, machine shops, and water tanks are just a few of the high voltage equipment applications that use enhanced mode power MOSFETs. Trolleys are used in European countries and employ a technique based on the reduction method to control MOSFETs toward reducing current leakage and boosting efficiency. Enhancement power supply MOSFETs are used by many industries to run large electrical furnaces, steelmaking, and aquatic impels. In the direction of reducing present outflow and rising in competence, streetcars in European countries nowadays use skills based on Improvement Method Control MOSFETs.
The enrichment power supply MOSFET is increasingly preferred in the present occupational situation because it is affordable and modest to accomplish with huge frequency, which leads to the market's expansion. Since it is lower cheap and simpler to handle at high voltage, the enhancement automatic power MOSFET is much more common in the business world, which has led to market expansion. The wildest increasing business for reduction method control MOSFETs.
Owing to its inferior leading damage and substituting damage, depletion mode power MOSFETs are essential in consumer electronics and automotive applications. For a variety of uses, including driver circuits, power supply units (UPS), induction-heating microwaves, liquid crystal display panels, in addition, stroboscope sparks, they are utilized in converters and power conversion circuits.
Power Rate Insights
The market's largest contributor, low power, is anticipated to expand throughout the projected period. To order to drive steady voltage and increase the endurance of the applications, low-power MOSFETs are utilized in closures, LED determinations, and electric motors. Another less direct driving of low to moderate power MOSFETs is now possible thanks to a lower power driver featuring high-speed train input photo couplers from Toshiba Corporation. To provide efficient transmission, businesses like IXYS Technologies and Field effect Semiconductor capitalize on influence units. The wildest rising market is Medium Power. Most motor drivers between 2 kW and 15 kW employ intermediate control MOSFETs. They are essential for transferring power from the beginning of the battery functional storage to the actuators in electric cars. For instance, medium power MOSFETs are used by BYD Company, Tesla Motors, Honda Motor Co., Ltd., Toyota Motorized Business, and Honda Motorized. to improve power conversion while minimizing power loss.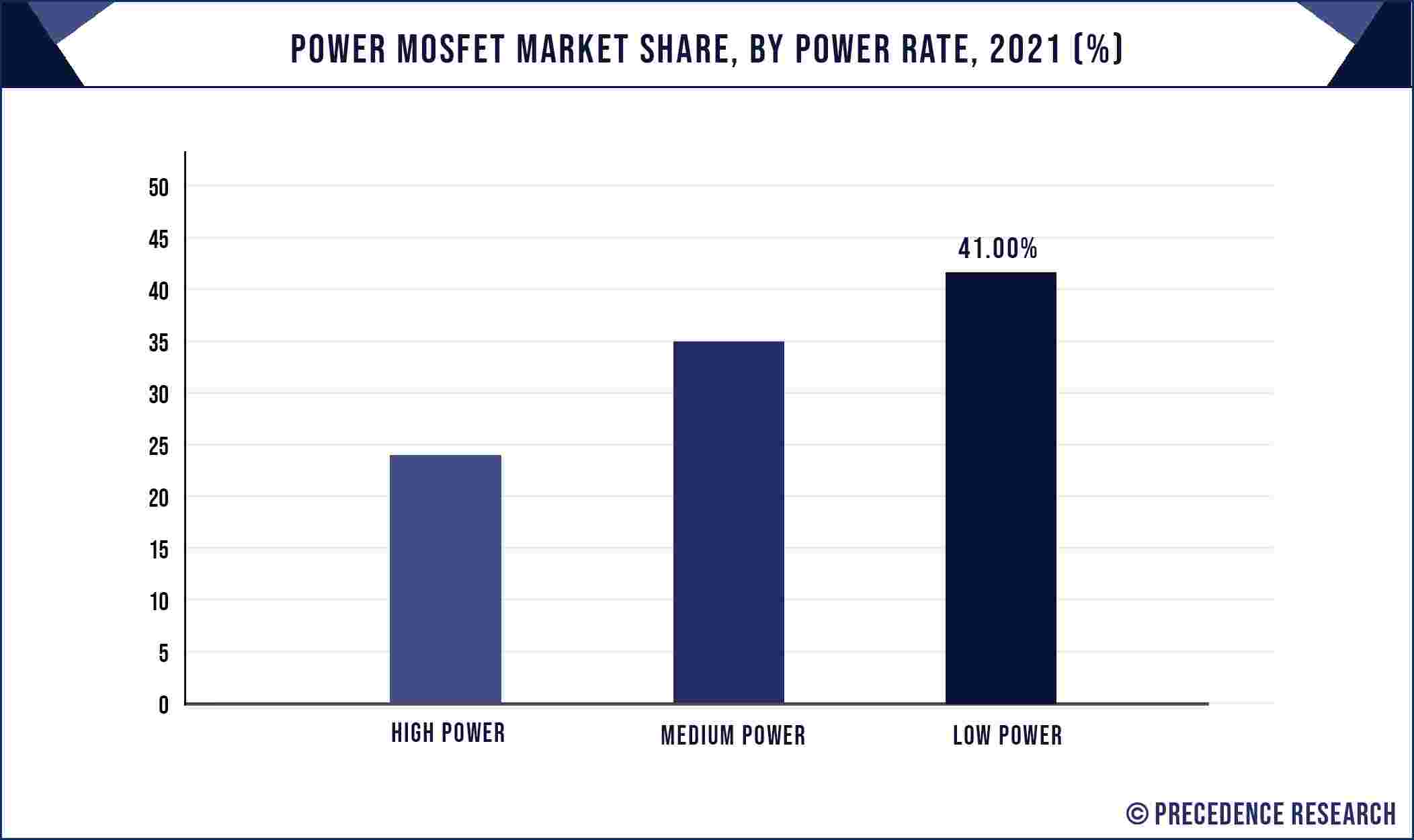 Power MOSFETs are being purchased by several businesses, like Siemens Technology and Panasonic Corporation, to provide power control. To avoid power loss, more control MOSFETs are presently applicable in manufacturing claims. The global giant market of MOSFET is liberated by Microprocessor Expertise AG and Prunus incisa Electric Schemes Co., both of which provide cutting-edge technological products. It suggests more voltage MOSFETs through present evaluations extending after 250-1200A in a diversity of network analysis situs. Furthermore, industrial applications, traction, sustainable sources, and electrical transmission technologies are the primary targets for more control MOSFETs.
Application Insights
The market's largest contributor, the automotive sector, is anticipated to continue to grow over the projected period. To drive continuous voltage and increase the longevity of the applications, motorized MOSFETs remain applied in LED determinations and electric motors. The industry sector is expanding the fastest. Given that they operate with significant power and exist, MOSFETs are the perfect special for manufacturing organizations. In manufacturing and housing microelectronic schemes, the substituting occurrence is strongminded by system detailed constraints and applications. For instance, the switching frequency in motor drives depends on the output frequency needed for AC motorized, system performance, thermodynamic efficiency, and Electromagnetic regulations.
Power MOSFET Market Share, By Region, 2021 (%)
| | |
| --- | --- |
| Regions | Revenue Share in 2021 (%) |
| North America | 25.5% |
| Asia Pacific | 42.6% |
| Europe | 19% |
| Latin America | 9% |
| MEA | 3.9% |

Regional Insights
Asia-Pacific region is expected to hit CAGR of 8.7% during 2022 to 2030. A sizeable portion of the worldwide sensing devices is accounted for by Asia-Pacific. This is because developing nations like China, India, and Indonesia are experiencing greater technical developments and rising automobile standards. The fastest-growing region internationally is Asia-Pacific. Owing to the accessibility of high-end upgraded technologies, rising need for interactive content, and expansion of the manufacturing industries, it is the most attractive market for power MOSFET. Owing to the application of cultured automated coaches, front-line numerical systems, and an upsurge in the amount of digitized electronic equipment, suppliers for energy MOSFET technologies in Europe have many growth opportunities for growth. The area is predicted to see strong growth in the sophisticated packaging market because of the expansion of the electronic industry, the uptake of slashing innovations like enhanced collision avoidance in automotive, and the development of low consumption gadgets in the area, which then in turn supports the business development.
The market is also growing as a result of numerous helpful non-profit organizations that encourage packaging technology. The development of the electricity MOSFET market across the globe is facilitated by the numerous activities these companies take to construct power infrastructure using cutting-edge technologies. Companies from all industries understand how crucial power MOSFETs are to creating productive workplaces. The market is anticipated to grow at a faster rate due to the high demand for power modules and automated switching devices.
Key market developments:
In February 2020, Renesas Electronics Corporation joined forces with Sennheiser Gmbh, a Foxconn technology company specializing in enhanced connectivity solutions, to provide quality care to the consumer, business, and wearable computing markets.
The technical platform that makes use of several sensors is centered on AI/ML to achieve high precision and an extremely small control process. When used in conjunction with reduced alerting acoustic action recognition, this technique performs astonishingly well. The small design outperforms the detection capability of acoustic wave burglar alarms now used in home automation, businesses, and additional devices while achieving a battery capacity that is similar to or more than that of less advanced technologies.
Multiple relay Information motors were used more regularly to generate modern battery motorized goods owing to their numerous rewards in June 2022. When determined to inferior their mass and capacity though upholding an extended cordless lifespan, significant design issues occur. Advanced Micro Devices Gmbh has introduced database motor managers to support creators in realizing conclusion market purposes.
Texas Instruments (TI) expanded its portfolio for increased power control in November 2019 by releasing its next-generation 650-V and 600-V gallium nitride field-effect transistors for automotive and industrial applications. In September 2020, Mitsubishi Electric Corporation unveiled the completion of the second (silicon carbide) presents the potential that makes use of a newly invented Silicon carbide microchip for industrial applications.
Key market players:
Digi-Key Electronics,

Fairchild Semiconductors,

Hitachi Power Semiconductor Device Ltd.

Infineon Technologies AG,

IXYS Corporation Power Integration,

Microchip Technology Inc.

Mitsubishi Electric Corporation

NXP Semiconductors,

Panasonic Corporation

Power Integration Inc.

Renesas Electronics Corporation,

STMicroelectronics,

Sumitomo Electric Industries Ltd.

Texas Instruments.

Toshiba Electronic Devices

Vishay Siliconix
Segments are covered in the report:
(Note*: We offer report based on sub segments as well. Kindly, let us know if you are interested)
By Type
Depletion Mode

Enhancement Mode
By Power Rate
High power

Medium power

Low power
By Application
Energy & Power

Inverter & UPS

Consumer Electronics

Automotive

Industrial

Others
By Geography
North America
Europe
Asia-Pacific

China
India
Japan
South Korea
Malaysia
Philippines

Latin America

Brazil
Rest of Latin America

Middle East & Africa (MEA)

GCC
North Africa
South Africa
Rest of the Middle East & Africa