The global power transistors market size accounted for USD 17.13 billion in 2022 and it is expected to hit around USD 27.58 billion by 2032, growing at a CAGR of 4.88% from 2023 to 2032.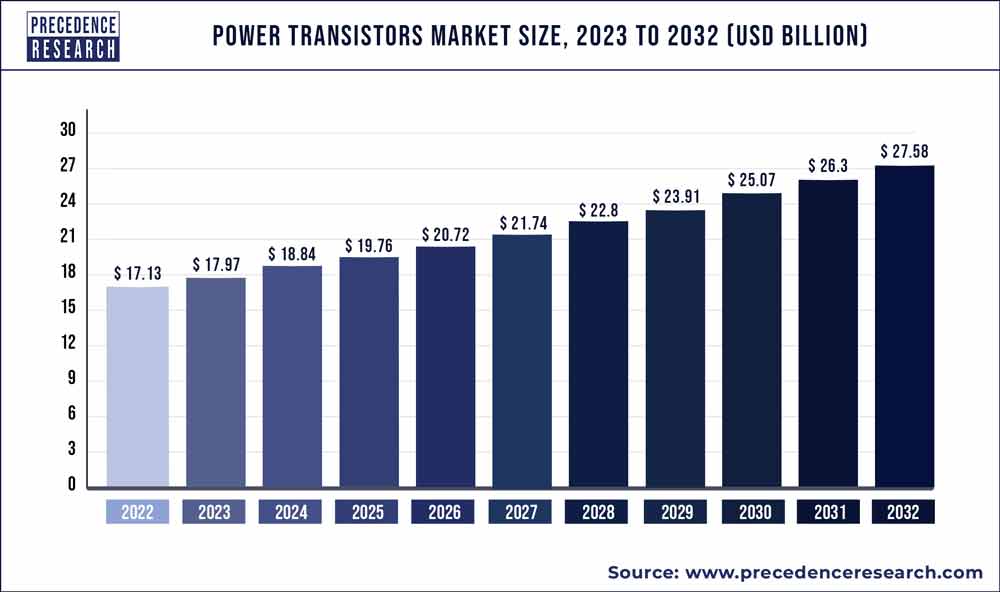 Access our Premium Real Time Data Intelligence Tool, Visit: Precedence Statistics
A transistor is referred to as a semiconductor component used to provide electrical signal amplification and switching. Power transistors carry greater power than smaller transistors. These semiconductor terminals come in a number of powers and switching speed character tics and might have PNP or NPN polarity.
Key Insights:
By geography, the Asia Pacific region is seeing the quickest growth in the global market.
By product, the low-voltage FET market segment generated more than 41% of the market share in 2022.
By type, the bipolar junction transistor segment is predicted to have the most remarkable market from 2023 to 2032.
By industry vertical, the automotive segment is projected to boost power transistor demand globally from 2023 to 2032.
Growth Factor
Power transistor market growth is anticipated to be boosted by rising consumer awareness of its beneficial qualities, such as durability, switching capacity, and others. Electronic device consumption is significant, and there has been a surge in efforts to improve their power efficiency due to the rising population and the resulting use of fossil fuels, which are predicted to fuel market expansion.
To improve the power transistor's specifications and introduce semiconductor materials other than germanium and silicon, producers are concentrating on a variety of R&D efforts. Throughout the projection period, it is also projected that the worldwide market for power transistors will expand due to the rising demand for electronic goods and the increasing popularity of silicon carbide and gallium nitride.
Due to poor output, market disruption, and additional financial effects on industries, businesses, and the financial market, COVID-19 is the primary constraint for the worldwide power transistor industry, which has an overall negative impact on the world economy.
Growing worries regarding its performance as a result of controlling switching frequency are anticipated to be another barrier to expanding power transistors globally over the forecast period.
The rapid improvement of technology and the rising internet, power electronics, and connected devices used to improve power efficiency are anticipated to provide new market possibilities that will accelerate the expansion of power transistors throughout the projection period.
With a growing worldwide population and increased reliance on fossil fuels, the need for power-efficient electronic gadgets has increased.
To enhance the performance characteristics of power transistors, manufacturers are funding various R&D projects and introducing novel semiconductor materials in addition to silicon and germanium.
The increased investment in these disciplines and growing demand for power transistors in communication and linked electronic devices help to lower carbon footprints and boost the productivity of the devices that utilize them.
Report Scope of the Power Transistors Market
| | |
| --- | --- |
| Report Coverage | Details |
| Market Size in 2023 | USD 17.97 Billion |
| Market Size by 2032 | USD 27.58 Billion |
| Growth Rate from 2023 to 2032 | CAGR of 4.88% |
| Base Year | 2022 |
| Forecast Period | 2023 to 2032 |
| Segments Covered | By Product, By Type and By Industry Vertical |
| Regions Covered | North America, Europe, Asia-Pacific, Latin America and Middle East & Africa |

Key Market Drivers
Growing demand for connected devices
The rise in demand for connected devices is expected to influence the growth of the worldwide power transistor market during the forecast period. With the aid of a power transistor, heat is quickly dissipated, overheating is avoided, and carbon dioxide emissions and electricity costs are reduced. These benefits have led to its inclusion as a crucial part of many electrical goods.
There has been a rise in the need for power-efficient electronic equipment due to the rising global population and fossil fuel use. The power transistors help swiftly dissipate heat, avoid overheating, and reduce CO2 emissions and electricity expenses. They are an essential component in many electrical gadgets because of these advantages. Furthermore, the need for power-efficient electronic devices has increased due to the expanding population and rising fossil fuel use.
Key Market Challenges
Various concerns associated with power transistors
Long-term market growth of the power transistors market is hampered by operational restrictions brought on by limits such as temperature sensitivity, condition of operation above the switching frequency of 15 kHz, and reversal blocking capacity, among others.
Key Market Opportunities
Power transistors contribute to rapid heat dissipation that prevents overheating, lowers CO2 emissions, and lowers the cost of power. Due to these advantages, they are a key element in many electrical products. In addition, there is a developing market for power-efficient electronic gadgets due to the expanding world population and increased fossil fuel use.
In addition, manufacturers are releasing novel semiconductor materials in addition to silicon and germanium, as well as funding several research and development projects to enhance the performance characteristics of power transistors.
For instance, it is projected that the growing demand for silicon carbide (SiC) and gallium nitride (GaN) transistors will spur market expansion in the years to come. Utilizing cutting-edge techniques like computer-assisted design (TCAD) and device simulations, manufacturers have created tiny and highly efficient power transistors, which is another significant industry development.
Segments Insight
Product Insights
In 2022, the low-voltage FET market category had more than 41% of the market share. Consumer electronics, including laptops, tablets, and cell phones, are the main applications for low-voltage FETs. The market for low-voltage FETs has been driven by the sale of each of these devices, each with at least a million units sold annually.
Additionally, they are necessary for the two-phase CPUs that OEMs like. Four MOSFETs are used in the two-phase design, which is placed in portable devices since it ensures reduced power consumption and higher efficiency.
Type Insights
The market is segmented into bipolar junction transistors, heterojunction bipolar transistors, field effect transistors and others based on Type. Due to the rising demand for electronic devices worldwide, the bipolar junction transistor is expected to have the most significant global power transistor market over the forecast period.
Industry Vehicle Insights
The market is divided into Manufacturing, Consumer Electronics, Communication Technology, Automotive, and others based on Industry Vertical. The automobile industry is expected to boost power transistor demand globally during the anticipated period. This is due to the increased demand for automobiles, which also contributes to environmental problems and the need for sustainable growth to encourage the production of electric vehicles.
Power transistors are widely used in the consumer electronics industry. The segment's growth is supported by the rapid use of consumer electronics, including headphones, laptops, cellphones, wearable technology, and other portable gadgets.
The use of 5G-enabled devices that facilitate the deployment of various foundry nodes has expanded with the introduction of 5G technology. The growing need for better and more effective semiconductors in consumer devices will drive power transistor demand. The 5G subscribers with the 5G-capable device increased by 70 million in the first quarter of 2021. According to the Ericsson Mobility Report, and is expected to reach 580 million by the end of this year.
GaN technology will develop as consumer electronics demand for high-definition audio, quick charging, and more energy-efficient designs increases. The advancement of the digital world will be made possible through the use of GaN transistor technology.
Due to rising consumption and data requirements for data processing, the 5G capable devices market will see a boom in the upcoming years. The need for 5G chips to serve the rising demand for 5G-capable devices will increase for chip makers for smartphones with 5G capabilities. The development of semiconductors will be aided by the growth of semiconductor chips, ultimately driving the need for power transistors.
Regional Insights
Due to significant corporations like Toshiba Corporation and Mitsubishi Electric Corporation, among others, the Asia Pacific area is the one that is seeing the quickest growth in the world's market for power transistors. Major nations with a sizable market share include South Korea, China, Japan, Taiwan, and Taiwan.
The area also has a substantial market share for smartphones and 5G technologies, and it is seeing an increase in investments in the automobile sector (especially EVs). To boost the efficiency and power density of crucial EV applications, GaN Systems, a maker of gallium nitride power semiconductors, struck a comprehensive capacity agreement with BMW.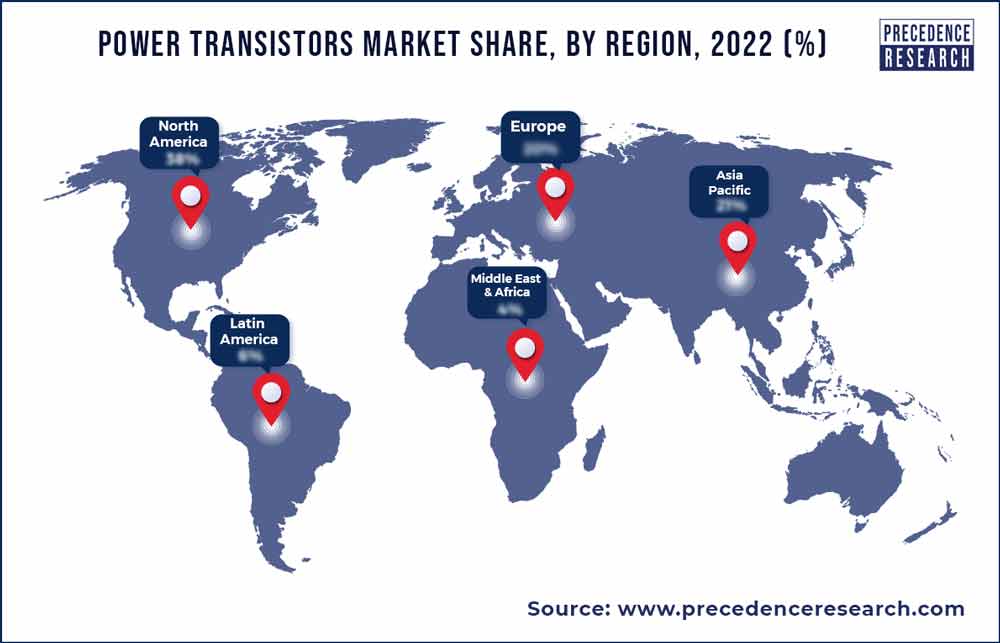 The power transistor market is anticipated to expand due to the increased production of electronic equipment in the area to meet the growing demand for electric cars, consumer electronics, and energy & electricity.
China greatly influences the semiconductor market, and the rising demand for them will boost the usage of semiconductors in electric vehicles.
Compared to other nations in the area, China, South Korea, and Japan are experiencing a sharp increase in their consumption of semiconductors due to the ongoing export of various types of electronic equipment to China. Additionally, China is home to three of the top five consumer electronics markets worldwide, creating enormous prospects for the spread of semiconductors in the predicted period.
Recent Developments
March 2022 - To facilitate the deployment of 5G radios in urban and suburban regions, NXP has introduced a new 32T32R discrete solutions. The company's most recent unique gallium nitride (GaN) technology is used in the 32T32R power discrete solutions active antenna systems, which complement the company's existing line of GaN power amplifiers. The solutions offer twice the power of 64T64R solutions, making the total 5G connection solution lighter and more compact. Network operators can grow quickly across frequency and power levels because to this pin compatibility.
July 2021 - A wide variety of brand-new products from STMicroelectronics have been added to the STPOWER RF LDMOS Power Transistors. It will come in three different product series that have been specifically designed for RF power amplifiers in a range of industrial as well as commercial applications.
March 2022: The AC-DC GaN-based PFH500F product line is being expanded by Transphorm, Inc. and TDK-Lambda, a TDK group business. The 500-watt AC-DC power supply from TDK are part of the product range and include the PFH500F-12 and PFH500F-48. Transphorm's TP65H070LDG, 8x8 PQFN GaN FETs are used in the series. The great power density of the power transistors allowed TDK to use thin baseplates to cool the GaN power supply. Inline, TDK created a thinner, more constrained power module that could accommodate a wide range of industrial applications running under challenging conditions. Custom fanless power supplies, lasers, 5G communication, signaling, commercial off-the-shelf (COTS) power supplies, digital signage/displays, etc. are a few examples of the uses.
Key Market Players
Fairchild Semiconductor International Inc.
Champion Microelectronics Corp
Renesas Electronics Corporation
Infineon Technologies AG
Texas Instruments Inc
NXP Semiconductors N.V.
STMicroelectronics N.V.
Mitsubishi Electric Corporation
Linear Integrated Systems Inc.
Toshiba Corporation
Segments Covered in the Report
(Note*: We offer report based on sub segments as well. Kindly, let us know if you are interested)
By Product
Low-voltage FETs
IGBT modules
RF and microwave power
high-voltage FET power
IGBT power
By Type
Field Effect Transistor
Heterojunction Bipolar Transistor
Bipolar Junction Transistor
Others
By Industry Vertical
Consumer Electronics
Communication Technology
Manufacturing
Automotive
Others
By Geography
North America
Europe
Asia-Pacific
Latin America
The Middle East and Africa