The global pre-collision technology market size was estimated at USD 50.25 billion in 2022 and is expected to hit around USD 121.88 billion by 2032, registering a CAGR of 9.27% during the forecast period from 2023 to 2032.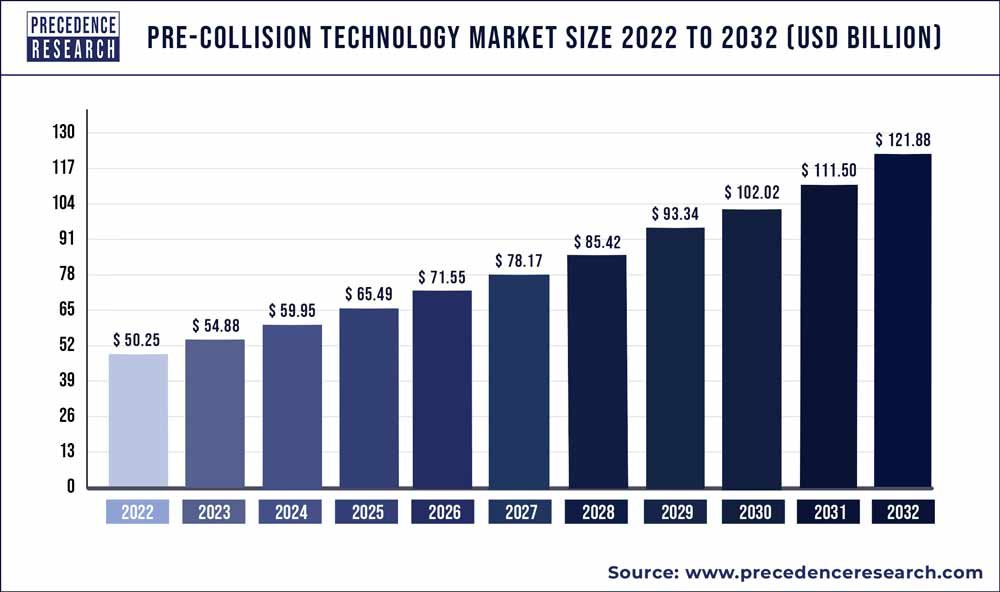 Access our Premium Real Time Data Intelligence Tool, Visit: Precedence Statistics
Key Takeaways
North America contributed more than 32% of revenue share in 2022.
By Product, the adaptive cruise control segment has held the largest revenue share in 2022.
By Technology, the RADAR segment has held the highest market share in 2022.
Pre-Collision Technology Market Overview
Pre-collision technology, also referred to as collision avoidance technology or advanced driver-assistance systems (ADAS), utilizes an integrated system of sensors, cameras, radar, and software in vehicles. Its purpose is to actively detect and respond to potential collision situations. The main objective of pre-collision technology is to enhance driver safety by providing real-time warnings, alerts, and even autonomous actions that can prevent or minimize the severity of accidents. This market segment encompasses various ADAS designed to avoid accidents or reduce their impact by detecting potential collisions and taking independent actions.
A significant factor driving the rapid expansion of this market is the increasing global awareness regarding road safety among both consumers and governments worldwide. Road congestion and traffic accidents are ongoing concerns for governments. These technological improvements have stimulated the widespread adoption of this preventive safety feature.
Affordable and sophisticated radar, LiDAR, and camera systems now enable vehicles to accurately detect potential obstacles or hazards in their surroundings. These sensors work together with advanced software to offer various features. Advanced safety features are available in the field of automatic emergency braking, lane assist, blind spot monitoring and intelligent cruise control. In addition, rising popularity of energy vehicles and autonomous cars can be partly blamed for increasing interest in pre-collision technologies.
Pre-Collision Technology Market in the U.S. 2023-2032
The U.S. pre-collision technology market size was valued at USD 9.32 billion in 2022 and is estimated to reach around USD 22.62 billion by 2032, growing at a CAGR of 9.27% from 2023 to 2032.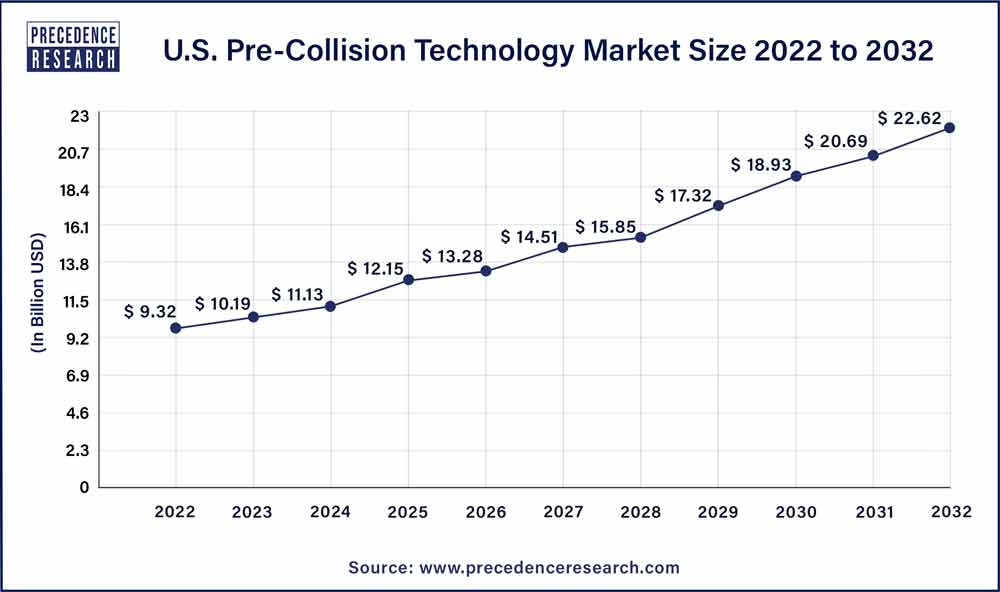 North America has held the largest revenue share in 2022. The North America pre-collision technology market holds a significant position in the global automotive industry. This region, encompassing the United States and Canada, has consistently been at the forefront of automotive innovation. Safety and driver assistance systems have been given utmost importance here. Several key factors have contributed to this trend.
The strict safety regulations and commitment to reducing road accidents have served as major driving forces for automakers. They are driven to incorporate more advanced driver assistance systems such as pre-collision assistance systems in their vehicles. In particular, the key role in shaping the current market landscape has been played by federal and state level regulations in the United States and similar initiatives in Canada.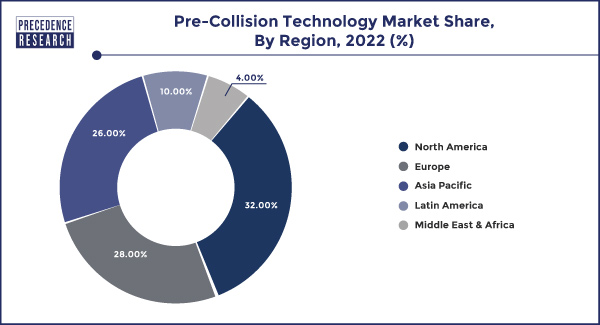 Furthermore, the demand for safer vehicles in North America has significantly grown. Presently, buyers actively seek cutting-edge technologies like collision avoidance systems, adaptive cruise control, and lane keeping assistance. Safety features have become paramount in today's vehicle market. Consequently, automakers have responded by progressively incorporating these features as standard or optional across their vehicle lineups.
The Asia-Pacific market for pre-collision technology is seeing remarkable growth and transformation. The Asia-Pacific region is currently witnessing a rise in road accidents due to various factors. These nations have prioritized the implementation of advanced safety features in vehicles as their cities develop and car ownership rates increase. These features are essential to tackle challenges such as heavy traffic congestion and frequent road accidents efficiently.
Moreover, the Asia-Pacific area has great potential as a marketplace for electric and driverless cars. With the rising acceptance of these advanced technologies, there is an escalating need for pre-collision systems that are essential to guarantee the security and performance of these cars. In particular, China has shown remarkable dedication in promoting the adoption of electric vehicles, creating a substantial opportunity for growth in pre-collision technology within the world's largest automotive market.
Growth Factors
Governments and regulatory bodies worldwide are implementing stricter safety standards and guidelines for vehicles. This compels automakers to incorporate advanced driver-assistance systems (ADAS) into their vehicles, including pre-collision technology. The rise in road accidents causing injuries and fatalities necessitates leveraging technology to reduce these incidents. As a result, pre-collision systems have become a crucial component of future vehicles.
Furthermore, technology's rapid advancements greatly enhance the effectiveness and affordability of pre-collision systems. Collision detection systems have experienced remarkable advancements, greatly enhancing their accuracy and reliability. The seamless integration of advanced sensor technologies like radars, light intensity sensors, and high-resolution cameras has greatly heightened vehicular awareness.
In addition to that, machine learning algorithms and artificial intelligence actively analyze massive volumes of data in real-time. This enhanced processing power enables vehicles to have a deep understanding of their surroundings, empowering them with split-second decision-making. As these technological innovations continue to progress and mature, they become more accessible across a wider array of vehicles beyond just high-end or luxury models.
Pre-Collision Technology Market Scope
| | |
| --- | --- |
| Report Coverage | Details |
| Growth Rate from 2023 to 2032 | CAGR of 9.27% |
| Market Size in 2023 | USD 54.88 Billion |
| Market Size by 2032 | USD 121.88 Billion |
| Largest Market | North America |
| Base Year | 2022 |
| Forecast Period | 2023 to 2032 |
| Segments Covered | By Product and By Technology |
| Regions Covered | North America, Europe, Asia-Pacific, Latin America, and Middle East & Africa |

Pre-Collision Technology Market Dynamics
Driver
Rise in road safety concerns
Road safety has emerged as a crucial global concern, given the alarming rise in road accidents and casualties predominantly attributed to human error. Governments, organizations, and individuals have all been profoundly impacted by the devastating consequences of these incidents, prompting them to reevaluate their strategies extensively in combating this issue. The increasing awareness has generated a united call for innovative solutions capable of effectively reducing driving risks and minimizing the frequency and severity of accidents. Enter pre-collision technology, emerging as a proactive defense against road accidents.
By utilizing cutting-edge sensors, cameras, radar systems, and artificial intelligence algorithms, these advanced technological systems have the capability to instantly identify potential collision scenarios. They can promptly issue warnings or even autonomously take action to prevent disastrous outcomes.
The ability to anticipate and respond swiftly to imminent hazards like a potential frontal collision with another vehicle or an unexpected pedestrian crossing is truly revolutionary for enhancing road safety. Consequently, both consumers and governments are increasingly acknowledging the life-saving potential of pre-collision technology and its capacity to prevent innumerable accidents. This recognition further accelerates its widespread adoption.
Furthermore, road safety concerns go beyond the personal and emotional impact of accidents. Governments are actively seeking cost-effective strategies to address the significant economic implications of this issue. These implications include medical expenses, insurance costs, and damage to infrastructure. Pre-collision technology emerges as a compelling solution in this context. By reducing accidents and their associated expenses, it not only saves lives but also contributes to economic stability. Consequently, policymakers and legislators find it highly appealing.
Restraints
Limited infrastructure support
Integrated pre-collision systems primarily rely on onboard sensors and cameras for detecting potential hazards and obstacles. By establishing interconnected networks, vehicles can exchange essential data both among themselves and with roadside infrastructure. This seamless sharing enables a more comprehensive understanding of the traffic environment in real-time. However, despite their numerous benefits, the widespread implementation of V2V and V2I communication infrastructure faces significant challenges due to slow adoption.
Although certain regions and urban areas have started deploying elements of these systems, their coverage remains limited. Pre-collision systems may not reach their full potential in areas without necessary infrastructure support. In such cases, vehicles primarily rely on onboard sensors, which could compromise their ability to anticipate and respond to certain accidents or road hazards. For instance, collisions at blind intersections or obstacles hidden from a vehicle's sensors pose a challenge.
Additionally, hindered growth of pre-collision technology can be attributed to the lack of uniformity and standardization in infrastructure support. Diverse communication protocols or technologies are adopted by different regions and countries, posing challenges for effective communication between vehicles and infrastructure from separate areas. This fragmentation leads to compatibility issues and increased complexity for manufacturers and consumers alike.
Opportunities
Advancements in technology
Over the years, remarkable progress has been witnessed in sensor technology, artificial intelligence, and data processing capabilities. These advancements are crucial components of effective pre-collision systems. The advancements in technology have resulted in the development of more precise, reliable, and affordable sensors. Consequently, vehicles now possess an unprecedented ability to perceive their surroundings with utmost accuracy. This significant progress further strengthens the dependability of pre-collision systems.
Additionally, artificial intelligence and machine learning algorithms have evolved to swiftly analyze the abundance of sensor data available. Consequently, vehicles can make split-second decisions when faced with potential collision scenarios. These algorithms continuously enhance their performance by utilizing data-driven insights. This leads to improved adaptability and effectiveness of pre-collision technology. In addition, the progress in computing power empowers vehicles to efficiently process intricate data in real-time. This seamless integration merges pre-collision features with other advanced driver-assistance systems (ADAS). As technology advances, the cost of implementing pre-collision systems decreases. This allows more consumers to access these life-saving features.
Impact of COVID-19
The COVID-19 pandemic had a major impact on the pre-collision technology market. In the early stages of the crisis, various industries including automotive, experienced disruptions in their supply chains and manufacturing processes. Consequently, there were delays in producing and deploying vehicles that were equipped with pre-collision technology. Moreover, with reduced consumer spending and economic uncertainty, vehicle sales declined significantly, affecting the overall adoption rate of advanced safety features.
The pandemic, however, emphasized the significance of safety and hygiene. This led to a surge in interest for contactless and touchless technologies. In this context, pre-collision systems gained relevance as they operate without physical contact. Both consumers and fleet operators began prioritizing features that can enhance safety and minimize accident risks, potentially fueling future demand for pre-collision technology.
The pandemic has hastened the adoption of digitalization and automation, particularly in relation to autonomous and electric vehicles. These advancements closely align with the implementation of pre-collision technology. This advanced feature significantly boosts the safety and functionality of self-driving cars. As the automotive industry zeros in on electric and autonomous vehicles, there will be a growing focus on integrating advanced safety systems like pre-collision technology. This prioritization is expected to further propel market growth potential.
Product Insights
According to the product, the adaptive cruise control sector has held the major revenue share in 2022. ACC represents sophisticated advancement in automotive safety and convenience, allowing vehicles to automatically adjust their speed and maintain safe following distance from the vehicle ahead. Unlike traditional cruise control systems, ACC uses sensors, typically radar or LiDAR, to detect the speed and distance of vehicles in same lane. This technology enables smooth and adaptive speed regulation, enhancing both safety and driving comfort.
Advanced driver-assistance systems (ADS), like Adaptive Cruise Control (ACC), offer numerous benefits. ACC will contribute to safety while at the same time making a considerable contribution towards reducing traffic congestion and improving fuel economy by reducing the risk for back-end accidents. With increasing consumer demand for such systems and ongoing advancements in autonomous vehicles, the ACC segment is projected for substantial growth. It is anticipated that ACC will play an integral role in shaping a safer and more efficient future for road transportation.
Technology Insights
Based on the technology, RADAR segment held the largest market share the market in 2022. The RADAR segment holds a crucial position in the pre-collision technology market. It is the foundation that enables vehicles to detect and respond to potential collision scenarios. Utilizing radio waves, RADAR (Radio Detection and Ranging) systems accurately measure the distance between a vehicle and objects in its surroundings. This real-time monitoring of the road environment proves especially effective in adverse weather conditions like rain and fog, surpassing other sensor technologies.
Responsible for various pre-collision features such as adaptive cruise control, blind-spot monitoring, and automatic emergency braking, RADAR plays a pivotal role. Continuous advancements further enhance this technology with higher resolution and increased range, enabling vehicles equipped with such systems to effectively detect obstacles and potential collisions. Consequently, road safety is improved while contributing to the growth and evolution of the pre-collision technology market.
Recent Developments
Toyota Motor Corporation, a Japanese multinational automaker, has teamed up with ZF and Mobileye to create advanced driver assistance systems (ADAS).
Pre-Collision Technology Market Players
Wabtec Corporation
Robert Bosch GmbH
General Electric Company
Alstom SA
Denso Corporation
Autoliv Inc.
Collins Aerospace
Delphi Automotive PLC
Siemens AG
Honeywell International Inc.
Segments Covered in the Report
By Product
Parking assistance
Lane Departure Warning System (LDWS)
Autonomous Emergency Braking (AEB)
Adaptive Cruise Control (ACC)
Others
By Technology
Camera
Ultrasonic
RADAR
LiDAR
Others
By Geography
North America
Europe
Asia-Pacific
Latin America
Middle East and Africa