The global advanced ceramics market size surpassed USD 59.09 billion in 2022 and is projected to rise to USD 95.79 billion by 2032, anticipated to grow at a CAGR of 5 percent during the projection period from 2023 to 2032.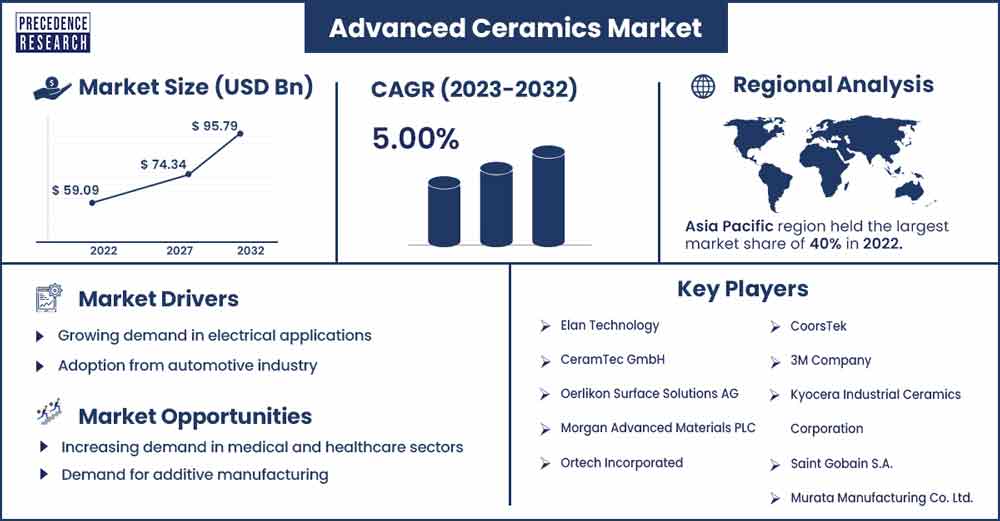 Market Overview
Advanced ceramics, materials, and manufacturing techniques utilized to create ceramic materials with unique characteristics are referred to as high-tech ceramics, technical ceramics, and high-performance ceramics in different parts of the world. In the UK and Japan, engineering and fine ceramics are used. In energy-related applications, including fuel cells, thermal barrier coatings, and nuclear energy, ceramics are essential. The need for advanced ceramics is growing along with the worldwide need for sustainable energy solutions. Technological developments in materials science and manufacturing have facilitated the creation of novel and enhanced ceramic materials possessing superior qualities like increased hardness, strength, and thermal resistance.
In October 2023, Morbi produced 75% of wall clocks and 80% of India's ceramic exports. The ceramic cluster in Morbi district is the second-largest producer of ceramic goods worldwide. With about a thousand ceramic units, the district turns over about ₹60,000 crore a year.
Customizing ceramics to satisfy application needs is becoming more and more common. Industries searching for materials that can be exceptionally engineered to meet their needs are drawn to this flexibility. When compared to certain conventional materials, advanced ceramics are becoming more and more regarded as a sustainable option. They last longer, are more resilient and are frequently recyclable or reusable.
Regional Snapshot
Since Asia-Pacific is dwelling to some of the biggest producers of consumer electronics worldwide, it is regarded as the dominant region in the advanced ceramics market. Because advanced ceramics are essential to electronic devices like wearables, tablets, and smartphones, there is a greater need for high-performance ceramics, which has resulted in notable regional growth. The healthcare industry has also been increasing. Because of their biocompatibility, wear resistance, and sterilizability, advanced ceramics are widely used in medical devices and equipment, which has led to a sizable market for them in the healthcare industry.
In September 2023, the results of recent in-depth research on the technical and conventional ceramic additive manufacturing sections were released by Voxel Matters Research. This renowned market research firm monitors the worldwide additive manufacturing (AM) industry.
In August 2023, A collaboration between 3DCeram Sinto, Inc. and SINTX Technologies was revealed. The goal of the partnership is to develop several innovative resins and processes for the additive production of ceramic products. To create distinctive, valuable resins, 3D prints ceramic components, and subject these parts to sophisticated thermal processing, they intend to capitalize on and expand upon their experience. The investment casting and biomedical sectors are the main areas of focus for the partnership.
Advanced ceramics are widely used in engine parts, sensors, and catalytic converters, among other automotive components that increase the region's need for sophisticated ceramics even more. Furthermore, it exports many sophisticated ceramics to different continents, such as Europe and North America. The region's dominance in manufacturing and technology guarantees a consistent supply of superior ceramics to international markets.
Advanced Ceramics Market Report Scope
| | |
| --- | --- |
| Report Coverage | Details |
| Market Revenue in 2023 | USD 61.74 Billion |
| Projected Forecast Revenue by 2032 | USD 95.79 Billion |
| Growth Rate from 2023 to 2032 | CAGR of 5% |
| Largest Market | Asia Pacific |
| Base Year | 2022 |
| Forecast Period | 2023 to 2032 |
| Regions Covered | North America, Europe, Asia-Pacific, Latin America, and Middle East & Africa |

Market Dynamics
Drivers
Growing demand in electrical applications
Because of their remarkable electrical insulation qualities, advanced ceramics are essential for insulators, circuit boards, and substrates in various electrical components, which prevents electrical leakage and ensures peak performance. Because of their dielectric solid strength, they can endure high electric fields without breaking down. They are, therefore, necessary in high-voltage applications such as transformers and capacitors. Because of their excellent thermal stability, these ceramics can tolerate high temperatures without losing their electrical qualities.
For uses like power generation, where components must withstand extreme heat, this quality is essential. Materials that can be precisely manufactured and incorporated are becoming increasingly necessary as electronic devices get smaller and more complicated. It can be produced with exact tolerances, which enables the creation of complex microelectronic designs.
Adoption from automotive industry
The automobile sector has been exploring lighter materials more and more because of the demand for lower emissions and fuel economy. Moreover, sophisticated ceramics are preferred for brake, exhaust, and engine systems due to their excellent strength-to-weight ratio. In response to international attempts to reduce carbon emissions, automakers are creating more fuel-efficient cars. Lightweight parts for engines and exhaust systems are a few instances of ceramic components that can lower the total weight of the vehicle and improve fuel efficiency.
It has better qualities than conventional metals or plastics. They are perfect for vital automotive components subjected to harsh conditions since they can tolerate high temperatures, corrosive environments, and wear and tear. The transition to hybrid and electric vehicles necessitates new engineering approaches.
Restraints
Lack of material availability
Specialized raw materials with qualities, such as high purity, tiny particle size, and regulated composition, are frequently needed to create advanced ceramics. These materials may not be widely accessible in significant amounts, and the extraction or production methods may be time-consuming and expensive, making it difficult to source them. Stricter quality assurance requirements are frequently necessary for advanced ceramics to guarantee their performance in demanding applications.
It may be difficult to regularly meet these criteria, mainly if there are restrictions in the production process or the raw materials are of varying quality. Critical essential ingredients for producing sophisticated ceramics are sourced from a limited number of sources. These providers may need help with the supply chain, geopolitical unrest, or regulatory restrictions, all of which could impair the flow of necessary inputs.
High cost of production
Specialized raw materials are needed to create advanced ceramics; these materials frequently include high-purity oxides, rare earth elements, and other unique compounds. The cost of mining, refining, and processing these materials can be high. Ceramics must also be manufactured using high-temperature sintering and precise machining, which raises the cost of production overall and necessitates sophisticated machinery and highly skilled labor. Lower production volumes than traditional ceramics or other substances like metals and plastics frequently characterize the market for advanced ceramics. This restricts the potential for economies of scale, which may lead to increased unit costs. Cost savings through mass production are possible, but advanced ceramics' specialized nature frequently makes this unlikely.
Opportunities
Increasing demand in medical and healthcare sectors
Because of their excellent biocompatibility and bio-inertness, advanced ceramics, especially alumina and zirconia are well-suited for various medical applications, such as implants, prosthetics, and dental components. The likelihood of complications or rejections is decreased because these materials do not cause the body to react negatively. Ceramics are highly durable materials essential for dental crowns and joint replacements. Because of their ability to tolerate the ongoing wear and friction involved in these applications, they have a longer service life and require fewer replacements.
It is highly desirable in healthcare settings to have it engineered with inherent antimicrobial properties, as this lowers the risk of infections related to medical devices. These ceramics find application in catheters, implants, and other medical devices. Excellent mechanical qualities, such as high strength and hardness, are possessed by advanced ceramics. This makes it possible to create robust and lightweight medical components. Ceramics, for example, can be used in orthopedic implants, where the implant's performance and longevity depend heavily on its strength-to-weight ratio.
Demand for additive manufacturing
Complex, detailed ceramic components that would be difficult or impossible to produce using conventional manufacturing techniques can now be made thanks to additive manufacturing. This enables the creation of unique designs suited to uses, satisfying the various requirements of sectors like electronics, healthcare, and aerospace. It makes it possible to create elaborate internal structures in ceramic parts like honeycombs and lattices.
By improving characteristics such as strength-to-weight ratio and thermal insulation, these structures open new avenues for cutting-edge applications. Additive manufacturing provides cost advantages for industries that need prototypes or small-batch production runs. In 3D printing, tooling costs, which can be high in traditional manufacturing are frequently reduced. Because of this, it is financially feasible for specialized components and niche applications.
Recent Developments
In June 2023, Schaeffler Special Machinery will introduce a multi-material 3D printing framework at Automatica 2023. The company displayed a production part example from the medical industry at the Automatica event. The machine can precisely print parts made of metal and ceramic materials. These parts are part of an adaptable assemblage of X-ray tubes that can be produced in six different configurations. Moreover, an electric motor, delivery, and electronics unit that make up an electric axle system will be displayed.
In October 2022, McDanel Advanced Ceramic Technologies LLC has been acquired by Artemis Capital Partners. McDanel is the most recent addition to Artemis' Advanced Materials division.
Major Key Players
Elan Technology
CeramTec GmbH
Oerlikon Surface Solutions AG
Morgan Advanced Materials PLC
Ortech Incorporated
CoorsTek
3M Company
Kyocera Industrial Ceramics Corporation
Saint Gobain S.A.
Murata Manufacturing Co. Ltd.
Segments Covered in the Report
By Product
Ceramic Coatings
Monolithic Ceramics
Ceramic Matrix Composites
By Material
Titanate
Alumina
Zirconate
Aluminum Nitride
Ferrite
Silicon Nitride
Silicon Carbide
By Application
Catalyst Supports
Electrical Equipment
Bioceramics
Electronic Devices
Engine Parts
Wear Parts
Filters
Others
By End-Use
Automotive
Electrical & Electronics
Machinery
Medical
Environmental
Others
Buy this Research Report@ https://www.precedenceresearch.com/checkout/1143
You can place an order or ask any questions, please feel free to contact at sales@precedenceresearch.com | +1 9197 992 333