The viral vectors & plasmid DNA manufacturing market size was valued at US$ 319.01 million in 2019 and expected to hit US$ 1.3 billion by 2027 with a CAGR of 14.08% from 2020 to 2027.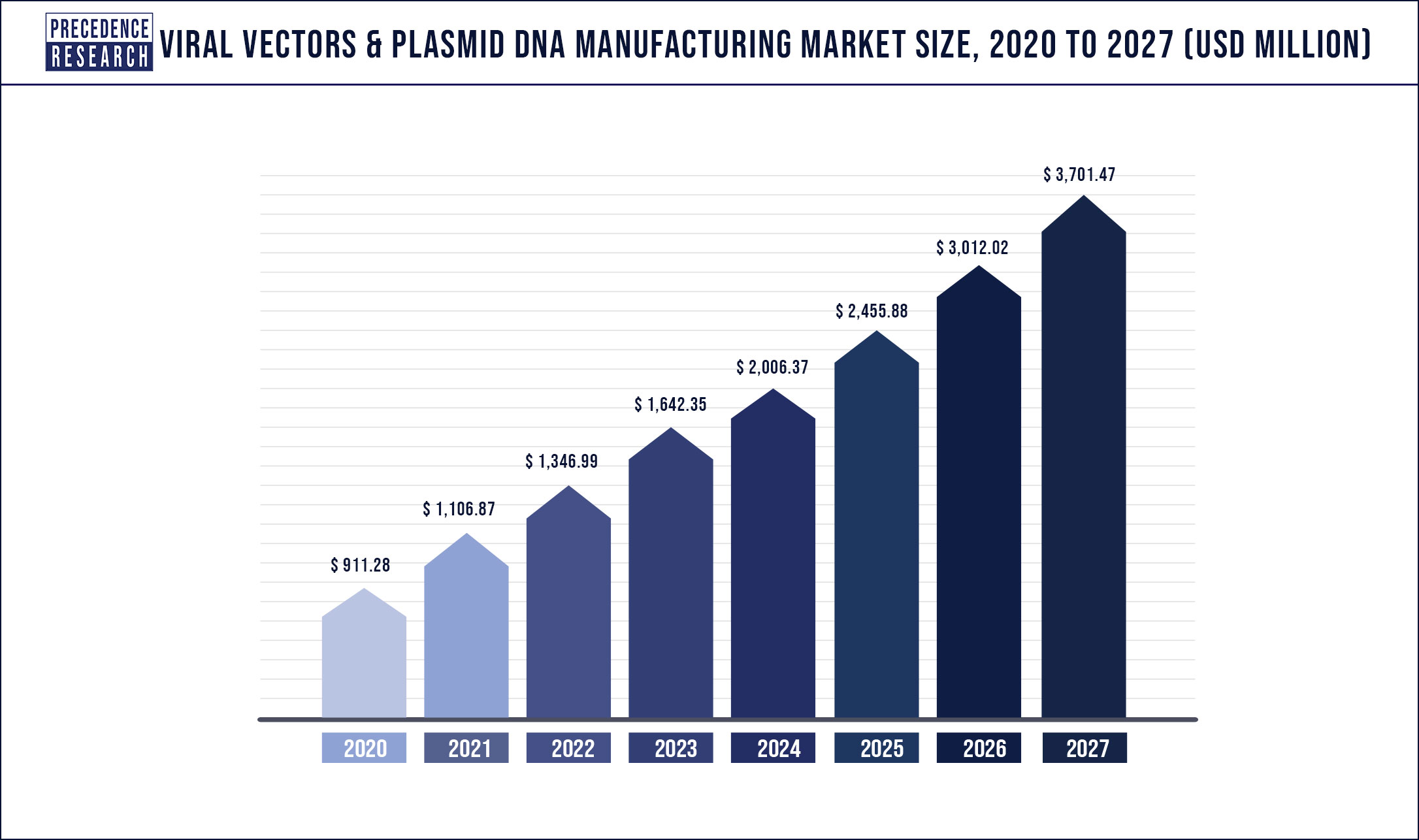 Growing occurrence of target disorders and diseases and efficiency of viral vectors in gene therapy delivery are driving the growth of viral vectors & plasmid DNA manufacturing market. Constant research into viral vector-based gene & cell therapies and availability of funding for gene therapy improvement are further supporting this growth. The complication of viral vectors is much larger than traditional biologics. As a consequence, manifold orthogonal methods are implemented to comprehend the quality and physicochemical properties of viral vector products. This multifaceted methodology will endure unless revolutionary technologies are developed that permit the integration of the results from numerous analyses.
Rising interest in vector manufacturing area is emphasized by the growing number of partnerships or collaborations amongst the various organizations involved in this sector. The intentions behind these partnerships vary for different purposes. Collaborations have been signed for purposes including production of vector promoters and development or acquisition of manufacturing facilities and out / in licensing of vector manufacturing technology among others.
However, some of the factors limiting the growth of this market include, "noise" during process development.This noise in cell-based assays may offer challenges for the evaluation of process improvements. In order to overcome this trouble, trending is accomplished to develop confidence that an improvement has been achieved.
| | |
| --- | --- |
| Report Highlights | Details |
| Market Size | USD 1.3 Billion by 2027 |
| Growth Rate | CAGR of 14.08% From 2020 to 2027 |
| Base Year | 2020 |
| Historic data | 2017 to 2020 |
| Forecast Period | 2021 to 2027 |
| Segments Covered | Vector Type, Application, Workflow, End-User, Disease |
| Regional Scope | Asia Pacific, North America, Europe, Latin America, Middle East and Africa |
| Companies Mentioned | BioReliance, Aldevron, Eurogentec, Cobra Biologics, Lonza, MassBiologics, FUJIFILM Diosynth Biotechnologies, WuXiAppTec |
Vector Type Insights
This research study segments global market based on various parameters such as type, application, disease, and end user. Depending on type, this market is classified into adenovirus, plasmid DNA, lentivirus, retrovirus, AAV, and other viral vectors. In 2019, AAV dominated the market with around 22.83% share in terms of revenue of the total market. The adeno-associated viral vector manufacturing segment is estimated to grow at the utmost CAGR throughout the forecast period due to their applications in most of the cell-based gene therapies. Integration ability with large transgenes and simple production at high titers are some of the significant facts that help to occupy considerable share of this vector in the overall market.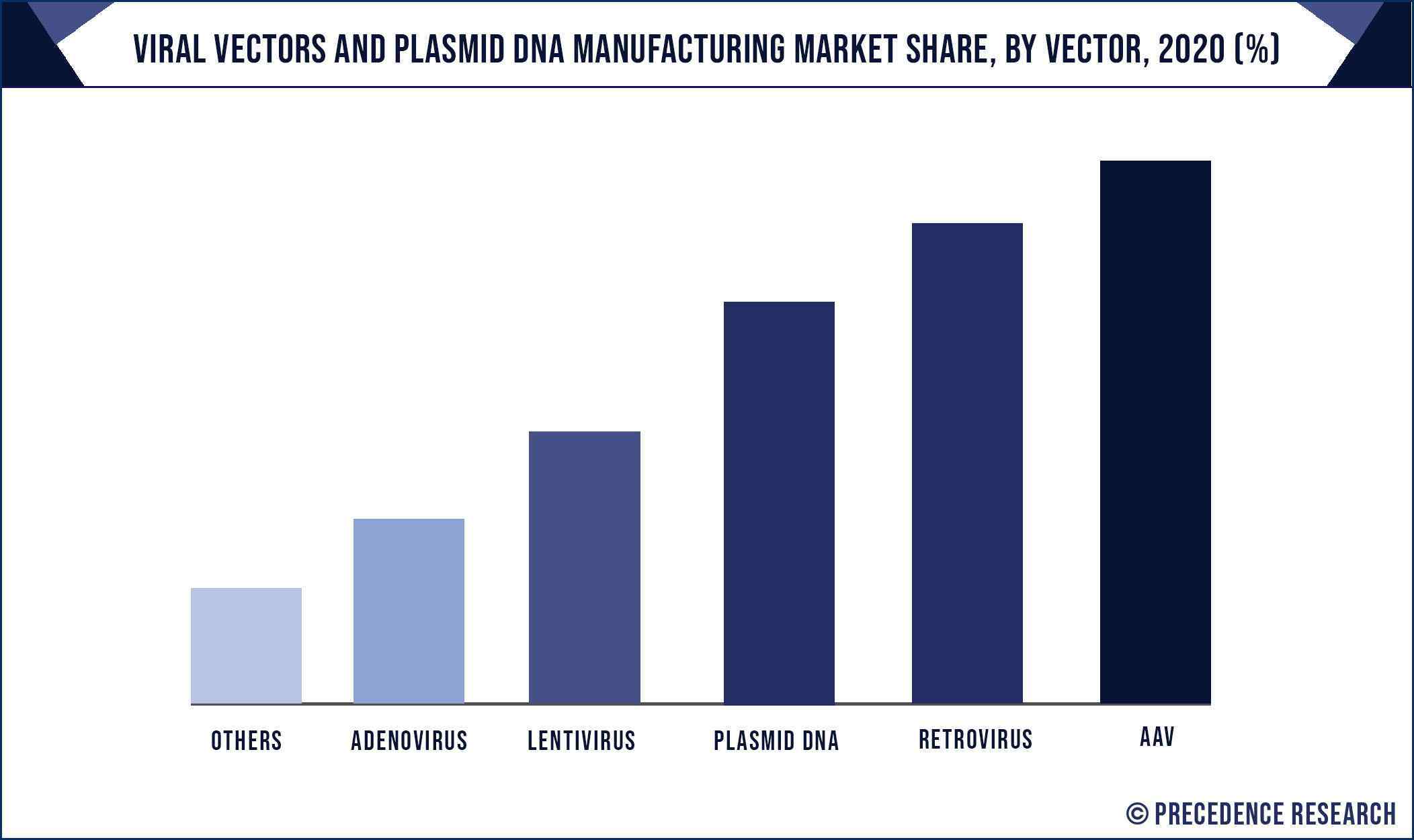 However, lentiviral vectors are anticipated to generate high revenue during years to come on account of the major accomplishment of the lentiviral-based gene therapy product in 2017. Lentivirus is projected to grow at highest CAGR of 23.27% during forecast period and anticipated to attain a market share of 17.41% in 2027.
Workflow Insights
Downstream processing emerged as dominating workflow segmentation account of its highly complex procedures conducted for purification and polishing of clinical-grade final products. Further, the costly purification techniques have led to the great revenue generation of this segment compared with upstream processing segment.
Application Insights
Application segment of this viral vectors & plasmid DNA market including gene therapies and antisense and RNAi, emerged as dominating vectors in terms of overall revenue share. At present, small interfering RNAs (siRNAs) are assumed as substantial tools for post-transcriptional gene silencing through a genetic analysis of cells. The existence of pipeline products is estimated to liftthe growth of this sector during years to come.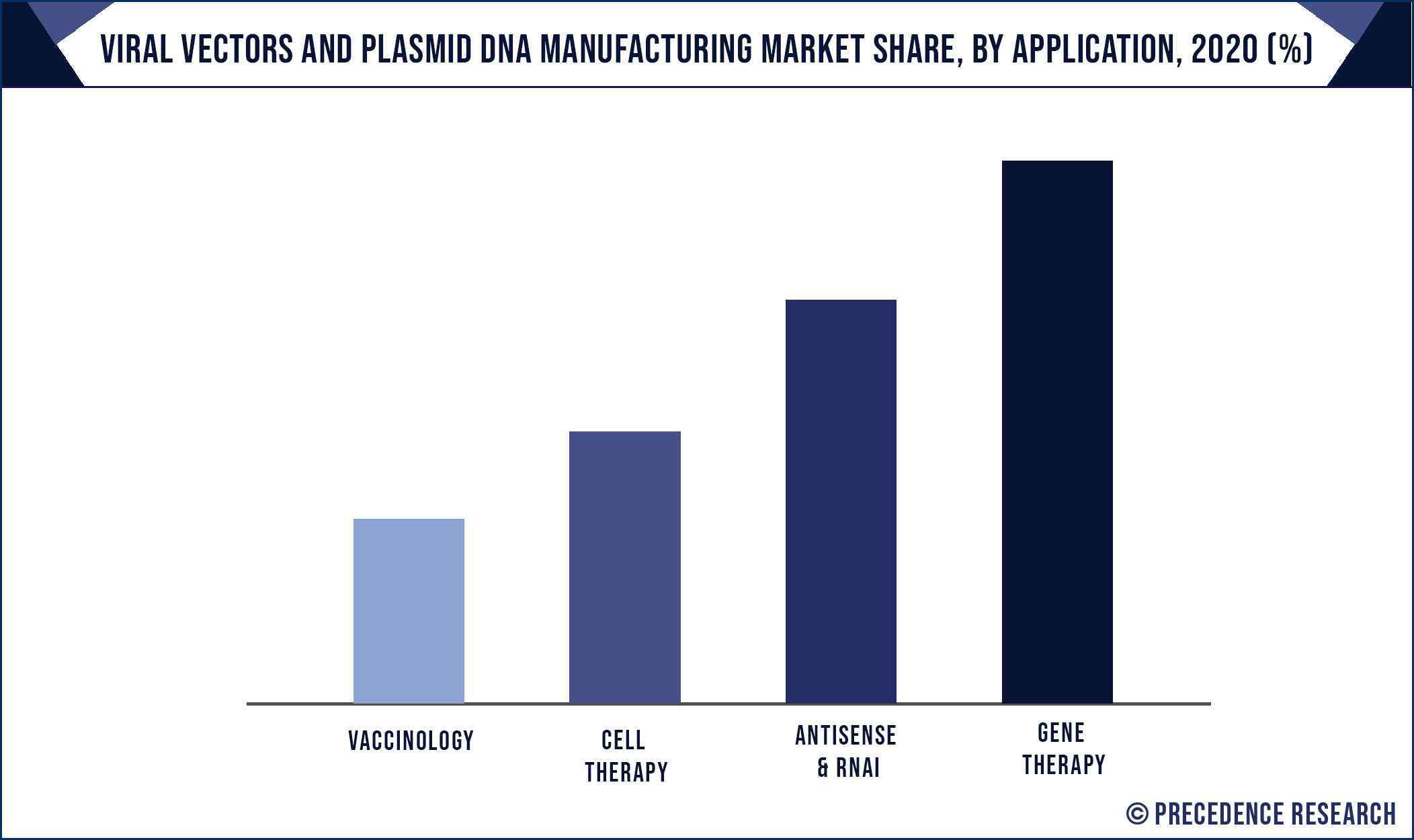 In 2019, gene therapy dominated the market with around 37.23% share in terms of revenue of the total market. The global market for the Gene Therapy was valued at USD 158.8 million in 2019 and is expected to reach USD 819.6 million by 2027.
End-use Insights
Depending on end-users the global viral vectors & plasmid DNA manufacturing market is categorized into biopharmaceutical and pharmaceutical companies and research institutes. In 2020, pharmaceutical and biopharmaceutical companies are projected to occupy prime share of the global vector market. This is on account of the effective launch of viral vector gene therapies and a vigorous pipeline of such therapies that leads growth of the pharmaceutical and biopharmaceutical companies in coming years. Further, constant introduction of innovative therapies plus consequent upsurge in the number of gene therapy-based discovery programs by firms boost this growth. The number of biotech companies implementing vectors for therapeutics production is further projected to grow during near future.
Disease Insights
Different kinds of diseases analyzed in this research study include genetic disorders, cancer, infectious diseases, and other diseases. In 2019, cancer dominated the market with around 55.32% share in terms of revenue of the total market. Cancer is also projected to grow at highest CAGR of 22.32% during forecast period.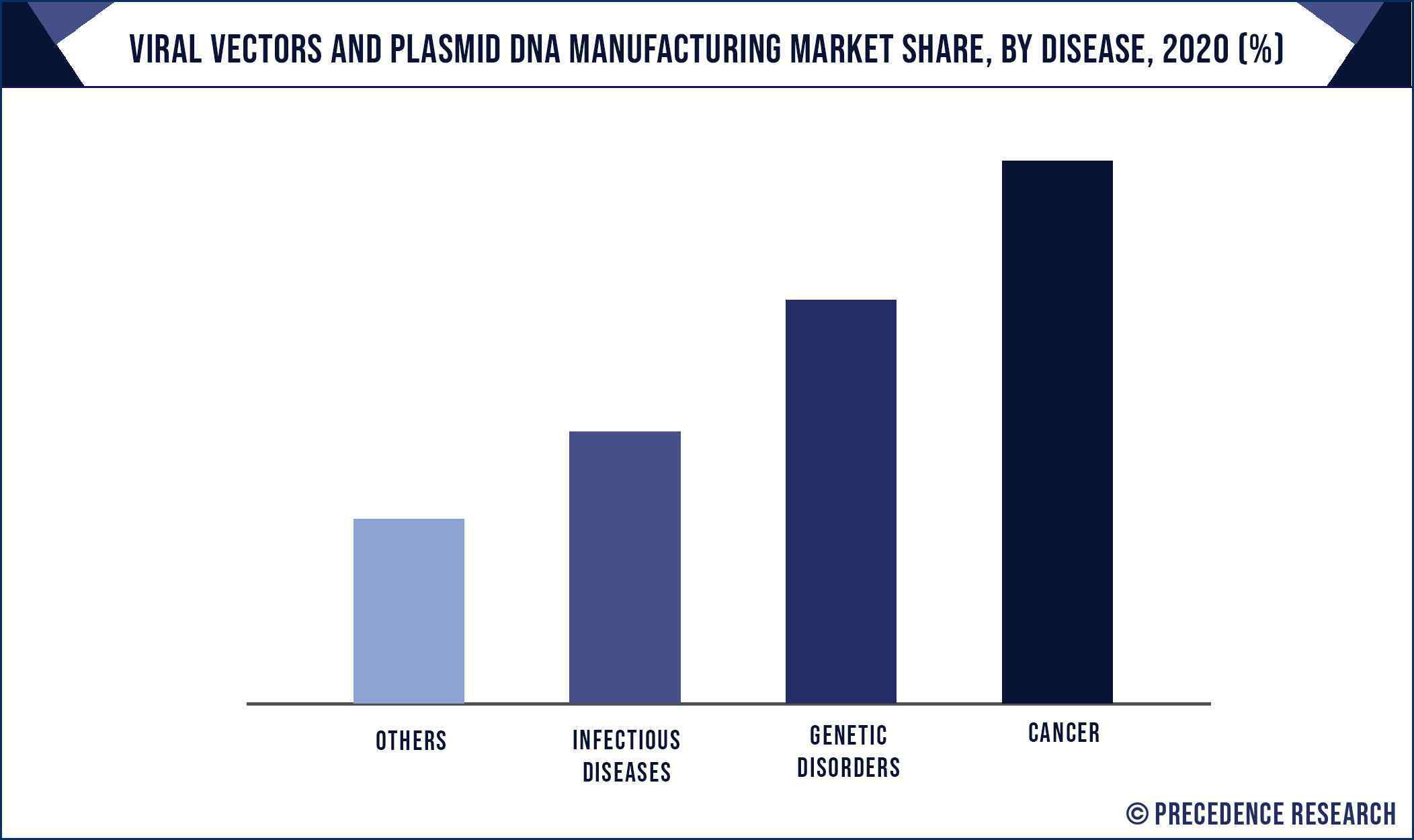 Cancer is projected to gather maximum share of the global market on account of continuously rising research on viral vector gene therapies for cancer. Furthermore, rare and genetic diseases are additional crucial area of attention in gene therapy. Due to almost 350 million patients are diagnosed worldwide with a rare disease, and there are deficiency of efficient treatment modalities. Constantly rising burden of genetic diseases is a crucial driving factor for venture in viral vector manufacturing in order to target genetic disease.
Regional Insights
The U.S. Viral Vectors & Plasmid DNA Manufacturing market was estimated at USD 211.4 million in 2019 and is projected to reach value USD 1,060.2 million by 2027. Canada Viral Vectors & Plasmid DNA Manufacturing market was estimated at USD 45.6 million in 2019 and is projected to reach value USD 196.3 million by 2027.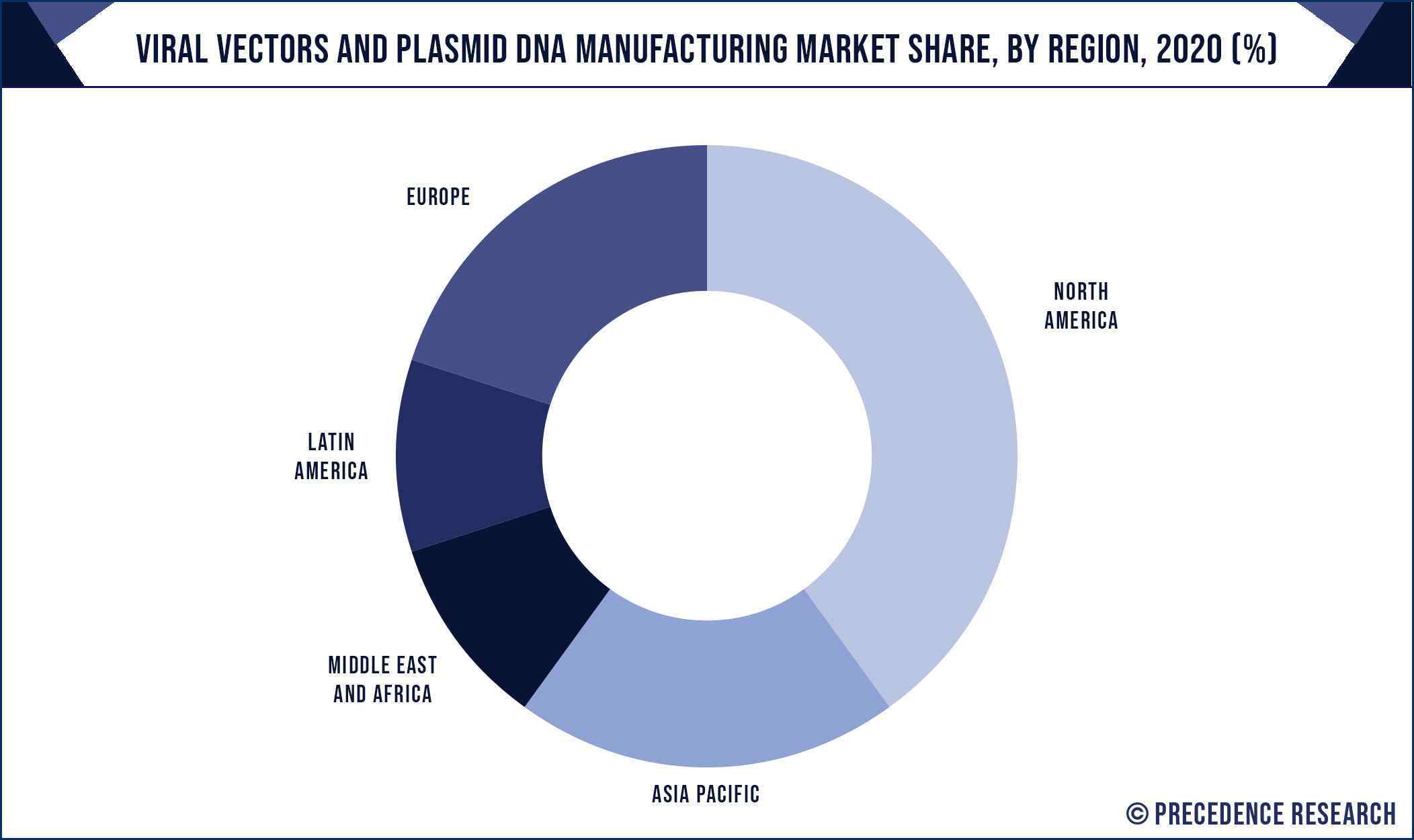 Current FDA approval of advanced therapies such as Yescarta and Kymriah (tisagenlecleucel) supports the major investment in vector manufacturing market in U.S. Also, industrialization of gene therapy manufacturing and clinical transformation is predictable to persuade noteworthy progress across several Asian nations. In order to speed up vector manufacturing in Asia Pacific many multinational companies are cooperating with Asian based companies. At present, U.S. and Europe have appeared as vector manufacturing hubs in spite of the fact that the first 3 gene therapy candidates (Oncorine®, Gendicine® andRexin-G®) were permitted in Asian countries. This success is attributable to high volume of enduring clinical studies in these established regions. Around 68% of the total international active clinical studies for gene therapies are proceeding in North America. The second foremost market for trial is Europe where about 21% of the trials are under progress.
Key Companies & Market Share Insights
Some of the significant players in the viral vectors & plasmid DNA manufacturing market include:
Novasep
Aldevron
MerckWaismanBiomanufacturing
Creative Biogene
The Cell and Gene Therapy Catapult
Cobra Biologics
uniQure N.V.
Addgene
FUJIFILM Holdings Corporation
Oxford Biomedicaplc
Takara Bio Inc.
Segments Covered in the Report
This research report estimates revenue growth at global, regional, and country levels and offers an analysis of present industry trends in everysub-segment from 2016 to 2027. This research study analyzes market thoroughly by classifying global viral vectors & plasmid DNA manufacturing market report on the basis of different parameters including type of vector, application, workflow, end users, disease, and region: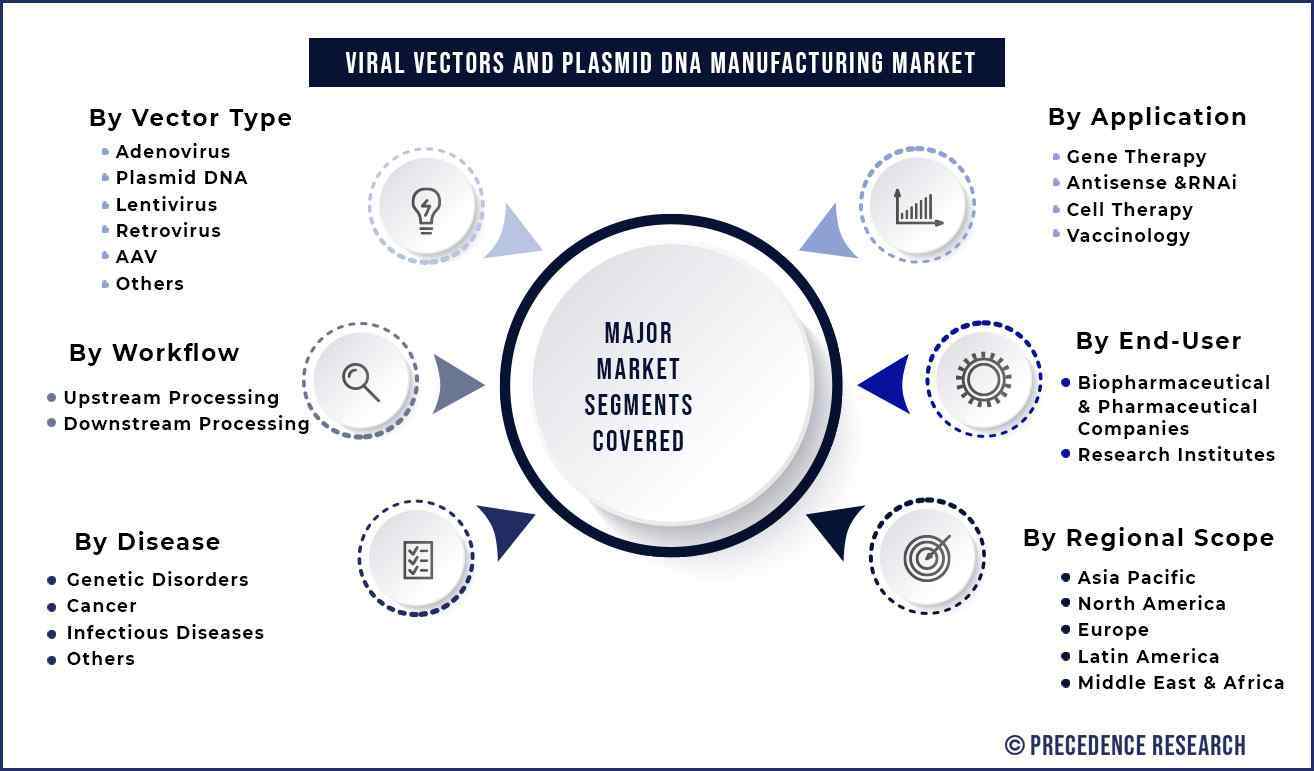 By Vector Type
Adenovirus
Plasmid DNA
Lentivirus
Retrovirus
AAV
Others
By Application
Gene Therapy
Antisense &RNAi
Cell Therapy
Vaccinology
By Workflow
Upstream Processing

Vector Recovery/Harvesting
Vector Amplification & Expansion

Downstream Processing
By End-User
Biopharmaceutical and Pharmaceutical Companies
Research Institutes
By Disease
Genetic Disorders
Cancer
Infectious Diseases
Others
By Geography
North America
Europe
Asia Pacific

China
India
Japan
South Korea

Rest of the World