The global downstream processing market was valued at USD 26.02 billion in 2022 and is expected to hit over USD 72.30 billion by 2030, growing at a CAGR of 13.6% over forecast period 2022 to 2030.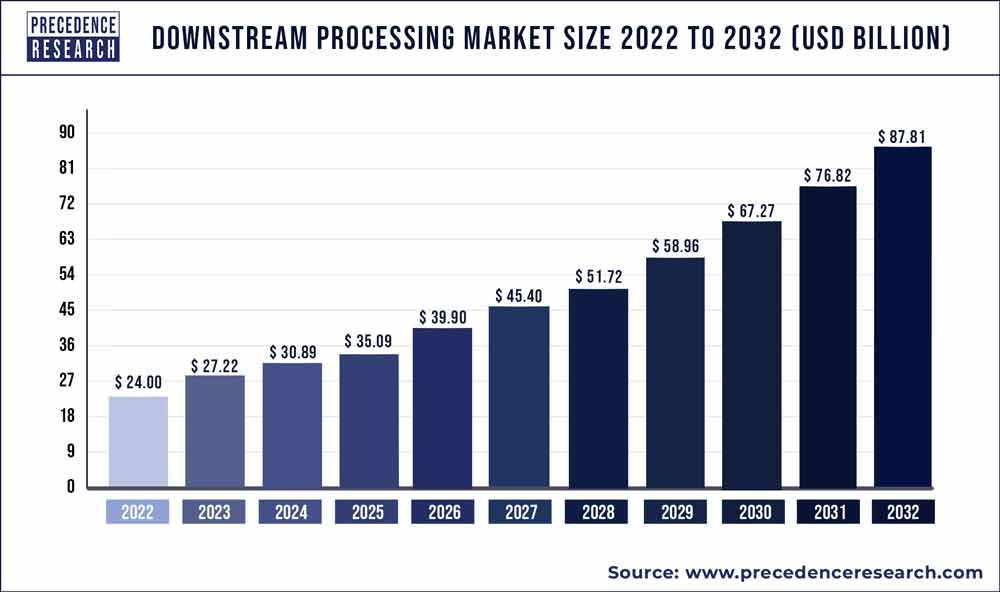 Growth Factors
Since past few years higher productivity upstream processes are flourishing greater speeds and capacities in downstream techniques for the protein purification. This is evidently observed in the extensively employed affinity supports comprising Protein A as the precise binding ligand. Downstream processing means retrieval and refinement of biosynthetic products from natural sources including animal tissue or plant tissue. For instance, downstream processing is a significant phase in the antibiotics manufacture like penicillin. The process encompasses separation and purification of antibiotics from an array of mediums. Downstream technology is increasingly being employed in both industrial-scale and laboratory applications due to a upward need for biologics, which is anticipated to lift the downstream processing market growth during years to come.
Further, cumulative demand for biosynthetic products for secondary use in pharmaceutics is the vital influence propelling the downstream processing sector. Currently, naturally sourced pharmaceuticals progressively perceive demand on account of their less risk of side-effects. A stablesurge in the sale for drug quality or recombinant products is pushing the embracing downstream processing considerably. Furthermore,escalation in the perception of the large molecules and biologics is foreseen to elevate the acceptance of downstream methodologies.
Application Insights
Among different application segment, the antibiotic production appeared as most dominating application in 2022 with revenue share of 34%. They are employed in the treatment of numeral illnesses such as cancers and number of infectious ailments. Particulβ-lactam antibiotics such as penicillin and cephalosporin are some of the most frequently commercialized antibiotics classes across the globe. Natural penicillin and cephalosporin are produced at an industrial scale via bioprocessing methods are harvested with the help of downstream processing.
Technique Insights
The purification using chromatography segment has held 42% revenue share in 2022. This technique is employed is in the purification and separation of the highest value products. This is a crucial stage technique that can be engaged at any stage of downstream processing till the concluding step of purification. Additionally, solid-liquid separation division is projected to record the fastest growth rate during years to come.
Product Insights
In 2022, chromatography segment conquered the global downstream processing market revenue with the maximum share of around 43%. Numerous companies offer safe and integrated solutions that work proficiently throughout the vigorous stages from process development till production scale. Technological progressions have resulted in the development of single-use chromatography, which is deliberated a vibrant invention in the sector of bio pharmacy and is projected to observe encouraging progress throughout the prognosis timeframe. Nonetheless, filters sector is estimated to show the firmest growth rate in downstream processing market in the upcoming period.
Regional Insights
In 2022, North America acquired maximum market share 36% in downstream processing sector and is projected to maintain this strong hold throughout the valuation period. This growth market is impelled by the accumulative demand for biopharmaceuticals and snowballing Research and development spending in the biopharmaceutical sector. Emergent markets like Asia Pacific deliver innovative growth openings to performers in the market. However, requirement for trained professionals and more cost of instruments are estimated to confine market growth during next few years. Further,absence of single-use choices, purification bottleneck, and harm to the health of capable professionals are few foremost problems in the downstream processing marketplace.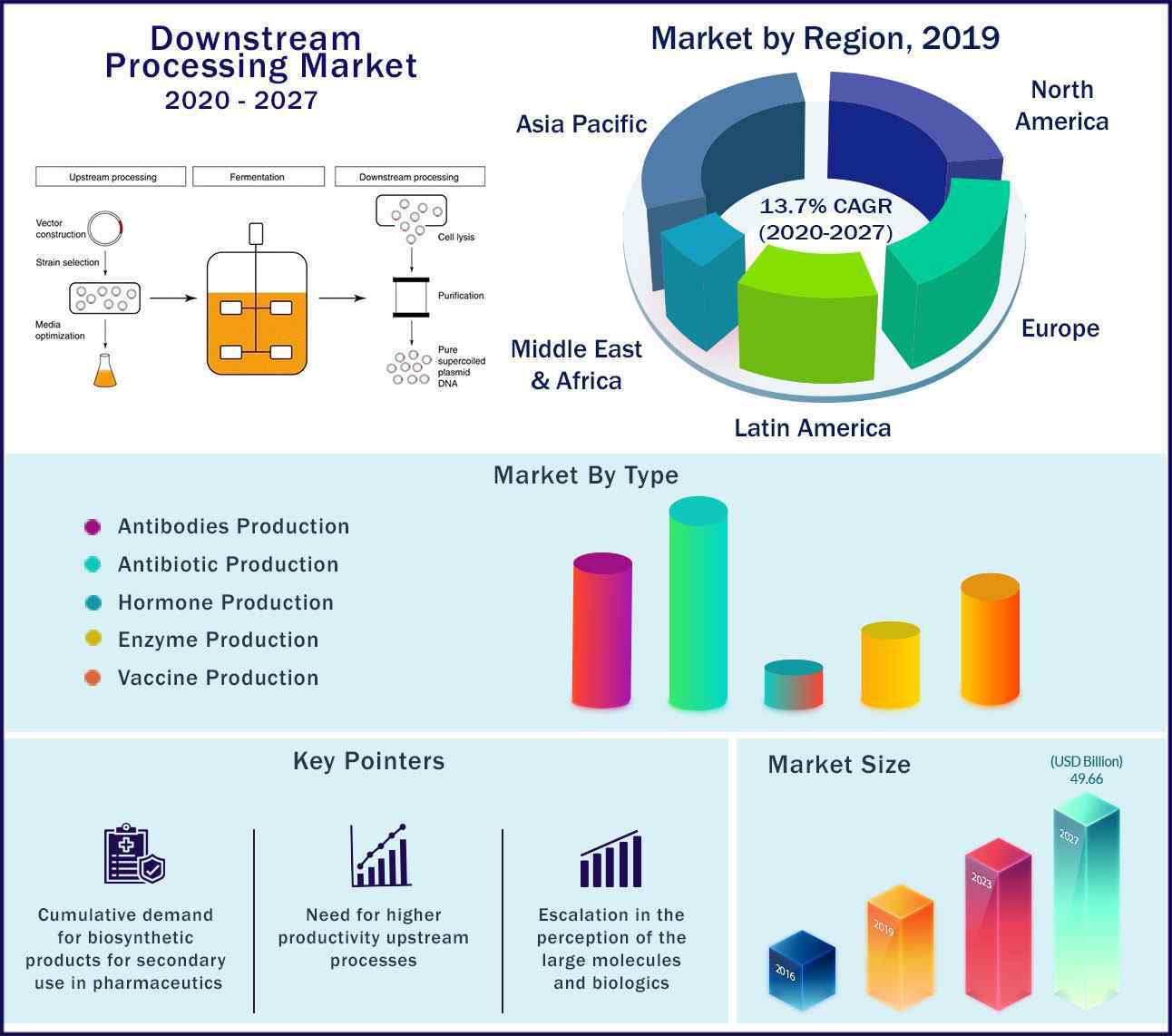 Asia Pacific region is anticipated to record substantial growth rate 18% throughout the prediction period. Nations such as India, China, Japan, and South Korea, are projected to motivate the requirement for downstream processing produces in the impending years. In addition, growth in these markets will be powered by cumulative government support, noteworthy investments by significant marketplace performers, emerging R&D infrastructure, and budding academic fineness and expertise among others.
Key Companies & Market Share Insights
Improvements in the progress of biotherapeutics are producing a growing range of complex molecules including antibody fragments, antibody drug conjugates (ADCs), and bispecific entities, that lead to greater product explicit impurities and distinctive purification issues. In an attempt to cater industry need, process development scientists should balance numerous factors when formulating innovative purification processes for these molecules. Speed at which the process can be run, resolution and capacity should all be concurrently optimized.
Competitive pressure is compelling bio manufacturing corporations to progress more competent processes to shrink cost and time. Although most bioprocessing is still accomplished in batch mode, both downstream and upstream, corporations are assessing methods to rationalize their processes.
Prominent market participants operating in the downstream processing industry are mentioned below:
BoehringerIngelheim
Danaher Corporation
Sartorius Stedium Biotech S.A
GE Healthcare
Merck Millipore
Eppendorf AG
3M Company
Thermo Fisher Scientific Inc
Finesse Solutions Inc
Lonza Group
Report Scope of the Downstream Processing Market
| | |
| --- | --- |
| Report Highlights | Details |
| Market Size | USD 72.30 Billion by 2030 |
| Growth Rate | CAGR of 13.6% from 2022 to 2030 |
| Fastest Growing Market | Asia Pacific |
| Largest Market | North America |
| Base Year | 2021 |
| Forecast Period | 2022 to 2030 |
| Segments Covered | Vehicle Class, Architecture, Region |
| Companies Mentioned | General Electric Company, Thermo Fisher Scientific, Inc., Danaher Corporation, Merck & Co Inc., Corning Incorporated, 3M Company, Repligen Corporation, Eppendorf AG, and Lonza Group Ltd |
Segments Covered in the Report
This research study comprises comprehensive assessment of the marketplace revenue with the help of prevalent quantitative and qualitative acumens, and forecasts of the market. This report presents breakdown of market into major and niche segments. Furthermore, this research study gauges market revenue growth and its drift at global, regional, and country from 2019 to 2030. This report includes market division and its revenue assessment by categorizing it depending on product, application, technique and region as follows:
By Product
Centrifuges
Dryers
Chromatography Systems
Filters
Evaporators
Others
By Application
Antibodies Production
Antibiotic Production
Hormone Production
Enzyme Production
Vaccine Production
By Technique
Purification by Chromatography
Solid-liquid Separation

Centrifugation
Filtration

Cell Disruption
Concentration
Formulation
By Regional Outlook
North America
Europe
Asia Pacific

China
India
Japan
South Korea

Middle East & Africa
Latin America