The global chatbots for mental health and therapy market is surging, with an overall revenue growth expectation of hundreds of millions of dollars during the forecast period from 2023 to 2032.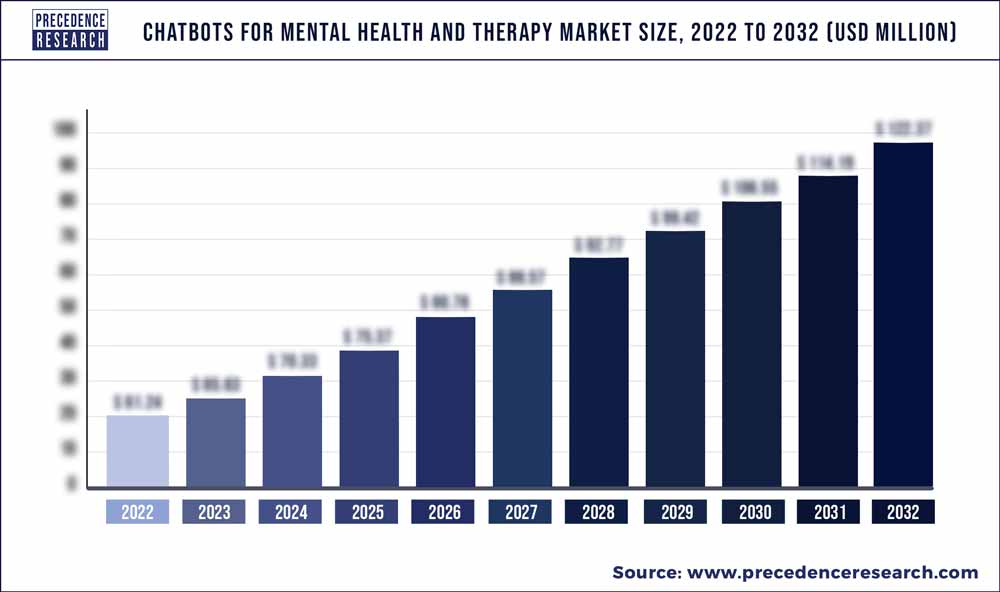 Key Takeaways:
North America dominated the global market in 2022.
By technology, Machine learning (ML) and deep learning segment led the market in 2022, the segment is expected to maintain its dominance during the forecast period.
By application, the conversational interfaces segment leads the market and will continue to do so in the forecast period.
By component, the Software-as-a-Service or SaaS segment dominates the market and will continue to do so because of the widespread use of AI-based software solutions.
Market Overview:
Chatbots for mental health and therapy are computerized programs developed for providing support, assistance, and guidance to individuals struggling with mental well-being. These chatbots utilize artificial intelligence, natural language processing and other advanced techniques to engage in communication with individuals to form proper mental health support. Such computerized services offer unbiased solutions for multiple mental health conFarticerns along with coping strategies and therapy activities. Services of chatbots for mental health and therapies are available across the globe through mobile apps, websites, and various messaging platforms.
Mental health issues affect people everywhere across the globe, and multiple estimates indicate that 792 million people worldwide suffer from mental health problems. Chatbot services are observed as novel and creative methods to learn about mental health. These services are being used more and more often. Research indicates that individuals enjoy communicating with chatbots during therapies for mental wellness. They provide a practical and private means of receiving treatment for mental health conditions like addiction, depression, stress, and generalized anxiety disorder.
Data and statistics:
In 2023, a study in American JAMA internal medicine journal stated that chatbots answer 195 randomly drawn patient questions on social media platforms.
In 2022, Wysa invested approximately $20 million in order to expand its therapist chatbot services into wider mental health services. The company is on the heels of hitting 4.5 million users across 65 countries.
According to the report published by startup bonsai, approximately 87.2% of people reported having positive and neutral conversation with chatbots through various platforms.
Growth Factors:
The rising prevalence of mental disorders is one of the leading global health problems. Mental health issues are estimated to impact 1 in 10 kids and 1 in 4 adults yearly. Millions of people's lives are significantly affected by mental illness, and society and the economy also suffer greatly. Considering the rising toll of mental health is observed to grow demand for chatbots for mental health and therapy.
The market for chatbots for therapy and mental health will grow since they are affordable, simple to use, and available at any time. Several chatbots available in the market are free of cost, which makes it accessible for all to use, this element fuels the growth of the market.
Globally, there is a lack of money, inadequate funding, and illiteracy in mental health. Compared to high-income nations, which have 90 psychiatrists per 1,000,000 people, countries with low to middle incomes have just 0.1 psychiatrists per 1,000,000. The gap must be addressed since there is such a great need for therapy. Mental health and Therapy chatbots can assist with this. The market for chatbots used in therapy and mental health will expand.
Report Scope of the Chatbots for Mental Health and Therapy Market:
| | |
| --- | --- |
| Report Coverage | Details |
| Largest Market | North America |
| Base Year | 2022 |
| Forecast Period | 2023 to 2032 |
| Segments Covered | By Technology, By Application, and By Component |
| Regions Covered | North America, Europe, Asia-Pacific, Latin America, and Middle East & Africa |

Market Dynamics:
Driver:
Shortage of mental health professionals
The World Health Organization (WHO) reported that there are 13 mental health professionals worldwide for every 100,000 persons. More than 40 times as many mental health professionals are employed in high-income nations than in low-income ones. Worldwide, the pandemic caused 76 million new anxiety disorders and 53 million new cases of depression. The pandemic period boosted the demand for such services for mental health and therapies that often don't require clinic visits. Therapy bots are rapidly stepping in to fill the vacuum left by the world's lack of resources for mental health, this element is observed to act as a driver for the market's growth in the upcoming years.
Restraint:
Risk of false diagnosis
Chatbots used for mental well-being solutions and therapies may constitute false diagnoses due to several reasons, this element is observed to limit the adoption of chatbots for mental health by users while being a major restraint for the market.
Chatbots for such services include artificial intelligence and other generative technologies, the limitations with such technologies may offer pseudo-results for individuals. Such technologies often offer general and average results for multiple questions. Such average results may be wrong for a few individuals that require personalized solutions or customized health support for mental illness. False diagnoses or therapies may cause misconceptions in individuals.
Opportunity:
Technological advancements
People avoid information that can be potentially stigmatizing. Mental health is one area where withholding accurate information has severe repercussions. Individuals are hesitant to share symptoms of mental health illnesses because of the stigma attached to such conditions. The implementation of advanced chatbots is observed to lower this stigma about mental health. Multiple advancements in chatbots such as penetration of voice recognition systems, image recognition, and video analyzing systems are observed to boost the adoption of such bots by making it easy to use for everyone. These advancements will promote the use of chatbots for mental health and therapy while offering multiple opportunities for the market to grow.
Segments Insight:
Technology Insights:
The machine learning (ML) and deep learning segment dominate the market, the segment is expected to sustain its position during the forecast period. The algorithms of machine learning and deep learning technologies are capable of analyzing the pattern of mental issues that can determine the level of risk of the mental issue. Moreover, the rising demand for chatbots that can monitor treatment plan and sessions along with the effectiveness of the therapy will grow the deployment of ML and DL technology by supporting the segment's growth.
For instance, Paola Pedrelli of Massachusetts General Hospital and Rosalind Picard of MIT believe AI may make mental health services more available to patients.
On the other hand, the natural language processing segment is expected to witness significant growth. Natural language processing technology is capable of analyzing texts which enables real-world communication. This technology creates a smart voice assistant system to offer more profound services to individuals.
Application Insights:
The conversational interfaces segment leads the market and will continue to do so in the forecast period. The term "chatbot" or "conversational agent" refers to a class of digital tools that use artificial intelligence and machine learning to mimic human behavior and offer a task-oriented framework with evolving dialogue that can participate in the conversation. Examples of such tools include Google Assistant running on Android devices and Siri, running on Apple devices.
Additionally, people prefer services or therapies that can make individuals feel they are talking to the service provider in real time. The conversational interfaces offer such services by utilizing a natural language processing interface.
Component Insights:
The Software-as-a-Service or SaaS segment dominates the market and will continue to sustain its dominance owing to the widespread use of AI-based software solutions. Software in chatbots for mental health and therapy is capable of offering subjective, objective, assessment and plan (SOAP) for individuals to schedule the therapy sessions or to support the patient data. With the rising number of users for chatbots, managing and channelizing enormous databases to offer proper services and solutions has become crucial. This element promotes the growth of the segment.
MindPeers recently announced the launch of a self-help mental and behavioral health SaaS platform that can address problems like anxiety, productivity loss, grief, sleep disorder, loneliness, burnout via routines, procrastination, etc.
Regional Insights:
North America dominates the chatbots for the mental health and therapy market. To bridge the gaps in America's overworked mental health care system, digital wellness initiatives like mental health chatbots have emerged robustly. Even though up to two-thirds of kids in the United States suffer trauma, there are often not enough communities with mental health professionals trained to deal with it. According to national statistics, there are only ten child psychiatrists for every 100,000 adolescents, less than one-fourth of the professionals the American Academy of Child and Adolescent Psychiatry recommends. The existence of numerous major market participants, a robust healthcare IT infrastructure, broad use of AI/ML technologies across multiple sectors, helpful policies from the government, lucrative funding alternatives, and a supportive regulatory environment are all driving the industry.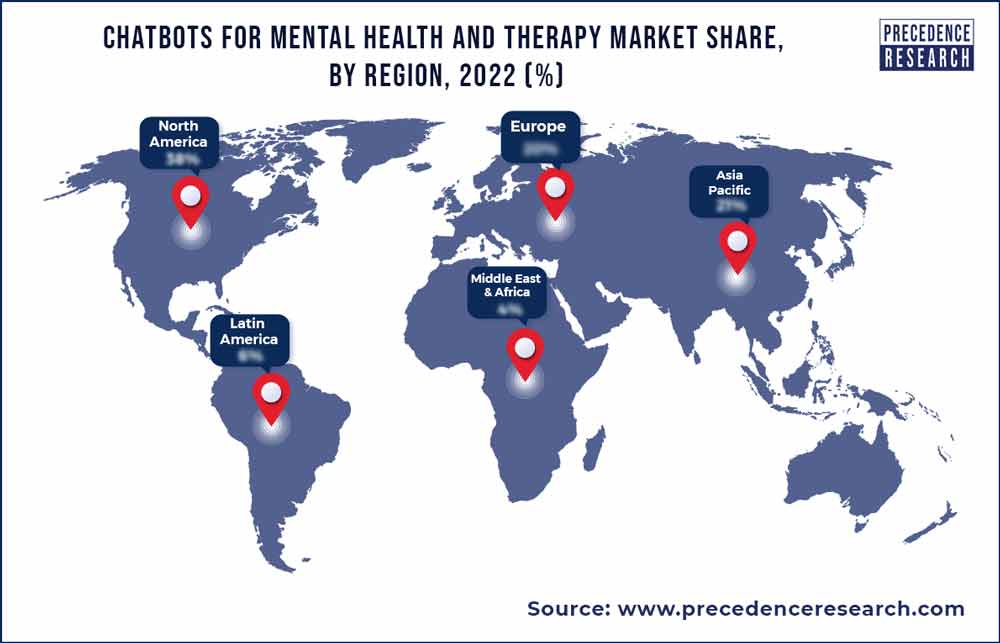 The chatbots for mental health and therapy market in the Asia Pacific region will also grow significantly. Globally, the Covid-19 pandemic has affected people's mental health. AI-based apps for mental health are filling the enormous void caused by the shortage of mental healthcare personnel. According to the World Health Organization (WHO), India's mental health workforce falls short of international standards, and there is a severe shortage of psychologists and psychiatrists in the nation relative to the number of individuals experiencing mental health problems. Therefore, the deployment of chatbots as alternatives for psychologists is growing in the countries of Asia Pacific. Despite its drawbacks, chatbots for therapeutic and mental health nevertheless carry significant hazards. The UNICEF East Asia and Pacific Regional Office have published a Safer Chatbots Implementation Guide to offer advice on mitigating the dangers presented to children and other vulnerable groups. Such guidelines are further assuring people to use chatbots in the region.
Recent Developments:
In January 2023, the digital health startup Limbic, headquartered in London, announced that Limbic Access, its mental health assessment tool, has received medical device certification of Class IIa UKCA. Limbic Access is the only AI mental health chatbot to receive this accolade for its security, clinical efficacy, and risk management. The certification demonstrates that the company's e-triage chatbot, which has a 93% accuracy rate for predicting mental health disorders, can be safely integrated into the mental health therapy route to support patient self-referral. This will result in significant cost savings for overworked clinicians and better patient outcomes.
In May 2023, the well-funded AI startup Inflection AI unveiled Pi, which seeks to be "a kind and supportive companion that's on your side," according to the business. The business emphasized that it is not at all like a person. Pi is a variation of the current wave of artificial intelligence (AI) technology, where chatbots are getting tweaked to offer virtual company. Inflection's CEO, Mustafa Suleyman, stated that his startup, which is set up as a charitable company, intends to create honest and reliable artificial intelligence.
In May 2023, a few days following the hotline staff members organizing a union, NEDA executives decided to replace them with Tessa, a chatbot. The Tessa chatbot, which goes by the "wellness chatbot" moniker, has been active since February 2022. Beginning June 1, the Helpline program will end, and Tessa will take over as the primary NEDA support system. Volunteers for the helpline were also requested to cease providing one-on-one assistance and act as chatbot "testers" instead.
In June 2023, Dr. GenAI, a brand-new generative AI personal healthcare chatbot that DiagnaMed unveiled. The new medical chatbot, powered by OpenAI's ChatGPT, will assist users in receiving quick, individualized medical data based on their particular medical issues. The chatbot is appropriate for consumers seeking fresh healthcare solution ideas or a clearer knowledge of their symptoms because it is designed to give natural, human-like talks. Dr. GenAI may also research an individual using medical data, such as vital signs, results from blood tests, and physical characteristics. The new chatbot was created utilizing the CERVAI generative artificial intelligence brain health platform and is aimed at patients, hospitals, licensed medical professionals, and life science enterprises. Additionally, it may be included in the forum, giving patients access to a complete range of solutions to improve brain health.
Key Market Players:
Wysa Ltd
Ginger
Woebot Health
Marigold Health
Bark Technologies
Mindstrong Health
BioBeats
Lyra Health
Cognoa
MeQuilibrium
Segment Covered in the Report:
(Note*: We offer reports based on sub segments as well. Kindly, let us know if you are interested)
By Technology
Machine learning and Deep learning
Natural Language Processing
Others
By Application
Conversational Interfaces
Behavioral Pattern Recognition
Others
By Component
By Geography
North America
Europe
Asia-Pacific
Latin America
Middle East and Africa