The global commercial greenhouse market size is expected to rake USD 78.9 billion by 2030 and representing a 9.52 percent CAGR during the forecast period from 2022 to 2030.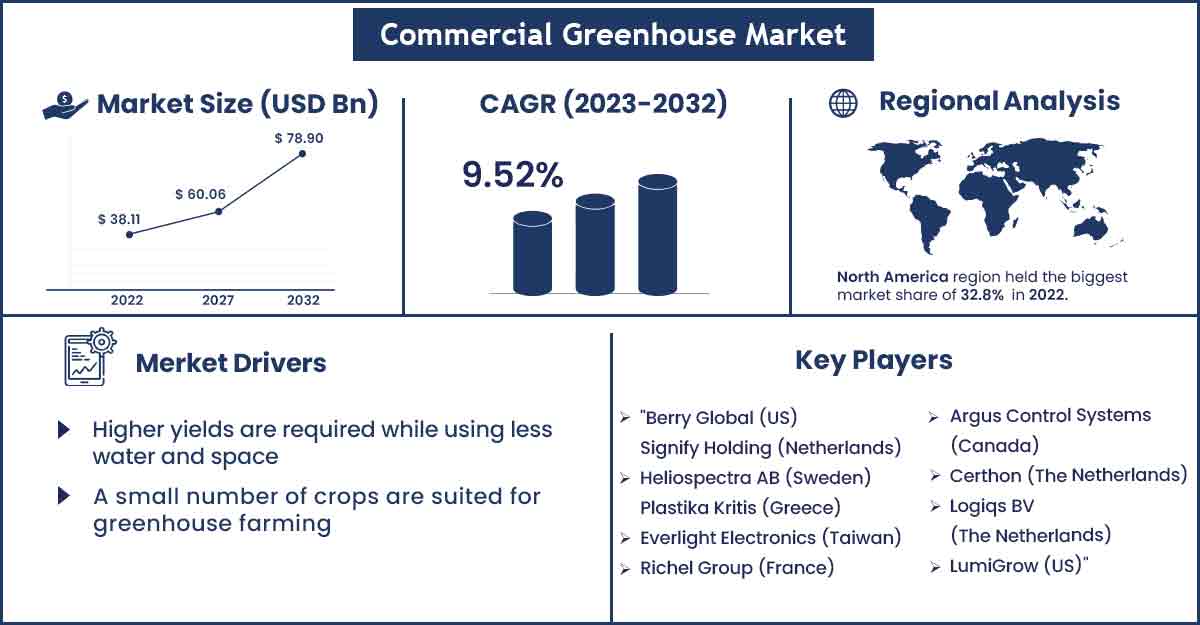 Commercial greenhouses offer a range of covering options, including glass or plastic for the walls and top and frequently made-of-glass-or-plastic walls. An emerging sector with great growth potential is commercial greenhouses. They use a range of technology, such as cooling systems, heating systems, LED grow lights, irrigation facilities, and control mechanisms.
Worldwide, controlled environment plant production systems are used extensively to grow plants at a specific time or location that are of a quality that cannot be achieved outdoors. In order to justify investment expenses, controlled environment agriculture must be far more intensive than field agriculture in terms of capital expenditures per unit area. As more individuals become aware of the technologies that commercial greenhouses use for higher yields, the commercial greenhouse business will have a range of growth potential. Throughout the anticipated era, this market's growth will be mostly dependent on the deployment of renewable energy sources.
Report Highlights:
Farmers that utilise this technique are gaining more control over the environment in which their crops are grown thanks to the growing acceptance of the greenhouse farming concept.
During the projected period, the European region is anticipated to lead the commercial greenhouse market.
In 2021, the vegetable category held the market's top spot with a market share of roughly 27% and around 8.5 billion dollar sales.
With a market share of almost 55% and sales of 16.9 billion, plastic greenhouses were the market leader in 2021.
In 2021, the market's leading segment was heating systems, which had a market share of about 41.9% and 12.90 billion in sales.
The market's growth will be constrained by expensive greenhouse setup costs, particularly for HVAC systems and LED grow lights, as well as a lack of knowledge about commercial greenhouses in underdeveloped areas.
Regional Snapshots:
In the past, Europe has led the charge in bringing innovative techniques to commercial greenhouse horticulture. Spain and the Netherlands both have significant greenhouse farming areas. In contrast, Dutch farmers frequently grow their plants in plain greenhouses that resemble tunnels without the use of temperature control technology. Agriculture has flourished in Scandinavia, a region where farming is unfeasible due to the region's extreme cold. Growers in Europe are the biggest consumers of commercial greenhouse systems globally. Climate control is required to establish an atmosphere that is favourable for plant growth because many areas of Europe have frigid temperatures. Additional lighting is also required in several other regions of Europe, notably Scandinavia, to extend the growth season all year long.
Commercial Greenhouse Market Report Scope:
| | |
| --- | --- |
| Report Coverage | Details |
| Market Revenue in 2023 | USD 41.74 Billion |
| Projected Forecast Revenue in 2030 | USD 78.9 Billion |
| Growth Rate from 2022 to 2030 | CAGR of 9.52% |
| Largest Market | North America |
| Base Year | 2022 |
| Forecast Period | 2022 to 2030 |
| Regions Covered | North America, Europe, Asia-Pacific, Latin America, and Middle East & Africa |

Market Dynamics:
Drivers:
Due to the requirement for higher yields while using less space and water, commercial greenhouses are becoming more and more necessary: One of the main advantages of growing crops in a greenhouse is that it produces a higher yield than other forms of farming. Enclosed facilities offer the ideal growing conditions for farmers to produce a crop from seed to harvest in the shortest amount of time and with the highest yields possible on a little amount of land. In greenhouses, hydroponically grown tomatoes produced 10.59 pounds per square foot on average in 2020 as opposed to 1.85 pounds per square foot for conventionally grown tomatoes. Because of this, greenhouse farms are able to increase their overall crop yield by increasing the number of layers and growing spaces.
Restraints:
The limited number of crops that can be produced in greenhouses: Since there are only a few crops that can be successfully grown in greenhouses, this method is not widely used by farmers. A lot of things need to be considered before starting a greenhouse plantation, including temperature control, adequate water supply management, identification and supply of fertiliser, the growth mechanism to be employed, and specific harvest timings for plants. Fruits and vegetables are the finest crops for vertical farming since they grow more quickly and require less water and light. However, there are just a few fruit and vegetable species that can be grown in regulated environments. For instance, many fruits and vegetables have edible branches, roots, and leaves. These plant species don't belong here.
Because they need a lot of water and take a long time to harvest, crops like sugarcane, rice, and grain are difficult to produce in greenhouses. The principal crops grown year-round in the APAC Regional market to feed the expanding population are rice and wheat. Due to the difficulty of growing these crops in greenhouses, commercial greenhouse agriculture in these areas has only recently begun to spread.
The European Union's (EU) total spending plan for 2020 was $197 billion. Fisheries, farming, and rural development combined for $69. billion in spending, or 35% of the entire budget.
Challenges:
Lack of systems to regulate temperature to preserve ideal crop-growing conditions in warm places. Temperature is one of the major environmental factors that affects crop growth, development, yield, and particularly the rate of development. Crops need a certain minimum temperature to complete their entire life cycle. Particularly during critical periods like flowering, extremely low or high temperatures can have a detrimental effect on crop development, growth, and output. Commercial greenhouse farming methods are gaining a lot of attention in urban and semi-urban areas of emerging nations. Due to their hot and humid climate, which hinders agricultural growth, tropical regions including the Middle East, sections of Asia-Pacific, and Africa have difficulty controlling their temperatures. Compared to methods utilised in temperate climates, maintaining the climate in such heated places requires special approaches. A perfect growing environment must be maintained in these areas, which urgently calls for the appropriate technologies.
Recent Developments:
In April 2021, Medicago will work with Argus to create a covid-19 pandemic plant-derived vaccine. The Argus team delivered cutting-edge environmental control plant growth technology, which was quickly adopted into Medicago's Quebec and Raleigh-Durham factories.
DENSO AgriTech Solutions, Inc. (Tokyo), a sales organization providing cutting-edge horticulture services, was established in May 2020 by Certhon and DENSO Corporation. Through this joint venture, the agricultural and horticultural services and products of Certhon and DENSO would be sold.
In December 2019, the Richel Group and GreenFood collaborated to build a 9-hectare strawberry greenhouse in Armenia. This aided GreenFood in surpassing other CIS producers of strawberries that you can grow yourself.
The modular LED lighting solution MITRA series was introduced by Heliospectra in May 2019, expanding its current product line.
Major Key Players:
Berry Global (US)
Signify Holding (Netherlands)
Heliospectra AB (Sweden)
Plastika Kritis (Greece)
Everlight Electronics (Taiwan)
Richel Group (France)
Argus Control Systems (Canada)
Certhon (The Netherlands)
Logiqs BV (The Netherlands)
LumiGrow (US)
Agra-tech, Inc (US)
Rough Brothers, Inc (US)
Hort Americas (US)
Top Greenhouses (India)
Stuppy Greenhouse (US)
The Glasshouse Company (Australia)
DeCloet Manufacturing Ltd (Canada)
Europrogress (Italy)
Luiten Greenhouses (New Zealand)
Sotrafa (Spain)
Nobutec BV (The Netherlands)
Ammerlaan Constructions (The Netherlands)
Ludy Greenhouse (US)
Saveer Biotech Ltd (India)
Harford (New Zealand)
Market Segmentation:
By Equipment
Hardware
Software & Services
By Crop Type
Fruits
Vegetables
Flowers and Ornamentals
Nursey Crops
Other
By Type
By Component
High-Tech Commercial Greenhouse
Medium-Tech Commercial Greenhouse
Low-Tech Greenhouse
Buy this Research Report@ https://www.precedenceresearch.com/checkout/2133
You can place an order or ask any questions, please feel free to contact at sales@precedenceresearch.com | +1 9197 992 333