The global contract lifecycle management software market size is expected to rake USD 5.8 billion by 2030 and representing a 13.2 percent CAGR during the forecast period from 2022 to 2030.
Due to the increased desire for a centralized database for efficient contract lifecycle management solutions among businesses across various industries, the size of the contract lifecycle management industry is anticipated to grow at a moderate rate between 2022 and 2030. Additionally, the CLM industry's growth structure would be further augmented by the growing requirement to increase the openness and efficiency of managerial control and monitoring procedures until 2027. Contract lifecycle management aids clients in removing, minimizing, or mitigating the risks associated with procurement, law, and money.
Additionally, it enables them to maintain a record of the details, costs, and deadlines of the connected internal and external enterprises. Throughout 2027, it is predicted that these advancements would increase market revenue for contractual lifecycle management. Contract lifecycle management is being widely adopted by large-scale businesses because it enables them to automate structured and predetermined procedures. Additionally, relatively compared to small and medium businesses, it appears that larger organizations engage in more partnerships as well as other activities annually.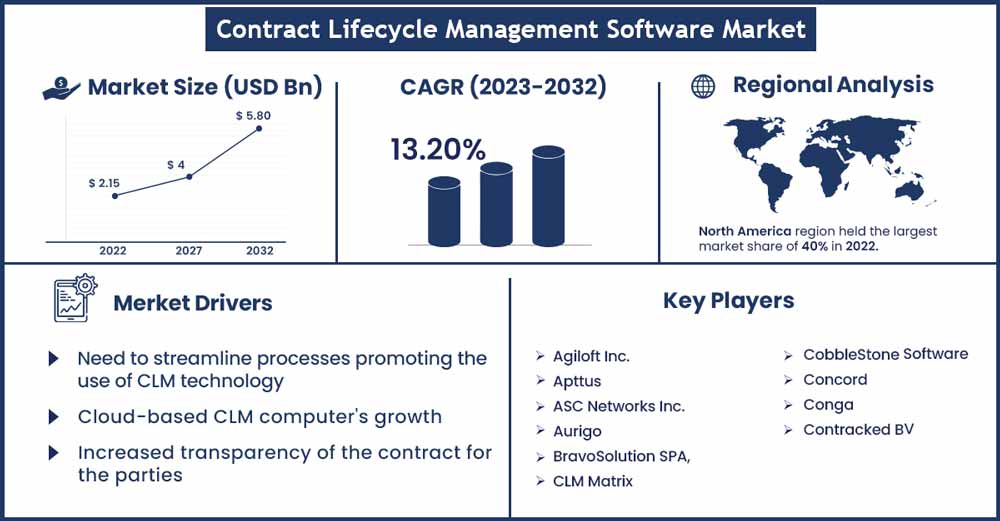 Report Highlights:
Vendors of contract life-cycle management solutions provide AI-driven insights. In addition to identifying risk, this aids providers in trend forecasting, customer behavior analysis, and the evaluation of many possible business scenarios. Onit, Inc. released an improved interface among its agreement lifecycle management solution and ReviewAI in March 2021 to order gain insights. review employs AI to analyze and redline papers in 2 minutes less. The integration speeds up all stages of contract administration by combining the capabilities of automation and artificial intelligence in one solution. AI-driven contract management decreases the time required for all contracting processes while also increasing contract accuracy and contract analysis through the use of natural language recognition techniques and artificial neural technologies. By automating crucial steps in the contract review process, the Intelligence contract lifecycle administration also cuts cycle time and eliminates errors.
Contract Lifecycle Management Software Market Report Scope:
| | |
| --- | --- |
| Report Coverage | Details |
| Market Revenue in 2023 | USD 2.43 Billion |
| Projected Forecast Revenue in 2030 | USD 5.8 Billion |
| Growth Rate from 2022 to 2030 | CAGR of 13.2% |
| Largest Market | North America |
| Base Year | 2022 |
| Forecast Period | 2022 To 2032 |
| Regions Covered | North America, Europe, Asia-Pacific, Latin America, and Middle East & Africa |

Regional Snapshots:
Due to the increasing number of IT and telecom firms supporting the construction of next-generation networks, North America dominates the contract lifecycle management industry in terms of revenue from sales. The United States is anticipated to be a key market for long-term revenue growth in the contract lifecycle management industry in the future years. Contract lifecycle management is becoming more and more popular among large businesses since it enables them to automate structured and established activities.
Additionally, major firms tend to have more collaborations as well as other activities every year than small and medium-sized companies. According to the deployment model, the on-premise agreement lifecycle management market is anticipated to expand quickly through 2032 due to the inherent advantages of the model, including the ability to manage everything internally, control safety and backup systems, ensure organizational compliance, and avoid annual hosting fees.
Market Dynamics:
Drivers:
Attorneys can utilize CLM software to get comparable agreements from the collection for reference reasons. These contracts are available for viewing online in formats such as PowerPoint, Microsoft Word, and Excel. This speed up the evaluation process and enables firms to identify systemic flaws. Additionally, this software improves organizational control and reporting systems' efficacy and transparency, empowering companies to enforce compliance with regulatory authority standards. Additionally, interest in this solution is growing across all industry sectors as cloud-based CLM software becomes more commonplace since it provides a user-friendly interface, easy connectivity with well-known CLM solutions, dynamic system clearances, and much lower total costs. Additionally, it aids businesses in lowering infrastructure costs associated with contract administration.
Restraints:
There are numerous options available in the present day for contract management software. Of course, there isn't a one size fits all CLM option for every agency or company. business partners, Customers, and legal authorities all expect businesses to manage contracts carefully and responsibly. Institutions like government agencies are now held to a higher standard than ever before when it came to contracts. Any business or organization can have its reputation damaged by even minor CLM mistakes.
Opportunities:
Due to its ability to manage planned and stipulated procedures, contractual lifecycle management is being used by major firms more frequently. Furthermore, it seems that larger organizations conduct more joint ventures and other operations regularly than small and medium-sized businesses. According to the implementation model, the market for on-premise agreement lifecycle management may expand quickly through 2032 as a result of the model's intrinsic benefits, which include the capacity to handle everything internally, control over systems that are placed above white safety and backups, given an extraordinary adherence, and avoided annual advertising expenditures.
Challenges:
In the modern era, there are several choices for contract management software. Of course, not every agency or business needs the same type of CLM solution. Businesses should manage contracts carefully and responsibly if they want the support of their clients, business partners, and the relevant authorities. In terms of agreements, institutions like the government are now held to a higher level than ever before.
Even small CLM errors have the potential to harm the reputation of any company or organization. Since contracts may perform badly or get stale over time, performance must be monitored. Specialized contractual reporting based on predetermined criteria should be provided by every CLM procedure. Depending on elements like transaction costs, business areas, and contract renewal terms, you and your company could gain from being able to compile contract reports.
Recent Developments:
In May 2019, Coupa completed the acquisition of Exari, one of the top contract management businesses. This acquisition enhanced the capabilities of Coupa's contracts management service. Among other enhanced features, Coupa's contractual management services now offer facilities for contract creation, collaboration, and research.
Salesforce customers may streamline, automate, and hasten the creation of agreements including sales contracts, quotes, and nondisclosure contracts with the help of DocuSign Gen, a contract extension management solution that DocuSign & SpringCM jointly developed in September 2018.
In September 2018, DocuSign acquired SpringCM, one of the leading providers of CLM-based cloud-based documentation generation tools. The acquisition broadened the company's selection of contract management solutions.
In June 2019, Microsoft and Icertis collaborated to enhance blockchain-based contractual products. Tracking contractual requirements and responsibilities is achievable with the help of the Icertis Blockchain Framework. This partnership will help Icertis apply blockchain technology to contract management by integrating the Microsoft Azure Diamond Workspace for the ICM platforms.
To track the lead production process for its batteries from the location of origin to the manufacture, Volkswagen, a German carmaker, worked with Minespider & Icertis to establish a blockchain experiment in April 2019. Through this partnership, Icertis would help Volkswagen by using blockchain technology to help Volkswagen document supply chain agreements and screen outside vendors.
Major Key Players:
Agiloft Inc.
Apttus
ASC Networks Inc.
Aurigo
BravoSolution SPA,
CLM Matrix
CobbleStone Software
Concord
Conga
Contracked BV,
Contract Logix, LLC
Corcentric LLC
Coupa Software Inc.
Determine (Corcentric, LLC)
DocuSign, Inc.
ESM Solutions Corporation,
GEP
Great Minds Software, Inc.
IBM Corporation
Icertis, Inc.
I Contracts, Inc.
Infor
Information Services Group, Inc.
Infosys Limited
Ivalua Inc.
Jaggaer
Koch Industries, Inc.
Model N, Inc.
Newgen Software Technologies Limited
Optimus BT, Inc.
Oracle Corporation,
SAP SE
SecureDocs, Inc.
SpringCM
Symfact AG,
Synertrade (Econocom Group)
Trackado
Ultria
Wolters Kluwer N.V.
Zycus Infotech Private Limited
Market Segmentation:
By Component
Software
Services

Consulting
Implementation
Support and Maintenance
By Deployment Type
By Organization Size
By Business Function
Legal
Sales
Procurement
Operations
Others (IT, HR, and Finance)
By Vertical
Government
Retail and eCommerce
Healthcare and Life Sciences
Banking, Financial Services, and Insurance (BFSI)
Transportation and Logistics
Telecom and IT
Manufacturing
Others (Media and Entertainment, Energy and Utilities, and Education)
Buy this Research Report@ https://www.precedenceresearch.com/checkout/2196
You can place an order or ask any questions, please feel free to contact at sales@precedenceresearch.com | +1 9197 992 333