The global disposable face mask market revenue was evaluated at USD 82.68 billion in 2022 and is expected to attain around USD 147.37 billion by 2032, growing at a CAGR of 6% from 2023 to 2032.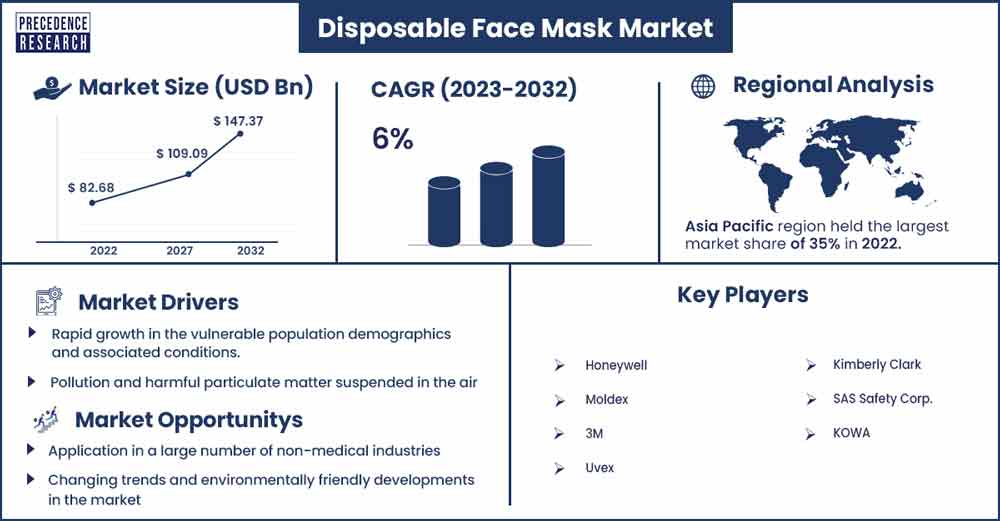 Market Overview
Disposable masks or procedure masks have long been an essential commodity in the healthcare sector. Generally called a medical face mask, it is a piece of protective equipment widely used by healthcare personnel during medical procedures and practices like surgery, dentistry, isolated care, and others. It is designed as a mechanical barrier that regulates the flow of particles in the air through and from respiratory orifices. Besides the medical community, disposable masks also have applications in fields like sanitation, food production, pharmaceuticals, etc., where contamination or infection is an associated hazard.
These masks comprise layers of fabric that only allow particle sizes within a specific range to pass through. Industries involving particulate matter apply the aid of masks in their daily workings. When these particles are inhaled, they may deposit along the respiratory path and lead to several short- and long-term ailments like asthma, shortness of breath, pneumonia, etc. Porosity-adjusted masks can help prevent several of these occupational hazards. Besides this industry-specific consumption, a submarket of disposable masks called dust masks has a considerable consumer base worldwide. Primarily acting as a barrier to dust and pollutants, these masks protect the user's skin from external forces.
The unpredicted COVID-19 pandemic has been a significant driver, catapulting the growth of the disposable mask market. The medical panic and public hysteria induced by the spread of the coronavirus triggered an exponential demand for masks worldwide. The market shifted from a healthcare-dominated consumer base to a more generalized consumption. Two years after the conclusion of the critical period, the market has yet to slow down. In addition to the recent viral scare, an increasing awareness of infectious diseases and a rising number of health concerns have made the public conscious of their health.
Environmental pollutants severely deteriorating the quality of breathable air have created a considerable demand for disposable masks in the general population. The recent increase in online sales platforms and mask vendors continues to drive the growth of the industry; however, budding incidences of fake business and products of questionable quality have emerged as a major hindrance.
According to November 2022 World Health Organization data, 6.7 million premature deaths are associated with air pollution annually. Amongst the plethora of related conditions, heart diseases, lower respiratory infections, and lung cancers are most prevalent. In order to combat the growing incidences of pollution and airborne diseases, the Centers for Disease Control and Prevention, abbreviated CDC, recommends the use of frequently stressed disposable masks, these shield users from dust as well as other harmful particles suspended in the air.
In February of 2023, the Dutch mask manufacturer VM Medical was acquired by 3M. This strategic move is to meet the growing demand for disposable masks. The takeover greatly aided the expansion of 3 M's global production and supply chain.
Honeywell revealed its investment plans in April 2022. The 100 million US dollar investment in its US manufacturing facilities for masks would help the company meet the growing demand for masks in the country by greatly increasing its production capacity.
In April 2022, A Floridian federal judge finalized the mask mandate during transit in trains, planes, buses, and other state transportation services.
As a country occupying a strategic position in the trade of masks globally, Canada contributes to a significant portion of the disposable face mask market's growth. According to Statistics Canada, Canada imported 399,035 US dollars worth of face masks made of textile material in August alone. The 62,979 Kg of masks were mainly imported from China, the United States, Taiwan, India, and Vietnam. In 2023, Ontario was responsible for exporting approximately 80% of the quantity of the total trade, while other Canadian provinces contributed smaller fractions.
Disposable Face Mask Market Report Scope
| | |
| --- | --- |
| Report Coverage | Details |
| Market Revenue in 2023 | USD 87.23 Billion |
| Projected Forecast Revenue by 2032 | USD 147.37 Billion |
| Growth Rate from 2023 to 2032 | CAGR of 6% |
| Largest Market | Asia Pacific |
| Base Year | 2022 |
| Forecast Period | 2023 to 2032 |
| Regions Covered | North America, Europe, Asia-Pacific, Latin America, and Middle East & Africa |

Regional Snapshot
In terms of revenue, Asia Pacific leads the market globally, while North America is projected to have the fastest developing market. As a region hosting some of the most populated countries of the world, Asia Pacific generates a huge consumer base for the international disposable mask industry by greatly increasing the product's demand. In addition to the sizable population, a large number of clinics and hospitals in the area further drive the market's expansion. Two of the leading global producers of disposable face masks, China and India, belong to this region. According to the Global Health Intelligence, China alone has more than 28,500 hospitals.
Owing to the rising concerns about health conditions and awareness of personal hygiene, North America showed the quickest rate of market growth. The central variables guiding the demand for disposable face masks in North America are rising pollution and increasing incidences of airborne infections. Discovery of new technology and development in the various industrial sectors significantly impact air quality. With around 60% of Americans residing in areas with high levels of air pollution, the overall population faces severe pollution-related health concerns. Within this region, the United States and Canada are the major contributors to the global disposable mask market.
Market Dynamics
Drivers
Rapid growth in the vulnerable population demographics and associated conditions.
An increased awareness among the general public about recent virus outbreaks and their health boosted the usage of personal face masks. Similarly, a global increase in the population of several vulnerable demographic subsets such as elderly, pediatric, homeless, and others acts as a driver for the disposable masks market. An increase in these vulnerable groups directly correlates with an increase in the burden of chronic illnesses. This, in turn, adds to the existing demand for disposable masks.
Pollution and harmful particulate matter suspended in the air
Air pollution poses a risk of death from all causes. Asthma, chronic obstructive pulmonary disorder (COPD), cancer, heart disease, and other chronic illnesses have the most effects on health and death rates among those 60 years of age and older, according to the National Institutes of Health. These factors positively impact the sales of disposable masks among the medical staff and caretakers of the affected individual.
Restraint
Fake businesses and false advertisement
A significant number of fake businesses and an increasing prevalence of forged products have been reported in recent years. Virtual as well as physical stores selling compromised consumables severely restrict the market growth. A sudden surge in demand for disposable face masks during the initial phases of the pandemic and recovery attracted several sweatshop owners to advertise fake face masks for monetary gains. In order to meet the rising demand for masks across the globe, some sweatshop vendors started labeling their products with fake brand names. Consumers would buy these products falsely tagged as products of reputed healthcare manufacturers; however, the quality would not match their reputation. This created a general distrust among the public and hindered the overall growth of the market.
Opportunities
Application in a large number of non-medical industries
Industries involved in the production or use of materials like paint, varnish, and other chemical compounds generate substances harmful to the human body. Various kinds of face coverings are employed by these industries in order to prevent dangerous chemicals from affecting the health of the personnel interacting with these chemicals on a daily basis. Workers at mining or construction sites typically use respiratory systems, aided breathers, and dust masks. A regular demand for disposable masks in these industries helps maintain the market.
Changing trends and environmentally friendly developments in the market
A global trend of customized and printed face masks is indicative of a set of fresh possibilities for the disposable face mask market. Furthermore, ecologically beneficial raw materials, manufacturing processes, and disposal plans help bridge the disparities in the market. Several universities and institutions have transitioned to making sustainable face masks by considering eco-friendly materials, production methods, and disposal plans. These initiatives usually involve collaborations between departments, student groups, and campus programs. An excellent example of these initiatives is Sustainable Carolina. Here, the organization partners and works with schools nationwide to reduce the amount of waste thrown in landfills.
Recent Developments
In January 2022, Maskc revealed its KF94 face mask to the commercial market. The masks claim to be made up of four layers: a non-woven external layer, two non-woven and melt-blown central layers, and a soft inner layer that is gentle on the skin.
In January 2022, under the government of Joe Biden, the US announced the distribution of 400 million respiratory shields. The high-quality face masks were to be provided to Americans free of cost. The government shipped containments of N95 masks to health centers and local pharmacies of various communities across the country.
Due to the growing health consequences of pollution, using a mask is the first line of defense to protect against smoke and dust. 3M Company offers a variety of NIOSH-approved filtering respirators for numerous tasks where the chances of suffering from infection are higher. This product is used as a protection against contagious pathogens, disease-carrying germs, and airborne infections. It is also used as a protectant while performing surgery to avoid entering viruses and germs.
In February 2023, A Dutch mask producer, VM Medical, was acquired by 3M. This takeover was a strategic move to meet the growing global demand for masks by enhancing its mask production capacity.
In April 2023, Honeywell revealed its plans for a 100 million US dollar investment in its mask manufacturing facilities in the US. This investment will aid the company's goal to meet the growing demand for masks in the country by increasing its annual mask production capacity.
Major Key Players
Honeywell
Moldex
3M
Uvex
Kimberly Clark
SAS Safety Corp.
KOWA
Market Segmentation
By Product Type
Dust
Protective
Non-woven
By Application Type
By Distribution Channel
Buy this Research Report@ https://www.precedenceresearch.com/checkout/1024
You can place an order or ask any questions, please feel free to contact at sales@precedenceresearch.com | +1 650 460 3308