The global drone logistics and transportation market size is anticipated to reach around USD 54.71 billion by 2032 up from USD 9.52 billion in 2022 with a CAGR of 19.7% Between 2023 and 2032.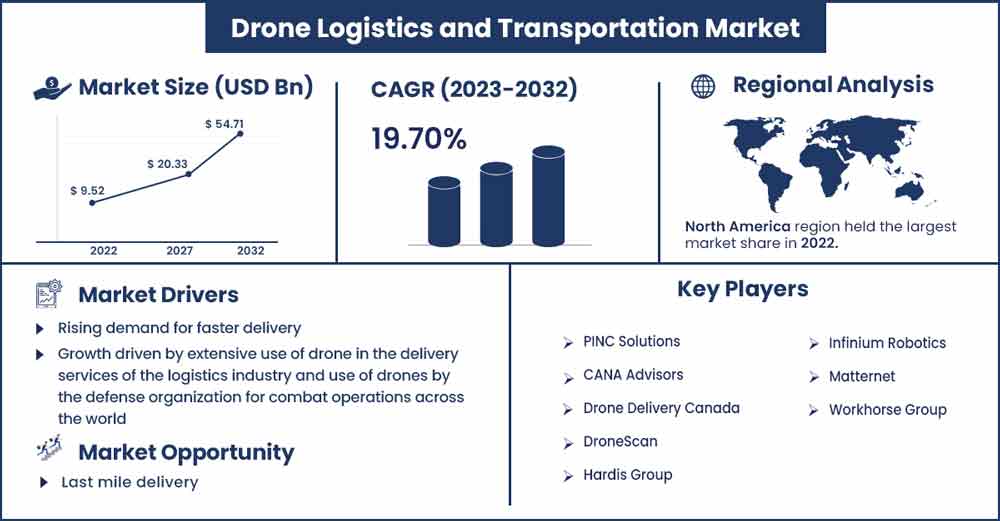 Market Overview:
The drone logistics and transportation market refers to the emerging industry segment that involves the use of drones (unmanned aerial vehicles) for the delivery and transportation of goods. Drones have gained significant attention and adoption in recent years due to their potential to revolutionize the way goods are moved, especially in scenarios where traditional transportation methods might be inefficient, costly, or environmentally challenging.
Drones can be programmed to autonomously transport packages from one location to another, reducing the need for human intervention and enabling efficient and consistent deliveries. Drones are particularly useful for delivering goods to remote or hard-to-reach locations, such as rural areas or disaster-stricken zones, where traditional transportation infrastructure might be lacking.
Regional Snapshot:
North America dominates the global drone logistics and transportation market, the region is expected to sustain its dominance throughout the forecast period. North America is home to some of the world's largest and most influential companies in the technology and logistics sectors. These companies have the resources and expertise to invest in drone technology and integrate it into their existing operations. North America, particularly the United States, has been a hub for technological innovation in various industries. This innovation has extended to drone technology, where companies have been developing advanced drones with capabilities suited for logistics and transportation purposes. This innovation gives North American companies a competitive edge in offering cutting-edge solutions.
Asia Pacific is expected to grow at the fastest rate throughout the forecast period. The rise of e-commerce in Asia Pacific is creating a substantial demand for efficient last-mile delivery solutions. Drones can play a crucial role in ensuring speedy deliveries, especially for small and lightweight packages. Asia Pacific has seen significant advancements in technology infrastructure, including the development of 5G networks. These improvements can support the real-time communication and navigation requirements of drones, making drone logistics and transportation more feasible.
Some countries in Asia Pacific have been proactive in creating regulations and frameworks to support the development and deployment of drones. Favorable government policies and regulatory environments can accelerate the growth of drone-based logistics and transportation services. The region is witnessing a surge in innovation and investment in drone technology. Startups and established companies alike are working on developing drone delivery solutions, and this innovation can contribute to the rapid growth of the market.
Drone Logistics and Transportation Market Report Scope:
| | |
| --- | --- |
| Report Coverage | Details |
| Market Revenue in 2023 | USD 10.87 Billion |
| Projected Forecast Revenue in 2032 | USD 54.71 Billion |
| Growth Rate from 2023 To 2032 | CAGR of 19.7% |
| Largest Market | North America |
| Base Year | 2022 |
| Forecast Period | 2023 To 2032 |
| Regions Covered | North America, Europe, Asia-Pacific, Latin America, and Middle East & Africa |

Report Highlights:
By solution, the shipping segment generated significant revenue in 2022. Drones have the capability to reach remote or hard-to-access areas where traditional transportation methods might be impractical or costly. Shipping companies that rely on drone technology can expand their reach and offer delivery services to regions that were previously underserved. One of the most immediate applications for drones in the shipping industry is last-mile delivery. Drones can efficiently transport packages directly to customers' doorsteps, avoiding traffic congestion and reducing delivery times. If shipping companies invest significantly in drone technology for last-mile delivery, it could lead to greater dominance in the drone logistics market.
By sector, the commercial sector is expected to hold the largest share of the market during the forecast period. The e-commerce industry is a major driver of drone delivery adoption. Companies like Amazon are actively investing in drone technology to enable faster and more efficient delivery of packages. Drones could be used to deliver small to medium-sized packages directly to customers' doorsteps, reducing delivery times and operational costs.
By drone, the freight drone segment is anticipated to see the most significant growth throughout the forecast period. Freight drones have the potential to drastically reduce delivery times compared to traditional transportation methods. With the ability to fly over traffic and take direct routes, they can expedite the movement of goods, especially in urban areas where congestion is a challenge. Freight drones can reach remote or hard-to-access areas where traditional transportation infrastructure might be lacking. This can be especially valuable for delivering medical supplies, disaster relief, and other urgent necessities.
Market Dynamics:
Driver:
Rising demand for faster delivery
Drones offer the potential to significantly reduce delivery times compared to traditional transportation methods. With the ability to bypass road congestion and deliver directly from point to point, drones can ensure swift and efficient deliveries, particularly for time-sensitive goods like medical supplies, perishable items, and emergency equipment. While the initial investment in drone technology might be high, the operational costs can be lower compared to traditional delivery methods, especially when considering factors like fuel, labor, and maintenance. The demand for faster delivery has driven companies to explore innovative business models that leverage drones. For example, some companies are testing the concept of "drone ports" or centralized drone hubs for efficient sorting and dispatching of packages.
Restraint:
Range
Drones used for logistics and transportation need to cover relatively long distances to efficiently deliver packages or goods. If a drone's range is not reliable, it can lead to incomplete deliveries or the need for frequent recharging, both of which can significantly slow down operations and increase costs. Reliable and predictable delivery timelines are crucial in the logistics industry. If drones have an unreliable range, it becomes challenging to estimate when a package will reach its destination. This unpredictability can undermine the trust of customers and businesses in using drone-based logistics solutions.
Opportunity:
Last mile delivery
Every business depends on logistics, but the worldwide pandemic has hampered supply networks. Retailers find it challenging to satisfy the increased customer demand for accelerated deliveries due to a supply chain operating issue affecting last-mile delivery. Several logistics players are investigating drone technology to cut operating costs, navigate traffic jams, and minimize vehicle emissions while still satiating customer demand for on-demand and immediate delivery. Due to their small size, rapid acceleration, low operating costs, and minimal environmental effect, drones are perfect for last-mile delivery. Consequently, e-commerce giants like Walmart and Amazon are attempting drone delivery to reach rural and inaccessible places.
Challenge:
Battery life and payload capacity issues
Battery technology is a key factor determining the flight time and range of drones. Extending battery life while maintaining payload capacity is a continuous challenge. Additionally, establishing a reliable and widespread charging infrastructure for drones is essential to enable longer and more frequent flights. While drones can transport small packages, expanding their payload capacity to accommodate larger and heavier goods is a technical challenge. Innovations in propulsion systems, materials, and design are necessary to make this feasible.
Recent Developments:
In June 2023, Airbus announced that it would provide drone pilot instruction in India to meet the talent requirements of a developing sector. The course, authorized by the Directorate General of Civil Aviation (DGCA), started in June and will be offered at the Bengaluru Airbus Training Centre.
In March 2023, an outstanding electric vehicle (EV) cluster and fleet of drones were recently shown in Belagavi, an Indian technological hotspot near Hubballi. The project was launched with much hope for developing technology and environmentally friendly transportation. To establish Belagavi, a district bordering Maharashtra, as the premier location for done and EV production, the Karnataka Digital Economy Mission (KDEM) created the drone and EV cluster (DRoEV) there. A special economic zone (SEZ) for aerospace production is also in the area.
Major Key Players:
PINC Solutions
CANA Advisors
Drone Delivery Canada
DroneScan
Hardis Group
Infinium Robotics
Matternet
Workhorse Group
Market Segmentation:
By Solution
Warehousing
Shipping
Infrastructure
Software
By Sector
By Drone
Freight Drones
<10kg (Delivery Drones)
>10kg Cargo Drones)
Passenger Drones
Ambulance Drones
Buy this Research Report@ https://www.precedenceresearch.com/checkout/1283
You can place an order or ask any questions, please feel free to contact at sales@precedenceresearch.com | +1 9197 992 333