The global flying bikes (Hoverbikes) market size surpassed USD 66.32 billion in 2022 and it is projected to attain around USD 329.28 billion by 2032, poised to grow at a CAGR of 17.38% from 2023 to 2032.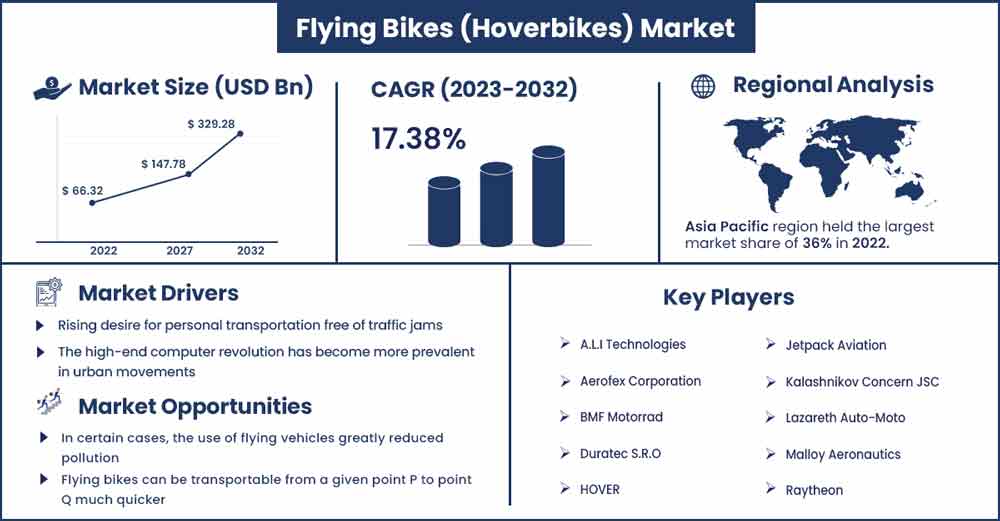 Future modes of mobility are anticipated to include flying vehicles like automobiles and motorcycles. A Japanese firm is aiming to introduce hoverbikes within U.S. by the end of the next year. So, at the Detroit Auto Show, the revolutionary hoverbike made its public debut. The ability of the bike to fly or float above the earth blurs the line between reality and fantasy with its introduction. The launch of Xturismo, according to the designers of the flying vehicle at Aerwins, marks the start of a new adventure into the realm of mobility in the future.
A flying bike also referred to as a hoverboard, is a vehicle with the ability to fly, maneuver like a motorbike on the road, and have a motorcycle-like appearance. A flying motorcycle typically has two propellers, one behind the operator and one behind the rider. Using technology including improved manufacturing methods, automated vehicles, and extremely efficient batteries, enhanced flying bike models were created. Such vehicles can fly at the same altitude and distance as conventional helicopters and lift to 103 kilos.
It can maneuver securely close to and within the floor without much practice, unlike a helicopter. These vehicles maintain fuel consumption levels while using little energy. Additionally, it can be used in search and rescue missions. If removal is not possible, it can transport goods. Locations that seem to be unreachable by cars and aircraft might be reached by flying bikes. It has a duct blower, that helps block the wind. As a consequence, it has a good aerodynamic performance.
Regional Snapshots:
Due to the rising demand for Hoverbike applications across numerous sectors, Asia Pacific will continue to rule the global Hoverbike market. Important variables thought to favor the Asia Pacific market's expansion in the following years. The market with the quickest growth in North America.
Report Highlights:
According to the application, the urgent services segment had the biggest share in 2022, making up about one-third of the overall market. This segment is predicted to maintain its top spot throughout the projection period. Additionally, this market is anticipated to have the quickest CAGR between 2022 and 2032. The study on the hoverbike industry also examines other market sectors, including transportation, law enforcement, military & defense applications, and others. More than 2/3 of the flying bike culture in 2022 came from the electric sector, which dominated the industry depending on the mode of operation. It is anticipated that this segment will continue to hold the top spot during the forecast period. Additionally, it is predicted that during the projected timeline, this segment will exhibit the highest CAGR. The study also investigated several market segments, such as a hybrid.
Flying Bikes (Hoverbikes) Market Report Scope:
| | |
| --- | --- |
| Report Coverage | Details |
| Market Revenue in 2023 | USD 77.85 Billion |
| Projected Forecast Revenue in 2032 | USD 329.28 Billion |
| Growth Rate from 2023 to 2032 | CAGR of 17.38% |
| Largest Market | Asia-Pacific |
| Base Year | 2022 |
| Forecast Period | 2023 to 2032 |
| Regions Covered | North America, Europe, Asia-Pacific, Latin America, and Middle East & Africa |

Market Dynamics:
Drivers:
Hoverbikes are a unique, enjoyable, and safe mode of transportation that is available to almost everyone. Aspiring motorbike riders may be familiar with the exhilaration of lifting. A small flying path made possible by hoverbikes is quicker, rougher, and easier to use than a helicopter. A whole new mode of transportation that is more rapid, affordable, and user-friendly than a helicopter is the hoverbike. Not just individuals who cannot afford a regular helicopter can use this safe and cheaper option.
This market is anticipated to expand as a result of improved infrastructure in different countries, rising urban congestion and traffic for commuters, workers, and business owners, environmental protection organizations, rising demand for private transportation free of traffic, and rising safety concerns for both drivers and vehicles. The development of futuristic hoverbikes has cost a lot of money. To create a reliable and usable product, ongoing R&D, experimentation, modifications, and technological advancements are required. Flying bicycles are one of the most ecologically responsible inventions to hit the market recently. In the market, flying bike products are relatively expensive.
Restraints:
The market for hoverbikes is seeing significant investment in the introduction of future-proof solutions. To create a useful and trustworthy product, ongoing research and development, testing enhancements, and technological developments are needed. Among the most cutting-edge products to recently enter the market is flying bikes. The cost of flying bike items on the market is high. Compared to other high-end vehicles on the market around the world, its price is considerably greater. As of right now, wealthy consumers everywhere in the world can purchase flying motorcycles. The expensive cost of flying bikes restricts their use to wealthy developed parts of the world, which is anticipated to restrain the market's expansion over the course of the projected period.
Opportunities:
Environmental pollutants like nitrogen dioxide and carbon dioxide oxide that enter the atmosphere store energy and contribute to climate change in addition to the chemicals that directly damage human health. The utilization of flying vehicles significantly decreased pollution in several situations. A fast-charging VTOL with four passengers generates 52% fewer carbon dioxide emissions over a 100-kilometer distance than a standard gasoline-powered automobile. Because they must be piloted, flying bikes are now significantly more likely to be filled and include people sharing journeys than they were in the past. Keeping with the idea of lowered emissions and enhanced efficiency.
The distance traveled and the amount of gasoline used are both significantly less than when traveling by land. Land transportation typically involves a lot of detours, traffic signals, and crossings, all of which reduce route efficiency and increase fuel costs. More highways are constructed as they move deeper into the interior. However, city-to-city routes can present the most risk. Large roads and bypasses are constructed to make it easier for cars to move between various sites.
Challenges:
These flying motorcycles are only appropriate for a small number of people since they must be lighter to lift off from the ground without using too much electricity. When it is understood that commuter vehicles and light railroads may substitute numerous automobiles in large cities, the effectiveness of computerized aircraft is once again called into question. They will need a licensed pilot to rent a small private jet and fly a few passengers. Operators may be able to reduce expenses if technology develops and ride-sharing is used to its fullest potential. However, if the price is excessive, it cannot be viewed as an environmentally friendly technology. Instead of being an expensive luxury for a selected few, sustainability must be accessible to all.
Recent Developments:
The above-flying bike debuted on September 15 during the Detroit auto show. A Japanese startup business called AERWINS Technology has introduced the nation's first hoverbike, the XTURISMO Hoverbike, taking the mobility of the future one small step closer. The XTURISMO was the name given to the hoverbike by its maker.
Major Key Players:
A.L.I Technologies
Aerofex Corporation
BMF Motorrad
Duratec S.R.O
HOVER
Jetpack Aviation
Kalashnikov Concern JSC
Lazareth Auto-Moto
Malloy Aeronautics
Raytheon
Safran
Honeywell
Thales
Northrop Grumman
Market Segmentation:
By Mode of Operation
By Application
Transportation
Emergency Services
Police Administration
Military and Defense purposes
Others
Buy this Research Report@ https://www.precedenceresearch.com/checkout/2525
You can place an order or ask any questions, please feel free to contact at sales@precedenceresearch.com | +1 9197 992 333