The global generative AI market size exhibited USD 10.79 billion in 2022 and is projected to attain around USD 118.06 billion by 2032, poised to grow at a strong CAGR of 27.02 percent during the projection period from 2023 to 2032.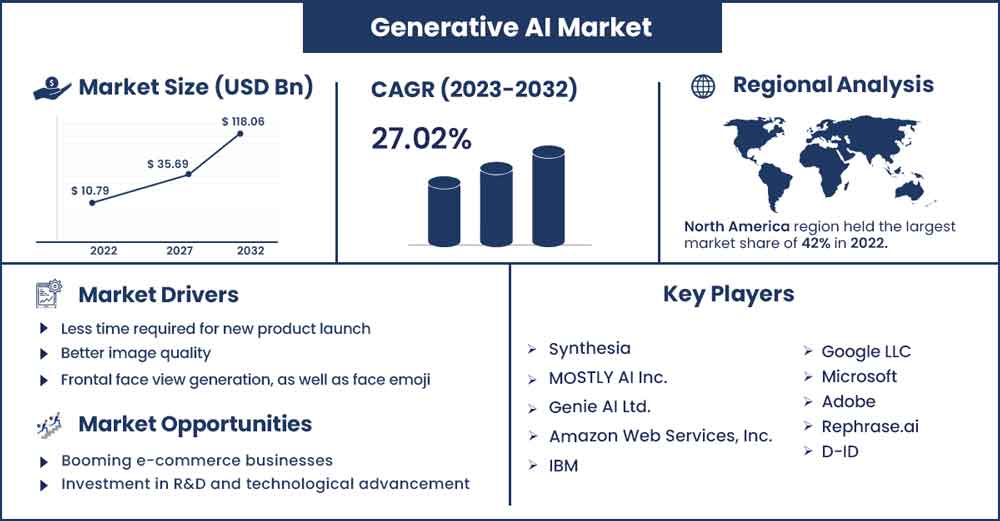 Market Overview:
A recent survey report published by Accenture stated that almost 40% of working hours in the healthcare sector can be augmented by using language-based generative AI tools. Generative AI tools and models are often based on deep learning techniques. Such models are capable of learning the underlying distribution of the training data and can further generate unique samples that resemble the original data. Crossing the capabilities of traditional artificial intelligence systems, generative artificial intelligence models are trained on huge datasets that can generate new content by identifying patterns and structures within the data.
Regional Snapshot:
North America dominated the market in 2022; the region will continue to grow robustly during the forecast period. North America has many diverse and high-quality data for training generative AI models. North America carries numerous industries including entertainment, e-commerce, finance and healthcare. Such industries generate large amounts of data that can be used for AI models. The presence of robust technology in the region along with the presence of tech companies and startups play a significant role in the development of the market.
Along with the rapid adoption of advanced technology and the presence of capital players, the government's support that elevates the utilization of generative AI in multiple government programs promotes market growth in North America.
The Department of State, United States, announced in June 2023 that it is considering generative AI for contract writing. The department has also stated that it is thinking of jumping onto conducting market research while utilizing generative AI solutions.
Asia Pacific is the fastest-growing region for the generative AI market. The generation of massive data, digital activities, and the large population of the region act as growth factors for the market's growth. This data can be leveraged to train generative AI models and develop innovative solutions. Companies and research institutions in the region have access to diverse datasets, enabling them to develop locally relevant generative AI applications.
The Asia Pacific region is home to many leading technology companies, including Alibaba, Tencent, Samsung, and Baidu. These companies have invested significantly in AI research, development, and deployment, including generative AI. The Asia Pacific region has a vast population and a growing middle class, creating a substantial market for AI applications. Generative AI technologies find applications in various sectors, including entertainment, gaming, e-commerce, advertising, and healthcare. The increasing demand for AI-driven products and services in these sectors is driving the growth of the generative AI market in the region.
According to Microsoft's Work Trade Index 2023, 78% of the respondents in Asia Pacific will delegate to artificial intelligence-based solutions in order to reduce workload.
India is observed as a forefront marketplace for generative AI that supports the adoption of such artificial intelligence-based solution services. The Government of India has already published a National Strategy for Artificial Intelligence with the objective of development; this element is observed to strengthen the adoption of generative AI in the country.
Report Highlights:
By component, the software segment will continue to grow at a significant rate during the forecast period owing to the cost-effectiveness and scalability offered by software-based generative AI solutions. With the emergence of new techniques in the industry, the software segment is prone to adopt advancements quickly.
By technology, the transformers segment has emerged as a dominating segment of the market which is expected to maintain its growth. Wide range of application of transformers in generative AI tasks has demonstrated their remarkable performance in the market. Transformers show versatility and are able to generate stories, translate, generate dialogues and summarize data.
By end-use, besides media and entertainment and BFSI, the IT and telecommunication segment is expected to witness notable growth in the market during the forecast period. With the advancements of technology in almost every sector, the IT and telecommunication industry also demands generative AI, preferably for network optimization. Generative AI is capable of predicting congestion points, and optimizing routing and traffic patterns of the network, this capability element fuels the segment's growth.
Generative AI Market Report Scope:
| | |
| --- | --- |
| Report Coverage | Details |
| Market Revenue in 2023 | USD 13.71 Billion |
| Projected Forecast Revenue in 2032 | USD 118.06 Billion |
| Growth Rate from 2023 to 2032 | CAGR of 27.02% |
| Largest Market | North America |
| Fastest Growing Market | Asia Pacific |
| North America Region Revenue Share In 2022 | 41% |
| Base Year | 2022 |
| Forecast Period | 2023 To 2032 |
| Regions Covered | North America, Europe, Asia-Pacific, Latin America, and Middle East & Africa |

Market Dynamics:
Driver:
The rising adoption of AI-based solutions from the healthcare industry/sector
The rising adoption of AI-based solutions in the healthcare sector significantly impacts the growth of the generative AI market. Generative AI models can analyze substantial volumes of patient data, including medical records, genetic data, and clinical outcomes. Multiple healthcare providers are shifting their focus to developing personalized treatment plans according to the patient's requirements. The capability of generative AI is observed to help prepare such treatment plans.
By generating patient-specific insights, generative AI can assist healthcare professionals in making informed decisions regarding disease management. The adoption of generative AI in medical imaging enables faster and more accurate diagnoses, improving patient care and outcomes. Considering such unmatched abilities of generative AI solutions for the healthcare sector, the adoption of such technologies will fuel the market's growth in the upcoming period.
Restraint:
Data protection concerns
Generative AI models often require access to diverse and extensive datasets to generate high-quality outputs. However, data ownership and control can be a contentious issue. Organizations may be reluctant to share their proprietary data due to concerns about data security, competitive advantage, or intellectual property. This limited access to data can hamper the development of generative AI models.
Opportunity:
Booming e-commerce businesses
E-commerce platforms are shifting their focus on providing personalized shopping experiences to their consumers. Generative AI can play a crucial role in analyzing customer data, such as browsing history, purchase behavior, and preferences, to generate personalized product recommendations. By leveraging generative AI techniques, e-commerce platforms can offer more accurate and relevant recommendations, increasing customer satisfaction and driving sales. Generative AI can be used to create virtual try-on experiences, allowing customers to see how products like clothing, accessories, or even furniture would look on them before making a purchase. The e-commerce market's growth and the increasing demand for personalized experiences create a ripe environment for generative AI technologies to thrive.
Challenge:
Regulatory hurdles
Legal regulations often impose specific requirements and standards for AI systems, including generative AI. These requirements may involve transparency, explainability, fairness, and privacy considerations. Adhering to these regulations may necessitate modifications to existing generative AI models or the development of new techniques to meet compliance standards. Ensuring compliance with multiple regulations across different jurisdictions can be complex and resource intensive. Generative AI models often require access to large amounts of data for training and fine-tuning. However, legal regulations, such as data protection and privacy laws, impose restrictions on the collection, storage, and usage of personal or sensitive data. Complying with these regulations while ensuring the availability of sufficient data for training generative AI models can be a challenge for the market players.
Recent Developments:
In June 2023, an influencer marketing platform, affable.ai. Announced the launch of Skye. Skye, a generative AI platform, is specially designed for influencer marketing. Affable ai has also partnered with Google Cloud to boost the capabilities of Skye. According to the company, the new launch and partnership will allow them to manage their influencer marketing campaigns.
In June 2023, IBM announced to expansion of its ongoing partnership with Adobe in order to implement generative Ai systems. With the implementation of generative AI, the company aims to accelerate and maintain their content supply chain.
In June 2023, Mizuhu Financial Corporation and Fujitsu announced the launch of joint verification trials by utilizing Fujitsu's generative AI technology. This aims to streamline operations for Mizuhu's systems. Fujitsu is continuously promoting the use of generative AI technologies to support system development and maintenance.
Major Key Players:
Synthesia
MOSTLY AI Inc.
Genie AI Ltd.
Amazon Web Services, Inc.
IBM
Google LLC
Microsoft
Adobe
Rephrase.ai
D-ID
Market Segmentation:
By Component
By Technology
Generative Adversarial Networks (GANs)
Transformers
Variational Auto-encoders
Diffusion Networks
By End-Use
Automotive & Transportation
BFSI
Media & Entertainment
IT & Telecommunication
Healthcare
Others
Buy this Research Report@ https://www.precedenceresearch.com/checkout/2503
You can place an order or ask any questions, please feel free to contact at sales@precedenceresearch.com | +1 9197 992 333