The global glassware market size surpassed USD 16.02 billion in 2022 and it is expected to rake around USD 28.55 billion by 2032, poised to grow at a CAGR of 6% from 2023 to 2032.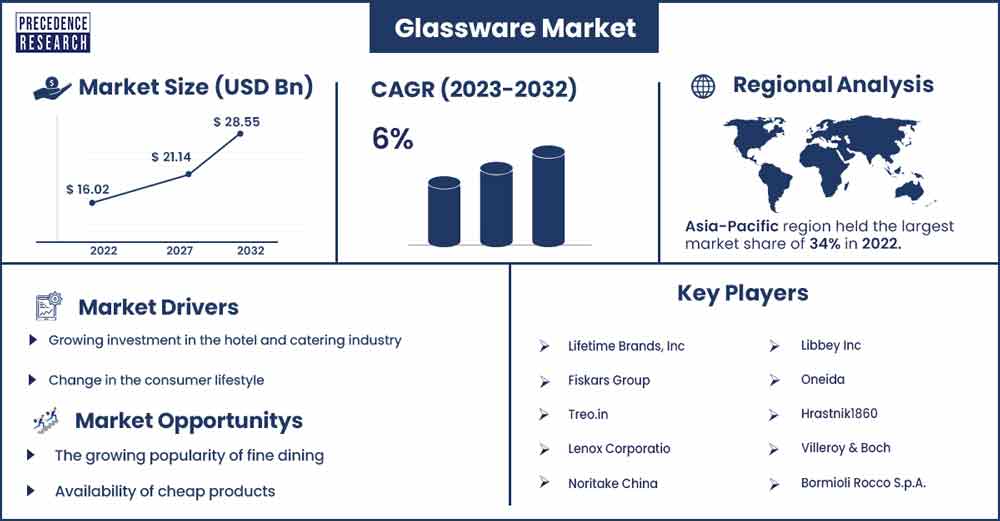 The glassware market growth is driven by the growing hospitality sector, increasing bar & pub culture, growing disposable income and increasing tourism industry.
Market Overview
Glass is a hard, brittle glass that is usually clear or translucent. It could be made of sand, soda, lime, or other minerals. The most common method for making toughened glass includes heating raw components until they become molten liquid, then rapidly chilling the product. Glass types can be categorised based on mechanical and thermal properties to determine which applications are best suited.
Regional Insights
Over the projection period, Asia Pacific is expected to have the greatest market share. The region's growth is ascribed to rising urbanization, particularly in China and India. In India, for instance, 461 million people are living in urban areas. Cities are expected to generate 75% of India's national income by 2031, according to estimates. Furthermore, the growing number of restaurants and bars in the region is likely to drive market growth throughout the projection period.
Europe is expected to capture a significant revenue share in 2022 and is expected to continue the same pattern over the forecast period. The region expanding hospitality industry is increasing demand for fine glassware. The popularity of Filipino restaurants around the nation is expanding the market for fine glassware products.
For instance, Jollibee, a global network of 4,300 Filipino restaurants launched its flagship location in the United Kingdom in December 2018 and has the plan to open 25 more locations there over the projected year. Moreover, in Germany, increasing urbanization and spending on home decoration are driving demand for glassware.
The growing number of households and increased customer desire for premium products that serve a purpose while also providing a luxury experience are driving market expansion. The existence of a high number of independent and chain cafes in the region is also increasing the demand for glassware. According to the SCA, there were approximately 28,930 cafes in Germany in 2018 and 2,160 coffee-focused cafés.
Glassware Market Report Scope
| | |
| --- | --- |
| Report Coverage | Details |
| Market Revenue in 2023 | USD 16.9 Billion |
| Projected Forecast Revenue by 2032 | USD 28.55 Billion |
| Growth Rate from 2023 to 2032 | CAGR of 6% |
| Largest Market | Asia Pacific |
| Base Year | 2022 |
| Forecast Period | 2023 to 2032 |
| Regions Covered | North America, Europe, Asia-Pacific, Latin America, and Middle East & Africa |

Report Highlights
By material, the soda lime glass segment is expected to grow at the highest CAGR during the forecast period. 90% of all manufactured glass is soda lime glass, making it the most produced form of glass. It is a basic mixture of silica, soda and lime that has been produced for hundreds of years and has a range of beneficial features for uses across a variety of industries, including the manufacturing of consumer goods, packaging and scientific fields. Moreover, the inexpensive nature of soda lime glass is expected to drive segment growth over the forecast period.
By product, the bear mug segment is expected to grow at a significant rate during the forecast period. High beer production in the region, combined with rising beer consumption in certain European countries, is fueling market demand for beer glassware. There are 80 beer varieties and 50,000 beer brands in Europe. Between 2017 and 2018, the number of active breweries climbed by 1000. Approximately three-quarters of Europe's 9500 breweries are microbreweries and small and medium enterprises (SMEs). Furthermore, the burgeoning culture of home brewing and house parties has driven product demand. Thus, driving the segment growth. Besides, the wine glass segment is expected to capture the largest market share during the forecast period. This is due to an increasing number of individuals in different regions becoming acclimated to drinking various varieties of wine, which is positively boosting wine glass sales. Europe has some of the most established wine markets in the world, with nations such as Portugal, Italy, and France having the highest per capita annual consumption of more than 35 liters. Eastern European wine sales were more than three times higher in April 2018 than in 2017. The preceding condition contributes to the rising demand for wine glasses.
By price point, the medium segment is expected to dominate the market during the forecast period. The market for mid-range glassware includes a variety of glass products because most consumers like products in this price range that are high quality and less expensive.
By distribution channel, the online retail segment is expected to grow substantially over the forecast period. This is due to technological improvements and a growing tendency for purchasing glassware products through online platforms, which provide convenience from product selection to delivery. E-commerce is expected to continue on its path to becoming the most popular shopping medium on a global scale. Most major brands now have an online presence, and they all sell glassware at comparable pricing. Besides, The specialized store segment is expected to dominate the market during the forecast period. This is attributable to consumers who, especially in upscale restaurants and hotels, are predicted to seek out more specialty, distinctive products for their tables. Consumers today prefer glassware that is distinctive and a greater representation of their way of life. They choose niche boutiques as a result since standard retail outlets may not always carry these goods. Specialty shops are becoming more and more popular because they offer a wide variety of products with distinctive qualities, like a funny graphic or exquisite motif, and they provide trend-driven glassware that may go above and beyond what customers expect. In the upcoming years, these components are anticipated to accelerate segment expansion.
Market Dynamics
Drivers
Change in the consumer lifestyle
Consumer lifestyles are always changing. Consumer habits and values are influenced by existing and new trends, as well as the constantly shifting demographic mix, global cultural upheavals, and rapid technological advancements. Businesses can capitalize on new opportunities by gaining a thorough understanding of customer preferences as a result of evolving behaviors and beliefs. In recent years, consumers of all generations have placed a greater emphasis on branded products in many aspects of their everyday lives.
Restraint
High energy consuming
Glass manufacturing consumes a lot of energy since it requires high temperatures to refine basic materials. The material is costly, which raises the total cost. Moreover, it is brittle and stiff, and when stressed, it breaks easily with minor effort. Glass shards can cause severe injuries to the body. Thus, this is expected to hamper the market growth over the forecast period.
Opportunities
The growing popularity of fine dining
A fine dining restaurant is a specialized or multi-cuisine establishment that values high-quality food, presentation, and service. The sector is expanding at a steady 15% yearly rate, drawing Michelin-starred restaurants as well as other local competitors. As a result, the successful operation of various types of glassware goods found in hotels and restaurants is essentially meeting the growing demand for excellent delicate eating.
Recent Developments
In October 2020, the court-supervised restructuring of Libbey Inc. was confirmed, and the company indicated it anticipated finishing up in the coming weeks with a better balance sheet. To florish in the current business operating environment, the company made this announcement.
In November 2022, the photo-printing, canvas, and gifting website MailPix keeps growing its selection of personalized goods. Customers may now make high-quality engraved glassware gifts using their preferred picture printing website. Making MailPix engraved glassware is simple. Users can add a message, name or monogram and select the typeface. The text is sandblasted or deeply etched into the glass.
Key Market Players
Lifetime Brands, Inc
Fiskars Group
Treo.in
Ocean Glass Public Company Limited
Lenox Corporatio
Noritake China
Libbey Inc
Oneida
WMF (A Subsidiary of Groupe SEB)
Hrastnik1860
Villeroy & Boch
Bormioli Rocco S.p.A.
Wonderchef Home Appliances Pvt. Ltd.
The Zrike Company, Inc
Shandong Hikingpac Co., Ltd.
Addresshome
MYBOROSIL
Eagle Glass Deco (P.) Ltd.
Degrenne. Cello World
Stölzle Lausitz GmbH
Segments Covered in the Report:
By Material
Soda Lime Glass
Crystal Glass
Borosilicate Glass
Heat Resistant Glass
By Product
Coffee Mug
Wine Glass
Normal Glass
Spirit Glass
Beer Mug
Pitchers
Tea Cup
Glass Jars
Others
By Price Point
By Distribution Channel
Hypermarkets and Supermarkets
Specialized Stores
Online Retail
Others
By End User
Households
Hotel and Restaurants
Corporate Canteens
Café and Bars
Others
Buy this Research Report@ https://www.precedenceresearch.com/checkout/2848
You can place an order or ask any questions, please feel free to contact at sales@precedenceresearch.com | +1 9197 992 333