The global nanopesticide market size surpassed USD 0.68 billion in 2022 and is projected to rise to USD 1.9 billion by 2030, anticipated to grow at a strong CAGR of 13.66 percent during the projection period from 2022 to 2030.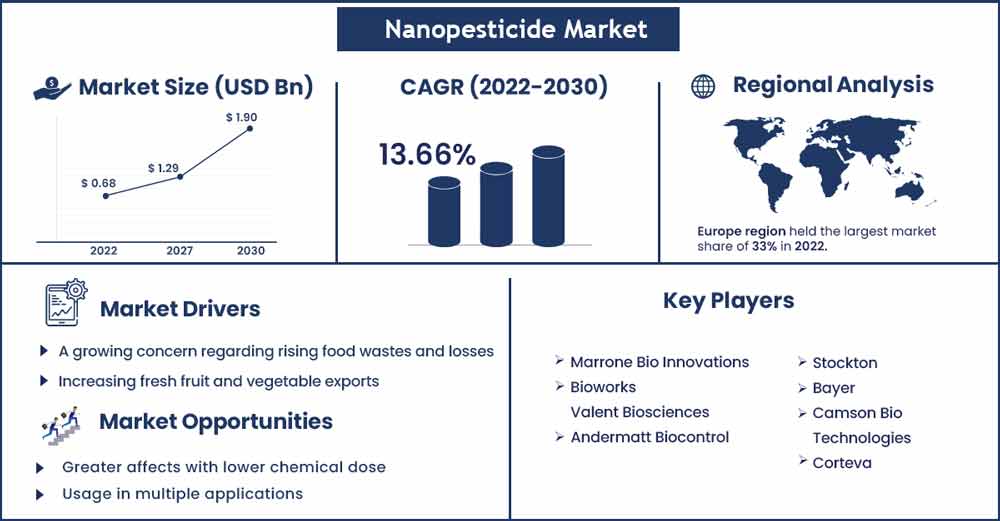 Environmental contamination and the spread of pests' and illnesses' toleration are a few of the environmental issues brought on by the reckless use of chemical pesticides. There are increasingly more worries about the environment, food safety, and soil health. The science of nanotechnology, which is expected to be quickly evolving, has the potential to alter how food is produced in agriculture. The development of nano-pesticides using nanotechnology provides a permanent solution to these problems. Nanoscale molecules or functional components make up the conveyor. Because they are smaller than traditional pesticides and can be distributed more effectively on pest surfaces, nanoparticles perform much better than insecticides in general.
Nanopesticides are insecticides that are microencapsulated. Encapsulation technology is gaining favour among crop protection chemical makers and end users due to the numerous benefits it provides. The encapsulation of active chemicals in pesticides helps to preserve them from the environment and hence maintains their pesticide capabilities. Encapsulation not only protects pesticides but also allows for the regulated release of insecticides, boosting their efficacy. Nanopesticides also assist to lessen environmental effects by preventing pesticides from spreading. As a result, the need for nano insecticides rises.
Nano-pesticides are used to offer sustained release kinetics with great stability, solubility efficiency and enhanced permeability to promote the efficiency of pest control for a longer duration of time and to avoid the degradation of the encapsulated molecules which are under challenging environmental circumstances to achieve maximum gain.
COVID-19 has had an unprecedented influence on nano pesticide manufacturing in 2020. This, in turn, has a significant impact on international trade, including the import and export of nano insecticides. Furthermore, strict laws governing the use of many active chemicals in nano pesticides have a substantial impact on the growth of nano pesticides.
In recent years, the use of nanotechnology-based pesticides has proven to be particularly effective for the detection, disintegration, and removal of harmful pesticides from polluted locations.
Report Highlights:
The market is expected to grow at a rapid pace during the projected period, from 2022 to 2030.
The nanopesticides market has been segmented by utility into food crops and industrial crops, with the food crop segment expected to hold the largest market share due to the growing need for food crop cultivation to mitigate the demand supply gap around the world.
The nanopesticides market is segmented by application into production, protection, harvesting, and packaging, with the harvesting segment expected to gain significant market share.
Because of favourable government and environmental laws, Europe dominates the nanopesticide business. Furthermore, technological developments and a quickly developing agriculture industry in areas such as Asia Pacific are likely to boost market expansion throughout the projection period.
Due to their superior pest control qualities over traditional pesticides, demand for nanopesticides is rapidly increasing in the agriculture business.
Insecticides were the largest product type category in 2022, accounting for more than 45% of the total revenue generated by this market.
Nanopesticide Market Report Scope:
| | |
| --- | --- |
| Report Coverage | Details |
| Market Revenue in 2023 | USD 0.78 Billion |
| Projected Forecast Revenue in 2030 | USD 1.9 Billion |
| Growth Rate from 2022 to 2030 | CAGR of 13.66% |
| Growth Rate from 2022 to 2030 | Europe |
| Base Year | 2022 |
| Forecast Period | 2022 To 2030 |
| Regions Covered | North America, Europe, Asia-Pacific, Latin America, and Middle East & Africa |

Regional Snapshots:
Due to the widespread usage of pesticides in agricultural goods in the area, Asia Pacific is likely to occupy the majority of the worldwide market. The region is well-known for being the leading producer of a variety of food and cash crops. China and India, for example, are the world's leading cotton producers. Higher demand for food grains, restricted arable land availability, increased exports, and expansion in horticulture & floriculture are a few of the factors driving demand for nanopesticides among Asia Pacific producers.
Market Dynamics:
Drivers:
The increase in food waste and loss created at various levels of the supply chain process is increasing crop growers' and suppliers' need for nanopesticides.
According to the FAO, wasted food and loss cost around US$ 680 billion in developed nations and US$ 310 billion in poor ones. In terms of quantity, developed and developing nations squander nearly the same amount of food, namely 670 and 630 million tonnes, respectively. The data illustrate the rising concern about food waste and its impact on the environment, society, and people's lives. Global consumption of fresh fruits and vegetables is growing. The demand also meets the requirement for seasoned and unseasoned goods to be offered across the world all year. To close the demand gap, agroeconomic countries are focused on exporting fresh fruits and vegetables. This is boosting the demand for nanopesticides in fresh food packaging to reduce supply chain losses and maintain product freshness. However, worries about food safety, pesticide bans, and pesticide usage limits in many nations are anticipated to stymie the worldwide nanopesticides industry.
Restraints:
Pesticides have been outlawed in several economies across the world due to their damaging impact on people's livelihoods. Nations have devised several safety guidelines to address the issue and differentiate pesticides in its class depending on the sensitivity of the chemicals used in pesticides. For example, the United States Department of Agriculture created the pesticide data program (PDP), a nationwide pesticide residue monitoring programme that results in the most complete pesticide residue database in the United States. Furthermore, since 1985, the Government of India has adopted the Integrated Pest Management (IPM) programme as a cardinal concept and key pillar of plant protection in the overall agricultural production programme. The Government of India's Directorate of Plant Protection, Quarantine, and Storage has revised the list of pesticides that are prohibited, refused registration, or have limited usage in March 2022.
Opportunities:
Nanotechnology is one of the most promising emerging disciplines, with the potential to benefit agricultural sciences through the creation of insecticides and fertilisers using nanoparticles and nanocapsules. The advantage of employing these nanopesticides and nanofertilizers is that they are predicted to minimise environmental contamination, and their distribution can also be regulated and delayed. Furthermore, these compounds are easily absorbed, more effective at lower dosages (owing to the nano-crystals), and environmentally benign. In agriculture, nanotechnology research and development would be particularly successful in the production of crops using genetic modification, chemical pesticides, and precise farming practises. Though the application of nanotechnology in agriculture previously appeared to be a fairy tale, it is now producing significant outcomes in agriculture and the food sector, opening up new opportunities for food safety and bio-security. Nanoparticles in the form of carbon, silver, aluminium silicates, and other nanomaterials have been employed to manage plant diseases. All of these reasons will drive the expansion of the nano pesticides market in the approaching years.
Challenges:
Excessive pesticide usage in agriculture to improve yields has proven unneeded because a huge portion of them go unused and have detrimental impacts on the environment as well as human health. As a result, farmers have a significant challenge in replacing pesticides and fertilisers with nanopesticides in order to reduce the usage of mineral fertilisers, increase yields, and boost agricultural growth.
Recent Developments:
In June 2018, Bayer finalised the successful acquisition of Monsanto, located in the United States. This transaction was made to assist farmers in producing inexpensive and healthful food in a sustainable manner.
Corteva Agriscience will introduce a new mobile application in December 2020 to assist producers preserve their crops and achieve a more resilient and sustainable agricultural system. Closer, Runne, Intrepid, Spintor, Tracer, Success, Delegate, and Exalt are among the pesticides covered by the tool's information.
Major Key Players:
Marrone Bio Innovations
Bioworks
Valent Biosciences
Andermatt Biocontrol
Stockton
Bayer
Camson Bio Technologies
Corteva
Segments Covered in the Report:
By Type
Insecticides
Herbicides
Fungicides
Others
By Application
Production
Protection
Harvesting
Packaging
Others
By Utility
Food Crop
Industrial Crop
By Target Organism
Algicides
Avicides
Bactericides
Fungicides
Herbicides
Insecticides
Miticides
Molluscicides
Nematicides
Rodenticides
Slimicides
Virucides
By End-user
Farmer
Pest Control Agents
Others
Buy this Research Report@ https://www.precedenceresearch.com/checkout/2228
You can place an order or ask any questions, please feel free to contact at sales@precedenceresearch.com | +1 9197 992 333