The global natural gas storage market size was exhibited at USD 521.31 bcm in 2022 and it is projected to attain around USD 698.4 bcm by 2030, poised to grow at a CAGR of 3.72% between 2022 and 2030.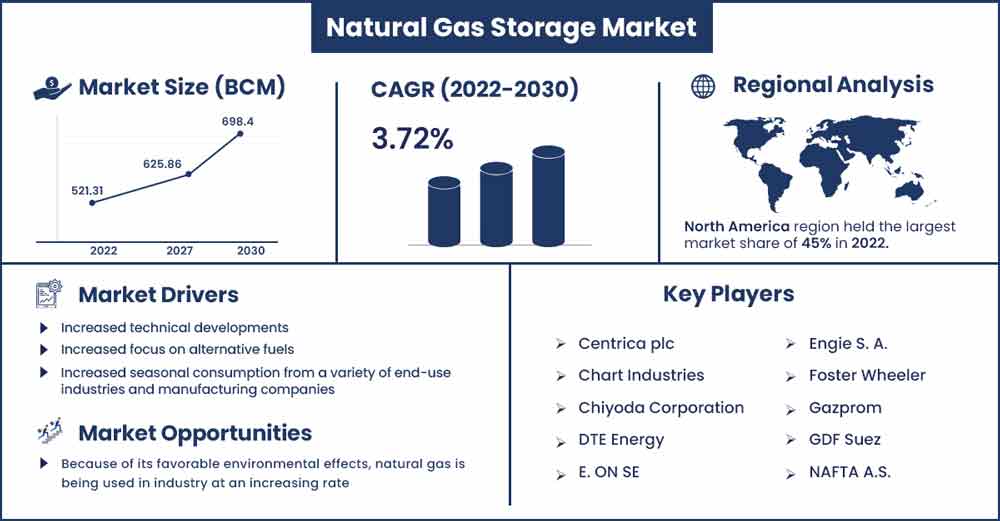 As an important source of energy, natural gas has become more prominent. During times of lesser demand, artificial gas is stored and during times of greater demand, it is pulled out. Natural gas that is supplied in abundance during the summertime must be made accessible throughout the winter to fulfill the increased demand. Energy supplies from catastrophic disasters that could impact gas production or distribution are provided by natural gas in stores. Industries have widely utilized natural gas storage for money purposes. Rising natural gasoline consumption in the industrial, petrochemical, and transportation sectors, primarily from Asia-Pacific nations, is predicted to drive the market for gas storage throughout the forecasted period.
The advantages of using carbon fuels as a clean-burning, adaptable, and affordable fuel are also expected to result in an increase in oil and gas prices in the future as the globe strives toward a low-carbon economy. However, it is projected that the seasonality and unpredictability of demand, in addition to the discrepancy between supply and demand, will restrict the market's growth for the storage of natural gas. The increasing natural gas production is expected to increase gas production and increase the need for storage sites.
Report Highlights:
As a significant source of energy, natural gas has become more prominent. During times of lesser demand, artificial gas is stored and throughout times of greater demand, it is pulled out. Natural gas which is delivered throughout excess during the summer must be made available throughout the winter to fulfill the increased demand. Energy supplies from catastrophic disasters that could impact natural gas production or distributaries are provided by natural gas in-store. Industries have widely utilized natural gas storage for financial reasons. During the forecast timeframe, drivers such as rising natural gas consumption in the chemical, commercial, and transport industries, mostly from Asia-Pacific countries, are anticipated to propel the demand for natural gas storage. Additionally, as the world works toward a low-carbon economy, the benefits of using fossil fuel as a versatile, spotless, and economical fuel are anticipated to result in an increase in natural gas prices in the coming. However, it is anticipated that the demand's seasonality and volatility, along with the mismatch between demand and supply will impede the market's expansion for the storage of natural gas.
Natural Gas Storage Market Report Scope:
| | |
| --- | --- |
| Report Coverage | Details |
| Market Revenue in 2023 | USD 540.72 Billion |
| Projected Forecast Revenue in 2030 | USD 698.4 Billion |
| Growth Rate from 2022 to 2030 | CAGR of 3.75% |
| Largest Market | North America |
| Base Year | 2022 |
| Forecast Period | 2022 To 2030 |
| Regions Covered | North America, Europe, Asia-Pacific, Latin America, and Middle East & Africa |

Regional Snapshots:
The worldwide storage of natural gas market is divided into five key geographic regions: Asia Pacific, North America, Latin America, Europe, and the Middle East and Africa. Due to the region's favorable climate conditions for natural gas production as well as the existence of sizable settlements in nations like China, India, and Indonesia, the market in the Asia Coastal region is anticipated to experience notable growth so over the course of the projected timeframe. Because natural gas was cleaner and more environmentally friendly than LPG, it is expected to replace LPG as the fuel of choice in the North American market throughout the projection period. Additionally, the population in this area is informed, which is predicted to promote the use of natural gas.
Market Dynamics:
Drivers:
Governments around the world are extending the existing tax advantages to promote the use of petroleum products throughout infrastructures and automobiles. Worldwide financing of CNG technology research and advancement is rising, and nations are also lending money with subsidies to assist create CNG fuel stations, particularly those who are in India and China. These initiatives would reduce pollution, increase air quality, and boost the economy by creating employment. Compress fossil fuels are becoming more widely used. New automobiles which can operate on both petroleum and compressed gas are now being developed by Indian manufacturers such as Automobile Industry, Suzuki, and General Motors (CNG). Compared to equivalent gas and diesel automobiles, CNG automobiles are less expensive to operate and generate 71% less harmful emissions. Organic associated gas through squeezing resources to five times air pressure around 21 °C is known as compressed fossil fuels or CNG. Gasoline is simpler to transport and store because its size is Six hundred times lower than that of diesel or petrol.
Restraints:
To keep fossil fuels in a regulated atmosphere, a rigid infrastructure is required. To stop leakage from storage facilities, a sizable volume of cash must be routinely invested in maintenance and operational tasks. The massive price of storage of natural gas as well as the limited transmit power is expected to limit the industry's expansion.
Opportunities:
The cyclical and utter volatility of gas and oil output, as well as a mismatch in supply and demand, are expected to harm the gas and oil market. These factors have increased the use of fossil fuels for both home and non-domestic purposes, including transportation, power production, and several other industries. Natural gas is utilized in the industry more and more in a variety of nations since it is affordable and has positive environmental impacts. Because gas and oil are exhaustible sources of energy that are susceptible to unforeseen circumstances, natural catastrophes, and transport and manufacturing challenges, these storage facilities are crucial.
Challenges:
A sturdy framework is necessary to maintain the integrity of petrol. A sizeable sum of money should be regularly allocated to management and servicing work to stop leaks through storage containers. The enterprise in the area is anticipated to be hindered mostly by the massive cost of subsurface fuel cells and also the lack of adequate infrastructure.
Recent Developments:
In April 2019, Sempra Energy announced that it has managed to sell its non-utility storing for oil and gas infrastructure as well as us renewables business, netting the company roughly $2.15 billion.
The executive members from Gazprom and VNG will get together in October 2018 during the 8th Petersburg International Gas Forum to talk about concerns over gas imports & storage. The discussion's main topic was cooperation in the field of pumped storage, specifically cooperation again for the German Wilhelm UGC project.
In January 2018, Trafigura & Singapore LNG Corp. signed a new contract for the storage and reloading of liquefied natural gas. (LNG). the new contract. Trafigura will also get access to 160000m3 of LNG storage space for the following 24 months.
Key Market Players:
Cardinal Gas Storage Partners LLC.
Centrica plc
Chart Industries
Chiyoda Corporation
DTE Energy
E. ON SE
Enbridge Gas Distribution Inc.
Engie S. A.
Foster Wheeler
Gazprom
GDF Suez
Martin Midstream Partners L.P.
McDermott International, Inc.
NAFTA A.S.
Niska Gas Storage Partners, LLC.
Royal Vopak N.V.
Samsung Heavy Industries Co., Ltd.
Spectra Energy Corporation
Technip S.A.
Trafigura
TransCanada Corporation
Uniper
WorleyParsons Limited
Market Segmentation :
By Type
Underground
Aboveground
Floating
By Underground Storage Type
Depleted Gas Reservoir
Aquifer Reservoir
Salt Caverns
By Application
Residential
Commercial
Others
Buy this Research Report@ https://www.precedenceresearch.com/checkout/2318
You can place an order or ask any questions, please feel free to contact at sales@precedenceresearch.com | +1 9197 992 333