The global research department explosive (RDX) market size was evaluated at USD 10 billion in 2022 and is expected to attain around USD 16.7 billion by 2032, growing at a CAGR of 3.53% from 2023 to 2032.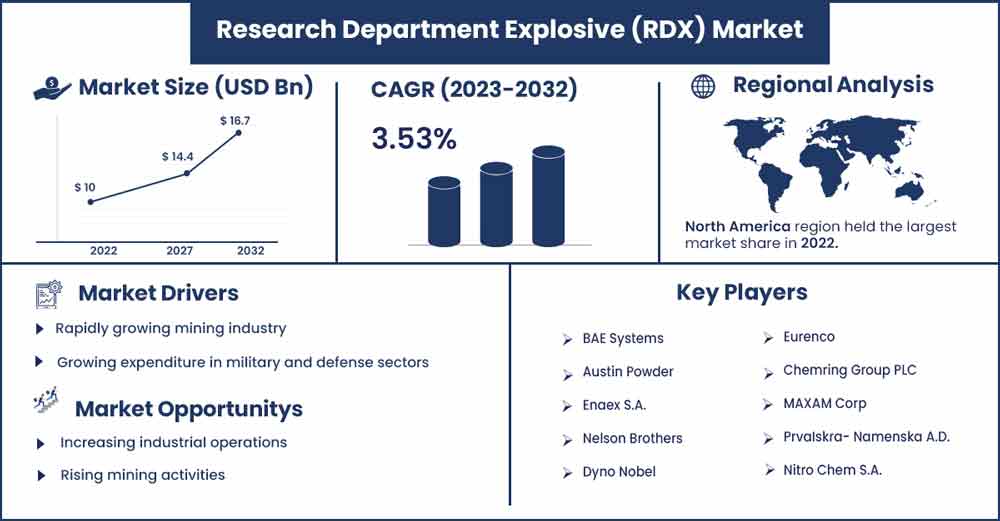 Market Overview:
RDX is a form of white powder and crystal, which is highly explosive in nature and creates an explosion when it reacts with fire. RDX is mainly utilized in industries, such as mining and construction. These industries require RDX materials for high-performance explosives during rock excavation. The production process of RDX involves multiple processes, from raw material storing, and feeding to nitration, decomposition, filtration and transport. RDX manufacturers across the globe are spending extensively on research and development activities, which is observed to bring innovation in the RDX market in the upcoming years.
Regional Snapshot:
North America held the largest share of the market in 2022, the region is expected to witness significant growth during the forecast period. The dominance of North America in the market can be attributed to increasing utilization by the defense sector. The demand for RDX products in North America is growing with the increasing construction activities. Moreover, the region carries a strong research and development ecosystem with renowned universities, research institutions and tech companies. This fosters innovation and collaboration, making North American RDX solutions highly sought after.
North America has been at the forefront of technological innovation, leading to the development of advanced data exchange platforms and solutions. This technological leadership attracts businesses and researchers globally to utilize North American RDX services.
Report Highlight:
By type, the pyrotechnics segment is expected to grow at a significant rate during the forecast period. Pyrotechnics is the art of combining and changing in fireworks, explosives and different types of pyrotechnics devices for entertainment, display, and special effects. It includes a diverse variety that helps produce different colors, smoke, and voice effects. Pyrotechnics devices are used in concerts, dramas, films, and fireworks. Pyrotechnic is designed with the help of fuel, an oxidizer, and chemical that shows color, flames, and explosives. The combination shows different results, such as colorful burst of light, smoke, sparkling trails, and loud bangs. Moreover, the rising application of pyrotechnics in mining and demolition at old infrastructure sites create a significant opportunity for the segment to grow.
By end-user, the military segment carries the largest share of the market and is expected to sustain the growth during the forecast period. The military segment is divided into further segments like artillery shells, bombs, and rockets. They have high explosive power, making them a different component for end users. It is used for military demolitions where explosions are necessary for clearing tasks and accessing the routes.
Research Department Explosive (RDX) Market Report Scope:
| | |
| --- | --- |
| Report Coverage | Details |
| Market Revenue in 2023 | USD 12.22 Billion |
| Projected Forecast Revenue by 2032 | USD 16.7 Billion |
| Growth Rate from 2023 to 2032 | CAGR of 3.53% |
| Largest Market | North America |
| Base Year | 2022 |
| Forecast Period | 2023 to 2032 |
| Regions Covered | North America, Europe, Asia-Pacific, Latin America, and Middle East & Africa |

Market Dynamics:
Driver:
Technological advancements
Advanced technologies enable research and development teams to innovate more rapidly. For example, in the field of RDS, technological breakthroughs can bring easier development method by accelerating the development of advanced products and solutions. Advanced products designed with the help of technologies can boost collaborative activities by reducing geographical barriers. Technological advancements that include automation and robotics can reduce the overall cost of production by allowing the access to exploration for researchers and manufacturers. Thus, technological advancement is observed to act as a driver for the market.
Restraint:
High-cost investment in production
The production and development activity of RDX material requires extensive investment. The required raw material and specialized production processes add up to the overall cost of the production. The high-cost investment in the production process can limit manufacturers as well as researchers to invest in the production as well as innovation of research department explosive. This can be a major restraining factor for underdeveloped or economically unstable countries or regions to invest in production or research activities. Thus, the high-cost investment is observed to act as a major restraint by hindering the market's growth.
Opportunity:
Rising infrastructural development
RDX products are widely used in infrastructural development activities as they are helpful in mining activities. RDX is commonly used during rock excavation and mining that is planned in the construction sector. With the growing demand for infrastructure such as schools, malls and other buildings, the demand for excavation and mining is also increasing. Multiple developing countries have immense requirements for infrastructural development with the growing commercialization and urbanization. Several governments also support RDX manufacturing companies to provide high-performance explosions to maintain activities associated with infrastructure development. With the help of RDX, some countries produce sulfur, steel, lignite, and kaolin, which help to grow the business. RDX's crucial role in construction industry brings multiple opportunities for the market to grow.
Challenge:
Safety concerns during research and development activities
The production of research development explosives (RDX) requires extensive research activities, such research-based activities involve hazardous materials and processes. The involvement of such materials may cause accidents and explosions if not followed and handled properly. In addition, there are multiple concerns over environmental safety associated with the production of RDX that result in ecological impacts. Researchers across the world are focusing on the development of production and research method that can cause minimized damage. The trials of explosions also require a safer place, many researchers and manufacturers may find it complicated with the cost and time consumed in the production of RDX or similar explosive products. Thus, such safety concerns during research and development activities are observed to create a challenge or obstacle for the market's growth.
Recent Developments:
In June 2023, a prominent research team in China stated that they have increased the safety measures for world's most dangerous explosives such as TNT and RDX. The team has created five-fold to boost its shock resistance capacity. According to the team, this innovation can improve China's destructive power.
Major Key Players:
BAE Systems
Austin Powder
Enaex S.A.
Nelson Brothers
Dyno Nobel
Eurenco
Chemring Group PLC
MAXAM Corp
PrvaIskra- Namenska A.D.
Nitro Chem S.A.
Market Segmentation:
By Type
Explosives
Pyrotechnics
Others
By End-Use
Military

Warheads
Booster material
Artillery, tank and mortar shells
Military Pyrotechnics
Detonators
Others

Civilian

Mining
Fireworks & Pyrotechnics
Construction
Others
Buy this Research Report@ https://www.precedenceresearch.com/checkout/1011
You can place an order or ask any questions, please feel free to contact at sales@precedenceresearch.com | +1 9197 992 333