The global research department explosive (RDX) market size was estimated at USD 10 billion in 2022 and it is expected to reach over USD 16.7 billion by 2032, growing at significant CAGR of 3.53% throughout the forecast period 2023 to 2032.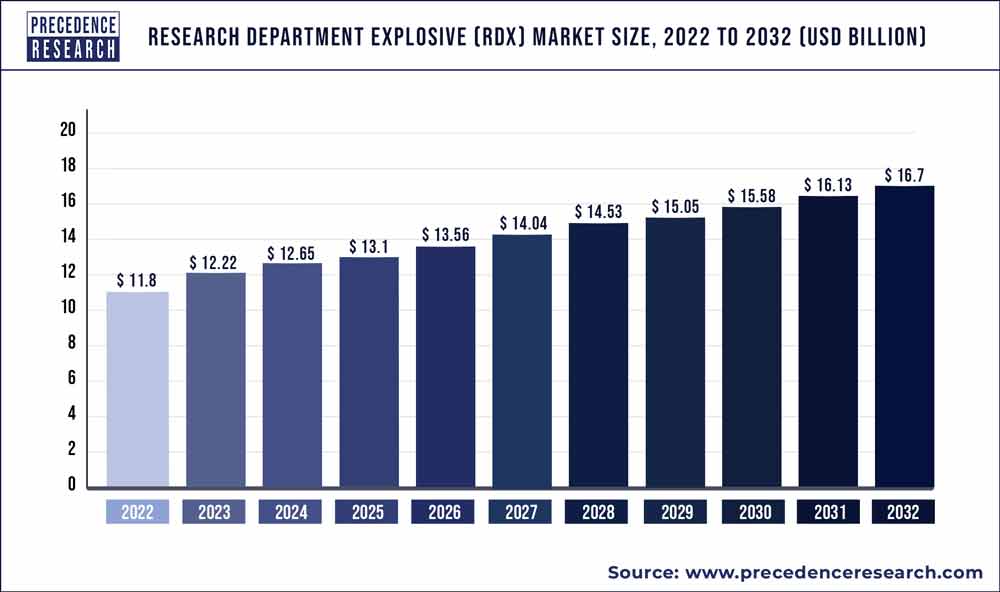 Access our Premium Real Time Data Intelligence Tool, Visit: Precedence Statistics
The chemical molecule known as royal demolition explosive, cyclonite, or hexogen is also known as research department explosive (RDX). When exposed to fire, research department explosive (RDX)is a type of white powder or crystal that is very explosive. Research department explosive (RDX) is also a tasteless compound with an unknown odor, making it difficult to identify in sensitive areas like open fields, mines, and other places. Increased mining activities and increased spending on defense and military applications are driving market expansion. However, considerations such as strict regulatory frameworks around the use of RDX and the availability of alternative mining and blasting processes function as major roadblocks to the market's expansion.
Research Department Explosive (RDX) finds extensive application in mining and construction sectors. Mining industry needs such high-performance explosive for rock excavation and exploration undertakings. Furthermore, the widespread application of RDX in numerous business areas is thus backing to comprehensive growth of RDX market globally. RDX market in Europe and North America is mainly propelled by growing defense spending plus escalated mining accomplishments in these regions. It is foreseen that the noteworthy total rate of resource extraction procedures in established nations may offer opportunity for growth of industry throughout the forecast period. RDX has been widely used in military sector for an element in plastic bonded explosives that is employed as explosive fill in approximately every kind of munity on compounds. Acceptance of RDX for countless oils, waxes, and explosives for producing military munitions is anticipated to upsurge at a modestrate during years to come.
Report Scope of the Research Department Explosive (RDX) Market
| | |
| --- | --- |
| Report Highlights | Details |
| Market Size | USD 16.7 Billion by 2032 |
| Growth Rate | CAGR of 3.53% from 2023 to 2032 |
| Largest Market | North America |
| Fastest Growing Market | Asia Pacific |
| Base Year | 2022 |
| Forecast Period | 2023 to 2032 |
| Segments Covered | Type, End User, Sales Channel and Region |
| Companies Mentioned | BAE Systems, Austin Powder, Enaex S.A., Nelson Brothers, Dyno Nobel, Eurenco, Chemring Group PLC, MAXAM Corp, PrvaIskra- Namenska A.D., Nitro Chem S.A. |
Market Dynamics
Drivers: Rapidly growing mining industry:
Explosives like RDX and TNT extract zinc, copper, iron ore, tin, bauxite, nickel, gold, and titanium. Growing oil and gas extraction operations across the US have greatly accelerated the industry's growth in recent years. As a result, there is now a greater need in the area for high-performance explosives. Governments in the BRICS countries have also increased spending on infrastructure development, which has sharply increased demand for metals and made mining easier. It is projected that product demand will increase when big mining companies become more prevalent.
Growing expenditure in military and defense sectors
As security concerns grow and the necessity to preserve national borders and borders grows, governments around the world are increasing their spending on military, defense arms, and ammunition. Research department explosive (RDX) is primarily employed in the military as a bursting charge for aerial bombs, mines, and torpedoes, as well as animproper charge for detonating device. It can be coupled with other explosives like trinitrotoluene to generate cyclotrons that manufactureoverflowingfees for missile components. Manufacturers are stepping up their research and development efforts in order to create novel goods that will benefit the defense industry. Research department explosive (RDX) is utilized in bombs, ammunition of all types of explosives, and warheadsamong other military applications. Thus, growing expenditure in military and defense sectors is driving the growth of global research department explosive (RDX) market.
Restraints
Threat to human health and the environment:
Because RDX does not usually occur in the background, it risks the environment and human health. Strict guidelines have been established by central environmental authorities, such as the US EPA, for the storing, handling, and transportation of RDX. Accidentally ingesting a large amount of RDX can have the side effect of causing seizures. Additionally, it might affect blood pressure in several ways. The European Commission and the US EPA have created many legislations to restrict the use of RDX and other compounds in mineral drilling, processing, and water treatment. These factors, taken together, will reduce the demand for explosives during the predicted period.
Lack of resources in developing and underdeveloped nations
The developing and underdeveloped regions do not have enough resources for the development of research department explosive (RDX). The lack of advanced and latest technologies such as internet of things, artificial intelligence, and blockchain are also restricting the research department explosive (RDX) market growth. In addition, lack of government fundings and initiatives are creating restraints for the expansion of market globally. As a result, lack of resources is hindering the growth of global research department explosive (RDX) market.
Opportunities
Increasing industrial operations:
Due to the growing desire for alternative energy sources, military and mining operations are expanding, which has led to a spike in need for high-performance explosives. Significant makers of chemicals and explosives are more inclined to provide research departments with enhanced dynamite and explosive systems that impact particular regions. The creation of improvised explosive devices for mining and other industries has helped the global market growth. The demand is also increasing as coal production rises. As a result, these factors produce valuable opportunities.
Rising mining activities
Mining activities have exploded in popularity around the world as demand for alternative energy sources rises, necessitating the use of high-performance explosives. Furthermore, major participants in the chemical and explosive manufacturing industries are increasingly eager to provide improved research department explosive (RDX) and explosive systems that have an impact on specific regions. For example, the development of improvised explosive devices for use in mining and other industries has had a favorable impact on market growth around the world. Furthermore, rising coal output contributes to the market's expansion.
Challenges
Alternate activities and methods instead of mining
Drilling and machine-based mining are regarded cleaner and safer alternatives since they do not produce the same shock waves that a research department explosive (RDX) explosion does, which can result in landslides or other major accidents. Thus, this is a major challenge for the growth of global research department explosive (RDX) market.
Segments Insight
Type Insights
The pyrotechnics category is the most significant contributor to the market. Pyrotechnics is initiating a fire using a chemical reaction to produce heat, light, gases, or noise. It always involves an oxidizer and burning fuel, but it completes the process far more efficiently than typical combustion. Normal combustion is related to drawn-out processes, whereas pyrotechnics is linked with immediate burning. The oxidizer and fuel must be combined beforehand, or be one single molecule, for pyrotechnics to function. They must also be extremely exothermic and produce considerable condensed gas.
Additionally, an explosion is a rapid conventional method that produces noise and ruptures objects. Elevated forces, which can be chemical, thermal, mechanical, nuclear, etc., in nature, are what cause it. Explosives are only a small percentage of a large number of compounds capable of exploding. The remaining things are not suited as they are risky, delicate, poisonous, expensive, unstable, or prone to quick degradation. To be flammable or combustible, a substance must burn without detonating.
End-user Insights
The military sector currently has the largest share, and expansion is anticipated over the coming years. Defense investment is rising swiftly, which is significantly driving global industrial growth. In a wide range of defense applications, such as bombs, plastic explosives, and missile warheads of all calibers, RDX is widely used. Additionally classed are pyrotechnics, cast PBX charges, pressed explosive weapons, melt-cast, and others. Demand for explosives has increased due to recent significant defense expenditures and initiatives in the US and industrialized regions of Europe.
Several construction projects regularly use mining, demolition, quarry blasting, excavation, RDX, and other explosives. Due to the rising supply and demand for different fireworks, particularly recreational fireworks and other explosive-actuated tools, there is a growing requirement in civic applications. The construction and mining industries are increasingly using RDX, and high-performance explosives are needed for mining operations, including rock removal and exploration. Increasing construction and stone extraction activities, especially in emerging economies, are also expected to significantly influence RDX's market development in the building and construction industry.
Regional Insights
North America is the largest shareholder in the global market for research department explosives (RDX). The North American region is a big user of RDX and other explosives because of the significant requirement in the military, construction, and mining industries. One of the main factors driving the explosives market is the revival of the region's construction industry. Over the coming years, non-residential construction activity is projected to increase due to rising investment in creating retail stores and logistic facilities. Additionally, it is anticipated that the nation's use of a private investment method for road construction will enhance the need for explosives. For example, the 18-mile road in the middle of Hazel Park and Pontiac will be financed privately rather than with public money, according to the Michigan Department of Transportation (MDOT).
Rising military and defense spending and a rise in mining activities have contributed to the expansion of the European mining industry. It's projected that implementing the Construction 2020 Action Plan has strengthened the area's construction sector, increasing the requirement for civilian explosives. Demand is also anticipated to rise during the projected period due to the planning of multiple regional projects to develop airports and highways. Some of Germany's most important mining products are copper, timber, nickel, natural gas, coal, lignite, potash, uranium, and iron ore. Due to limited metal mining in the country, Germany relies on trade in metal ores, concentrates, and reusing scrap and metal waste. This reliance on major metal imports as a result of a lack of natural resources is therefore expected to have a significant influence on the explosive market.
Asia Pacific is experiencing the fastest growth of the research department explosive market. Due to the rising production of various commercial and industrial minerals and metals in this region, the need for explosives is anticipated to rise throughout the projected period. The mining sector's rapid growth and increasing military and defense spending have fueled the region's financial growth.
Key Companies & Market Share Insights
The noticeable market companies operating in this sector are Chemring Nobel, Eurenco, BAE Systems, Austin Powder Company and Nitro Chem S.A. amid others. Widening product portfolio is among major strategy adopted by industry participants to strengthen industry foothold. For instance, in April 2017, SNPE approved an explosive manufacturing unit across France.
Broadening product offerings is amongst main business tactic adopted by market playersin order to reinforce their market traction. For example, SNPE permitted an explosive production unit in France in April 2017. Rigorous directing policies related to conservation of environment also have a significant part in determining the of dynamics RDX market during near future. The application of mining resources and income made from such projects is foreseen to grow considerably over the forecast period. This in turns certainly expected to influence demand for RDX across world during years to come.
In April 2017, the SNPE approved the construction of an explosives manufacturing unit in France. Rigorous directing regulations relating to environmental protection will also play a vital role in defining the dynamics of the research department explosive (RDX) market in the near future. Over the projected period, the use of mining resources and revenue generated from such initiatives is expected to increase significantly. This, in turn, is projected to have an impact on research department explosive (RDX) demand around the world in the coming years.
Some of the noteworthy market participants in the Research Department Explosive Market include:
BAE Systems
Austin Powder
Enaex S.A.
Nelson Brothers
Dyno Nobel
Eurenco
Chemring Group PLC
MAXAM Corp
PrvaIskra- Namenska A.D.
Nitro Chem S.A.
Segments Covered in the Report
This research report includes complete assessment of the market with the help of extensive qualitative and quantitative insights, and projections regarding the market. This report offers breakdown of market into prospective and niche sectors. Further, this research study calculates market revenue and its growth trend at global, regional, and country from 2020 to 2032. This report includes market segmentation and its revenue estimation by classifying it on the basis of end-use and region as follows:
By Type
Explosives
Pyrotechnics
Others
By End-Use
Military

Warheads
Booster material
Artillery, tank and mortar shells
Military Pyrotechnics
Detonators
Others

Civilian

Mining
Fireworks & Pyrotechnics
Construction
Others
By Geography
North America
Europe

Germany
France
Italy
U.K.
Spain
Russia

Asia Pacific
Latin America
Middle East & Africa