The global smart glass market size was exhibited at USD 5.93 billion in 2022 and is projected to attain around USD 18.9 billion by 2030, poised to grow at a strong CAGR of 15.59 percent during the projection period from 2022 to 2030.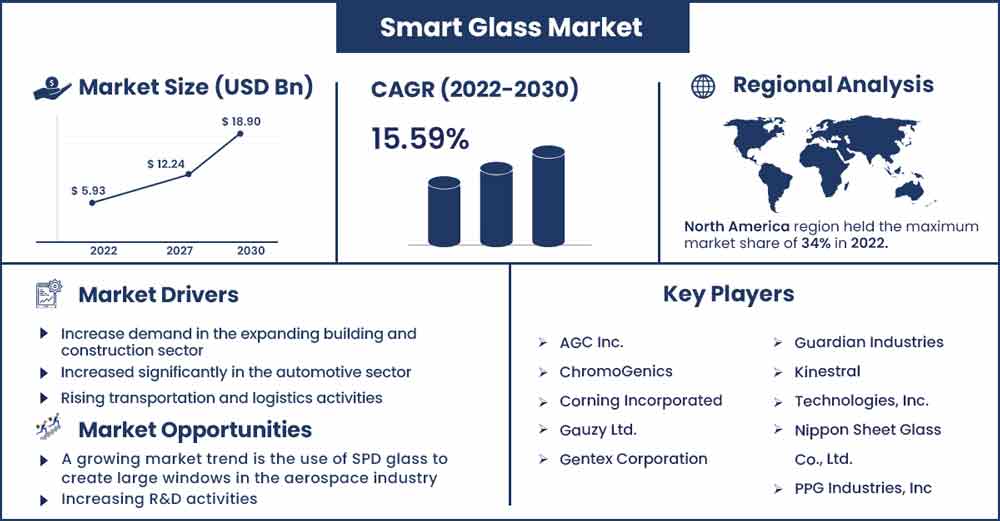 Market development is anticipated to be fuelled by the expanding energy-conservation programs, including green buildings and eco-friendly constructions. A favorable regulatory environment that facilitates tax and financial benefits is also anticipated to have a beneficial impact on the market throughout the projected period.
For instance, the Canadian government stated in April 2021 that it will contribute USD 1.5 billion to expand green building projects through institutional renovations, retrofits, and construction. Due to its energy-saving qualities, attractive 3D design, and thermal and acoustic insulation, such programs have been promoting the use of smart glass in recent years. Smart glass may be used in doors, windows, walls, and skylights to effectively manage sunlight and prevent an increase in indoor temperatures during the summer. As a result, the building's overall energy consumption and carbon impact are decreased.
The market will increase considerably as a result of the construction industry's expansion and rising investment in infrastructure projects. Consumers' growing preference for glass over brick and cement walls will open up profitable growth opportunities for the industry in the near future. Large, floor-to-ceiling glass windows, which are becoming more popular, are also encouraging product adoption and opening up new commercial prospects for the makers.
The continuous repair and renovation projects taking place all over the world are anticipated to increase demand for smart glass. Around 19 million square feet of residential windows are installed in the United States alone, and 500 million square feet of windows are placed in the commercial sector, according to the Department of Energy (DoE).
Most of these structures were built before the ASHRAE standards, which deal with indoor air quality, thermal comfort, and energy conservation in buildings, were established. The American market is anticipated to benefit significantly from the retrofitting of such structures. However, over the projected period, factors including a high base cost and a lack of consumer understanding of the benefits of the product might have an impact on demand for smart glass.
Businesses benefited from the positive government measures that were implemented in several nations. During the epidemic, the U.K. government implemented a number of programmes, including the Coronavirus Business Interruption Loan Scheme (CBILS). Small and medium-sized firms (SMEs) who are experiencing cash flow difficulties as a result of the pandemic and have annual revenue of up to USD 60.34 million (approx.) are eligible for government funding of around USD 6.7 million under the program (approx.).
Regional Snapshots:
In 2022, the European market for smart glass had a value of USD 1,994.7 million. According to the results of our study, Europe has the greatest market share worldwide. The growing interest from architects and designers in renovating and adapting the existing infrastructure is responsible for the rising product demand in the area. The expansion of the car industry in the area, where switchable glass is used for high-end features like sunroofs and anti-glare side mirrors, also contributes to the need.
The usage of smart types of glasses has expanded in North America as end-use sectors like construction and automotive perform better. The need for these glasses is further increased by the region's rising need for energy-efficient buildings, which is being driven by government restrictions.
In contrast, Asia Pacific will experience a large increase in demand over the course of the projection period due to the region's expanding automotive and construction sectors. The demand in the area for use in residential and commercial buildings, hospitals, and tourism attractions is anticipated to be supported by the rapid industrialization occurring in China, India, and South Korea. These elements are anticipated to produce profitable development prospects for market-active enterprises.
Product innovation and collaborations with customers are crucial for businesses to keep their market share. One of the most well-known businesses operating in the industry is Pleotint LLC. The firm has 33 fabrication partners and operates in more than 36 countries. It has completed over 35 projects in a variety of industries. The firm has focused on the development of products for the management of solar light transmission within buildings and currently sells a variety of smart glass solutions throughout the United States under the brand name "Suntuitive."
Smart Glass Market Report Scope:
| | |
| --- | --- |
| Report Coverage | Details |
| Market Revenue in 2023 | USD 6.85 Billion |
| Projected Forecast Revenue in 2030 | USD 18.9 Billion |
| Growth Rate from 2022 to 2030 | CAGR of 15.59% |
| Largest Market | North America |
| Base Year | 2022 |
| Forecast Period | 2022 To 2030 |
| Regions Covered | North America, Europe, Asia-Pacific, Latin America, and Middle East & Africa |

Report Highlights:
Due to its special qualities, smart glass has applications across a wide range of end-user industries. However, in the current market environment, only the uses found in the transportation and construction industries promise to be a significant source of demand for smart glass. Commercial building owners are now allowed to invest in smart energy-saving technologies like smart glass thanks to legislative changes like the National Green Building Standard, Green Globes, LEEDS, and others.
The Aerospace application manufacturers Boing and Airbus have been using smart glass technologies by fusing IoT systems. For instance, the electrochromic windows of a Boeing 787 Dreamliner aeroplane may be made completely opaque by pressing a button. All of the world's luxury and private aircraft manufacturers have been following this trend, creating new market prospects.
The European construction market is predicted to contract by 7.8% this year and not completely recover until 2023, with estimated growth of 4.1% in 2021, 3.4% in 2022, and 2.4% in 2023. This is according to Euroconstruct, a European construction forecasting organisation. It is expected that when construction activity declines, so will demand for smart glass.
Market Dynamics:
Drivers:
In order to boost product availability amid the present coronavirus crisis, smart glass makers may benefit from the reopening of commercial offices, schools, and colleges. To lessen reliance on imports of raw materials, manufacturers are expanding their domestic manufacturing capacity.
To keep the economy humming, businesses are broadening their product lines in the fields of consumer electronics, healthcare, and solar energy production. As a result, increasing shipping and demand patterns are expected to lead to increased import and export of smart glasses. The business is predicted to continue to grow steadily as a result of rising demand for smart glass and improved supply chain management across several nations.
The need for smart glass is rising as a result of increased demands for privacy, energy efficiency, light and heat management, innovative design, and automatic shading. Smart glass, commonly referred to as electrically switchable glass, offers interior designers and architects a variety of options for regulating UV rays, light, and glares.
In high-end vehicles, smart glass is used rather frequently. Auto thermal heating and cooling are very essential because they improve fuel economy while putting less stress on automobile engines with regard to fuel management. Thus, the growth of the worldwide smart glass market is being driven by an increase in the installation of smart glass in sunroofs, sun visors, and side and rear windows.
Restraints:
Over the past few years, the cost of smart glass has risen as demand has outpaced supply owing to production problems. Additionally, the technology and applications used in the smart glass business have experienced several modifications and improvements. As a result, smart glass now costs between two and four times more than traditional types of glasses. Additionally, the production of smart glass necessitates the use of pricey, extremely specialised equipment. This prevents manufacturers with lower investment potential from entering the market for smart glasses. The market for smart glasses might be hampered as a result.
Opportunities:
As the ongoing coronavirus issue continues, manufacturers are responding to negative market perception by making data-driven decisions before boosting the production of smart glass goods. The smart glass market is expected to expand rapidly throughout the assessment period. Manufacturers should invest more in R&D for technologies like self-adhesive switchable glass, which is an affordable alternative for updating old windows, as the high cost of smart glass may have an impact on sales. The smart glass technology may be used in windows, partitions, and many other transparent surfaces in a variety of industries. One can feel privacy in smart homes with the installation of smart eyewear. The removal of unsanitary, hard to clean, or sterilise drapes is made possible by smart eyewear.
Challenges:
Costs for production and R&D are significant for businesses involved in the smart glass ecosystem. The price of smart glasses has increased as a result of their high production costs.
Because smart glasses are expensive, they are mostly employed in high-end, luxury applications. Smart glass is utilised in luxury automobiles' windows, sunroofs, rearview mirrors, and side windows in the automotive industry. High-end corporate or commercial buildings also employ this kind of glass in their designs in the architectural field.
This specialised and affluent clientele reflects a larger customer concentration ratio and a stronger reliance on fewer clients. The total returns are constrained by the small consumer base. As a result, the ROI is incredibly unstable and may limit the market's total growth.
Recent Developments:
In February 2022, The French business was bought by Israeli smart glass technology manufacturer Gauzy in order to expand its product line and establish itself as a leading global provider of lighting and shading system solutions. Gauzy intends to enter the ADAS (Advanced Driver Assistance System) market with the acquisition of Vision Systems by utilizing the SafetyTech solutions provided by the French company, which include camera-based image analysis and monitoring systems as well as specialized designs for light control and shading components.
Major Key Players:
AGC Inc.
ChromoGenics
Corning Incorporated
Gauzy Ltd.
Gentex Corporation
Guardian Industries
Kinestral
Technologies, Inc.
Nippon Sheet Glass Co., Ltd.
PPG Industries, Inc
RavenWindow
Research Frontiers Inc.
Saint-Gobain S.A.
Showa Denko Materials Co., Ltd.
Smartglass International Limited
VELUX Group
View, Inc.,
Vision Systems
Market Segmentation
By Technology
Electrochromic
Polymer Dispersed Liquid Crystal (PDLC)
Suspended Particle Devices (SPD)
Thermochromics
Photochromic
Others
By Application
Architectural
Transportation

Automotive
Aircraft
Marine

Consumer Electronics
Power Generation
By Control Mode
Dimmers
Switches
Remote Control
Others
Buy this Research Report@ https://www.precedenceresearch.com/checkout/2286
You can place an order or ask any questions, please feel free to contact at sales@precedenceresearch.com | +1 9197 992 333