The global smart home market size was exhibited at USD 80.45 billion in 2022 and is projected to attain around USD 581.85 billion by 2032, poised to grow at a strong CAGR of 21.88 percent during the projection period from 2023 to 2032.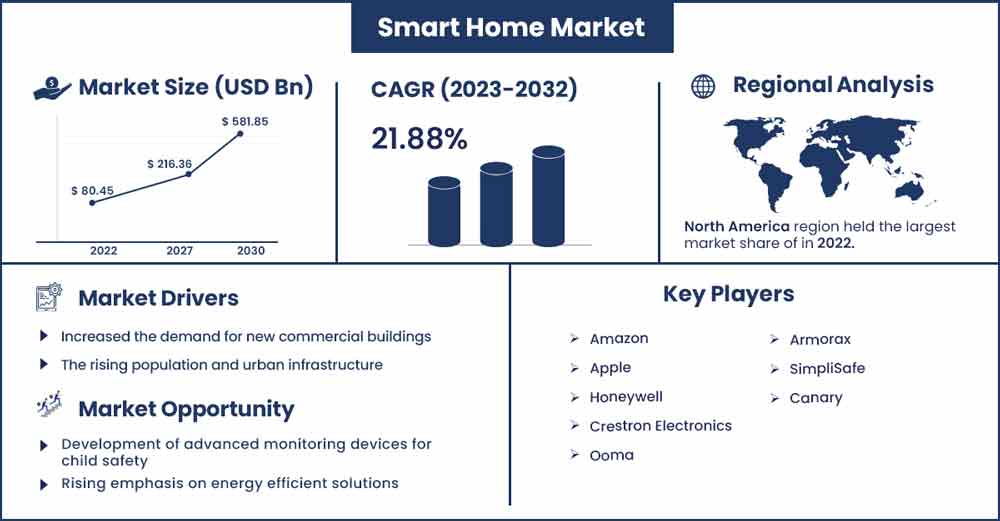 Market Overview:
A smart house is a practical home design where electronics and appliances may be remotely controlled through the internet from any location using a smartphone or another connected device. The concept of a smart home revolves around the integration of Internet of Things (IoT) technology, allowing different devices and appliances to communicate and interact with each other. Smart homes can automate various tasks, such as adjusting lighting, temperature, and appliances, based on pre-defined schedules or user preferences.
Regional Snapshot:
North America holds the largest share of the market, the region is expected to sustain its dominance during the forecast period. The total amount of smart houses in North America increased by 12.0 percent annually in 2022. In the upcoming years, the market is anticipated to continue to rise rapidly. The smart home industry will continue to expand as more customers understand the advantages of linked systems and goods. Market expansion is also being supported by creating new goods and services and connection standards that simplify the configuration and management of devices from various manufacturers. Other recent industry alliances ease end-user control of multiple devices, like the Home Connectivity Alliance (HCA) for linked home appliances. The need for smart home technologies that might assist homeowners in reducing their power use is also driven by rising electricity prices.
Due to the influence of western cultures associated with smart homes, Asia-Pacific is expanding most substantially. The smart home market in the Asia Pacific region has been experiencing significant growth in recent years. It is driven by factors such as increasing urbanization, rising disposable incomes, and a growing awareness of the benefits of smart home technology. The dedication of the top companies in the smart home sector in China, Japan and India is observed to promote and solidify smart home acceptance and engagement will help the market's influence grow. Japan is another prominent market in the region, with a strong focus on energy management and home automation. The country has a rapidly aging population, and smart home solutions are being adopted to support independent living and healthcare monitoring for the elderly.
Report Highlights:
By application, due to a rise in demand for smart house gadgets in new buildings, the new construction segment now holds a monopoly on the worldwide smart home market. Homeowners choose secure installations, and demand is growing owing to advanced security and access options. Increasing building activity in developing nations fuels the segment's expansion.
By product, due to increasing safety issues and the requirement to impose access restrictions on priceless assets, the safety and access control segment led the market in 2022 and is predicted to keep expanding. Authorized access is made possible by smart locks and security cameras, which encourages manufacturers to create smart home security equipment. Additionally, it is anticipated that increasing awareness of self-healthcare following the Covid-19 outbreak will benefit the home healthcare segment throughout the projected period.
By sales channel, Due to increased online shopping expenditure, the sector of indirect sales channels is anticipated to dominate the global market for smart homes. Compared to direct distribution channels, this sector manages distribution responsibilities, lowers startup costs, and is simpler to control. Internal distribution is handled via direct sales channels; however, they may be more costly, labor-intensive, and need significant capital investment.
By protocol, Due to its simple user interfaces and lower costs, the wireless segment will likely lead the global market for smart homes throughout the forecast period. Due to their versatility and simple installation procedure of wireless gadgets, the segment is expected to grow at a substantial rate. The need for wired routers linked by ethernet cables has surged as speedier internet services have become more popular. This element is expected to sustain the position of the wired segment in the market during the forecast period.
Smart Home Market Report Scope:
| | |
| --- | --- |
| Report Coverage | Details |
| Market Revenue in 2023 | USD 98.05 Billion |
| Projected Forecast Revenue in 2032 | USD 581.85 Billion |
| Growth Rate from 2023 to 2032 | CAGR of 21.88% |
| Fastest Growing Market | Asia Pacific |
| Largest Market | North America |
| Base Year | 2022 |
| Forecast Period | 2023 To 2032 |
| Regions Covered | North America, Europe, Asia-Pacific, Latin America, and Middle East & Africa |

Market Dynamics:
Driver:
Increased demand for safety and surveillance methods
Smart home systems integrate various security devices such as smart locks, door/window sensors, security cameras, and motion detectors. These devices can be remotely monitored and controlled, allowing homeowners to receive real-time alerts and take immediate action in case of any suspicious activities. Homeowners know precisely what is occurring and get real-time warnings on suspicious events with the interconnectedness of smart home technologies and real-time monitoring and surveillance. This includes security cameras and alarm systems, which may be programmed to arm or turn off devices, verify that kids get home safely, and even monitor an excitable pet. Additionally, users can access local emergency personnel and first responders, whether at home or away, and 24/7 Central Station Monitoring, which sends quick notifications to mobile devices. As a result, more homeowners are adopting smart home systems to protect their properties and loved ones, driving the growth of the smart home market.
Restraint:
Absence of global protocol
The lack of a global protocol can result in a complex landscape of various communication standards, protocols, and platforms. This complexity can confuse consumers who may be unsure which devices are compatible with their existing systems or how to integrate them effectively. Without a standardized protocol, smart home devices and systems from different manufacturers may use different communication protocols, making it difficult for them to seamlessly work together. This lack of interoperability can lead to compatibility issues and limit the choices available to consumers. It becomes challenging for consumers to integrate devices from different brands and ensure smooth communication between them, which can discourage adoption.
Opportunity:
Rising emphasis on energy efficient solutions
Smart houses are excellent at conserving energy. Furthermore, dimmer lights use less electricity. Timer features are almost universal in smart gadgets, which reduces energy usage. Appliances like occupancy sensors automatically switch down the lights when the room is empty to save energy loss. Additionally, several tools and applications assist in tracking daily energy usage and automatically recommend solutions to reduce electricity waste. A function of smart plugs is energy monitoring. Obtain information on energy use to determine the amount every device is using. Some smart plugs even have settings that will turn the plug off whenever a certain energy threshold is reached. Additionally, smart window treatments operate on a timetable to keep house cool precisely when needed. As the demand for energy-efficient solutions increases, the factory will open a plethora of opportunities for the smart home market.
Challenge:
Internet dependency
A robust and dependable connection is required for all functions that smart voice-controlled technologies like Alexa and Google Home perform. All modern smart devices can work together because of the internet. However, a bad internet connection might cause difficulties in the operation of smart home devices. Therefore, choosing high speed internet and reliable Wi-Fi services is strongly advised to prevent any trouble. This dependency on internet is observed to pose as a challenge for the market's growth. Mesh networking is joining numerous wireless networks to form a robust network that might provide Internet access in each room of a large home or flat. All devices may be connected to the same network using a mesh network, preventing security problems.
Recent Developments:
In June 2023, The iOS 17 software operating system was revealed by Apple at WWDC 2023, the company's yearly developer's conference. Apple is attempting to modify the Always on Display feature to make the iPhone a smart home screen. The new capability improves iPhones' functionality when idle on a user's desk or bedside. When the Apple device is locked and in a horizontal posture, the new feature will enable users to view information, including weather information, calendar appointments, and alerts, among other updates.
In June 2023, Ayla Networks, a top supplier of cutting-edge smart home solutions, revealed that Etisalat by e&, the company's name for its UAE telecoms division, will build an innovative, high-end smart home system on its IoT platform. With its smart home platform offering seamless and integrated solutions from other top companies like Yale locks, Ring cameras, Philips Hue light bulbs, and Honeywell thermostats, Ayla's new cooperation with the company is focused on improving the user experience.
Major Key Players:
Amazon
Apple
Honeywell
Crestron Electronics
Ooma
Armorax
SimpliSafe
Canary
Market Segmentation:
By Application
New Construction
Retrofit
By Product
Light Control
Security And Access Control
HVAC Control
Entertainment Control
Smart Speaker
Home Healthcare
Smart Kitchen
Home Appliances
Home Furniture
By Sales Channel
By Protocol
Buy this Research Report@ https://www.precedenceresearch.com/checkout/2596
You can place an order or ask any questions, please feel free to contact at sales@precedenceresearch.com | +1 9197 992 333