The global public cloud in BFSI market size was estimated at USD 56.15 billion in 2022 and it is expected to hit around USD 230.15 billion by 2032, growing at a CAGR of 15.2% during the forecast period 2023 to 2032.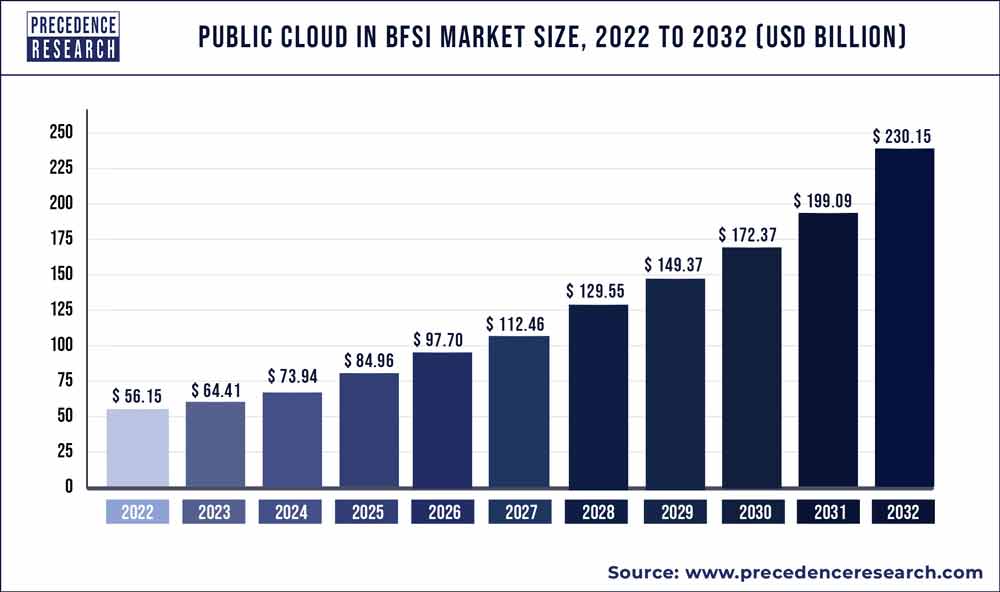 Access our Premium Real Time Data Intelligence Tool, Visit: Precedence Statistics
Key Takeaways:
North America captured maximum revenue share in 2022.
By Type, the infrastructure as a service segment contributed the largest revenue share in 2022.
By Component, the software segment generated more than 70% of revenue share in 2022.
By Enterprise Size, the small and medium enterprise segment led the global market.
By End-user, the banking segment dominated the global market.
Public cloud service providers offer cloud-based services such as infrastructure-as-a-service (IaaS), platform-as-a-service (PaaS), or software-as-a-service (SaaS) to customers for a monthly or pay-per-use cost, eliminating the need for users to host these services on-site in their own data centre. Cloud service providers' data centers are divided into virtual computers that are shared by tenants. In addition to renting the using these virtual machines tenants can pay for additional cloud computing services such as software applications, application development tools or storage.
The global market size for public cloud in the banking and financial services industry is driven by the growth of digital transformation strategies across all sectors, as well as increased Internet and mobile device penetration worldwide. Moreover, popularity increases and positively contributes to market growth because of increased demand for artificial intelligence and Machine Learning. However, growth in cloud computing for the BFSI market is hindered by regulatory problems related to data residency. However, it is predicted that during the forecast period, there will be substantial growth opportunities for public cloud expansion in BFSI markets with the increasing adoption of the Internet of Things (IoT).
The COVID-19 pandemic, as well as government-imposed restrictions such as travel limits and social interaction restrictions, forced businesses and individuals to investigate remote working options. Because financial pressures from trends in domestic revenues and external flows to developing economies were already deemed insufficient to support long-term development goals, some organizations prioritized cost-cutting measures, while others turned to the public cloud to rapidly expand infrastructure and meet unexpected surges in demand. After pandemic-related branch and corporate headquarters closures, several banks used cloud technology to keep internal operations running smoothly. Furthermore, Amazon Web Services (AWS) and other major public cloud providers have jumped on board, focusing on financial institutions in order to enable remote work for thousands of users.

Report Scope of the Public Cloud in BFSI Market:
| | |
| --- | --- |
| Report Coverage | Details |
| Market Size in 2023 | USD 64.41 Billion |
| Market Size by 2032 | USD 230.15 Billion |
| Growth Rate from 2023 to 2032 | CAGR of 15.2% |
| Largest Market | North America |
| Base Year | 2022 |
| Forecast Period | 2023 to 2032 |
| Segments Covered | By Type, By Component, By Enterprise Size, and By End-User |
| Regions Covered | North America, Europe, Asia-Pacific, Latin America and Middle East & Africa |

Key Market Drivers:
Adoption of digital revolutionary initiatives in the BFSI sector has increased
The cloud IT solutions for the BFSI sector has contributed to Digital Banking transformation, which is facilitated by both front and back end operational models. A number of businesses have taken advantage of public cloud computing services to transform their commercial operations in different financial sectors since the outbreak of this disease. This will increase the likelihood of financial institutions becoming more resilient, while laying a solid base for increased customer value and revenue generation. Moreover, open banking and the broadening of consumers' access to traditional and non-traditional financial services are facilitated by public cloud solutions.
In addition, in order to meet their capacity and speed demands, banks and financial institutions have increased reliance on digital technologies for the storage of data and provision of analytical support. As a result, the public cloud in the BFSI sector is expected to generate significant market opportunities during the forecast period due to increased digital transformation across sectors.
Global internet and mobile device adoption is rising
The growing number of Internet users is leading to an increase in demand from this segment and that has a significant impact on growth within the market. In addition, as the 20th century progresses, smartphones and other technologies are becoming essential to a large number of people's lives. Therefore, technology adoption by banking customers has increased in recent years due to increases in the use of mobile phones and tablets as well as better access to Internet services using 4G, 5G, or alternative technologies.
In addition, cloud computing software is increasingly being adopted by banks and financial institutions to improve their daily operations in order to have access to data from anywhere as it automatically updates businesses on transactions. Consequently, in the course of the BFSI market outlook period it is anticipated that increasing Internet and Mobile device penetration throughout the world will be a factor leading to increased demand for cloud services.
Cost-effectiveness
Another benefit of public cloud computing for the BFSI sector is that it is frequently assumed to be less expensive than traditional infrastructure. Self-service was a feature of several public cloud platforms that allowed users to provide storage and deploy apps without having to physically visit the platform. Furthermore, the cloud is an appealing option for data storage and access to sophisticated apps. In addition, the amount of operational overhead and risk acceptance knowledge required to migrate workloads from onpremises to cloud 19 was one of the major barriers to cloud adoption prior to COVID. As a result, the pandemic had a positive impact on global public cloud in the BFSI industry.
Key Market Challenges:
Data security and privacy concerns
Cloud computing involves the deployment of a range of third-party services that can raise security or confidentiality concerns, which prevents public cloud adoption on the BFSI market. Infrastructures are also covered including mobility, networks, endpoints, databases, cloud computing, web applications and virtualisation. Consequently, continued to be the largest barrier for adoption of Cloud Services on a BFSI market in terms of security and privacy. The cloud is more vulnerable to cyber attacks because there are more access points as a result of an increasing user population, due to the fact that it's intended for use by many people. There is an increased risk of cyber criminals gaining access to infrastructure as more users and devices connect to the cloud.
For the sake of protecting digital data from threats that may endanger their integrity, Cloud computing uses data protection measures like antivirus to protect these systems against those threats. With regard to cloud computing, professionals and staff must have the necessary technical competences and expertise in implementation, processing, analysis and management of cloud solutions. Due to lack of cloud expertise, organisations lose their market share and revenue when they do not use cloud or emerging technologies. The reason is that IT workers, in particular with cloud computing, have a severe lack of technology skills.
Key Market Opportunities:
Growing government attempts to increase public cloud use in the BFSI sector
For organizations to take advantage of cost efficient and flexible on demand data storage options, they must migrate to the cloud. As a result, delivery models for BFSI public clouds are being adopted by governments all over the country. The cost of acquisition, design, operation and maintenance of technology in the financial services sector will be reduced by public cloud. Government productivity can be greatly enhanced by streamlining IT operations, thanks to cloud computing, as demonstrated by the fact that it takes a long time for citizens' transactions to process. In addition, the public cloud provides governments with a fast adaptation to user needs and enables their services to be expanded as needed in BFSI.
The LoT device produces data, which must be collected and used on the server in a local or remote manner. Remote data hosting and analytics are more practical and cost-effective solutions in many loT applications. In light of the growing popularity of Internet of things and cloud computing, edge computing is gaining momentum as it allows users to maintain some data processing power on their network edges instead of being able to be swallowed up by a cloud.
Segments Insight:
Type Insights:
Based on Type, the public cloud in BFSI market is divided into Software as a Service, Platform as a Service, Infrastructure as a Service, and Others. In 2022, the Infrastructure as a Service segment accounts for majority of the share of the market. Infrastructure as a ServiceIaaS is a type of cloud computing service providing on demand, storage and networking tools in the form of payasyougo services. One of the four types of cloud services is IaaS, along with serverless, platform as a service (PaaS) and software as a service (SaaS). One of the most frequently used IaaS examples are Linode, Digital Ocean, Google Cloud, Microsoft Azure and Amazon Web Services (AWS). Platforms that provide on-premise IaaS solutions include Amazon Outposts, Azure Stack, and Google Anthos.
Components Insights:
On the basis of components, segment software represents the largest market share on BFSI public cloud because it delivers an entire self service solution for clients and gives companies a means to develop powerful virtualization services by providing them with virtualization tools that are being driven by customers' demands.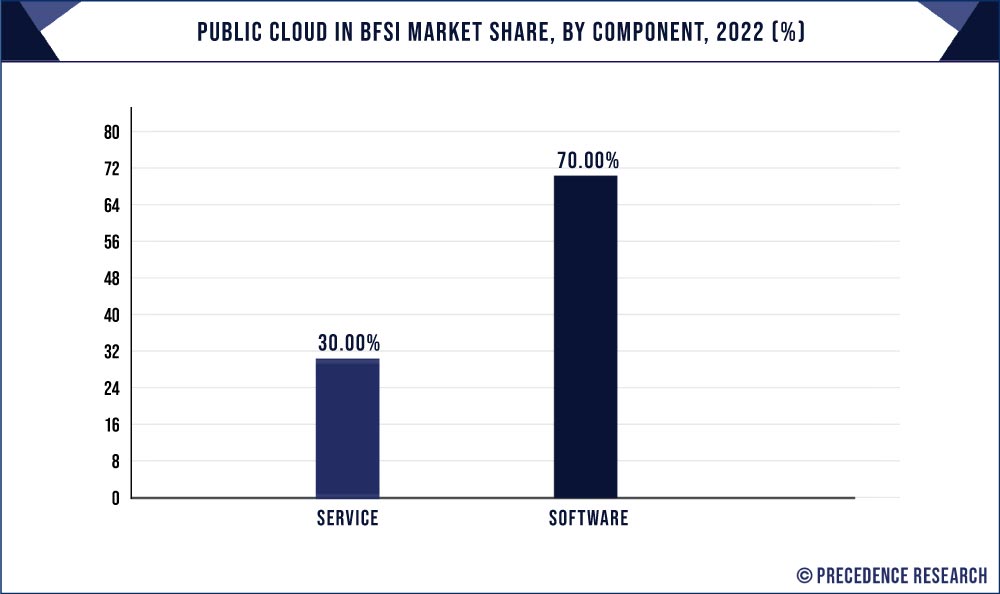 Nevertheless, because of the role played by services in supporting banking and finance sectors to achieve possible growth for their businesses, this segment is considered to grow at a faster rate over the forecast period. This segment's growth will be boosted by these improvements and the development of facilities.
Enterprise Size Insights:
In 2022, the small and medium enterprise segment dominated the public cloud in the BFSI market, accounting for the majority share. Large companies have been most enthusiastic to adopt the initiative, because of reduced operating costs, increased collaboration, greater flexibility and rapid time to market. Businesses have been using the cloud to develop applications and migrate infrastructure before, but now they use it for updating core business applications and processes. According to a survey conducted in 2019 by Flexera, an Illinois Based Software Company, companies are expected to increase their use of Public Cloud 24% over the coming years.
As a result, the SME segment became the market's biggest shareholder in 2019, thanks to flexible pricing models of communication service providers, better employee productivity and enhanced collaboration and innovation. By the end of 2018, a survey carried out by the IT sector found that 88% of SMEs had used at least one cloud service, and this figure is likely to increase significantly over the coming years. SMEs are a significant part of the use of technology for various purposes such as marketing, finance control, project management and relationship building with customers. But cost management and optimization, setting up guidelines for the utilisation of cloud computing as well as determining which cloud should be used to implement particular applications are among the most important challenges faced by firms adopting cloud computing.
End User Insights:
Banking led the market in 2022 and is expected to continue to do so throughout the forecast period. The segment's growth can be attributed to factors such as lower customer acquisition costs, rapidly increasing security issues, and the need for disaster recovery. Financial institutions are surrounded by a rapidly expanding digital environment. Financial cloud service providers and banks are collaborating to increase cloud adoption. The growing customer preference for personalized banking and the widespread use of technology can be attributed to the expansion. For example, in August 2020, Microsoft Corporation and Standard Chartered announced a partnership to accelerate the latter's digital transformation through a cloud-first strategy. Among other industry leaders, JP Morgan is implementing Thought Machine's cloud-based core banking system for retail operations.
Regional Insights:
North America accounted for the major share of the market owing to the early adoption of the technology by the region. In order to maintain their market share, they should be helped by the presence of a number of players in this area, such as IBM Corporation, Oracle Corporation, Amazon.com Inc. and Microsoft Corp. As well as greater enthusiasm for adopting new technologies. Furthermore, it is estimated that over half of the government organizations in the United States are using these services. Furthermore, European countries, particularly in the financial sector, are becoming a major centre for cloud technology development and attracting billions of dollars' worth of investment worldwide.
During the forecast period, Asia Pacific is expected to be the fastest-growing region in the public cloud in BFSI market. The growth of the regional markets in recent years has been stimulated by China's rapid pace and India's growing market, while local players like Alibaba Group have emerged. In addition, to meet the government's data sovereignty requirements Hyperscale cloud providers like Azure, Amazon Web Services AWS and Google LLP have set up data centers in markets such as Indonesia and Thailand.
Key Market Players:
Lumen Technologies Inc.
DXC Technology Company
NTT Communications Corporation
Fujitsu Ltd.
Intel Corporation
Dell EMC
RightScale Inc.
Panzura Inc.
Vmware Inc.
Equinix Inc.
Rackspace US Inc.
Citrix Systems Inc.
Hewlett Packard Enterprise Company
Cisco Systems Inc.
Workday, Inc.
SAP SE
Salesforce.com Inc.
Oracle Corporation
Microsoft Corporation
IBM Corporation
Google LLC
Adobe Inc.
Amazon.com Inc.
Alibaba Group Holding Limited
Segments Covered in the Report:
(Note*: We offer report based on sub segments as well. Kindly, let us know if you are interested)
By Type
Software as a Service
Platform as a Service
Infrastructure as a Service
Others
By Component
By Enterprise Size
By End-User
By Geography
North America
Europe
Asia-Pacific
Latin America
Middle East and Africa