The global recloser market size was evaluated at USD 1.75 billion in 2022 and it is expected to hit around USD 3.02 billion by 2032, poised to grow at a CAGR of 5.62% during the forecast period from 2023 to 2032.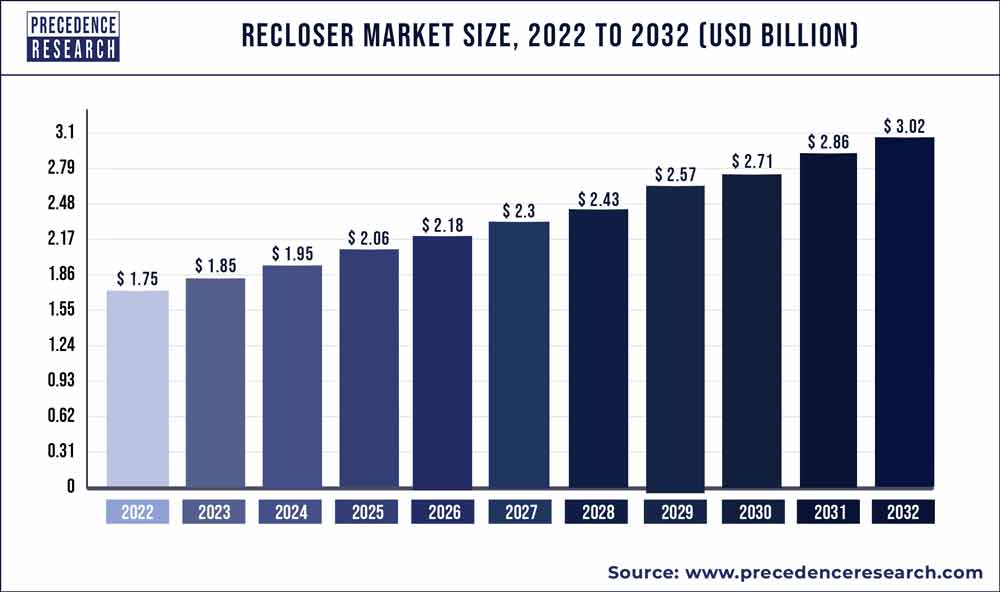 Market Overview:
The recloser market is all about creating, distributing, and using reclosers. Reclosers are devices that help manage electrical power distribution systems by detecting and fixing faults on overhead power lines. They can stop and restart the flow of power automatically, reducing the need for manual fixing and minimizing interruptions in the power supply.
Since we rely on electricity for many things, there is a growing need for power distribution systems that work well. Reclosers play a key role in ensuring that we have uninterrupted power by quickly finding and is olating faults, which helps to reduce power outages. Another trend is the integration of smart grid technologies. This integration allows utilities (the companies that provide power) to optimize power distribution, improve maintenance practices, and make the overall system more reliable. There is also a growing focus on grid automation. This means that utilities are working to automate the operation of power grids to improve efficiency and reduce costs.
Reclosers have various applications. They are used in overhead power distribution systems, including distribution lines, feeders, and substations, to maintain power quality and protect the system from faults caused by lightning strikes, tree branches, or equipment failures. Reclosers are also deployed in renewable energy installations, such as solar farms and wind power plants. In smart grid systems, reclosers play a crucial role in enabling grid automation, real-time monitoring, and remote control. In rural and remote areas, reclosers are used to improve power reliability and reduce the time it takes to restore service after an outage. By automatically isolating faults and attempting to restore power, reclosers minimize the impact of outages and reduce the need for manual intervention, especially in areas that are difficult to access.
Report Scope of the Recloser Market:
| | |
| --- | --- |
| Report Coverage | Details |
| Market Size in 2023 | USD 1.85 Billion |
| Market Size by 2032 | USD 3.02 Billion |
| Growth Rate from 2023 to 2032 | CAGR of 5.62% |
| Largest Market | Asia Pacific |
| Base Year | 2022 |
| Forecast Period | 2023 to 2032 |
| Segments Covered | By Phase, By Control, and By Voltage Rating |
| Regions Covered | North America, Europe, Asia-Pacific, Latin America, and Middle East & Africa |

Market Dynamics:
Drivers:
Handling renewable energy
Renewable energy, like solar and wind, is becoming popular, but it can cause disruptions in the power grid because it's not always available. Reclosers help manage these disruptions, making sure we always have a steady supply of electricity. Additionally, the world is moving towards smart grids that can be controlled and monitored remotely. Reclosers with smart features are essential for these modern grids as they respond faster to problems and make managing the power grid easier. Not only this but sometimes the quality of electricity can cause problems for businesses and sensitive equipment. Reclosers can quickly fix these issues, making sure power quality stays high and minimizing any disruptions.
Restraints:
High initial cost
Reclosers can be relatively expensive compared to traditional protection devices used in power distribution systems. The higher cost of reclosers can pose a challenge, especially for utilities with limited budgets or cost-sensitive markets. The initial investment required for deploying reclosers may deter some potential buyers or slow down the adoption rate. Additionally, Incompatibility issues between different recloser models or between reclosers and other equipment can create challenges during installation, integration, and maintenance. Standardization efforts and improved compatibility between recloser products are needed to overcome this restraint. There are some technological limitations like false tripping or inadequate fault detection in certain scenarios, limitations in communication range or capabilities, and constraints on the integration of emerging technologies. Ongoing research and development efforts are necessary to overcome these technological restraints.
Opportunity:
There are several great opportunities in the recloser market. First, many countries have old power systems that need upgrading, so there's a demand for modern reclosers that can improve the reliability and efficiency of power distribution. Second, as renewable energy becomes more popular, reclosers are needed to integrate these energy sources into the power grid effectively. Third, with the rise of smart grid technologies, reclosers with advanced features are in high demand for automation and remote control of power systems. Fourth, there is a growing focus on making the power grid more resilient and ensuring high-quality power, and reclosers play a crucial role in achieving that. Fifth, emerging markets and rural areas need a reliable power supply, so providing cost-effective reclosers can help improve electricity access. Finally, technological advancements in fault detection and communication offer opportunities for innovative recloser solutions that can make power distribution more efficient and reliable.
Covid 19 Impact:
The COVID-19 pandemic has disrupted the global supply chains for electrical equipment like reclosers. Factory closures, labor shortages, and transportation restrictions have caused delays in manufacturing and delivering reclosers. This has slowed down the growth of the recloser market. Additionally, many infrastructure projects, including power system upgrades, have been delayed or postponed, affecting the demand for reclosers.
The pandemic has also impacted the installation and maintenance of reclosers due to travel restrictions and safety protocols. Changes in energy consumption patterns, with reduced usage in some sectors and increased residential demand, have further influenced the planning and deployment of reclosers. On a positive note, the pandemic has accelerated the adoption of digital technologies in the power sector, leading to the increased use of remote monitoring and control solutions. This can drive the integration of smart reclosers and advanced communication systems, benefiting the recloser market in the long run.
Segments Insight:
Phase Insights:
Three-phase reclosers are the most commonly used type of reclosers and are deployed in three-phase electrical distribution networks. These reclosers are typically employed in larger networks that supply power to cities and towns. On the other hand, single-phase reclosers are used in single-phase electrical distribution networks, which are commonly found in smaller networks serving homes and businesses. Triple-single-phase reclosers combine the capabilities of both single-phase and three-phase reclosers, making them suitable for networks that have a mix of single-phase and three-phase loads.
The phase segment of the recloser market is projected to experience significant growth during the forecast period. This growth can be attributed to several factors. Firstly, there is an increasing demand for electricity due to global population growth and rising power consumption. As a result, there is a need for reclosers to protect electrical distribution networks from faults and ensure reliable power supply. Secondly, governments and utilities are investing in the expansion of transmission and distribution networks to meet the growing electricity demand. This expansion creates new opportunities for the recloser market. Additionally, the rising investments in renewable energy sources, such as solar and wind power, drive the demand for reclosers. These renewable energy sources are more prone to faults compared to traditional fossil fuel power plants, necessitating the deployment of reclosers for fault protection and grid stability.
Control Insights:
Electric control reclosers are the most common type, operated using electric signals. They offer advanced features, such as fault detection and remote control, making them increasingly in demand for reliable power supply in homes, businesses, and industries. Integration with smart grid technologies and advanced control systems allows real-time monitoring and improved grid management.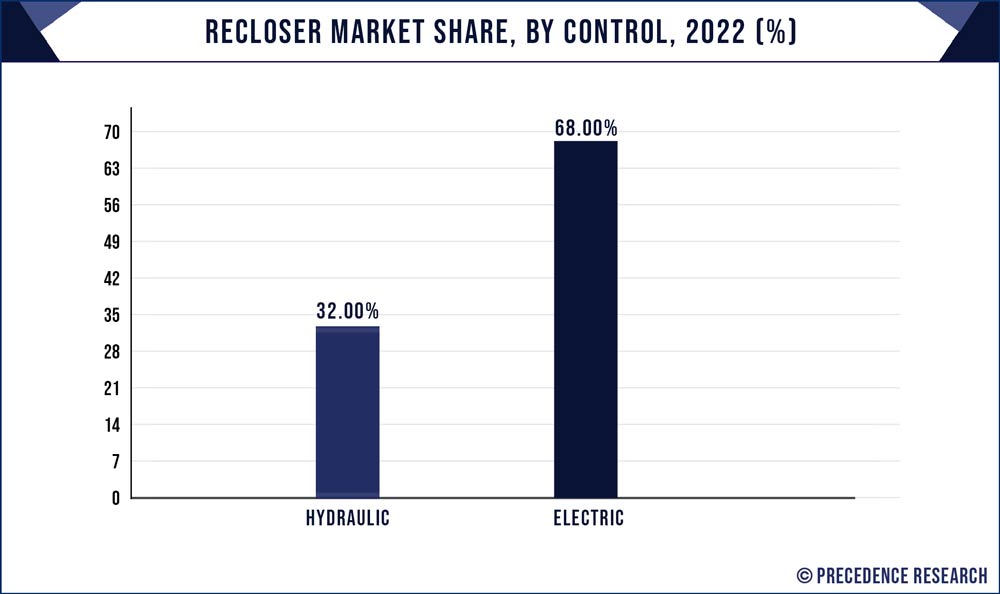 Hydraulic control reclosers, on the other hand, use hydraulic pressure and are mainly used in areas with limited or unreliable electricity supply. They provide cost-effective solutions for rural electrification and can integrate with renewable energy systems to enhance grid stability in off-grid areas. While the electric control recloser segment held the largest market share in 2019, the hydraulic and electronic control recloser segments also present opportunities for growth, driven by the need for reliable power and advancements in digital control technologies.
Voltage Rating Insights:
Low-voltage reclosers are designed for voltage levels below 1,000 volts and are commonly used in residential, commercial, and light industrial applications. They ensure reliable power supply and quick fault detection and restoration in low voltage distribution systems. Integrating them with smart home systems and energy management platforms enhances energy efficiency and grid connectivity. Medium voltage reclosers cater to voltage levels ranging from 1,000 to 38,000 volts and find application in industrial, commercial, and utility settings. They play a crucial role in reliable power distribution and fault protection in medium voltage systems. Integrating medium voltage reclosers with advanced communication and control systems enables grid automation and efficient fault diagnosis, contributing to the stability and self-healing capabilities of the grid.
High-voltage reclosers are designed for voltage levels above 38,000 volts and primarily serve transmission networks and large-scale power distribution systems. They ensure efficient fault detection and restoration in high-voltage transmission systems to minimize power outages and maintain grid reliability. Integrating high-voltage reclosers with advanced monitoring and control systems allows for enhanced grid management capabilities and supports predictive maintenance strategies. The expansion and modernization of transmission networks, driven by increasing electricity demand and renewable energy integration, fuel the demand for high-voltage reclosers, which are vital for maintaining a reliable and resilient power grid.
Regional Insights:
The Asia-Pacific region is expected to dominate the recloser market due to increasing infrastructure development and investments. The region's rapid industrialization, expansion of power transmission and distribution networks, and growing renewable energy generation are key factors driving market growth. According to the Renewables 2018 report, Asia-Pacific being a significant contributor. This region has substantial potential for power production and replacing aging power infrastructure, particularly in countries like China, India, Japan, Australia, and Indonesia.
North America also offers growth opportunities as there is a focus on strengthening the power grid and replacing aging infrastructure. European countries, such as the UK, Germany, Norway, Italy, and Russia, contribute to industrialization and economic progress in the region. In Asia-Pacific, China plays a major role in the global economy and aims to increase its renewable energy generation capacity to reduce greenhouse emissions. China's emphasis on clean energy drives the demand for distribution infrastructure. India has also introduced policies and targets to expand its transmission and distribution network, particularly for renewable energy sources. These developments in Asia-Pacific create a favorable market environment for the recloser industry.
Recent Developments:
In February 2023, Eaton Corporation declared that it will invest $100 million in the construction of electrical production and distribution facilities in North America. The business intends to utilize the money to boost sales of its in-demand intelligent solutions, such as switchboards, load centers, circuit breakers, and residential solutions.
In March 2023, Eaton Corporation acquired Cooper Power Systems, a provider of electrical distribution and control products. This acquisition expanded Eaton Corporation's product line of reclosers and sectionalizes, which are used in the transmission and distribution of electricity.
In June 2022, GE Industrial Solutions, GE's global electrification solutions company, was bought by ABB. This purchase broadened ABB's selection of sectionalizers and reclosers, which are used in industries including mining, oil and gas, electric utilities, substations, and renewable energy.
Key Market Players:
NOJA Power
Arteche
BRUSH Group
S&C Electric Company
GE
Eaton
G&W Electric Co.
Tavrida Electric Global
Schneider Electric
Iljin Electric
Siemens
Hughes Power System
Solomon Corporation
ABB
ENTEC Electric & Electronic
Segments Covered in the Report:
(Note*: We offer reports based on sub segments as well. Kindly, let us know if you are interested)
By Phase
Single Phase
Three Phase
Others
By Control
By Voltage Rating
By Geography
North America
Europe
Asia-Pacific
Latin America
Middle East and Africa