The global semi-trailer market size was estimated at USD 30 billion in 2022 and is expected to hit around USD 49.57 billion by 2032 and is poised to grow at a compound annual growth rate (CAGR) of 5.2% during the forecast period 2023 to 2032.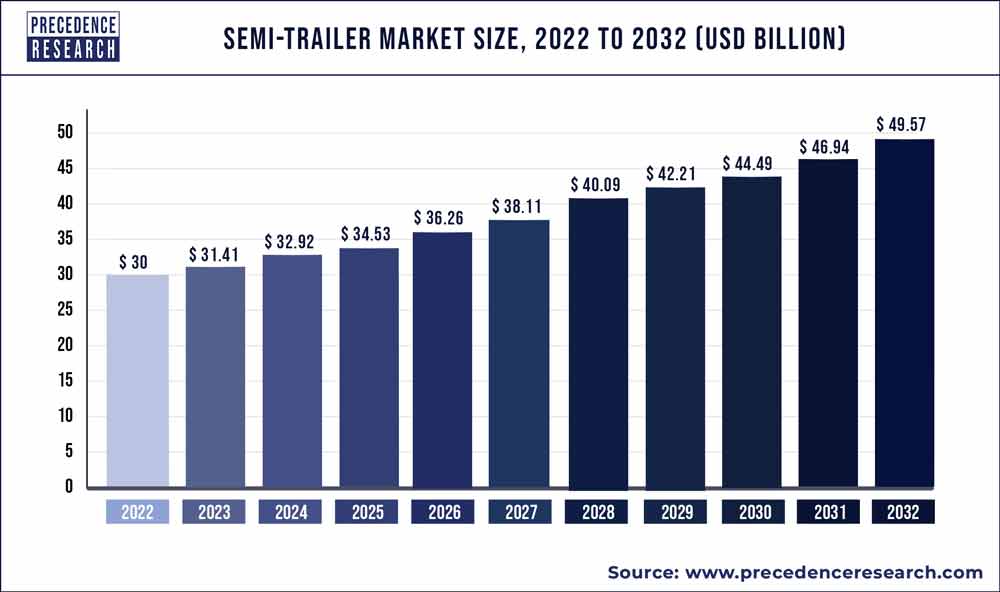 Key Takeaways:
By type, the dry vans segment hit 37% revenue share in 2021 and growing at a CAGR of 4.3% from 2023 to 2032.
The flat bed trailer segment is growing at a CAGR of 6.5% from 2023 to 2032.
Asia Pacific region accounted revenue share of around 36.4% in 2022.
The semi-trailer involves the four trending keys such as logistics, digitalization, electrification drivers, autonomous trucks. Increased development and technologies with increased embedded systems in the semi-trailers have increase the market rate. Road ways to be the widely used method for transportation of goods from one end to another. Increased manufacturing developments with wide production and transport of goods with increased transportation and rapid urbanization have helped to boost the market to grow at a larger extent.
Semi-trailer is the combination of truck and a semi-trailer. Big proportion of semi-trailer is supported or connected to the truck semi-trailer having the wheels semi-trailer and truck are detachable from one another. Semi-trailers can be relocated. Semi-trailers are mostly utilized in transportation of goods than full trailers. Improved modern semi-trailers mostly utilized in the domestic's transportation and international transportation. Tractor unit connected to the trailers which helps to pull the trailer available in many size, shapes, and lengths. Common trailer included such as dry vans, refrigerated trailers, flat bed trailers, side-lifts, tankers are trailers available with improved functions such as temperature management. Increased development and technologies to improve the methods of transportation and cost-effective method of transportation.
Impact of covid -19 on the market has witnessed the wide difference in the growth of the market with declined market rate due to decreased demands from the market and shortage of supply of the needs to the market. Shut down of the nation due to rules and regulations imposed by the government social distancing, lack down and many more ceased the transportation and closed the doors of the industries which stopped the manufacturing and production of semi-trailers and market growth of the semi-trailers slow down, But due to increased transportation from the pharmaceutical industries to supply of medical devices and medicines with required needs from the health care sector with increased transportation for supplying needs in larger quantities extended the market at a greater extent.
Report Scope of the Semi-trailer Market
| | |
| --- | --- |
| Report Coverage | Details |
| Market Size in 2023 | USD 31.41 Billion |
| Market Size by 2032 | USD 49.57 Billion |
| Growth Rate from 2023 to 2032 | CAGR of 5.2% |
| Base Year | 2022 |
| Forecast Period | 2023 to 2032 |
| Segments Covered | Type, Length, Tonnage, Axles, End-Use and Geography |
| Companies Mentioned | Utility Trailer, Wabash, Schmitz Cargobull, Kogel Trailer GmbH & Co.KG, Krone Commercial Vehicle Group, Great Dane Trailers, Fahrzeugwerk Bernard Krone, Fontaine Commercial Trailer, Inc, Lamberet SAS, China International Marine Containers (Group) Ltd, Hyundai Translead, Polar Tank Trailer, LLC. |
Growth Factors
Increased developed technologies with rising manufacturing and producing new innovations in semi-trailer for ease of transportation and increase in transportation method are major factors growing the market of semi-trailer with increased demand from the market.
Increased opportunities for the utilization of semi-trailers in coming years and increased the market size during the forecast period.
Furthermore, increased utilization in cold chain supply with integrating the system with adjusting the temperature effectively supply of the pharmaceuticals, beverages, dairy products, fish, fresh flowers, vegetables and many more. Increasing disposable income have improved to buy more fresh foods, organic and quality products and increased demand for packaged food. Enhancing the cold chain industry with increased transportation across the various regions and emerging developed countries with increased economy. Fast moving consumer goods is the highest major factor for increasing the revenue share to increase the semi-trailer market rate.
Products having a short expiry includes such as dairy products, meat, fish, fruits, vegetables and many more have the high demand from the customers. Products with more bulk are transported through truck to different place within short period and sold with low prices. Fast moving consumer goods (FMCG) are major role players for increasing the market rate with increased digitalization, populations, brand consciousness are the growing the market rate.
Increased government support for developing the nation with increasing awareness about semi-trailer market and increased investment for improving the transportation method and meet the consumer needs. The key market players involved in introducing the semi-trailers with developed technology and transportation method have increased the market rate with improved research and development.
Key Market Drivers
Increased urbanization - Increased population with rising demands from the market with improved urbanization and developing of the nation with increased transportation of goods by the semi-trailers with more bulk goods drives the market of semi- trailer market to a larger extent. Increased government attention to develop for semi-trailers for transportation purpose which is cost effective, less emission of carbon than the trailer truck and one of the majorly used mode of transportation by the roadways and increased investment by the automotive sector for manufacturing and producing semi-trailers which helps to boot the market to a higher peak. In covid-19 pandemic situation with increased demands from the health care centre for the transportation of the necessities required in the hospitals with heavy medical devices and other pharmaceutical products expanded the market of semi-trailers and increased developments of semi-trailers in the automobile industry.
Fast Moving Consumer Goods (FMCG) - Fast moving generation is the highest sector with increased revenue share in the semi-trailer market. Products with short life are sold fast with the low rates include refrigerated products such as dairy products, fish, meat, baked products, fruits, vegetables with increased demands from the market and customers. Products in large quantities are delivered fast, sold it out fast with low rates.
Key Market Challenges
Road transportation, Consumption of fuel is more in the semi-trailer empty vehicle than semi - trailer filled with the goods with increased emission of carbondioxide gas. Newly developed technology with innovative developments semi-trailers with cost effectiveness, interchanging body, weight reduced of the semi-trailers. Newly developed innovation needs to emit less carbon foot print. Certain rules and regulations imposed for the semi-trailers with the typical roads and new developed innovative designs with increased challenges to rise the semi-trailer market rate. Reducing the weight of the semi-trailers with high quality strong material can be the challenging task in the fleet operators and OEMS with decreased cost and less emission of the carbondioxide.
Key Market Opportunities
Newly developed technologies - In the last few years the automotive sector have highest increased revenue share with increased newly developed technologies and innovation in the semi-trailer market. Enhanced research and development in semi - trailer market with increased launching of the vehicles meant for transportation.
Key market players - The key market players involves in introducing the new developments in the semi - trailers and increased production and manufacturing of electric vehicle for the transport means. Increased investment by the market players in the automotive sector for developing new enhanced semi-trailers with continuous research and efforts of the market players led to increase production of the vehicles.
Government support - Increased government support for developing of semi -trailers and creating awareness regarding utilization of the semi-trailer for transporting goods from one end to another and increased investment for producing the semi-trailers across the regions due to low emission of carbon and cost effective.
Segmental Insights
Type Insights
Type segment involves flatbed trailer, dry vans, refrigerated trailers, low boy trailers, tankers and others. Dry vans hold the highest position in semi-trailer with increased market rate in semi-trailer utilized in full truck load and less than truck load.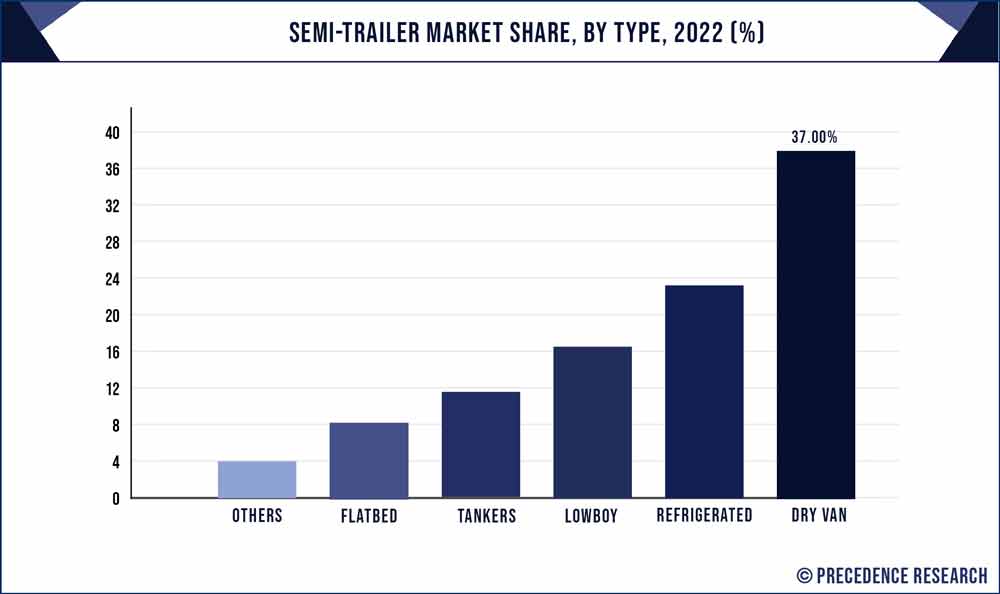 Flatbed trailers to be second highest position with increased market size and used in transporting heavy transportation of cargo, machinery equipment's, construction heavy materials. Moreover, refrigerated trailers to be in high demand due to increased products and pharmaceutical products that need to be stored at suitable cold chain temperature with enhanced market size.
Tonnage Insights
Tonnage segment divided in to 25T, 25 - 50T, 51 - 100T and above 100T. Below 25T tonnage semi-trailers used in transportation of goods such as dry vans, tankers refrigerated trailers high in demand due to reduced cost of transport. Below 25T is expecting to grow the market with increased transportation of goods with legally permit limits continue to grow with increased rate during the forecast period. The 25 - 50T segment is largely used in flat bed semi-trailers and low boy trailers.
End User Insights
End user segment includes in logistics, health care, oil and gas, automotive, chemical, Fast Moving Consumer Goods (FMCG), heavy industry. Increase wide applications of semi-trailer market in the developed regions in various sectors with improved goods transportation through semi-trailers and the daily consumer needs have boost the market of semi - trailer to a greater extent. FMCG is major role player in the semi - trailer for transporting the refrigerated goods which are sold faster with low rates due to short shelf life of the product thus increased transportation through semi-trailers.
Semi-trailer Market Share, By Region, 2022 (%)
| | |
| --- | --- |
| Regions | Revenue Share in 2022 (%) |
| North America | 28.70% |
| Asia Pacific | 36.40% |
| Europe | 23% |
| Latin America | 7% |
| MEA | 4.90% |
Geography Insights
North America to be largest region to increase the market size with rising fleet operations in the regions includes countries such as Mexico, Canada, US. Market players in involves in this region with increased focus for developing new technologies in the semi-trailer market.
Asia Pacific also to be the emerging region with increased market size with increased production and manufacturing and developing infrastructures and high investment for rising developments in semi-trailers with embedded systems with increased market size of semi - trailer. Other regions included are Europe, Latin America, Middle East and Africa with enhanced semi-trailer market growth.
Recent Developments
In the year 2021 June, Fruehauf introduced the launch of a new services teamed up with Telematics Leader Novacom.
In the year 2020 September, Auroras introduced services of distribution, operating knowledge aftermarket, Aurora parts, Great Dane, cutting edge digital platforms many more. With the agreements for developing the innovative ideas and solutions for transportations of the products with increased developments in the mobility.
Key Market Players
Utility Trailer
Wabash
Schmitz Cargobull
Kogel Trailer GmbH & Co.KG
Krone Commercial Vehicle Group
Great Dane Trailers
Fahrzeugwerk Bernard Krone
Fontaine Commercial Trailer, Inc
Lamberet SAS
China International Marine Containers (Group) Ltd
Hyundai Translead
Polar Tank Trailer, LLC
Segments Covered in the Report
(Note*: We offer report based on sub segments as well. Kindly, let us know if you are interested)
By Type
Tankers
Refrigerated
Dry Van
Lowboy
Flatbed
Others
By Length
Up to 45 feet
Above 45 feet
By Tonnage
Below 25T
25T - 50T
51T - 100T
Above 100T
By Axles
Below 3 axles
3 - 4 axles
4 axles
By End-Use
Logistics
Healthcare
Oil & gas
Automotive
Chemical
FMCG
Heavy Industry
Others
By Geography
North America
Europe
Asia-Pacific
Latin America
Middle East & Africa (MEA)