The global simulation software market size was estimated at USD 16.55 billion in 2022 and it is projected to hit around USD 40.5 billion by 2030 and is expected to grow at a CAGR of 11.83% during the forecast period 2022 to 2030.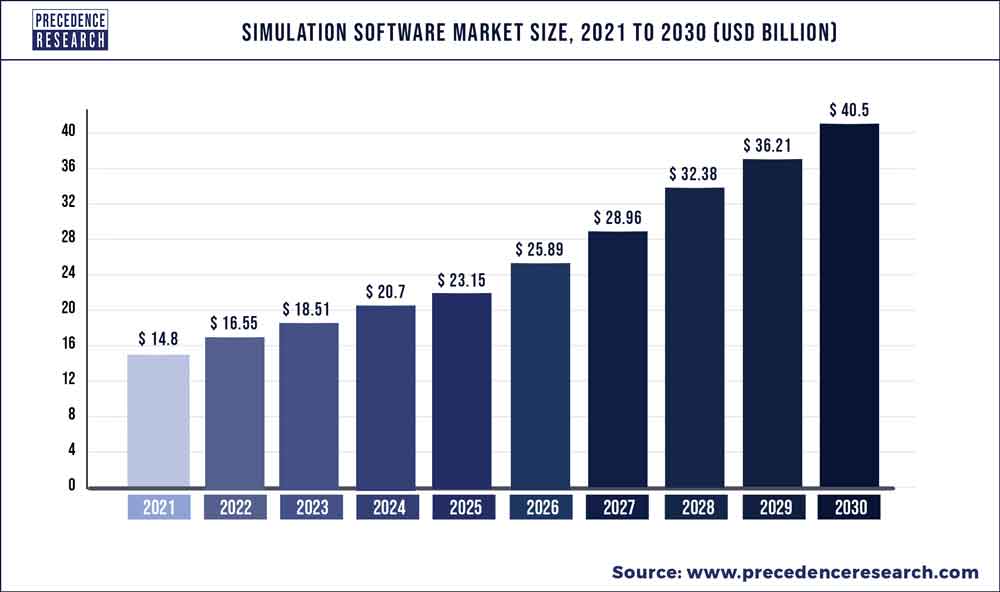 Access our Premium Real Time Data Intelligence Tool, Visit: Precedence Statistics
A simulation is a computer-based model that relies on physics and mathematics concepts. It makes it possible to create, test, and improve goods and solutions. It may also be seen as a tool with several uses, including gamification, product engineering, and research and development (R&D). Because it provides design verification and validation for R&D activities, businesses are drawn to simulation and analysis technologies. Simulated environments are helpful for learning and training because they are adaptable, speed up learning, and enhance fundamental skills. Enterprises are putting more of an emphasis on R&D efforts to stay competitive in the market.
The desire for cost-effective solutions to lower manufacturing costs and training costs is on the rise, and simulation software's capabilities are expanding in relation to cutting-edge technologies like digital twins, AR/VR, and 3D printing. Additionally, rising investments in sectors like aerospace and military as well as the need for simulation in the healthcare sector to create and deliver efficient vaccines for illnesses like COVID-19 are anticipated to fuel market expansion in the upcoming years.
There are several suppliers in the simulation software industry that offer software and services to process industries throughout the world. To increase their presence in the worldwide simulation software market, businesses like MSC Software, AVL, Siemens, PTC, and Dassault Systemes, among others, have chosen both organic and inorganic expansion tactics, including collaborations, agreements, and collaborations. In the area, a number of important suppliers are introducing fresh simulation-related products and improving those that already exist, which is anticipated to accelerate the expansion of the market for simulation software.
Report Scope of the Simulation Software Market
| | |
| --- | --- |
| Report Coverage | Details |
| Market Size in 2022 | USD 16.55 Billion |
| Market Size by 2030 | USD 40.5 Billion |
| Growth Rate from 2022 to 2030 | CAGR of 11.83% |
| Base Year | 2021 |
| Forecast Period | 2022 to 2030 |
| Segments Covered | Component, Deployment, Application, End Use, and Geography |
| Companies Mentioned | MathWorks (US), Autodesk (US), Ansys (US), Siemens AG (Germany), PTC (US), Dassault Systemes (France), Altair Engineering (US), MSC Software (US), Honeywell (US), Keysight Technologies (US), Aveva (UK), Spirent Communications (UK), Bentley Systems (US), Synopsys (Canada), AVL List GmbH (Austria), COMSOL (England), Certara (US), CAE (Presagis (Canada)), aPriori (US), PTV Group (Germany), AnyLogic (US), SimScale (Germany), Scalable Networks (US), Simul8 Corporation (UK), FlexSim (US), MOSIMTEC (US), Simio (US), ProSim (US), Cybernet (US), Cesim (Finland) |
Growth Factors
The desire for eco-friendly workplaces, a growth in the use of simulation software in the automotive and healthcare industries, and an increase in the usage of simulation in the aerospace and military industry are the main factors driving the worldwide simulation software market. Notably, as a result of its superior feature, it is widely employed in the research and education sectors, which may promote industry expansion throughout the course of the projection year.
Real-time simulation scenarios are also very cost-effective and time-efficient to produce, supporting and enhancing core business skills. This must thus have a favorable effect on market growth in the target market. Additionally, the simulation software aids in achieving error-free output in a production process, avoiding the manufacture of defective items and the related costs. Additionally, it reduces the amount of time needed for research and development tasks. The aforementioned advantages of simulation software are anticipated to fuel market expansion.
Key Market Drivers
Growing popularity of autonomous and electric vehicles (EVs)
One of the main reasons influencing the industry is the increased popularity of autonomous and electric cars (EVs) due to growing environmental concerns. The efficiency and efficacy of these vehicles are tested by the makers using simulation software, which mimics real-world conditions. In addition, the program supports the development of prototypes, their virtual testing, and the manufacture of error-free output by preventing the production of defective goods.
Additionally, it reduces the amount of time needed for research and development (R&D) tasks, which benefits the company's total sales. There is a broad usage of simulation software to eliminate the need for manually testing several prototypes, hence reducing the likelihood of product failure. This is due to a rapid growth in the costs associated with prototypes and curbing flaws of the present goods.
In addition, major investments are being made by top producers in the creation of technologies linked to artificial intelligence (AI). The need for simulation software is thus expected to increase globally as a result.
Significant adoption of simulation among aerospace & defense
One of the biggest end users of simulation has been the aerospace and defense sector, which employs modeling and simulation for a variety of tasks, including training individual soldiers, conducting joint training exercises, creating operational plans, developing doctrine and tactics, and examining different force structures.
The technology meets crucial defense requirements in the areas of manufacturing, electronics, command, control, and communications, as well as labor, people, and training. These defense models and simulations range widely, from simulations of missions and battles to system-level components of massive weapons systems. These important applications are the primary drivers of the expansion of the worldwide market for these sectors.
Key Market Challenges
Integrating software is becoming more difficult, and data security is becoming more of a problem
It happens frequently for developers and testers that a simulation model works well for testing but fails in real-world scenarios. These differences are referred to as data leaking. Sharing data from the training and test sets is a mistake known as data leaking. The training set comprises data that has already been processed by the system, whereas the test set should simulate never-before-seen data in a real-world context.
Since developers have access to both the train and test data sets, data leakage occurs often in most circumstances as a result of human error. Data leakage results in an unexpectedly high simulation outcome, which leads to businesses or organizations being duped into making decisions under real-world conditions. This affects both the simulation process and overall expenses.
Key Market Opportunities
Use of simulation software to create virtual real-time prototypes
The use of simulation software, which operates in a synthetic environment, enables businesses to test out novel concepts without taking any significant risks, while also maximizing computer performance and improving user insights and decision-making. As a result, it is widely employed in many important industries, including, manufacturing, healthcare aerospace, and tourism, among others, which is causing the simulation software market to rise.
Additionally, the market is growing due to the usage of technical innovations like artificial intelligence (AI) and machine learning in simulation software to increase productivity and optimize the goods.
Rising use of simulation in the medical research and education sector
The market is expanding because to the growing usage of simulation in the booming medical research and education industries. In order to teach professionals to acquire cognitive, technical, and behavioral skill-sets, simulation software is utilized in the medical field. This software enables the purposeful learning of clinical abilities.
In addition, the business for simulation software is expanding as a result of growing research in the field of medical simulation to enhance clinical practice. The coronavirus pandemic's spike is driving up demand for simulation training for first responders so they may evaluate and enhance their response to the dangerous disease. The need for software simulation in training for healthcare workers is also growing as the possibility of a new infectious epidemic increases, which is predicted to accelerate market expansion.
Segmental Insights
Component Insights
In 2021, the software category led the market in terms of components and was responsible for the biggest portion of worldwide revenue, or more than 72%. Throughout the projection period, the sector is anticipated to continue to dominate. This market's expansion may be linked to software's advantages, including data security, dependability, and continuous testing. Finite element analysis is also anticipated to significantly contribute to the growth of the software industry. To test for product quality, performance, and design, FEA is frequently used in the automotive, aerospace, defense, and electronics sectors.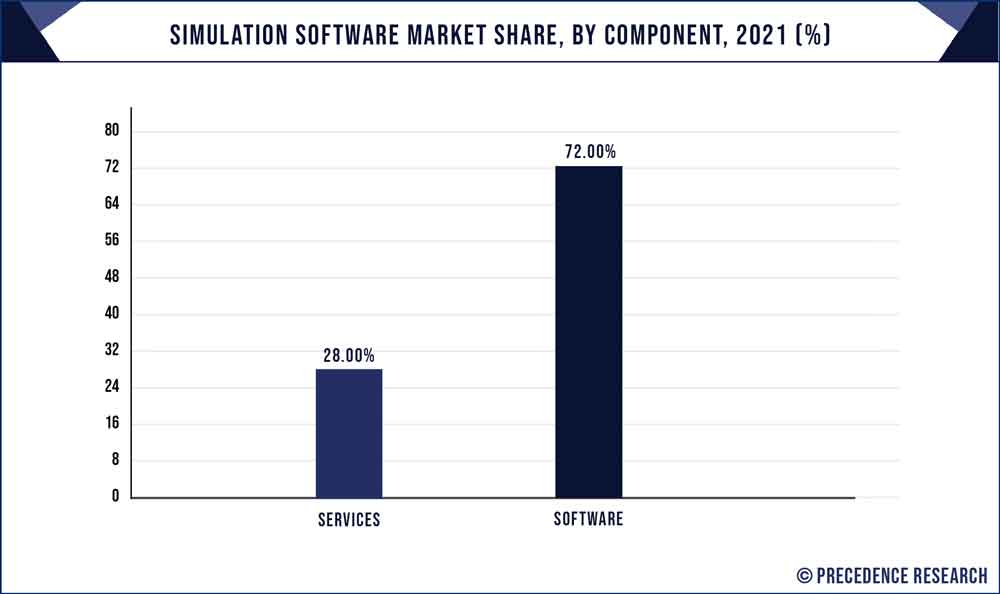 However, throughout the projected period, the service segment is anticipated to increase at the quickest rate. The segment's expansion can be ascribed to governments and businesses being more aware of the virtual procedures employed for product creation. Services like design and consultation, implementation, and maintenance are becoming more and more popular with different businesses. One of the major companies in the industry, ANSYS, Inc., offers expert advice and services for streamlining and compressing the simulation workflow.
Deployment Insights
In 2021, the market was dominated by the on-premise deployment segment, which accounted for the greatest share of more than 73% of worldwide revenue. The early adoption of the software was cited as the reason for the significant share of this market. The program is installed locally using the on-premise deployment technique, which has been used for a long time. This strategy is excellent for firms who desire to retain the secrecy of their data and secure the data from hackers.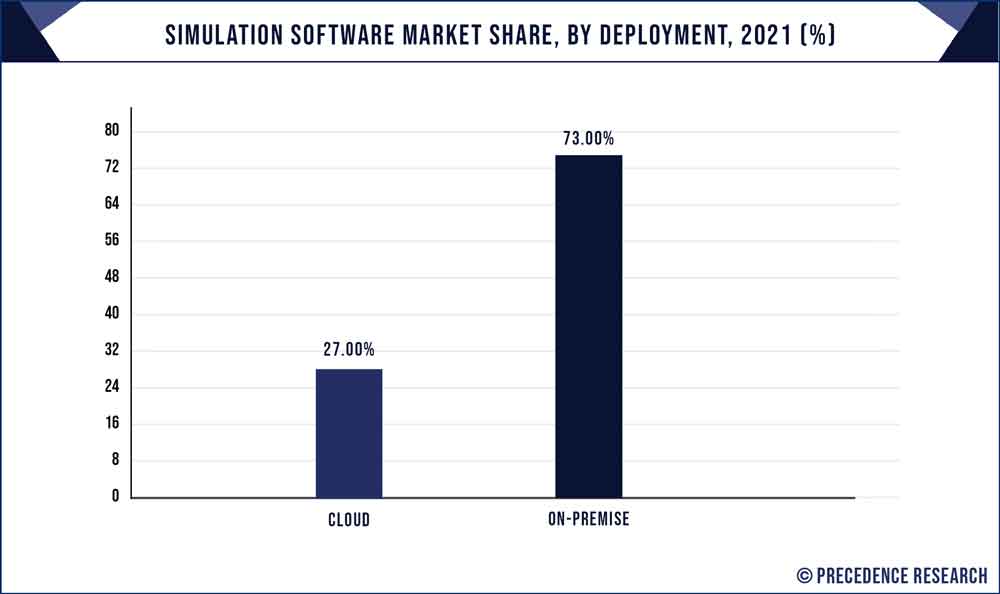 The main elements fostering the segment's expansion are these advantages pertaining to data security and confidentiality. By 2030, the market segment is anticipated to have the largest share. Over the next seven years, the fastest CAGR is anticipated for the cloud category. The advantages provided, including as simple setup and cost effectiveness as compared to conventional on-premise software, can be credited with the segment's rise. The software is simpler to maintain and upgrade based on customer needs because it is distributed via the cloud. Additionally, cloud-based software may be applied to projects like research and development and training and education.
Application Insights
With a market share of almost 37% in 2021, the engineering, research, modeling, and simulated testing sector led the industry. The large segment share is ascribed to the widespread usage of simulation software for product engineering, modeling, research, and testing by well-known end-use organizations like Airbus, Boeing, Volkswagen Group, and others. The need from customers for quick and cost-effective quality improvement is another factor driving the segment's rise. This enables businesses to launch new goods quickly and reduce warranty costs.
Additionally, the shift from physical prototyping to simulation is pervasive across many industries, and the massive investments in high-growth applications like clinical trials, autonomous, 5G, electrification, and the Industrial Internet of Things have increased the demand for modeling, designing, and simulated testing tools (IIoT). Furthermore, various businesses, like the military & defense, business, and others, have always been concerned about cyber dangers. Organizations now have access to cyber situational awareness thanks to the emergence of simulation technologies. Users may more easily spot harmful cyberattacks within that network because to this. Because of this, it is anticipated that there will be widespread adoption of cyber simulation tools, which will aid the segment's growth at a notable CAGR from 2022 to 2030.
End Use Insights
According to end-uses, the automotive sector dominated the market in 2021 and contributed more than 28% of total revenue. Early usage of virtual technologies for product development was credited with the increase. The usage of electric and autonomous cars is also changing within the automotive sector. The expansion of this market segment is largely being driven by the use of simulation to improve manufacturing processes in this industry.
Construction, retail, and telecommunications are just a few of the industries and sectors that are included in the other segment. Due to the usage of simulators in the design of both defense and aerospace equipment, the aerospace & defense segment is anticipated to expand at a sizable CAGR during the projected period. Simulators are also employed in the defense sector for army training. Government spending on new and improved defense equipment, which uses simulation software, has surged as a result of growing national security and anti-terrorism concerns. This has therefore helped this market sector to expand.
Simulation Software Market Share, By Region, 2021 (%)
| | |
| --- | --- |
| Regions | Revenue Share in 2021 (%) |
| North America | 35% |
| Asia Pacific | 25% |
| Europe | 31% |
| Latin America | 5% |
| MEA | 4% |
Geography Insights
North America led the market in 2021 and contributed 35% of total revenue. Due to the presence of significant players from the United States and Canada, the area is anticipated to maintain its dominance during the projected period. It has been noted that businesses in these nations spend in R&D initiatives to release technologically superior items on the market. Additionally, the area is renowned for being an early user of cutting-edge technologies. Over the course of the projection, the market is expected to grow at the quickest rate in Asia Pacific.
Recent Developments
May 2020. The original equipment manufacturer (OEM) agreement between Altair and Cray Inc. has been renewed. On new Cray systems created and delivered in accordance with the conditions of this agreement, PBS Professional will still be packaged as the recommended commercial scheduler.
May, 2020 Persistent Systems has reached an agreement to broaden its cooperation with Dassault Systèmes, which will enable it to increase its digital transformation capabilities throughout Northern Europe. Through this arrangement, industrial OEMs and suppliers will now have access to the Dassault Systèmes 3DEXPERIENCE platform. Customers may save costs, enhance supplier communication, boost agility, and gather more field data for next product versions.
Key Market Players
MathWorks (US)
Autodesk (US)
Ansys (US)
Siemens AG (Germany)
PTC (US)
Dassault Systemes (France)
Altair Engineering (US)
MSC Software (US)
Honeywell (US)
Keysight Technologies (US)
Aveva (UK)
Spirent Communications (UK)
Bentley Systems (US)
Synopsys (Canada)
AVL List GmbH (Austria)
COMSOL (England)
Certara (US)
CAE (Presagis (Canada))
aPriori (US)
PTV Group (Germany)
AnyLogic (US)
SimScale (Germany)
Scalable Networks (US)
Simul8 Corporation (UK)
FlexSim (US)
MOSIMTEC (US)
Simio (US)
ProSim (US)
Cybernet (US)
Cesim (Finland)
Market Segmentation
(Note*: We offer report based on sub segments as well. Kindly, let us know if you are interested)
By Component
Software
Services

Simulation Development Services
Training and Support & Maintenance
By Deployment
By Application
Engineering, Research, Modeling & Simulated Testing
Gaming & Immersive Experiences
High Fidelity Experiential 3D Training
AI Training & Autonomous Systems
Manufacturing Process Optimization
Planning And Logistics Management & Transportation
Cyber Simulation
By End Use
Automotive
Industrial

Oil & Gas
Mining
Energy & Utilities
Others

Electronics & Semiconductor
Aerospace & Defense
Healthcare
Transportation & Logistics
Others
By Geography
North America
Europe
Asia-Pacific
Latin America
Middle East & Africa (MEA)