The global single cell oil market size was estimated at USD 74.19 billion in 2022 and is projected to hit around USD 726.4 billion by 2032, poised to grow at a CAGR of 25.62% during the forecast period from 2023 to 2032. The Asia Pacific region is expected to expand at a remarkable CAGR of 17.13% from 2023 to 2032.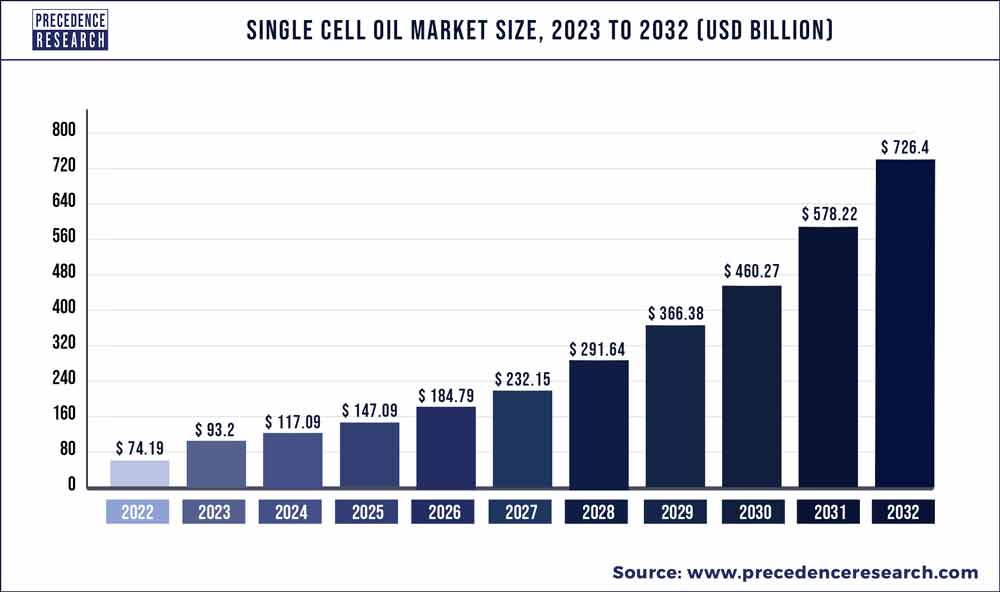 Market Overview:
The edible oils derived from microorganisms, which are single-celled creatures at the base of the food chain, are known as single-cell oils (SCO). Algae, bacteria, and yeast are single-celled organisms. The body makes lipids from building blocks like carbs for the survival and metabolism of its cells. Oleaginous microorganisms include bacteria (Bacillus), yeasts, molds, and algae that may collect lipid in amounts more than 20% of their biomass. Microbial lipids are comparable to plant oils in kind and makeup.
In oleaginous microorganisms, lipid buildup happens when the cell is starved of nitrogen or other nutrients besides carbon, such as phosphorus, zinc, iron, and magnesium. Beginning at the end of the logarithmic phase, lipid body development continues throughout the station phase until the carbon source starts to decline. Due to their similar fatty acid composition and structure to plant oil, microbial oil has the potential to be used in the manufacturing of biodiesel.
The main focus is on producing biodiesel from inexpensive substrates. Nowadays, burning rice straw and maize stalks in farms increases air pollution, has an adverse impact on public health, and uses up energy resources. If biodiesel can be made from plant and forestry waste, there will be environmental advantages in addition to financial ones.
Growth Factors:
The enormous energy demand of the modern industrialized world coupled with the extensive use of fossil fuels like coal, oil, and natural gas has led to an increase in pollution, making the development of renewable energy sources like biodiesel imperative. The demand for biofuels has also increased as a result of the global warming catastrophe brought on by excessive CO2 emissions from fossil fuels.
Burning biodiesel emits less harmful particles into the atmosphere than burning fossil fuels, which lessens the carcinogenic consequences of these fuels. These particles include hydrocarbons, carbon monoxide, sulphate oxides, and other hazardous compounds. These various factors will go the demand for the single cell oil market.
The synthesis process of petroleum or microbial fermentation both yield glycerol. Moreover, it can be found as the primary by-product of soap production, and the production of biodiesel results in the accumulation of large amounts of water that contains glycerol. The cosmetics, pharmaceutical, paints, food, leather, and textile sectors all use pure glycerol in a variety of ways this significant role increases the demand for the single cell oil market.
Report Scope of the Single Cell Oil Market:
| | |
| --- | --- |
| Report Coverage | Details |
| Market Size in 2023 | USD 93.2 Billion |
| Market Size by 2032 | USD 726.4 Billion |
| Growth Rate from 2023 to 2032 | CAGR of 25.62% |
| Largest Market | Asia Pacific |
| Base Year | 2022 |
| Forecast Period | 2023 to 2032 |
| Segments Covered | By Micro-Organisms and By Application |
| Regions Covered | North America, Europe, Asia-Pacific, Latin America and Middle East & Africa |

Market Dynamic:
Driver: Growing demand for biodiesel
New market players should benefit from the demand-supply imbalance brought on by limited production capacity and the significant room for R&D in feedstock selection for product manufacturing. One of the main factors influencing the market is the rising demand for environmentally friendly fuels that guarantee complete combustion and can lower Greenhouse Gas (GHG) emissions. The demand is also being fueled by biodiesel's high degree of compatibility with current diesel engines.
The demand for biodiesel is anticipated to rise as a result of the growing population and associated increase in the number of automobiles and other sectors using the fuel. Because to its lower GHG emissions, biodiesel is in high demand in the automotive industry. As a result, it is anticipated that during the projected period, demand will increase in the United States. One of the biggest soy producers is the United States. After being crushed, soy is utilized as a feedstock for biodiesel.
The main feedstock for the production of biodiesel in March 2017 was soybean oil, which made up 360 million pounds of the total 857 million pounds of feedstock. Corn oil and canola oil were the next two major feedstocks. Emerging nations like India, China, Brazil, and certain EU nations want to replace 10 to 20% of all fossil-based fuels used in the transportation sector with biodiesel.
Restrain: Performance concern
For social and environmental reasons, replacing conventional fuels with biodiesel mixes is thought to be absolutely essential; yet, if used in automobiles, there may be issues. When compared to pure fossil fuels, one such example is the rise in water separation and fuel foaming. Moreover, due to the production of low-molecular weight acids, blending with low-stability biodiesel may result in increased amounts of injector deposits and corrosion.
Manufacturers of fuel injection equipment and original equipment manufacturers have both complained about this kind of damage in the field. Additionally, using low-quality biodiesel blends has been linked to a significant loss of power in sophisticated direct injection engines.
Opportunity: Increase in investment and government fund
Additionally, it is predicted that the market will benefit greatly from technological developments in single-cell analysis products along with rising research and development efforts in the pharmaceutical and biotechnology sectors. Many market expansion chances will also be provided by the rise in government and private investments in the field of medical diagnostics as well as the development of single-cell amplification and modification techniques that lead to the use of high throughput technologies in assays.
Impact of Covid-19:
Due to supply chain interruptions in the pharmaceutical, aquaculture, and animal feed industries, the COVID-19 pandemic was said to have had a severe effect on the single cell oil industry. Yet, prospects for the sector to recover are likely to arise with the start of company activities and strong government backing. The U.S. Department of Energy stated in January 2023 that it will invest more than USD 118 million in 17 projects with the goal of boosting the production of sustainable biofuels for the country's industry and transportation needs.
Networks of supply chains were interrupted by the pandemic, and additional difficulties arose as a result of social norms that mandated constant lockdowns. Demand for SCO decreased as a result of the global crisis' extraordinary repercussions on numerous end-user industries, notably the food and beverage sector. Notwithstanding the effects of the pandemic, it is projected that the industry would have significant growth supported by new technical developments. Several food and feed producers are looking to SCO to increase productivity and transition away from animal farming and towards a high-tech protein harvest.
Segments Insight:
Micro-Organisms Insights:
It has been noted that the production of single cell extensively utilizes both algae and fungi. It has been noted that these two categories of microorganisms account for more than 60% of all dried cell extraction. The usage of yeast and algae in the production of single cell has increased by 4% as a result of the presence of autotrophic characteristics.
The pharmaceutical industry uses dried bacteria extracts extensively. In the production of dietary supplements and fodder, several microorganisms including yeast and bacteria are employed. Algae, fungi, and yeast are widely employed to increase the nutritional value of food products, while dried bacteria extract is utilized in the production of medications.
Application Insights:
The increasing demand for meat and meat products has put more strain on animal agriculture, demanding the production of poultry with higher standards. Livestock producers are drawn to novel products to enhance the overall quality of meat in an effort to maximize poultry output. Due to SCO's capacity to enhance animal health, enhance fertility, immune response, weight management, and offer a glossy coat and healthier skin, it has consequently become a crucial component.
Strong R&D investment is being made in the food protein sector throughout the region, and businesses are participating in cutting-edge technological innovation. For instance, strains of genetically modified organisms are created using single cell proteins that come from and are generated from microbes. Growing consumer awareness of higher-quality foods and goods produced using SCOs will help the local economy. The region also consumes a lot of meat and poultry products, which affects the need for the components in animal feed.
Regional Insights:
The region's rapidly expanding vegetarian population is replacing fish oil with single cell oils as they become more knowledgeable about their advantages. In historically meat-eating nations like Japan, which started drafting Japan Agricultural Standards (AGS) for vegan and vegetarian processed goods in the nation in June 2021, the consumer demography of vegetarians is also growing.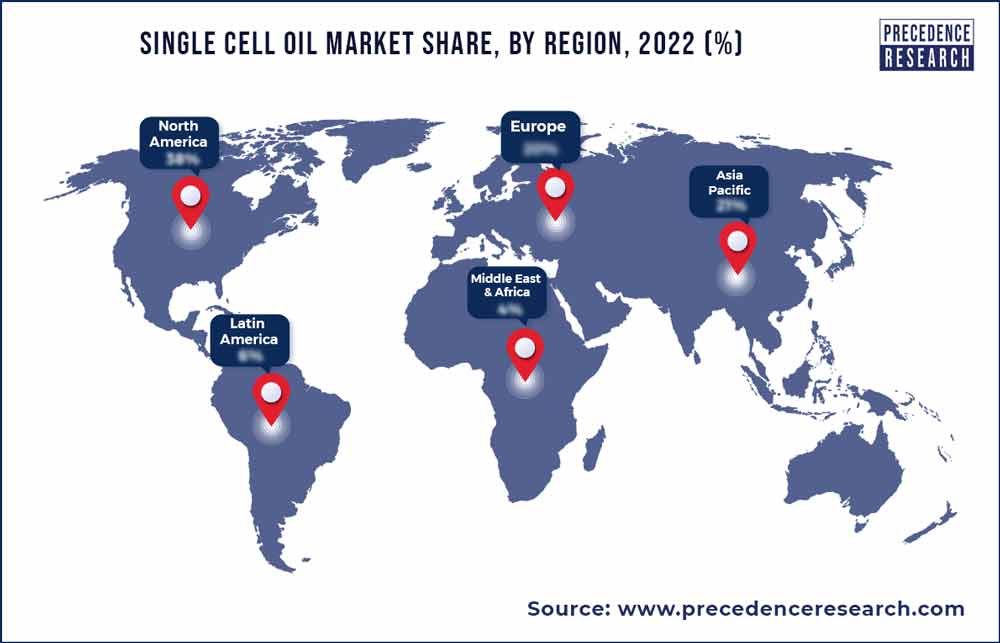 With the increasing use of SCOs as fish oil alternatives, the Asia Pacific single cell oil market is anticipated to increase at a rate of over 17.13% CAGR from 2023 to 2032. Because to the significant demand for oils obtained from single cell microorganisms, a number of sectors, including functional oil, infant formula, and fish oil alternatives, have experienced tremendous growth in the region in recent years.
Recent Development:
A US-based business that specializes in clinical diagnostics and life science research, Bio-Rad Laboratories, Inc., bought Celsee Inc. in April 2020 for an unknown sum. With this acquisition, Bio-Rad Laboratories has increased its position in single-cell analysis, to give vital insights into the diagnosis and treatment of disease. Single cell detection, separation, and analysis tools and supplies are offered by US-based Celsee, Inc.
Key Market Player:
Goerlich Pharma GmbH
Cellana Inc.
Alltech
Royal DSM NV
Xiamen Huison Biotech Co.Ltd.
DIC Corporation
Cargill Incorporated
Segment Covered in Report:
(Note*: We offer report based on sub segments as well. Kindly, let us know if you are interested)
By Micro-Organisms
Bacteria
Yeast
Microalgae
Fungal
By Application
Bio-Fuel Feedstock
Fish Oil Substitute
Functional Oils
Animal Feed
Infant Formulae
Pharmaceutical Products
Aquaculture
By Geography
North America
Europe
Asia-Pacific
Latin America
The Middle East and Africa