The global dietary supplements market size was estimated at US$ 164.2 billion in 2022 and is expected to hit US$ 346.36 billion by 2032, with a CAGR of 7.8% during the estimated period 2023 to 2032.
Dietary supplements comprise such ingredients as minerals, vitamins, amino acids, enzymes, and herbs. These nutritional supplements are sold in forms such as capsules, tablets, gel caps, soft gels, liquids, and powders. Unlike drugs, nutritional supplements are not allowed to be promoted for the purpose of diagnosing, treating, curing, or preventing illnesses.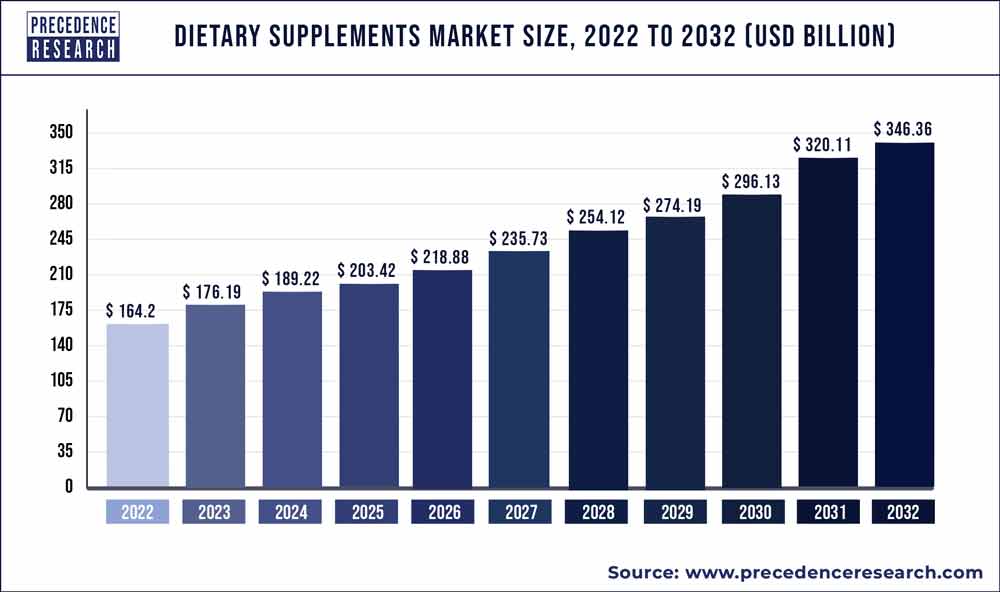 Access our Premium Real Time Data Intelligence Tool, Visit: Precedence Statistics
Key Takeaway:
By ingredient, the vitamin segment accounted for 31.4% of the total revenue share in 2022.
The botanical ingredient segment is expected to reach a CAGR of 9.3% during the forecast period.
The proteins and amino acids segment is poised to hit a CAGR of 13.5% between 2023 to 2032.
By form, the tablets segment has generated 33.9% of the total revenue share in 2022.
The liquid form segment is growing at a CAGR of 12.4% between the forecast period 2023 to 2032.
By application, the energy and weight management segment has dominated the market with a revenue share of 30.8% in 2022.
The immunity application segment is expected to witness a CAGR of around 8.9%.
By type, the OTC type segment accounted for 75.8% of revenue share in 2022.
The prescribed dietary supplements segment is growing at a CAGR of 9.7% during the forecast period.
By end-user, the adult segment has captured the highest revenue share of 46.7% in 2022.
By distribution channel, the offline segment has held a revenue share of over 82% in 2022.
In the offline segment, the supermarket and hypermarket segment accounted for 34.2% in 2022.
The North American region has dominated the market with a revenue share of 35.4% in 2022 and growing at a CAGR of 5.8% from 2023 to 2032.
COVID-19 Impact on Global Dietary Supplements Market
Pharmaceutical and dietary supplements supply chains are struggling on a global scale to keep pace with the rapid spread of the COVID-19 virus. Most of the companies have their manufacturing units in Asia. The disruption in the supply chain due to the COVID-19 pandemic has caused a slump in the availability of dietary supplement supplies across the globe.
The disruptive effects of the novel coronavirus pandemic have placed an enormous strain on the global supply of dietary supplement products, thus increasing the risk of shortages. Although production across various industries in Asia has gradually resumed, the U.S. pharmaceutical and dietary supplement manufacturers, which heavily source directly and indirectly from Asia, are exposed to high risks in supply shortages. However, the COVID-19 pandemic has also presented growth opportunities for the manufacturers of dietary supplements as the focus has shifted towards consumption of supplements such as multi-vitamins, omega-3 fatty acids, and protein supplements for maintaining a stronger immunity.
Dietary Supplements Market Scope
| | |
| --- | --- |
| Report Highlights | Details |
| Market Size in 2023 | US$ 176.19 Billion |
| Market Size by 2032 | US$ 346.36 Billion |
| Growth Rate from 2023 to 2032 | CAGR of 7.8% |
| Base Year | 2022 |
| Forecast Period | 2023 to 2032 |
| Segments Covered | By Ingredient, By Form, By Application, By End User, By Type, By Distribution Channel and By Function |
| Regional Scope | North America, Europe, Asia Pacific, Latin America, Middle East & Africa (MEA) |
| Companies Mentioned | Bayer, NBTY Inc, Bionova Lifesciences, Nu Skin Enterprises, Carlyle Group, Pfizer, Glanbia, Herbalife International, Abbott Laboratories, GlaxoSmithKline, Nature's Sunshine Forms, Amway, Archer Daniels Midland |
Crucial factors accountable for market growth are:
Increasing disposable income
Growing awareness regarding health and well-being
Increasing prevalence of lifestyle and diet-related disorders
An increasing number of gyms in developing regions.
Market Dynamics
Driver
Growing emphasis on organics products
Organic products are subject to strict regulations and certifications that ensure their safety, authenticity, and quality. Consumers are willing to pay a premium for organic supplements because they trust that these products have undergone rigorous testing and adhere to organic standards. Consumers are becoming more health-conscious and are actively seeking products that promote overall well-being. They are actively seeking transparency in product ingredients and sourcing, further fueling the demand for organic alternatives. Many governments around the world are promoting organic agriculture and incentivizing the production and consumption of organic products. This support has contributed to increased availability and variety of organic dietary supplements in the market. Thus, the rising emphasis on organics products fuels the growth of the market.
For instance, in November 2022, Jollywell announced the launch of a new range of plant-based and clean products in its dietary supplement line. The newly launched supplements are scientifically formed with good and natural ingredients to make it safer for consumption without any risk of side effects.
Restraint
Regulatory hurdles
Dietary supplements must stick to specific labeling and regulatory requirements to provide accurate and transparent information to consumers. Claims made about the supplements' health benefits must be supported by scientific evidence, which can limit how companies market their products. Regulatory agencies may require dietary supplement manufacturers to follow Good Manufacturing Practices (GMPs) to ensure product quality and safety. Meeting these standards can be challenging for smaller companies or those operating in developing regions. Companies are often required to report any adverse events associated with their products. This reporting process can be burdensome and may lead to increased scrutiny from regulatory authorities. Different countries have varying regulations for dietary supplements, making it challenging for companies to navigate global markets. Compliance with multiple regulatory frameworks can add complexity to exporting and importing dietary supplements. Thus, such regulatory hurdles are observed to create a restraint for the market.
Opportunity
Booming e-commerce market
E-commerce platforms allow dietary supplement companies to reach consumers worldwide. This expanded reach opens up markets that were previously difficult to access through traditional retail channels. Companies can target customers in various regions and countries without the need for establishing physical stores or distribution networks in each location. Online stores operate 24/7, providing customers with the flexibility to shop at any time. This accessibility removes the limitations of physical store hours and enables consumers to make purchases at their convenience, even in different time zones. Thus, the booming e-commerce market across the globe is observed to open opportunities for the market.
Challenge
Misinformation and false claims
Health professionals may become wary of recommending dietary supplements to their patients due to the prevalence of false claims. This reluctance can prevent people who could benefit from certain supplements from receiving appropriate guidance. Companies that make false claims about their products may face legal consequences from regulatory authorities, such as the U.S. Food and Drug Administration (FDA) or the Federal Trade Commission (FTC), resulting in fines and reputational damage. False claims can lead consumers to believe that certain dietary supplements are effective and safe when they may not be. This can lead to individuals taking supplements that could potentially be harmful or interact negatively with other medications they are taking. Thus, the misinformation about the product and false claims creates a challenge for the market's growth.
Significant Market Trends:
Vitamins Segment Reported Foremost Market Stake in 2022
The vitamins segment displayed a major share in the worldwide dietary supplements market in 2022. Multivitamins are the most frequently used dietary supplements worldwide. Their acceptance has augmented rapidly in the earlier few years. Many studies have suggested that multivitamins can enhance health, reimburse for unhealthy eating ways, and also lessen risk of developing chronic ailments. Moreover, factors such as easy availability and low cost augment the demand for vitamins.
Omega fatty acids are expected to grow at highest CAGR within the forecast time-duration.
Tablets Dominated the Market Revenue By Form in 2022
Dietary supplements can be obtained over-the-counter and are also sold through e-commerce sites. These supplements are predominantly consumed in the form of tablets due to ease of storage and consumption. Moreover, higher shelf life and easy packaging also contributes to the high popularity of dietary supplement tablets.
Weight Management Application Will Dominate the Dietary Supplements Market Revenue
Factors such as increasing focus on weight loss and physical appearance augment the requirement for weight management dietary supplements. Moreover, growing popularity of social media platforms and online weight loss programs are expected to retain the high market share of weigh management segment in the near future.
Adults Dominated the Dietary Supplements Market Revenue by End User
Dietary supplements such as protein shakes, multivitamins and multi-minerals, omega fatty acids, fibers, complex carbohydrates are extremely popular in the health-conscious adult population all over the world. Moreover, increasing popularity of gyms in the developing regions is likely to maintain the strong growth of adult's segment.
North America is Estimated to be the Largest Market for Dietary Supplements
The comprehensive research account covers substantial projections and inclinations of dietary supplements throughout chief regions encompassing Africa, Asia Pacific, Europe, Latin America, North America, Middle East, and. By region, dietary supplements market is led by North America due to presence of major manufacturers, high disposable income, and increasing focus on physical appearance. Europe accounted for subsequent highest stake chiefly due to high geriatric population and increasing prevalence of chronic disorders. Asia Pacific is anticipated to grow at the fastest CAGR majorly due to increasing popularity of social media, increasing awareness regarding importance of health and well-being, and the growing middle-class population. Middle East, Latin America, and African region is expected to exhibit note-worthy growth in the projected time-frame.
Dietary Supplements Market Players
The companies focusing on research and development are expected to lead the global dietary supplements market. Leading competitors contending in global dietary supplements market are as follows:
Bayer
NBTY Inc
Bionova Lifesciences
Nu Skin Enterprises
Carlyle Group
Pfizer
Arkopharma Laboratoires Pharmaceutiques
Glanbia
Herbalife International
Abbott Laboratories
GlaxoSmithKline
Nature's Sunshine Forms
Amway
Archer Daniels Midland
In order to well recognize the present status of dietary supplements, and policies implemented by the foremost nations, Precedence Research projected the future progress of the dietary supplements market. This research report bids quantitative and qualitative insights on dietary supplements market and valuation of market size and progress trend for probable market segments.
Major Market Segments Covered:
By Ingredient
Vitamins
Minerals
Fibers & Specialty Carbohydrates
Omega Fatty Acids
Botanicals
Proteins & Amino Acids
Others
By Form
Capsules
Tablets
Gummies
Soft gels
Liquids
Powders
Others
By Application
Energy & Weight Management
Bone & Joint Health
Diabetes
General Health
Immunity
Cardiac Health
Gastrointestinal Health
Anti-cancer
Lungs Detox/Cleanse
Sexual Health
Brain/Mental Health
Skin/Hair/Nails
Insomnia
Anti-aging
Menopause
Prenatal Health
Others
By End User
Adults
Geriatric
Pregnant Women
Children
Infants
By Type
By Distribution Channel
Offline

Hypermarkets/Supermarkets
Pharmacies
Specialty Stores
Practioner
Others

Online
By Function
Additional supplements
Medicinal supplements
Sports nutrition
By Geography
North America
Europe

Germany
France
United Kingdom
Rest of Europe

Asia Pacific

China
Japan
India
Southeast Asia
Rest of Asia Pacific

Latin America

Brazil
Rest of Latin America

Middle East & Africa (MEA)

GCC
North Africa
South Africa
Rest of Middle East & Africa