The global dietary fibers market size was estimated at USD 6.80 billion in 2022 and is expected to hit around USD 16.32 billion by 2032, poised to grow at a compound annual growth rate (CAGR) of 9.20% from 2023 to 2032.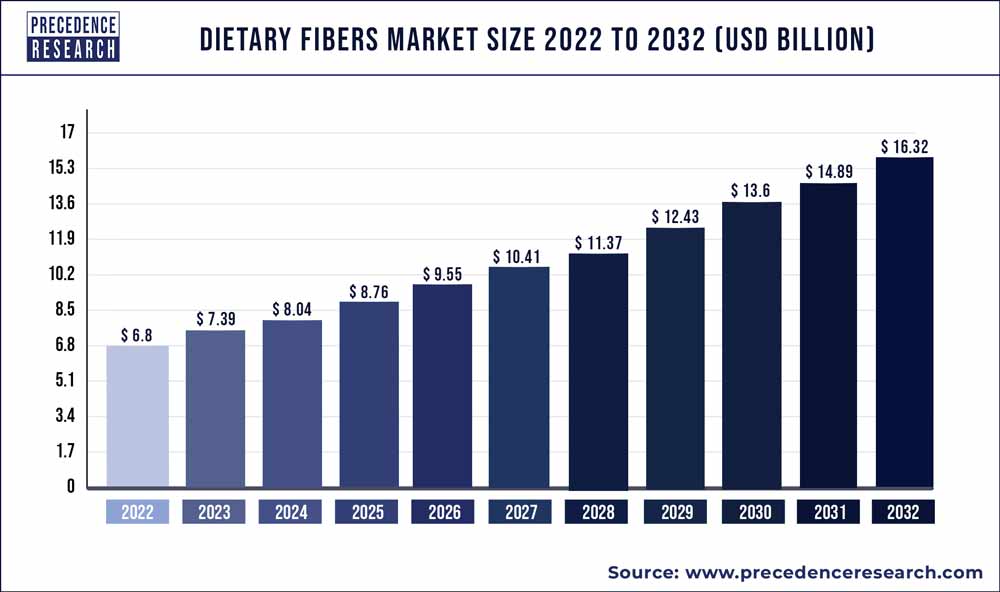 Key Takeaways:
Asia Pacific has accounted highest market share 42% in 2022.

By product, the soluble dietary fibers segment has contributed 58% of market share in 2022.

The food & beverage application segment registered 46% market share in 2022.

The animal feed application is expected to reach at a CAGR of 10% over the forecast period 2023 to 2032.
Dietary fibers are carbohydrate polysaccharides that, when consumed, are not completely broken down by gastrointestinal enzymes. As a result, they absorb water and ferment, which encourages the growth of good bacteria in the colon. Whole grain foods, fruit, and vegetables all include dietary fiber. Plant chemicals or inedible components are used to make fiber. Dietary fibers are found in many different types of food and are mostly produced from plant foods including fruits, vegetables, and legumes. These fibers aid in the body's waste removal, lower blood sugar and cholesterol levels to lower the risk of diabetes and heart disease and maintain healthy weight. Various businesses, including medicines, food & beverage, and animal feed, can benefit from dietary fibers.
Increased public knowledge of the health benefits of dietary fiber, along with an increase in the number of urban residents, is anticipated to create a sizable growth opportunity. Because more women are working and have more disposable income, the market for dietary fibers is anticipated to expand.
Growing consumer awareness of the importance of eating well and leading an active lifestyle is predicted to increase product demand, which will fuel market expansion in the years to come. The prevalence of heart disease, cancer, and diabetes has raised customer preference for fiber-based dietary items with additional health advantages.
Report Scope of the Dietary Fibers Market
Report Coverage
Details
Market Size in 2023
USD 7.39 Billion

Market Size by 2032

USD 16.32 Billion

Growth Rate from 2023 to 2032
CAGR of 9.20%
Base Year
2022
Forecast Period
2023 to 2032
Market Segmentation

By Raw Material

Fruits & vegetables

Apple

Banana

Pear

Grapefruit

Raspberry

Garlic

Okra

Carrot

Potato

Beet

Cereals & grains

Soy

Oats

Wheat

Rice

Barley

Legumes

Nuts & seeds

Almonds

Flaxseeds

Peanuts

Psyllium

Sunflowers

By Product

Soluble Dietary Fibers

Inulin

Pectin

Beta-Glucan

Corn Fibers

Others

Insoluble Dietary Fibers

Cellulose

Hemicellulose

Chitin & Chitosan

Lignin

Oat Bran

Wheat Fiber

Others

By Application

Food & Beverages

Pharmaceuticals

Animal Feed

Others

By Processing Treatment

Extrusion cooking

Canning

Grinding

Boiling

Frying

Regions Covered

North America
Europe
Asia Pacific
Latin America
Middle East & Africa

Companies Mentioned

ADM

Lonza

Roquette Frères

Puris

Emsland Group

Cargill, Incorporated

DuPont

Kerry Inc.

The Green Labs LLC

Nexira

Ingredion Incorporated

Tate & Lyle

Farbest Brands

Taiyo International

AGT Food and Ingredients

Batory Foods

Growth Factors
The proportion of the gut flora is regulated by soluble dietary fibers, which also serve as prebiotics. These dietary fibers contain hypocholesterolemic properties that aid in regulating and lowering blood sugar and cholesterol levels. Nuts, cereals like oats, and fruits and vegetables are the main sources of soluble dietary fibers.
It is anticipated that the demand for dietary fiber would increase as people throughout the world become more aware of its health advantages. Additionally, it was anticipated that the market for dietary fiber would expand as consumer demand for fiber supplements grew as a result of health issues. The rising public preference for a healthier way of life has significantly contributed to the market's expansion. With the growth of the food and nutrition industry, dietary fiber is in greater demand on the global market. As a result, it is anticipated that in the years to come, there will be an increase in global demand for dietary fiber. The work of nutritionists and doctors to promote the value of having a balanced diet has been mirrored in the rising demand for healthy foods. Pediatricians urge parents to feed their children foods high in dietary fiber. Additionally, it is anticipated that the dietary fiber industry will be considerably impacted by changes in consumer behavior brought on by higher disposable income. Men are greatly affected by obesity and diabetes because of their busy consumer lifestyles. This has increased people's knowledge of wholesome foods and supplements. This dominates the market for dietary fiber. Additionally, the introduction of functional foods into eating habits, the scarcity of high-quality fruits and vegetables, and the global demand.
A growing number of consumers are becoming health-conscious, and the market has increased its application base due to the ease with which production may be started. Other significant factors include increased demand for fiber supplements, changing lifestyles, and higher disposable income.
Dietary fibers are advantageous for muscle performance, endurance, and muscle regeneration before to, during, and following exercise. Dietary fiber producers are now having access to markets in the nutraceutical and sports nutrition sectors thanks to dietary fiber-rich meals. That helps in growing the dietary fiber market.
Product Insights
Depending upon the product type, the soluble segment is the dominant player and is anticipated to have the biggest impact on dietary fiber. This kind of fiber breaks down in water to create a gel-like substance. It can aid in lowering blood sugar and cholesterol levels. Oats, peas, beans, apples, citrus fruits, carrots, barley, and psyllium all contain soluble fiber. reducing fat absorption and aiding in weight management Soluble fiber inhibits fats that might otherwise be digested and absorbed by forming a thick, spread-out gel. Soluble fiber slows down the digestion of other nutrients, including carbohydrates, while preventing the absorption of lipids. Soluble fiber-rich meals can potentially reduce high blood sugar spikes by making them less likely to occur.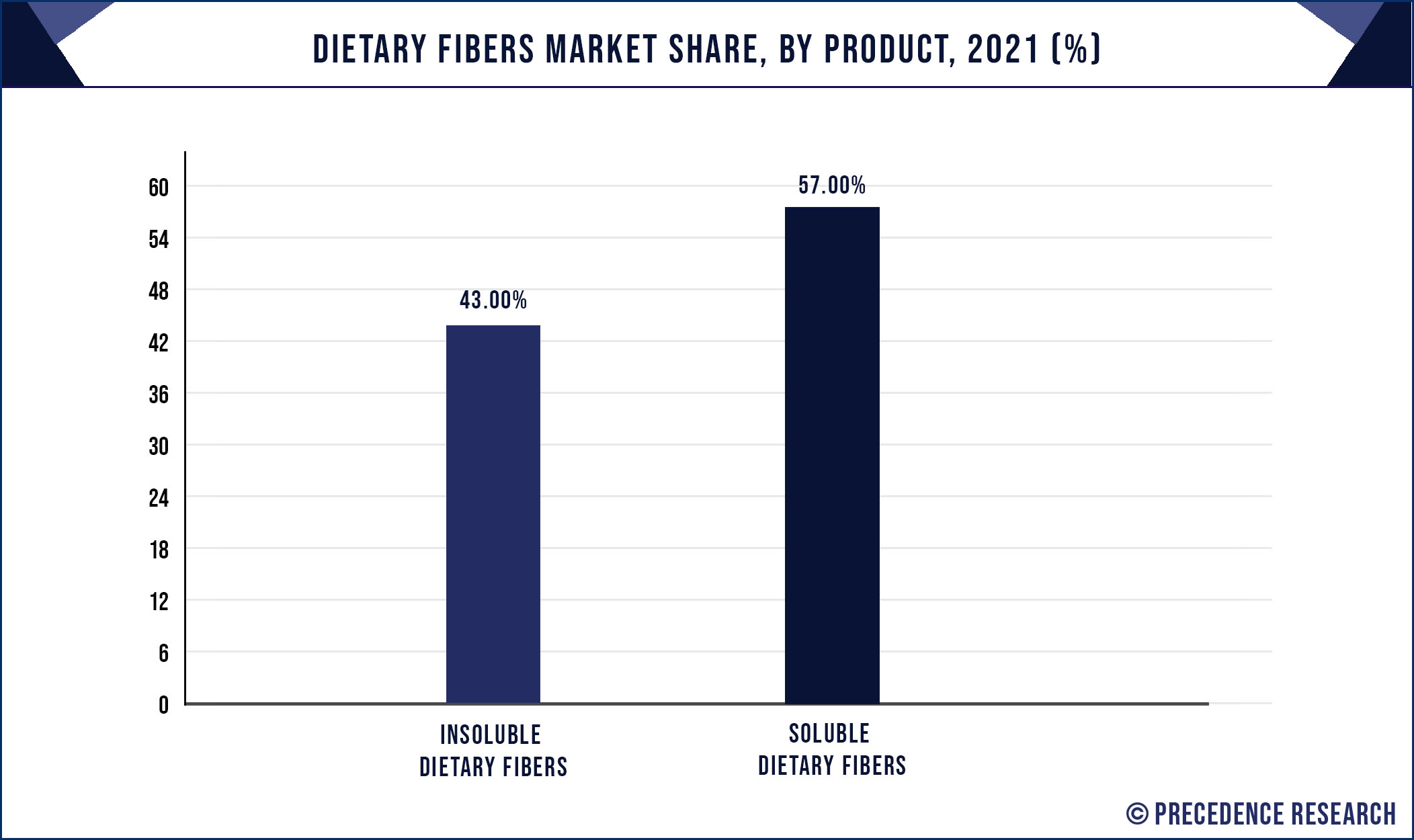 Due to the expanding popularity of functional foods, rising consumer health consciousness, and changing dietary habits, insoluble dietary fibers are anticipated to grow at the quickest rate throughout the forecast period. Additionally, insoluble dietary fibers from oats, wheat, maize, potatoes, peas, rice, and legumes help lower the risk of developing a number of health conditions, including obesity, hyperglycemia, constipation, high cholesterol, and high blood pressure. Various food applications, including those involving chicken items, baked foods, and meat products, use cellulose. Here, cellulose fibers with a high ability to hold water and oil are used in applications involving processed meat to maintain moisture levels in the end products, whereas cellulose with a low capacity to absorb water is used to provide fiber to items like bread, cakes, and pastries.
Application Insights
During the projected period, the pharmaceuticals segment is anticipated to be the largest in the dietary fibers market. The processes of absorption and plasma clearance, which can be impacted by the presence of specific dietary components in the gastrointestinal tract, are what determine how bioavailable medications are when taken orally. Over the past few years, knowledge about how food affects medicine absorption has grown. More individuals are living sedentary lifestyles as a result of increased urbanization, which is raising the incidence of obesity and chronic diseases. By regulating how the body uses sugar, foods high in soluble fiber, such as oatmeal, beans, almonds, apples, and many others, help to control blood sugar levels and appetite. In order to lead a healthy lifestyle, dietary fiber consumption is increasing, which will drive the market for the product. Hence, the demand of dietary fibers in pharmaceutical industry is increasing.
The market is significantly led by the application category for food and beverages. One of the main elements driving up demand for the product is consumer faith in the health advantages of dietary fiber. Furthermore, over the coming few years, the market is expected to be driven by the rising need for nutritious and useful food products. Due to their increased nutritional profile, breakfast cereals are in high demand in the food industry. The strong demand is also attributed to customers' growing health worries about the negative impacts of processed food and fast food as well as excessive calorie consumption.
Dietary Fibers Market Share, By Region, 2022 (%)
| | |
| --- | --- |
| Regions | Revenue Share in 2022 (%) |
| North America | 32.3% |
| Asia Pacific | 42% |
| Europe | 16.4% |
| Latin America | 5.3% |
| MEA | 4% |

Regional Insights
The highest market share and dominant position in the dietary fibers industry belongs to North America due to high demand for dietary fiber products in the region. This region includes U.S. and Canada. It is projected that the market in North America would expand. This can be ascribed to the increase in the intake of food products with nutritional additives. In addition, the region's urban population is expanding and recent economic development has resulted in significant changes in dietary and lifestyle habits. The market in North America is being driven by a number of important factors, including the rise in fiber consumption and the encouraging trend in the manufacture of functional foods.
During the anticipated period, Asia Pacific held a sizable market share for dietary fibers. Over the coming few years, it is anticipated that nations like China, Japan, and Indonesia would be the top manufacturers of foods and beverages. Over the projected period, it is predicted that promising trends in the Asia Pacific food and beverage industry would boost product demand. Over the next several years, it is anticipated that rising health consciousness among consumers and the expansion of fitness centers in India will drive the market. Additionally, the Indian government's adoption of the National Food Security Act has been crucial in altering dietary habits. The rise in consumer purchasing power is anticipated to enhance demand for nutritious and useful foods that are high in fiber.
Key market developments
The Nurica enzyme was introduced by DuPont in China. Manufacturers can now naturally synthesize dietary fibers in the form of galactooligosaccharides thanks to this novel and unique enzyme.