The global software defined data center market size was estimated at USD 44.77 billion in 2022 and is expected to hit around USD 350.53 billion by 2032, poised to grow at a compound annual growth rate (CAGR) of 22.9% from 2023 to 2032.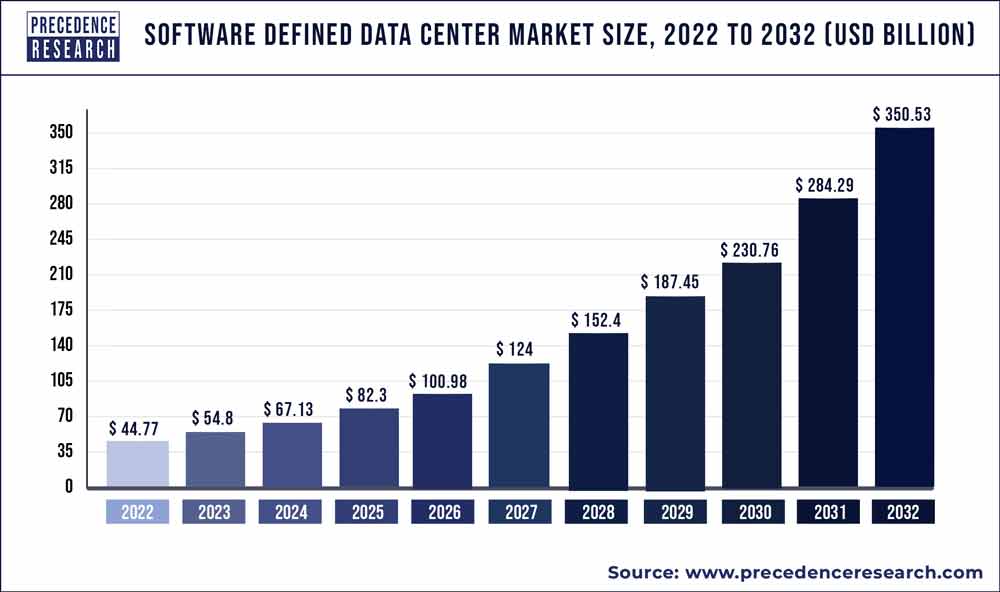 Key Takeaways:
By component, the software segment has accounted market share of around 48% in 2022.
The hardware segment is growing at a CAGR of 19.2% from 2023 to 2032.
By deployment mode, the public segment has reached the highest market share of over 58% in 2021. However, the hybrid segment is projected to grow at a remarkable CAGR from 2023 to 2032.
North America region has made up a revenue share of 44% in 2022.
With some significant exceptions, software defined data centers (SDDCs) differ from typical data centers in that they make use of virtualization, resource pooling, abstraction, and automation. A typical data center is a location where infrastructure, networks, and organizational data are centralized and accessible. It serves as the focal point for IT operations and the physical infrastructure's servers, storage units, network components, and security devices. It delivers a programmatic approach to the operations of a conventional data center through the usage of a virtualized environment. Similar to long-established techniques for server virtualization, and enhance business agility. Cloud-based SDDC host servers allow for the creation and configuration of data centers according to requirements without the need to physically host or configure network equipment.
Growth Factors
The adoption of software defined data centers is anticipated to be driven by hardware cost reductions. Companies using SDDC don't have to invest in hardware, learn vendor-specific skills to operate and maintain it, or deal with physical machine upgrades. It enhances resource management inside the business, increasing overall effectiveness.
Additionally, the popularity of software defined data centers is growing in order to guarantee greater control and management of both software and hardware. On the other hand, businesses could exaggerate the challenges involved with employing dated platforms and overseeing modern IT infrastructure. The banking, financial services and insurance BFSI firms and corporations in the U.S. are installing software-defined data centers quickly in response to the rising demand from their consumers and clients for safe and quick transactions. For BFSI businesses, it offers effective data recovery, improved security, and mobility solutions. By lowering network latency, it makes high-frequency trading and secure financial transactions easier. Additionally, it helps businesses adhere to onerous government rules requiring more flexible and adaptable data centers. To prevent potential security blind spots, SDDC employs both physical and virtual firewalls. The need for SDDC solutions is being driven by the growth of BFSI organizations and new fintech startups in the U.S.
One of the main factors propelling the market for software-defined data centers is the rapidly evolving IT landscape. Organizations are using software-defined data centers in order to reduce IT infrastructure complexity and increase IT agility. By providing policy-driven provisioning and pooled infrastructure resources, it will aid in the standardization of management tools across infrastructure layers and enable a quicker response to new requests for IT resources. Additionally, it enables IT managers at end-user companies to save operating expenses, chart a course for end-use modernization, and maintain provisioning control. It makes it easier for apps to independently provision IT resources, and when the right software is deployed, it sometimes even makes it possible to fully eliminate the job of an administration. These elements increase market size.
Report Scope of the Software Defined Data Center Market
| | |
| --- | --- |
| Report Coverage | Details |
| Market Size in 2023 | USD 54.8 Billion |
| Market Size by 2032 | USD 350.53 Billion |
| Growth Rate from 2023 to 2032 | CAGR of 22.9% |
| Base Year | 2022 |
| Forecast Period | 2023 to 2032 |
| Segments Covered | Component, Type, Organization Size, Industry, and Geography |
| Companies Mentioned | VMware, Microsoft, Dell Technologies, Juniper Networks, Citrix, Nuage Networks, Lenovo, Arrcus, HPE, Oracle, IBM, Nutanix, Cisco, Huawei, Fujitsu, Vexata. |
Segment Insights
Component Insights
Depending upon the component, the managed services segment is the dominant player and is anticipated to have the biggest impact on the market. The increased emphasis placed by businesses on achieving optimized workload management with increased agility, speed, and security without having to deal with the difficulties of training, integration and deployment, support and maintenance is primarily responsible for the growth of the managed services market. The demand for services generated by the use of software-defined services is a major reason in its expansion in businesses.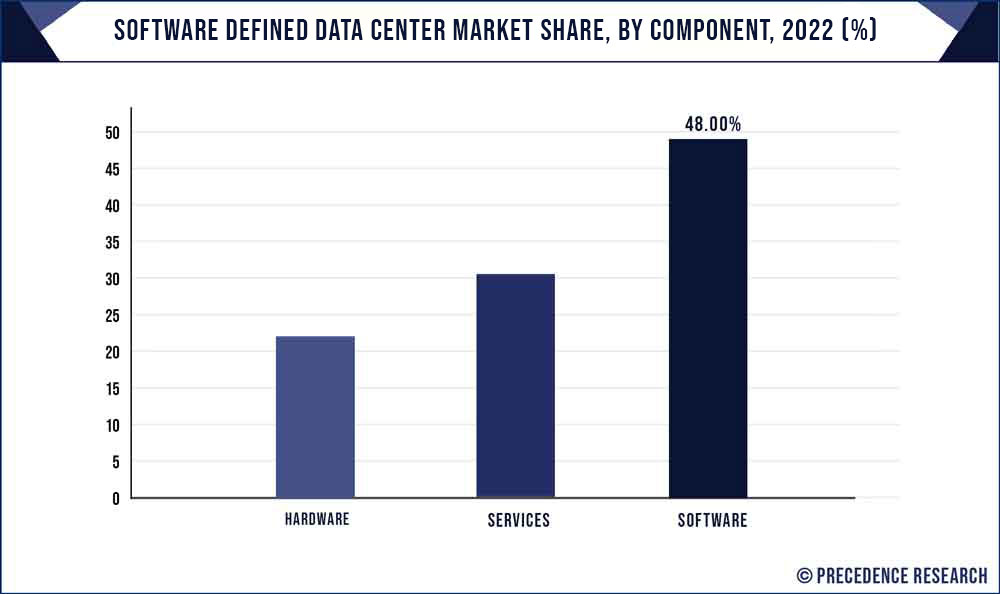 Due to growing usage of hardware and software, the SDDC solutions are anticipated to hold the largest market share during the projection period. Different hardware platforms, such as converged infrastructure, hyper-converged infrastructure, standard hardware, and configurable infrastructure, can be used to implement solutions. Additionally, it enables applications to only run on logically specified resources that are separate from the underlying hardware.
Type Insights
During the projected period, the software defined compute segment is anticipated to be the largest in the software defined data center market. Due to the adoption of the cloud-native application, SDC currently has the majority of the market share. A cloud-native application makes use of cloud computing principles to lower deployment risks and enhance service flexibility, performance, and quality. On-premises and cloud platforms are supported by cloud-native applications. Due to their distinctive features, such as simplified and automated data center operations, it gained popularity among enterprises. They are supplied to end users on a leasing basis to store their critical information that may be accessed remotely.
The software defined networking SDN market is anticipated to develop at the fastest rate during the projected period. The market is expanding because to rising SDN demand for improving enterprise mobility, server virtualization, and data center consolidation. Bring Your Own Devices (BYOD) use is increasing, and as a result, businesses are depending more and more on SDN solutions to manage employee data access and optimize the mobile workforce.
Industry Insights
During the projected period, the IT & telecom industry is anticipated to have the greatest market share and the highest CAGR owning to its importance in the market. Due to the expansion of big data and the increasing demand for software-based data storage and services, BFSI and the government are also projected to hold a sizeable portion of the market.
BFSI organizations are implementing a variety of cloud techniques as a result of the significant challenges linked to data storage, recovery, and cybersecurity that they must manage along with handling huge amounts of data that must be processed, stored, and replicated repeatedly. The ongoing requirement for scalability and data security in hybrid cloud environments drives the demand for SDDCs to automate and manage IT services across heterogeneous clouds.
Software Defined Data Center Market Share, By Region, 2022 (%)
| | |
| --- | --- |
| Regions | Revenue Share in 2022 (%) |
| North America | 44% |
| Asia Pacific | 18% |
| Europe | 26% |
| Latin America | 7% |
| MEA | 5% |
Regional Insights
The highest market share and dominant position in the software derived data centers industry belongs to North America. This region includes U.S. and Canada. Major firms like VMware, Inc., Cisco Systems, Inc., IBM Corporation, and others are present, which has contributed to the expansion. Additionally, the expansion of major corporations' global reach through product launches and alliances is anticipated to fuel market expansion in North America. On the international market for software-defined data centers, the U.S. holds the largest share. Predictions indicate that North America will continue to dominate the SDDC market for some time to come.
Europe is considered as second largest region in the software derived data centers market. The need for data centers is being driven by the region's supporting economic conditions, such as tax benefits, ample renewable energy supply, and good data privacy and protection rules. Due to favorable legislation around data protection and privacy, European businesses are implementing software-defined data centers quickly. Additionally, Nordic nations offer tax benefits to data center market participants, driving up demand for SDDC systems. To strengthen their global reach, market players are growing their software-defined data center business in Europe.
Asia Pacific is anticipated to increase at the fastest rate during the timeframe of the prediction. The region has experienced substantial expansion as a result of rising industrialization and emerging markets. The APAC region's core IT infrastructure is developing more quickly, which creates a self-replicating loop that encourages additional investment and expansion. As a result, the need for increased power, resources, and responsibility in IT management will expand. There are skilled programmers available in this region who are at least as qualified as those found elsewhere in the world. The infrastructure that China, and India offers is also beneficial. The modern telecommunications infrastructure enables quick communication with nations all around the world. The English language's widespread use is another significant benefit. English is the only language used in higher education.
Key Market Developments
In order to facilitate IT's ability to connect branch offices to Microsoft Azure Virtual WAN directly, Cisco and Microsoft expanded their networking relationships. Cisco SD-WAN will be hosted in Azure.
Key Market Players
VMware
Microsoft
Dell Technologies
Juniper Networks
Citrix
Nuage Networks
Lenovo
Arrcus
HPE
Oracle
IBM
Nutanix
Cisco
Huawei
Fujitsu
Vexata
Segments covered in the report
(Note*: We offer report based on sub segments as well. Kindly, let us know if you are interested)
By Component
Hardware
Software
Services

Training and Consulting
Integration and Deployment
Support and Maintenance
Managed Services
By Type
Software-Defined Computing (SDC)
Software-Defined Storage (SDS)
Software-Defined Data Center Networking (SDDCN)
Automation and Orchestration
By Organization Size
Large Enterprises
Small and Medium-sized Enterprises (SMEs)
By Industry
IT and Telecom
Government and Defense
BFSI
Education
Healthcare
Retail
Manufacturing
Others (Media and Entertainment, and Energy and Utilities)
By Geography
North America
Europe
Asia-Pacific
Latin America
Middle East & Africa (MEA)