The global space tourism market size was estimated at USD 869.20 million in 2022 and is projected to surpass around USD 3,884.18 million by 2032, poised to grow at a registered CAGR of 16.20% from 2023 to 2032.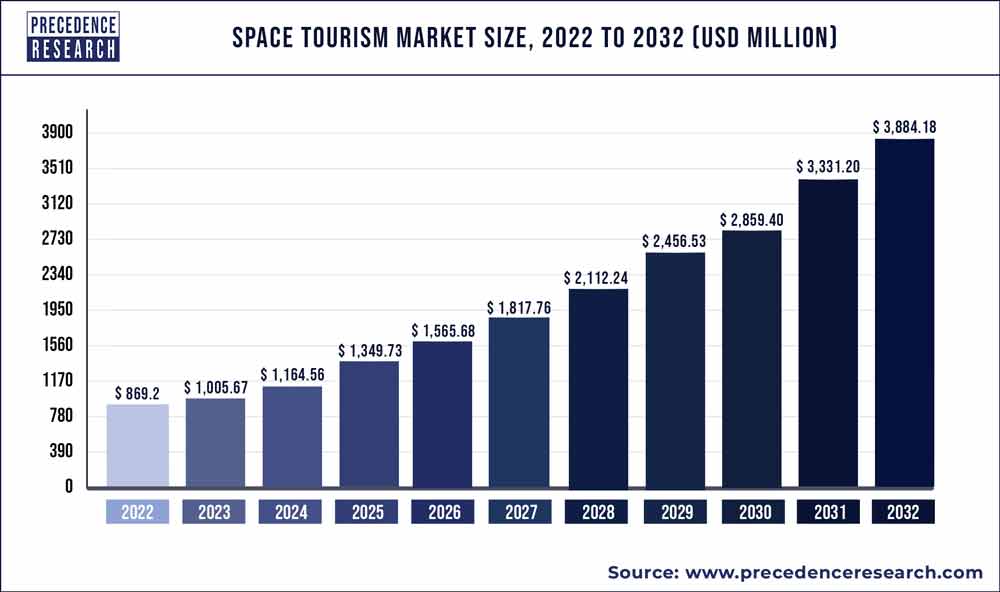 Access our Premium Real Time Data Intelligence Tool, Visit: Precedence Statistics
Key Takeaways:
By type, the U.S. space tourism market was valued at USD 201.52 million in 2022.
By type, the sub-orbital segment accounted highest revenue share of 51% in 2022 with a CAGR of 36% from 2023 to 2032.
The orbital type segment is projected to reach a CAGR of 37% from 2023 to 2032.
The commercial segment has contributed 58% market share in 2022 and is poised to grow at a CAGR of 36% from 2023 to 2032.
The government end user segment is expected to grow at a CAGR of 37.5% from 2023 to 2032.
North America accounted largest market share of over 40% in 2022.
The Asia-Pacific is projected to reach a CAGR of 37.6% in 2022.
Space tourism is the recreational journey of people to space. Until now, space travel has been limited to the wealthiest. Only seven people have ever paid to travel to space, beginning with multimillionaire Dennis Tito in 2001. Nonetheless, Wired Magazine named 2019 the year space travel became a "reality," naming many private businesses as pioneers in the space tourism sector, including SpaceX, Virgin Galactic, Boeing, and Blue Origin. The Karman line, which is 100 kilometres above sea level, marks the beginning of space. This is the generally acknowledged border between the Earth's atmosphere and space.
However, the Space Shuttle, International Space Station, and other satellites orbit within Earth's atmosphere (particularly, the thermosphere), prompting some to contend that these objects are not actually in "space." It's better to think of space as a gradient, similar to how the ocean "ends" at the shore. Tides, waves, and weather all have an impact on where the ocean stops. Previously, the space economy was limited to satellites and their subsystems, but the willingness of wealthy individuals and forward-thinking corporations to venture beyond Earth has allowed tourism to enter this embryonic industry.
Satellites, space debris, space mining, space exploration, space tourism, and space infrastructure manufacturing will comprise the future space economy. Furthermore, high-profile commercial missions have prompted some to refer to the current stage of the space industry as the "billionaire space race." The launches of Richard Branson's Virgin Galactic and Jeff Bezos' Blue Origin missions, respectively, emphasized the possibilities for space travel. However, the cancellation of Space Adventures' Crew Dragon mission revealed that pricing, time, and the present experience must be regularly reassessed.
In 2020, the space sector experienced unprecedented growth as investors poured over $9 billion into private enterprises, despite the COVID-19 pandemic. While some of these companies are just selling components and services to government entities such as NASA, others seek to send their own people and rockets into space. Space tourism for any private individual willing to pay a large charge is one ambitious objective that multiple firms are already pursuing. Because of the massive cost and severe hazards involved, governments monopolized space exploration in its early days. Exhibit 1 depicts some of the early milestones in space travel, as well as other significant breakthroughs up to the year 2000. Private firms, with far lower resources, saw little need to study crewed missions because the chances of obtaining government clearance and achieving a reasonable return were slim.
Growth Factors
Although space tourism will be limited to a few, new players will likely enter the market offering lower-cost options. One such example is Space Perspective's stratospheric ballooning service. Until major businesses like SpaceX, Virgin Galactic, and Blue Origin can scale their technology to make it affordable to non-millionaires, they will have a small target market of about 1% of the world population. The United States will be the primary source market for space tourism enterprises. When advertising their excursions and hotels, all participants in the space tourism sector should focus on the US source market, since efforts geared at this market are likely to have the most impact. China and Japan have the second and third most high-net-worth and ultra-high-net-worth persons, respectively, making these source markets potential alternatives for space tourism enterprises. As shown in 2021, Japan's wealthiest residents may be interested in space exploration. Yusaku Maezawa, a Japanese businessman, returned to Earth in December 2021 following a 12-day flight to the International Space Station.
The overall cost of a journey into space has decreased dramatically from around $600,000 to $250,000. This market's client base consists only of consumers who fall inside the top 1% of income earners. With price declines, new client groups are expected to enter the market that is willing to pay a large premium for a once-in-a-lifetime space experience. The cost is expected to be less than $2000 per kilogram over the next few years. Further price reductions are predicted to make space tourism more accessible to a larger populace, boosting the potential client base. Several commercial suborbital spacecraft with various capacities are currently under development.
The SARG was formed by the Commercial Spaceflight Federation to increase awareness of the research and education possibilities of the suborbital reusable launch vehicles under development. In addition, in preparation for human-tended studies on commercial suborbital spacecraft, the NASTAR and the SwRI established a suborbital space scientist training course. These activities are expected to have a favorable influence on the worldwide space tourism business. These new endeavors have sparked interest and produced headlines, resulting in even greater investment in private space enterprises. For example, numerous special-purpose acquisition corporations (SPACs) are looking to acquire space firms based on their predicted future income, allowing them to become public. 5 Aside from these endeavors, three recent uncrewed trips to Mars, including the arrival of NASA's Perseverance rover, are also giving the impression that we are entering a new era of discovery and possibility.
The growing applications of Space Tourism across numerous end-use sectors are driving the market. Technological progress is a crucial trend that is gaining traction in the Space Tourism business. To lead this industry, the top essential players are working on innovative technologies. This will provide the reader an advantage over others because a well-informed decision may be made by looking at the market as a whole.
Although the actual size and sustainability of the commercial-space industry remain unknown, it looks to be set for tremendous expansion. If the private firms that want to operate in late 2021 and 2022 make their deadlines, we may expect even more interest from both investors searching for possibilities and customers wishing to book future trips. If the cislunar economy comes to fruition, it will give reasons to fly to space that go beyond bragging rights—and that might be the door to a strong and long-lasting market for commercial trips.
Report Scope of the Space Tourism Market
| | |
| --- | --- |
| Report Coverage | Details |
| Market Size in 2023 | USD 1,005.67 Million |
| Market Size by 2032 | USD 3,884.18 Million |
| Growth Rate from 2023 to 2032 | CAGR of 16.20% |
| Base Year | 2022 |
| Forecast Period | 2023 to 2032 |
| Segments Covered | Type, Customer, Form, Product, Destination, Customers, Service Provider, Geography |
| Companies Mentioned | Airbus Group SE, Boeing Company, Excalibur Almaz, Limited (Isle of Man), Space Adventures, Inc., Space Island Group, Spacex, Virgin Galactic, LLC., Zero 2 Infinity S. L. |

Type Insights
During the projected period, suborbital spaceflight services are expected to account for the majority of total revenue share. This is mostly owing to reduced prices associated with suborbital space flight compared to orbital space travel expenses. Because of the high cost of orbital tourism, demand is projected to be restricted. Suborbital flights carrying space passengers and researchers at altitudes ranging from 50 to 68 miles are being tested by companies such as Virgin Galactic and Blue Origin. Suborbital tourism is projected to begin sooner and develop faster because to increased frequency and cheaper ticket pricing, whereas orbital tourism is expected to significantly expand the commercial space ecosystem alongside government projects.
Customers Insights
The travel sector is undergoing major changes. The number of people interested in space travel is expected to rise between 2022 and 2030. More than 500 individuals signed up, each prepared to pay roughly $250,000 for tickets to suborbital space journeys on the VSS Unity in New Mexico in 2019. NASA revealed plans to open the International Space Station to visitors in 2019. Each voyage to the space station is expected to cost roughly $60 million.
In addition, Cowen and UBS both recently conducted surveys of high-net-worth people to determine their interest in suborbital tourism. Cowen's poll outperformed Whitesides' estimate, with the business discovering a total addressable market of around 2.4 million persons among those with a net worth of more than $5 million. UBS polled over 6,000 high-net-worth people on flying with Virgin Galactic. Approximately 20% of respondents polled by UBS stated they are "likely to purchase a ticket on a spaceship within 1 year" of the firm starting regular flights. This figure rises to more than 35% "after several years of safe operation," according to UBS. Recent occurrences have demonstrated that commercial space travel is technologically viable. However, "commercial feasibility" has yet to be proved, he said, adding that this viability is dependent on more than the existence of a few "willing and affluent" people. While the signals are encouraging, commercial space tourism businesses still have significant marketing questions, according to Crouch. What, for example, is the demand-price relationship? And what features will make a space tourist's experience "worth for money"? There are several variables that space travelers may encounter and interpret differently. Among these are the following: launch site, vehicle type, weightlessness period, and degree of training required.
Space Tourism Market Share, By Region, 2022 (%)
| | |
| --- | --- |
| Regions | Revenue Share in 2022 (%) |
| North America | 40% |
| Asia Pacific | 20% |
| Europe | 29% |
| Latin America | 7% |
| MEA | 4% |

Regional Insights
The North American area, particularly the United States, dominates the market. The space tourism business began in the United States, and the majority of the prominent industry operators are based there. High average disposable income and the presence of the most billionaires are two significant reasons driving the expansion of the space tourism business in the United States. The majority of industry companies, including Virgin Galactic, SpaceX, and Blue Origin, are based in the United States.
The space tourism business in the United States is expected to be worth US$ 201.52 million by 2022. China, the world's second-biggest economy, is expected to reach a market size of US$ 480 million by 2032, growing at a CAGR of 20% from 2023 to 2032. Other notable geographic markets include Japan and Canada, which are expected to increase at 11.4% and 13.8%, respectively, between 2023 and 2032. Germany is expected to expand at a CAGR of about 20% in Europe. The research provides succinct insights into how the pandemic has affected output and the buy side in 2020 and 2021. A staged short-term recovery per significant region is also addressed.
Key market developments in Space Tourism Market
SpaceX, a US-based aerospace corporation, sent two people into orbit in May 2020, reusing the Falcon 9 rocket that had delivered the crew into orbit. This is seen as a significant technological breakthrough for the corporation, as rocket reuse results in considerable cost savings for space exploration.

Virgin Galactic sent test passenger Beth Moses into space in February 2019. The spaceship, which can carry six passengers and two pilots, costs $250,000 apiece.

Blue Origin had planned to begin customer test flights in 2020, however this has been postponed owing to the COVID-19 epidemic.
Key market players
Airbus Group SE
Boeing Company
Excalibur Almaz, Limited (Isle of Man)
Space Adventures, Inc.
Space Island Group
Spacex
Virgin Galactic, LLC.
Zero 2 Infinity S. L.
Segments covered in the report
(Note*: We offer report based on sub segments as well. Kindly, let us know if you are interested)
By Type
By Customer
Government

Commercial

Others
By Form
By Product
High altitude jet fighter flights

Atmospheric zero-gravity flights

Aircraft replacement flights

Others
By Destination
Mars

Other Earth Destinations

Earth Orbit

Venus

The Moon

Ceres

Others
By Customers
Civilians

Enterprise

Others
By Service Provider
The Government

Commercial Institutions

Others
By Geography
North America
Europe
Asia-Pacific

China
India
Japan
South Korea
Malaysia
Philippines

Latin America

Brazil
Rest of Latin America

Middle East & Africa (MEA)

GCC
North Africa
South Africa
Rest of the Middle East & Africa