The global space launch services market size was accounted at USD 14.53 billion in 2022 and is projected to hit around USD 50.29 billion by 2032, growing at a CAGR of 13.22% during the forecast period from 2023 to 2032.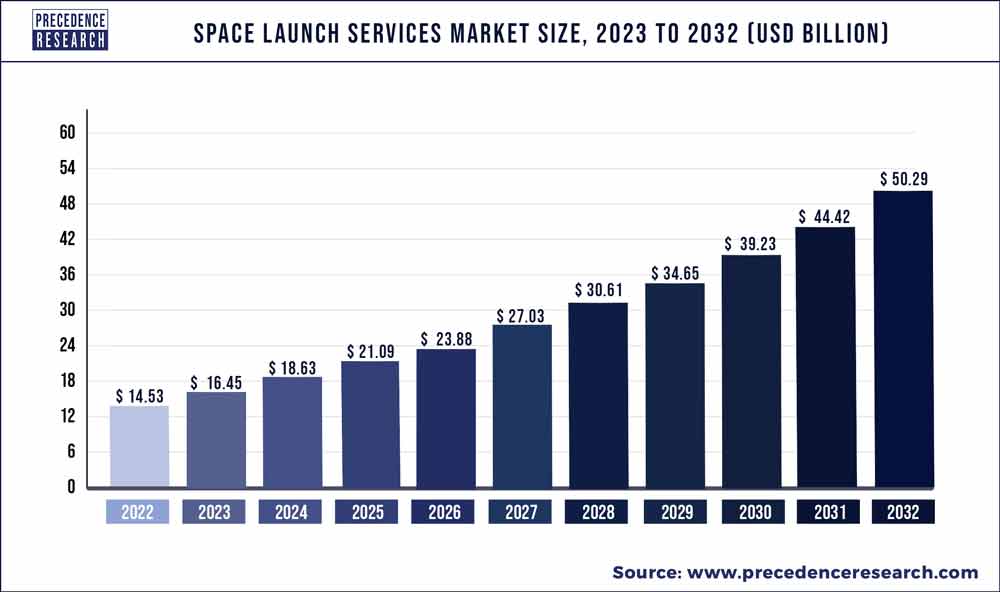 Access our Premium Real Time Data Intelligence Tool, Visit: Precedence Statistics
Services for sending rockets into space that send satellites into the outer cosmos are known as space launch services. Payload integration, launch infrastructure, and launch construction are just a few of the activities available in the market for space launch services.
Key Takeaways:
North America has generated more than 39% of revenue share in 2022.
Asia Pacific market is expected to expand at the fastest CAGR between 2023 and 2032.
By Payload, the satellite segment has captured more than 46% of revenue share in 2022 and is expected to expand at the fastest CAGR between 2023 and 2032.
By Service, in terms of revenue, the pre-launch services segment is predicted to take the lead between 2023 and 2032.
By Orbit, the low-earth orbit segment is expected to expand at the fastest CAGR between 2023 and 2032.
By Application, in terms of revenue, the government segment dominated the global market in 2022.
Growth Factor:
Growing demand for small satellites has decreased the cost of space operations because of their cheaper production costs and shorter implementation times, which has increased demand for less expensive space launch services. Government spending on space projects has increased significantly in recent years in both established and developing nations. Additionally, there has been an increase in collaboration between space organizations from various nations, with a primary emphasis on satellite launching services.
Due to the expensive expenses associated with satellite research and launch, government space organizations and private businesses are working together more frequently to support market expansion. Similar to this, over the past few years, there has been a rise in private company involvement in the space industry, which has prompted government space agencies to enter into agreements, collaborate, and outsource the production of launch vehicles and crucial mission components to private firms.
This is anticipated to increase rivalry and draw more start-ups and businesses into the space industry, forcing private businesses to compete on price by offering more affordable goods and services. Additionally, this will present huge possibilities for new businesses to give affordable launching services, which will in turn spur market revenue development.
Another significant element driving the market's revenue development is the quickly increasing demand for satellite data. Effective decision-making, spotting changes in weather trends, determining the effects of natural catastrophes, town planning, and other processes can all benefit from the use of satellite data.
A key tendency promoting the market's growth is the quick technological development of space technologies, including the creation of planetary satellite transporters and innovative interplanetary systems.
One of the main factors driving the market's growth is the growing interest in and efforts to send satellites and missions for various science purposes, including research.
The demand for advanced space launch services is significantly increasing due to the growing use of small satellites for internet access and rising business and governmental expenditure.
Report Scope of the Space Launch Services Market:
| | |
| --- | --- |
| Report Coverage | Details |
| Market Size in 2023 | USD 16.45 Billion |
| Market Size by 2032 | USD 50.29 Billion |
| Growth Rate from 2023 to 2032 | CAGR of 13.22% |
| Largest Market | North America |
| Fastest Growing Market | Asia Pacific |
| Base Year | 2022 |
| Forecast Period | 2023 to 2032 |
| Segments Covered | By Payload, By Launch Platform, By Service, By Orbit, and By Application |
| Regions Covered | North America, Europe, Asia-Pacific, Latin America and Middle East & Africa |

Key Market Drivers:
Expansion of the space program
Many people are interested in space research projects, and major nations have controlled the global reusable launch vehicle market by showcasing their space prowess. The growth of the global spacecraft market has also been driven by increasing space and R&D efforts. Furthermore, the global market for space missions is expanding, which is stoking demand for reusable launch vehicles. Growing collaborations among international space institutions to integrate technology and funding are doing this. The rise in space research missions may also result in higher government and space budget expenditures.
Key Market Challenges:
Absence of specific launch devices
Small spacecraft do not have specific launch vehicles; they are transported as auxiliary cargo. Small satellite operations are also constrained by the absence of control over the launch window and target trajectory of the vehicle, which limits their use as secondary payloads. Due to restrictions on the volume and pressure of the stored fuel, which are mainly for the safety of the primary payload, as well as the need for antenna systems for primary payloads, the launch of tiny satellite payloads may not be possible in trajectories that are more appropriate or advantageous for their missions.
Additionally, the main cargo may need to be put in a specific orbit and have its orbital velocity pre-programmed, which restricts the launch window options for tiny satellite missions. Additionally, in some cases, this restricts the ability of small satellites to fulfill their task requirements. Therefore, the availability of dependable launch vehicles with the necessary variety of performance capabilities is a prerequisite for the possible use of tiny spacecraft in various uses. The spectrum of possible payloads cannot, however, be successfully covered by the performance powers of current launch vehicles.
Key Market Opportunities:
A growing number of joint ventures by major players to increase business and geographic reach
Leading industry participants typically employ contracts, partnerships, and joint endeavors as a means of remaining competitive in this market. For instance, SpaceX was given a contract to use the Falcon 9 launch vehicle to launch two Kazakhstan spacecraft as part of a larger deal with many other satellites. The protein expression market presents several opportunities for key players to increase their business and geographic reach.
One of the most significant opportunities in this market is through joint ventures and collaborations. Companies can form partnerships to combine their resources, expertise, and technologies to achieve common goals. By doing so, they can improve their product offerings, expand their market share, and enter new geographical locations.
In addition, the protein expression market presents several opportunities for key players to increase their business and geographic reach, including joint ventures, the adoption of advanced technologies, the rising demand for personalized medicine, and the increasing focus on R&D in proteomics. By leveraging these opportunities, companies can improve their product offerings, expand their market share, and enter new geographical locations.
Segments Insight:
Payload Insights:
In the space launch services sector, the satellite section is anticipated to expand at the quickest rate. This is brought on by the rise in the demand for satellites for use in communication, navigation, Earth monitoring, and scientific study, among other things. The installation of massive arrays of tiny satellites for broadband internet access is one of the major factors driving development in the satellite market. To bring high-speed internet to underserved regions, organizations like SpaceX, OneWeb, and Amazon's Project Kuiper intend to send thousands of tiny satellites into orbit.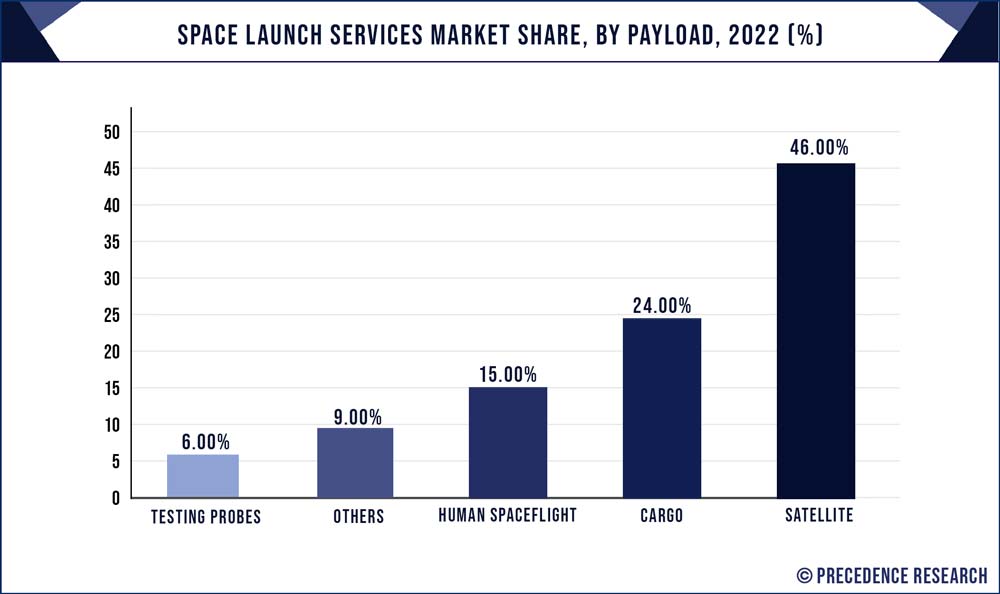 Due to the new market, has opened up for inexpensive satellite missions, tiny launch vehicles and other cost-cutting techniques have been developed. With the growing use of satellite images for environmental tracking, crisis response, and other uses, the Earth observation market is also anticipated to experience substantial development in the coming years. The need for more frequent satellite launches as well as high-resolution and near-real-time satellite imagery is pushing the creation of novel remote sensing systems and technologies.
Service Insights:
The administration services, integration & logistics, tracking, datz & telemetry assistance, and insurance sub-segments of the pre-launch service segment are further broken down. The launch and early operations period, resupply flights, and stabilization comprise the post-launch service segment's further sub-segments.
In terms of revenue addition to the global space launch services market over the forecast period, the pre-launch services sector is anticipated to take the lead. Initial mission planning is included in pre-launch services at all phases of spaceship development and testing, as well as the launch vehicle itself, before liftoff. Additional factors that are anticipated to support this segment's revenue development include growing government efforts to assist private companies in planning, carrying out, and deploying tiny satellites.
In addition, the service segment is expected to witness significant growth in the coming years, owing to the increasing demand for small satellite launches and the increasing government efforts to support private companies in planning and executing space launches. The pre-launch services segment, particularly the administration services sub-segment, is anticipated to experience the most growth during the forecast period.
Orbit Insights:
Revenue from the low-Earth orbit market is anticipated to grow at a fast CAGR during the projection timeframe. The market for space launch services is divided into four categories based on trajectory: geosynchronous orbit, polar orbit, and Low Earth trajectory (LEO). During the projection period, the low Earth orbit sector is anticipated to experience a fast revenue CAGR. LEO spacecraft can enhance connectedness and communications because their orbits are multiple times daily and are less than 2,000 km above the surface of the Earth.
Additionally, LEO satellites greatly decrease latency, which can lead to faster and improved Internet access. Additionally, for areas that are susceptible to natural catastrophes, LEO satellite communication can increase the robustness of the network infrastructure. These elements are anticipated to significantly increase the demand for LEO spacecraft and fuel this segment's revenue development.
Application Insights:
In terms of revenue, the government sector dominated the space launch services industry in 2022. The market for space launch services is divided into three categories based on application: defense, government, and private. During the projection period, the government sector is anticipated to contribute the biggest revenue share to the global space launch services market. Government organizations in every nation have direct control over space programs, and they also plan and create the majority of them.
Government support for environments that encourage private business involvement is increasing as a result of public-private partnerships, along with the supply of technical help and support to new start-ups. In order to carry out space missions, government space organizations are also forming alliances and contracts with private businesses. For instance, as part of the Artemis program, NASA gave SpaceX a USD 2.89 billion contract in April 2021 to create a combined human landing system for a lunar trip in 2024.
Regional Insights:
The space launch services sector is anticipated to expand significantly in North America over the next few years. New private launch service providers are also starting to appear in the area, in response to the growing demand for space operations. This encompasses businesses that are creating small- and medium-class launch vehicles for a variety of uses, such as Rocket Lab, Virgin Orbit, and Firefly Aerospace. It is anticipated that rising market rivalry will lower launch costs and expand access to space for a broader variety of customers.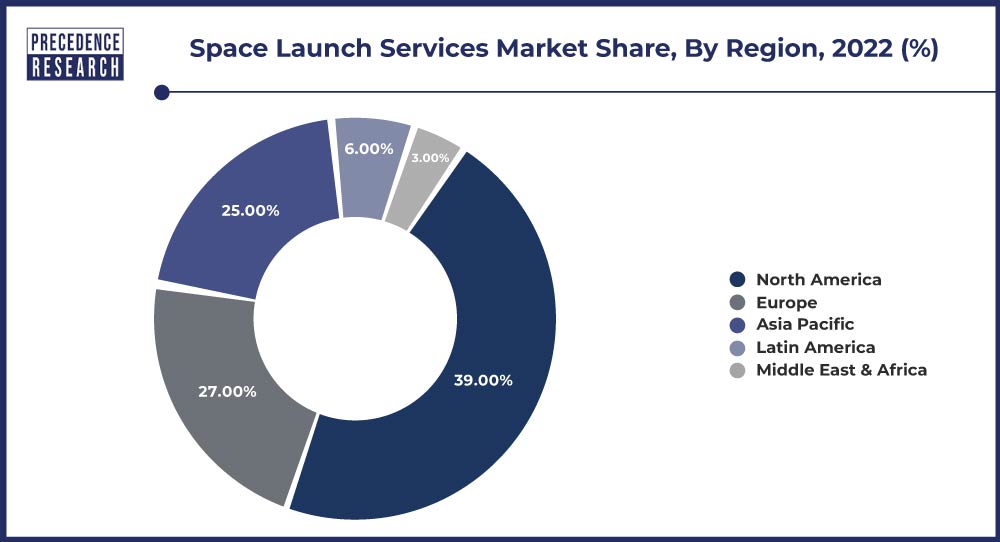 Along with an increase in technical improvements in launch technologies, Europe is also seeing an increase in the number of new players entering the market for space launch services. Asia Pacific is expected to experience significant growth in the space launch services market in the coming years, driven by the increasing number of satellites launches for communication and Earth observation purposes. China is a key player in the region, with its state-owned China Aerospace Science and Technology Corporation (CASC) providing launch services for domestic and international customers. India's Indian Space Research Organisation (ISRO) is also actively expanding its launch capabilities, with plans to develop its own small satellite launch vehicle and reusable launch vehicle technology.
Recent Developments:
To extend the worldwide market for tiny satellite parts, Rocket Lab USA, Inc. debuted services and space systems in February 2023. They also unveiled two brand-new, high-performance space systems products.
In April 2021, Jeff Bezos' Blue Origin company, which he owns, successfully launched a New Shepard rocket with the first astronaut team on board for a suborbital mission.
Two communications satellites for Brazil and South Korea were safely launched by the French launch services firm Arianespace in August 2021.
Key Market Players:
Airbus S.A.S
Antrix Corporation Ltd.
China Aerospace Science, and Technology Corporation
Lockheed Martin Corporation
Mitsubishi Heavy Industries
Northrop Grumman Corporation
Rocket Lab U.S.A.
Safran S.A.
Space Exploration Technologies Corp.
Segments Covered in the Report:
(Note*: We offer report based on sub segments as well. Kindly, let us know if you are interested)
By Payload
Satellite
Human Spaceflight
Cargo
Testing Probes
Others
By Launch Platform
By Service
Pre-launch Services
Post-launch Services
By Orbit
Low Earth Orbit
Medium Earth Orbit
Geosynchronous Orbit
Polar Orbit
By Application
Commercial
Government
Military
By Geography
North America
Europe
Asia-Pacific
Latin America
Middle East and Africa