The global spine surgery robots market size was exhibited at USD 162.9 million in 2022 and is projected to hit around USD 537.36 million by 2032, growing at a CAGR of 12.68% during the forecast period 2023 to 2032. Intuitive Surgical Inc. key players generated more than 80% of the market share in 2022.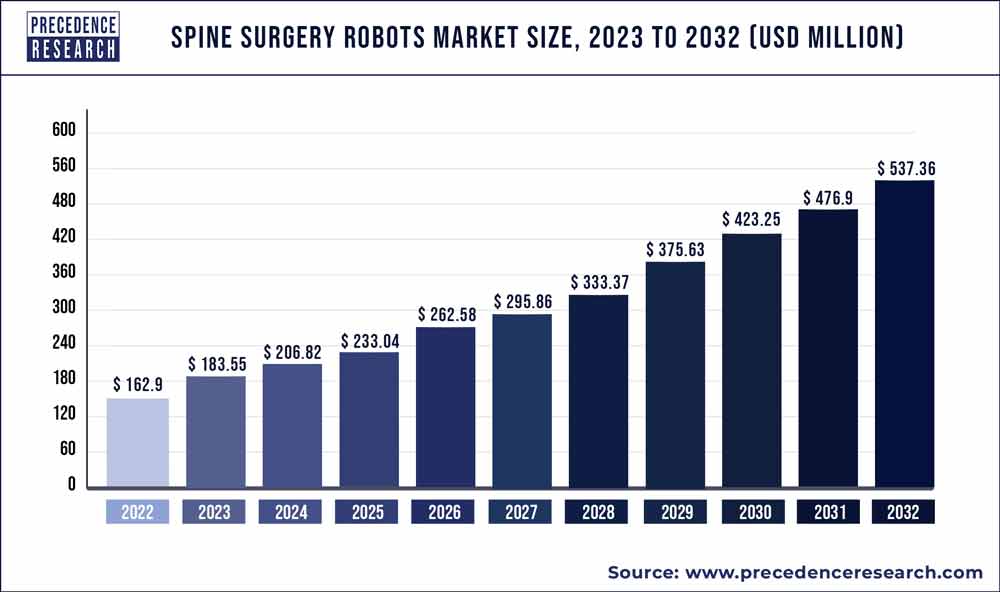 Access our Premium Real Time Data Intelligence Tool, Visit: Precedence Statistics
Key Takeaways:
North America captured a significant regional share and was valued at around USD 3.27 billion in 2022.
The Asia-Pacific market is growing at a 23.32% of CAGR from 2023 to 2032.
The minimally invasive procedures application segment is predicted to account for around 50% of the market.
The open surgery method segment generated more than 30% of the revenue share in 2022.
The hospital end-user segment contributed around 71.22% of the revenue share in 2022.
A combination of technological advancements has led to a fast increase in the use of spine surgical robots. Furthermore, an increase in demand for minimally invasive surgeries has increased the demand for surgical robots for the spine. Spine surgical robots are commonly used for minimally invasive operations such as spine fusion, scoliosis correction surgery, vertebroplasty, spinal biopsies, and others. Many medical facilities and centres have increased their acceptance and deployment of spine surgical robots as a result of these issues.
The market for robotic spinal surgery is expected to increase significantly as a result of reasons such the rising incidence of chronic back pain, the safety and precision of this type of surgery, and the considerations mentioned above. Significant cost savings from pre-and post-operative care and shorter hospital stays are also significant drivers of the growth of the robotic spinal surgery industry. The healthcare systems' strong emphasis on minimally invasive surgery and patient preference both contribute to the market's expansion. Additionally, the availability of novel techniques will fuel the market for spine surgery robots globally throughout the forecast period.
With the emergence of robotic spinal surgery devices in recent years, surgeons may now plan the surgical operation ahead of time and perform a more exact treatment. The technology can personalise procedures to each patient's anatomy. The actual surgery must be performed by a physician, but the robotic spinal surgery system guides the surgeon's tools in a preset manner to put the implants safely and accurately in the exact pre-planned areas. Robotic arms controlled by surgeons are used in robotic spinal surgery systems.
Growth Factors
Surgical techniques have undergone significant modification as a result of robotic system technology. Robotic spinal surgery is one surgical technique. The intricate blood arteries and nerves that surround the vertebrae can cause serious harm, leading to paralysis or less successful surgery, making spinal surgery a complicated procedure. However, physicians may pre-plan the surgical operation before the real process and execute a more exact surgery with the aid of a robotic spinal surgery system. This robotic spinal surgery technique makes use of surgeon-controlled robotic arms. The COVID-19 pandemic's effects on the sales revenue of market leaders, market followers, and market disruptors were examined in the report research, and this is represented in our analysis.
Increased financing for R&D activities by governments and corporate organisations, rapid advancement in robotic surgical technology, and increased acceptance of less invasive operations are important drivers driving global demand for spine surgical robots. Furthermore, an increase in the number of surgical procedures, increased hospital purchasing power, and an increase in the geriatric population are driving the worldwide spine surgery robots market.
The growth in the number of spine operations, the ageing population, and the need for less invasive procedures are all credited with the market's expansion. The worldwide spine surgery robots market is projected to be driven by an increase in the adoption of technologically sophisticated products made by major manufacturers like Mazor Robotics and an increase in the number of local companies in China.
However, high prices connected with spine surgical robots, as well as a shortage of experienced specialists in poor nations, are important market restraints. The fixed cost of spine surgical robots is significant. Robot prices range from USD 0.7 million to USD 1.5 million. Furthermore, these spine surgical robots necessitate routine maintenance and the usage of extra disposable consumables. As a result, most developing-country hospitals cannot afford spine surgery robots. Low-cost robotic systems and accessories are expected to open up major prospects in both developing and developed markets.
Report Scope of the Spine Surgery Robots Market
| | |
| --- | --- |
| Report Coverage | Details |
| Market Size in 2023 | USD 183.55 Million |
| Market Size by 2032 | USD 537.36 Million |
| Growth Rate from 2023 to 2032 | CAGR of 12.68% |
| Fastest Growing Region | Asia-Pacific |
| Largest Market | North America |
| Base Year | 2022 |
| Forecast Period | 2023 to 2032 |
| Segments Covered | By Application, By Method, and By End User |
| Regions Covered | North America, Europe, Asia-Pacific, Latin America and Middle East & Africa |

Key Market Drivers
Rise in the adoption of a robotic health technology
Advanced technology is being used for launching new and innovative products in the market and the number of investments made by various organizations for launching such new products has increased in the recent times. Robotic technology is being used for the manufacturing of such devices and this is expected to provide great opportunities for the growth of this market. There are several benefits associated with the use of minimally invasive surgical procedures and the growing awareness of such surgeries will have a positive impact on the growth of the market. Increased disposable income will lead to a higher adoption of these procedures in the long run. Developing nations are sing more applications and this will provide a greater potential for the growth of the market during the forecast period.
The Perks of Robotic-Assisted Surgery
Increased adoption of robotics in performing various surgeries provides several benefits. Minimally invasive procedures are possible with the help of robotics. The healing time required after the procedures is also reduced to a greater extent and it helps in providing better comfort to the patients. Increased safety is associated with the use of these robots. Less cuts and lesser cost incurred on performing such surgical procedures are expected to have a positive impact on the growth of this market. Surgeries can be performed with precision and the repetition of such surgeries can be avoided. Efficiency is enhanced to a greater extent which has led to a growing demand for these procedures.
Government investments for healthcare interoperability Governments in the developing as well as the developed nations are constantly engaged in increasing the finances received by this industry which is expected to have a positive influence on the growth of the market. The overall spending on the healthcare sector has increased in the recent times leading to the enhancement of the healthcare infrastructure.
Key Market Challenges
Expensive Surgeries - Minimally invasive procedures are cost effective as compared to the surgeries performed with the help of robotics. The American Congress of obstetricians and gynaecologists stated, that the use of robots for various procedures like hysterectomies which includes the surgical procedure for removing fallopian tubes, cervix, ovaries or uterus costs up to 960 million U.S. dollars in United States, and the use of robotic methods for performing such surgeries will hamper the market growth in the long run.
Key Market Opportunities
Increasing penetration of Robotic-assisted Surgeries: Ambulatory surgery centres (ASCs) are self-contained clinics that specialize in non-hospital diagnostic, surgical, and preventative procedures. According to a Healthcare BlueBook report, ASCs reduce outpatient surgery expenses by USD 38 billion per year since they provide a lower-cost care site than a traditional hospitals department of outpatients. As mentioned in one survey, almost 9000 surgical centres for ambulatory procedures are currently in operation in the United States.
Recently, robotic-assisted surgery has discovered new applications: Knee resurfacing is assisted with robotic arm and such surgical robots are increasingly used for performing these procedures. Heart surgeries that are aided with robotics have also increased in the recent times. Prostate cancer can also be treated with robotic surgeries. Neurosurgery, bladder surgery and gynaecology surgery are performed with the help of robotics. Urologic surgery, thoracic surgery and the surgery for endometriosis is adopting robotics. Surgical robots make use of artificial intelligence for performing abdominal, spinal and orthopaedic surgeries.
Segments Insights:
Application Insights:
The minimally invasive procedures category is expected to account for roughly 50% of the market in terms of applicability. Surgeons can now execute less invasive surgical operations because to technological improvements. During the forecast period, an increase in the purchasing power of hospitals and other healthcare settings is expected to boost the minimally invasive procedures sector. The need for spine surgery robots for minimally invasive surgical approaches is expected to grow in the next years.
The efficiency of such robots is shortening hospital stays, enhancing the accuracy and safety of surgical procedures, and exposing patients and health care personnel to less intra-operative radiation. Easy performance mapping and therapeutic customization are two significant elements driving global demand for such robots. In the near future, intense research and development in the technology, design, efficiency, and safety of these spine surgical robots is expected to generate considerable potential for the industry.
Method Insights:
In terms of method, the market has been classified into minimally invasive surgery and open surgery. In 2022, the 'Open Surgery' segment had the biggest industry share by application, with approximately 30%. The general surgery category has grabbed a considerable market share as the usage of surgical robots for cancer treatment and the need for minimally invasive laparoscopic operations has increased. According to an NCBI study, robots are used in approximately 60% of laparoscopic procedures, and this figure is anticipated to rise over time.
End User Insights:
The 'hospital' segment had the highest end-user market share, accounting for around 71.22% in 2022. The increasing frequency of inpatient visits and surgical procedures boosted market expansion in this sector. According to an NCBI study, robotic-assisted surgery has been performed in 23 of 73 hospitals, with the number anticipated to grow.
Regional Insights:
Because of the size of the US surgical robots market, North America had the greatest regional share, valued at roughly USD 3.27 billion in 2022. The rising availability of surgical robots, together with the growing number of accidents and diseases requiring surgery, is driving the industry's expansion in North America. In 2022, the European market is expected to be worth roughly USD 2.17 billion.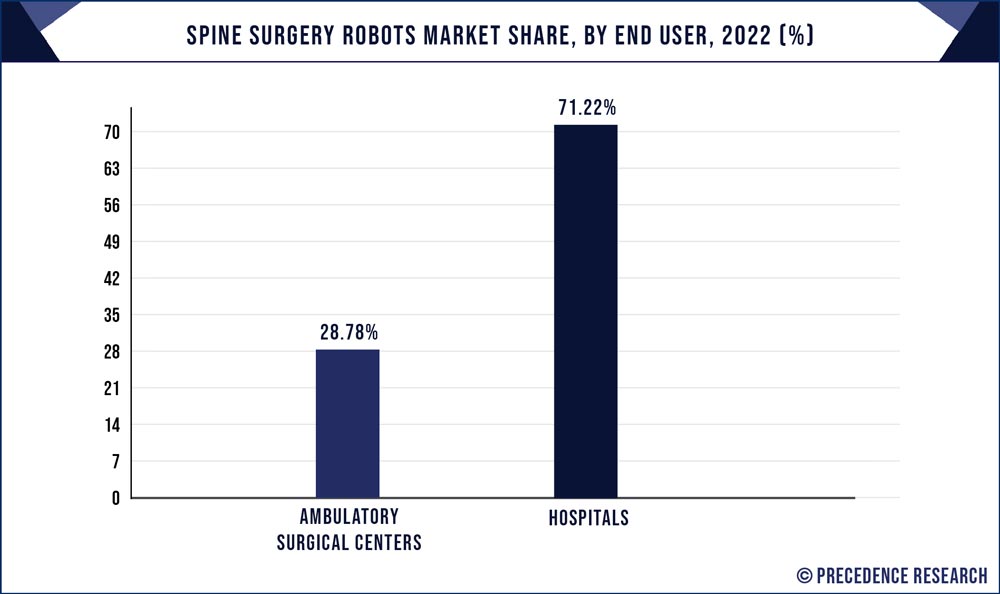 The Asia-Pacific area, on the other hand, will be the fastest-growing industry, with a CAGR of 23.32% over the forecast period. Rapid advancements in surgical robot technology, as well as an expanding patient population in developing regions such as India and China, have fueled category expansion. According to Intuitive Surgical, 170 da Vinci surgical robots have conducted over 170,000 procedures in China.
Recent Developments:
In January 2020, Sytrker Corporation received an approval for the Mako surgery system that makes use of robotics for partial knee indication.
In March 2019, Titan Medical merged with Teleflex Incorporated. The purpose of the collaboration was to develop robotic ligation technology. As part of this agreement, Teleflex's polymer litigation technique that is a market-leading technology shall be integrated with single-port robotic surgery system of Titan.
Key Market Players:
Intuitive Surgical Inc.
Stryker Corporation
Medtronic
Smith & Nephew
Zimmer Biomet
Asensus Surgical (Transenterix)
Corindus Vascular Robotics
Renishaw
Auris Health
Medrobotics Corporation
Think Surgical
Verb Surgical (part of Johnson and Johnson)
OMNIlife Science
CMR Surgical
Segments Covered in the Report:
(Note*: We offer report based on sub segments as well. Kindly, let us know if you are interested)
By Application
Spinal Fusion
Minimally Invasive Procedures
Scoliosis
Osteoporotic Compression Fractures
Others
By Method
Minimally Invasive Surgery
Open Surgery
By End User
Hospitals
Ambulatory Surgical Centers
By Geography
North America
Europe
Asia-Pacific
Latin America
The Middle East and Africa