The global surgical kits market size was estimated at USD 20.16 billion in 2022 and it is expected to be worth around USD 38.96 billion by 2032, growing at a CAGR of 6.81% during the forecast period from 2023 to 2032.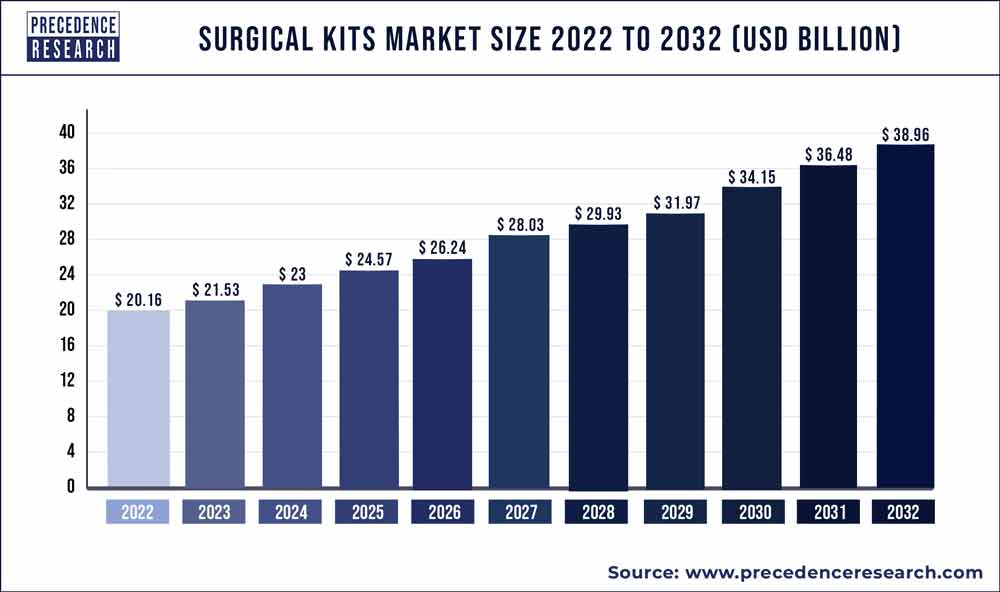 Access our Premium Real Time Data Intelligence Tool, Visit: Precedence Statistics
Key Takeaways:
North America is expected to dominate in the surgical kits market during the forecast period.
By Product, the surgical sutures and staplers segment is expected to dominate the market during the forecast period.
By Type, the reusable surgical equipment segment is expected to be dominant in the surgical kits market during the predicted period.
By Application, the obstetrics and gynecology segment is expected to dominate the global surgical kits market during the forecast period.
By End-user, the hospitals segment is expected to sustain its dominance throughout the forecast period.
Market Overview:
The global surgical kit market revolves around the development, innovation and offering of instruments that are required for a medical procedure. High-quality surgical kits are observed to increase patient outcomes, improve patient and surgical team safety, reduce long-term costs, increase efficiency and effectiveness, have good durability, and reliability, and boost surgeons' precision. Surgical instruments are designed to effectively perform complicated surgeries while meeting the required regulatory framework. Strict criteria and quality specifications for medical devices, including surgical kits, have been implemented by regulatory organizations, including the FDA in the United States and the European Medicines Agency (EMA). To fulfill these criteria, there has been an increase in expenditure on research and development. The COVID-19 epidemic highlighted the value of keeping safe and effective operating rooms. This has highlighted the requirement for premium surgical kits even more, increasing market growth.
Growth Factors:
The geriatric population rate across the globe can be considered a major factor for the market to grow. The increase in the requirement for healthcare services for the geriatric population has directly influenced the demand for surgical kits in surgical procedures performed worldwide due to an older population, a more considerable prevalence of chronic conditions, and improvements in surgical techniques. For instance, about 21% of the aged people in India have at least one chronic disease, and 68% of all chronic diseases have hypertension and diabetes. The demand for specialist minimally invasive surgery (MIS) surgical kits has been driven by increasing demand for minimally invasive surgeries, which provide advantages including quicker recovery times and less post-operative pain. These kits include specialized tools made for practical and precise minimally invasive procedures.
More procedures are required to diagnose and treat chronic conditions like cardiovascular disease, cancer, and orthopedic disorders, which directly contribute to the growth. Specialized surgical kits designed for procedures are now available because of advancements in surgical technology. These kits frequently feature cutting-edge tools and equipment that improve surgical accuracy, shorten operating times, and boost patient outcomes. The surgical kits market has expanded due to rising public and private healthcare spending. Surgical kits and other medical equipment and supplies are given more funding. Adoption has expanded due to a rising knowledge among medical professionals of the advantages of employing specialist surgical kits regarding effectiveness, safety, and infection control.
Report Scope of the Surgical Kits Market:
| | |
| --- | --- |
| Report Coverage | Details |
| Market Size in 2023 | USD 21.53 Billion |
| Market Size by 2032 | USD 38.96 Billion |
| Growth Rate from 2023 to 2032 | CAGR of 6.81% |
| Largest Market | North America |
| Base Year | 2022 |
| Forecast Period | 2022 to 2032 |
| Segments Covered | By Product, By Type, By Application, and By End-user |
| Regions Covered | North America, Europe, Asia-Pacific, Latin America, and Middle East & Africa |

Driver:
Increasing surgical procedures
As the world's population grows, so does the number of age-related health issues that frequently need surgical treatments. Due to age-related illnesses, older people frequently need more procedures. The number of specialist surgical operations has increased, including organ transplants and aesthetic surgeries. Each of these treatments requires special surgical kits created to meet the needs of the technique. The number of surgeries conducted has increased due to more excellent knowledge of the advantages of surgical procedures and easier access to healthcare services, particularly in emerging nations. Technological advancements have made Surgical techniques less intrusive, safer, and more effective.
The range of surgical interventions has been widened by minimally invasive treatments, robotics-assisted operations, and cutting-edge imaging methods. Incidents like the COVID-19 pandemic have highlighted the necessity for readiness in healthcare facilities. Planning for healthcare now includes keeping emergency surgical kits on hand and stockpiling them. Globally, cancer, arthritis, and cardiovascular disease are becoming increasingly common. These frequently call for surgical operations for palliative care, therapy, or diagnosis.
Restraint:
Rising costs of raw materials
The overall cost of manufacturing surgical kits includes a sizeable amount for raw materials. Fabrics, metals, adhesives, plastics, and other materials are among these materials. The cost of producing surgical kits directly increases when the price of these supplies rises. Resources may be diverted toward research and development initiatives due to rising material costs. Manufacturers might be forced to set aside more money to meet the rising costs, which would prevent advances in cutting-edge surgical kit technology. Supply chain interruptions may result from fluctuations in raw material pricing.
Manufacturing delays may result from manufacturers needing assistance finding reliable and economical materials. Higher raw material costs frequently bring inflationary pressure on the entire industry. Increased costs for end users, including clinics, hospitals, and other types of healthcare institutions, may impact how they spend their money.
Opportunity:
Growth in e-commerce and digital platforms
Surgical kit makers can access markets that would have been previously unavailable through conventional distribution methods owing to online platforms' access to a worldwide client base. Medical practitioners can shop online and buy surgical kits from the convenience of their homes or offices. Compared to going into medical supply stores, this saves them time and effort. E-commerce allows manufacturers of surgical kits to promote their products with thorough product descriptions, top-notch photos, and client testimonials that help foster the confidence and credibility so crucial in the healthcare sector. Digital platforms simplify the purchasing process for hospitals and distributors by enabling simple ordering, processing of payments, and shipment tracking.
Developing customized product categories or kits corresponding to particular surgical techniques or specialties is possible by e-commerce platforms. This may draw niche markets and meet specific medical requirements. E-commerce systems offer helpful information on consumer behavior, preferences, and shopping patterns. It is possible to use this data to improve product and marketing strategy. It may be less expensive to run an e-commerce platform than to keep up physical storefronts. This enables makers of surgical kits to allocate resources for research, development, and product quality.
Segments Insight:
Product Insights:
The surgical sutures and staplers segment is expected to dominate the global surgical kits market during the forecast period. Surgical operations have long used staples and sutures as essential tools. They have a history of effectiveness and safety. Sutures come in a variety of materials, including natural (like silk or catgut) and synthetic (like nylon or polypropylene), giving surgeons the option to select based on the tissue type, patient allergies, and expected healing period.
With the efficacy and reliable performance offered by staplers and sutures, the familiarity has influenced the choice of closure mechanism. Sutures and staples are at the cutting edge of surgical technology owing to companies' ongoing investments in R&D to enhance their composition, appearance, and application methods. Sutures and staples are standardized healthcare products produced to strict quality requirements to guarantee constant performance.
The electrosurgical devices segment is expected to grow at the fastest rate during the forecast period. Older adults frequently need surgical procedures for various medical disorders like cancer, cardiovascular disease, and orthopedic conditions. Electrosurgical equipment is essential to carrying out these procedures rapidly, effectively and securely. Recent years have seen a substantial improvement in electrosurgical devices. These advancements include better control mechanisms, precise tissue cutting and coagulation, and less collateral tissue injury. Now that they have access to highly advanced tools, surgeons can perform more accurately and efficiently.
Electrosurgical instruments are used in several surgical specialties, including general surgery, urology, gynecology, orthopedics, and more. These devices' adaptability makes them essential in various medical disciplines, contributing to their rising demand. Globally, chronic conditions such as cancer, diabetes, and cardiovascular illnesses are becoming more common. Numerous of these illnesses call for surgical procedures, which increases demand for electrosurgical equipment.
Type Insights:
The reusable surgical equipment segment is expected to be dominant in the surgical kits market during the forecast period. Utilization of reusable equipment is observed to be economical. Reusable tools may require a more significant initial investment. However, they can be reused often before needing to be replaced, which lowers the long-term operational expenses for hospitals and surgical institutions. Stainless steel or other premium materials are frequently used to create reusable surgical equipment. This guarantees the strength, clarity, and precision required for successful surgical treatments. The manufacturing process also includes strict quality control procedures to ensure constant performance. Using reusable surgical equipment aligns with these goals as environmentally friendly practices and sustainability are becoming increasingly critical global concerns. Disposable, single-use equipment produces a lot of medical waste, raising environmental issues.
Conversely, reusable equipment reduces waste generation, making it a more environmentally friendly option. Strict regulatory criteria and directives apply to reusable surgical tools. To ensure that the tools adhere to the highest industry standards for safety and performance, manufacturers must follow quality assurance procedures and adhere to regulatory requirements.
The disposable surgical equipment segment is expected to be the fastest growing segment of the market during the forecast period. The risk of infection is considerably decreased with disposable surgical supplies. It is essential to maintain a sterile environment, especially in surgical settings, and since they are only used once, there is no danger of cross-contamination between patients. Regulatory bodies and hospitals worldwide have put strict regulatory standards into place to guarantee patient safety and lower the threat of infections. As a result, the application of disposable surgical equipment is expanding. Disposable surgical instruments do not require time-consuming or expensive sterilization procedures. As a result, medical staff can concentrate more on patient care than managing and maintaining reusable devices, leading to higher efficiency in healthcare settings.
High-quality disposable surgical instruments have been created due to ongoing manufacturing techniques and material science developments. These instruments are made to perform at the same level as their reusable equivalents. Disposable surgical instruments may initially cost more than reusable ones, but utilizing disposables is frequently less expensive. This is so because no costs are associated with cleaning, upkeep, or repairs.
Application Insights:
The obstetrics and gynecology segment is expected to lead the market throughout the forecast period. Prenatal care, childbirth, and other gynecological operations such as hysterectomy, myomectomy, and ovarian cyst removal are just a few of the medical procedures for women's reproductive health that fall under the umbrella of obstetrics and gynecology. Because of this variety, obstetrics and gynecology surgery kits are always in demand.
There has been an increase in carefully monitoring healthcare facilities due to growing awareness of the value of prenatal and postnatal care, particularly in developing countries. This, in turn, increases the need for surgical kits for obstetrics and gynecology. Endometriosis, fibroids, and other reproductive tract infections are becoming more common. Obstetrics and gynecology surgical kits are frequently needed due to the frequent need for surgical intervention.
In many regions, an aging population has contributed to increased gynecological problems requiring surgical intervention. This demographic transition further increases the demand for surgical kits for obstetrics and gynecology. The ongoing need for obstetrics and gynecology surgery kits is influenced by government initiatives to improve mother and child health and by-laws supporting family planning and reproductive health.
The plastic and reconstructive surgeries segment is observed to be the fastest growing segment of the market. The way that society views cosmetic procedures has changed. These operations are more frequently seen as feasible options for various aesthetic and reconstructive requirements as medical knowledge and technology develop. Plastic and reconstructive surgery refer to multiple operations, including facelifts, rhinoplasty, liposuction, breast augmentation or reduction, and reconstructive surgeries after burns, cancer treatments, or traumas. The variety of applications has fueled an increase in demand. The need for cosmetic operations, including facelifts, botox injections, and dermal fillers, has surged. Significant technological developments in plastic and reconstructive surgery have made operations more accurate and efficient. These developments include breakthroughs in surgical equipment, less invasive methods, and 3D imaging technologies.
End-user Insights:
The hospitals segment is expected to dominate the global surgical kits market during the forecast period. The central locations for surgical procedures are hospitals. They carry out a range of operations, from simple to complex, which generates a steady and significant need for surgical kits. Centralized purchasing committees or hospital departments frequently handle the acquisition of medical goods, including surgical kits. This enables them to bargain contracts with suppliers for large purchases, which might lead to cost savings. Hospitals offer a variety of medical specialties, and each one calls for a certain kind of surgical kit. For instance, a department of orthopedic surgery will need different kits than a unit for cardiac surgery. Emergency preparedness for hospitals must include maintaining a ready supply of surgical supplies. This generates a constant demand, even in erratic circumstances.
Ambulatory surgical centers is the fastest growing segment of the market. Compared to conventional hospitals, they are typically more affordable for outpatient procedures. They can pass on savings to patients because they have fewer overhead expenses. They are a desirable alternative for patients and payers because of their cost advantage. It frequently focuses on treatments such as gastroenterology, orthopedics, or ophthalmology. Due to their expertise, they can purchase surgical kits specifically designed for their respective disciplines. They can provide top-notch care in such areas since they concentrate on procedures.
For patients, it offers a more convenient and comfortable experience. Furthermore, patients frequently like how convenient same-day surgeries are without requiring an overnight stay. They are created with outpatient operations in mind. They have specialized buildings and equipment, allowing more efficient operations and quicker turnaround times between surgeries. This implies that they can fit more functions into each time slot.
Regional Insights:
North America held the major share of the market in 2022, the region is anticipated to sustain the growth during the forecast period. The healthcare system in North America, especially in the United States and Canada, is very advanced. This comprises cutting-edge clinics, surgical centers, and hospitals outfitted with the most modern surgery tools and equipment. The cost of healthcare in the United States is among the highest in the world. The need for surgical kits and other medical supplies is constantly growing as a result of increased spending. The area is at the cutting edge of medical innovation and technology.
It has numerous prestigious medical device businesses, including Johnson & Johnson and Medtronic. They make significant investments in R&D, which results in the production of cutting-edge surgical kits. Some of the world's top medical institutions and training facilities are located in this area. This guarantees a consistent supply of qualified surgeons and medical specialists who depend on cutting-edge surgical equipment.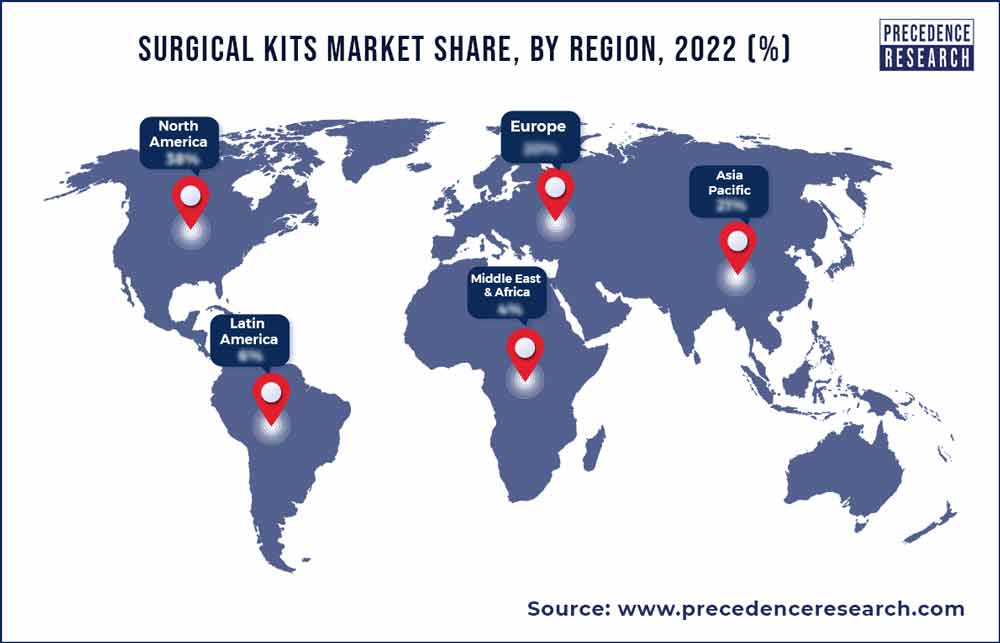 Asia Pacific is expected to witness the fastest rate of growth during the forecast period.
In many Asian nations, there has been a rise in healthcare knowledge and a focus on preventive care. The need for surgical kits has increased due to increased healthcare facilities and services. The cost of healthcare has been steadily rising in many nations in Asia Pacific. Because of this, there is now a more significant need for cutting-edge medical tools and supplies, like surgical kits. A sizeable chunk of the world's population, including a growing middle class and a sizable senior population, resides in the Asia Pacific region. The rise in demand for surgical procedures and kits is primarily due to these demographic groups' growing healthcare demands.
Asia Pacific's healthcare sector has made significant investments in cutting-edge medical technologies, such as enhancements to surgical techniques and the creation of specific surgical kits that increase effectiveness, lower infection rates, and enhance patient outcomes.
Recent Developments:
In May 2023, Aster Medcity released a specialized department called 'Aster Advanced Heart Valve Centre' that focuses on diagnosing and treating valvular heart disease. It also serves a comprehensive range of services, including minimally invasive procedures, medication, and surgical procedures.
In April 2023, GE HealthCare declared the accessibility of a next-generation intraoperative, bkActiv, an ultrasound imaging system, to guide urology, pelvic floor, and colorectal surgical procedures. BK Medical presents it. It provides health professionals with advanced ultrasound guidance, ensuring better performance and a user-friendly experience.
In September 2022, Medical Micro Instruments declared the launch of its new super micro–Nano Wrist instruments for its Symani surgical robot. It addresses the challenges of microsurgery.
Key Market Players:
B. Braun Melsungen Ag
Smith & Nephew plc
Zimmer Biomet Holdings Inc.
Stryker Corporation
Alcon Laboratories Inc.
Aspen Surgical Products, Inc.
Medtronic Inc.
Ethicon Inc.
Becton, Dickinson, and Company
Segments Covered in the Report:
(Note*: We offer reports based on sub-segments as well. Kindly, let us know if you are interested)
By Product
Surgical Sutures and Staplers
Handheld Surgical Devices
Electrosurgical Devices
By Type
Disposable Surgical Equipment
Reusable Surgical Equipment
By Application
Plastic and Reconstructive Surgeries
Neurosurgery
Urology
Obstetrics and Gynecology
Thoracic Surgery
Orthopedic
Cardiovascular Surgery
Other Applications
By End-user
Hospitals
Specialty clinics
Ambulatory surgical centers
Others
By Geography
North America
Europe
Asia-Pacific
Latin America
Middle East and Africa