The global sustainable battery materials market size was valued at US$ 45 billion in 2022 and it is expected to surpass around US$ 82.51 billion by 2032 with a registered CAGR of 6.30% from 2023 to 2032.
Access our Premium Real Time Data Intelligence Tool, Visit: Precedence Statistics


Sustainable Battery Materials Market in Asia Pacific 2023 To 2032

The Asia Pacific sustainable battery materials market size reached US$ 17.10 billion in 2022 and it is predicted to grow around US$ 31.95 billion by 2032 with a CAGR of 6.50% from 2023 to 2032.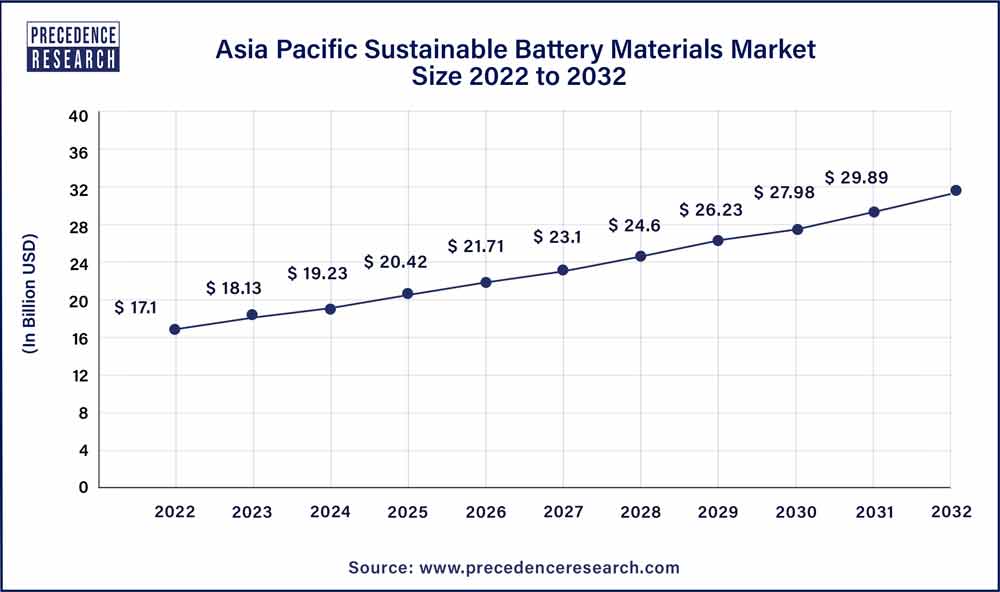 Asia-Pacific dominated the sustainable battery materials market in 2022. The regional growth is predicted to be aided by rapid urbanization and rising consumer spending on electric vehicles.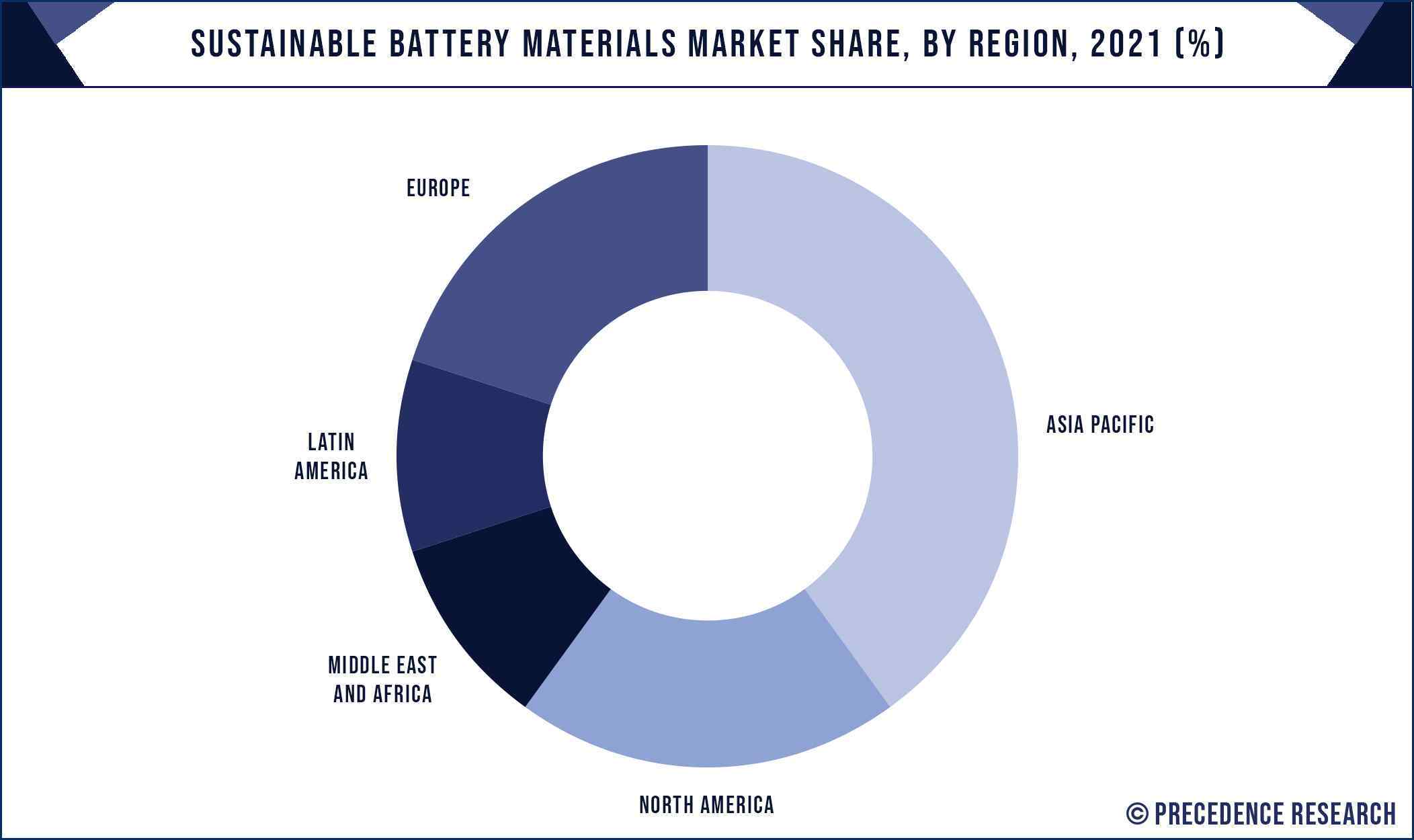 North America is expected to develop at the fastest rate during the forecast period. This is due to the fast adoption of electric vehicles in this region as well as increased consumer electronics purchases. The government is supporting investors in the renewable and electric vehicle industries, which is driving demand for battery-based energy storage systems, particularly lithium-ion batteries, which will help the region to flourish.
Growth Factors
With population expansion and fast industrialization, global energy consumption is steadily rising, necessitating continued developments in both energy generation and energy storage technology. While increasing energy demand benefits human society, it poses a challenge for energy supplies, and the usage of traditional fossil fuels results in increased greenhouse gas emissions. As a result, new technologies and methods of thinking about energy generation, delivery, storage, and consumption are required for a sustainable energy future. To improve energy security and lessen the harmful health and environmental effects of fossil fuels, researchers are increasingly focusing on renewable energy sources among wind, solar, wave, and tidal energies are currently successful areas.
While renewable energy sources are seen as a critical component in the development of a sustainable society, their use is contingent on the efficiency and long-term viability of energy storage technology. The development of battery storage systems using economical and ecologically friendly materials is becoming more recognized as a critical component of the whole concept of sustainable energy technology. In terms of operational performance, lithium-ion batteries are well ahead of other rechargeable battery technologies. However, there are doubts about lithium-ion batteries' long-term viability due to materials costs, cell component toxicity, and element abundance.
Battery storage systems are quickly becoming one of the most important tools for integrating intermittent renewable energy sources into power grids. Rechargeable batteries have made it possible to power a wide range of mobile electronics that sustain modern lives without the use of a power line. For vehicle electrification, high power density and high energy density rechargeable battery technologies are also in the works. By storing excess electricity and firming renewable energy output, utility scale batteries are projected to enable a large feed in of renewables to the grid.
Some of the primary drivers currently driving the global sustainable battery materials market are the growing electric vehicle market, the increased use of consumer electronics like as laptops and smartphones, and collaborative development between miners and battery makers. The increased demand for battery ingredients such as cobalt, nickel, and lithium has resulted from a rise in electric vehicle production around the world. In fact, due to the significant increase in battery production, there may be shortage of these crucial elements in the future. The global electric vehicle sales have been bolstered by the shift to clean energy and the rise in crude oil costs. The electric vehicle sales are also boosted by favorable government regulations and financial incentives in the form of tax rebates and grants.
Similarly, as revenue rises, so will the use of consumer electronics, propelling the sustainable battery materials market forward during the projection period. The major battery manufacturers engage with battery material suppliers to develop innovative battery technologies and to increase the supply of sustainable battery materials that are expected to be in short supply in the future. All of these reasons are driving the global sustainable battery materials market by increasing the upstream metal mining sector's focus on battery metals.
In the sustainable battery materials business, environmental concerns over metal mining are a big concern, as this could stymie the acquisition of additional mine sites. Another major constraint for global sustainable battery materials is the regional concentration of battery metal reserves in a few nations, which increases the potential of supply shortages if export limits are imposed. On the other hand, this prevents an opportunity for sustainable battery materials market expansion. The nations will engage in domestic mining and boost the rate of extraction of important minerals like nickel, lithium, and cobalt to assure supply reliability.
Report Scope of the Sustainable Battery Materials Market
| | |
| --- | --- |
| Report Coverage | Details |
| Market Size by 2032 | USD 82.51 Billion |
| Growth Rate from 2023 to 2032 | CAGR of 6.30% |
| Largest Market | Asia Pacific |
| Fastest Growing Market | North America |
| Base Year | 2022 |
| Forecast Period | 2023 to 2032 |
| Segments Covered | Battery Type, Material, Application, Geography |
| Companies Mentioned | BASF SE, TCI Chemicals Pvt. Ltd, Mitsubishi Chemical Holdings, TORAY INDUSTRIES INC., Kureha Corporation, Umicore Cobalt & Specialty Materials, NEI Corporation, NICHIA Corporation, Hitachi Chemical Co. Ltd, Asahi Kasei |

Battery Type Insights
In 2022, the lithium-ion segment dominated the sustainable battery materials market. Due to its color memory effect, high energy density, and low self discharge, it is employed in portable electronic devices. It's used in a variety of industries including consumer electronics, industrial, and automotive.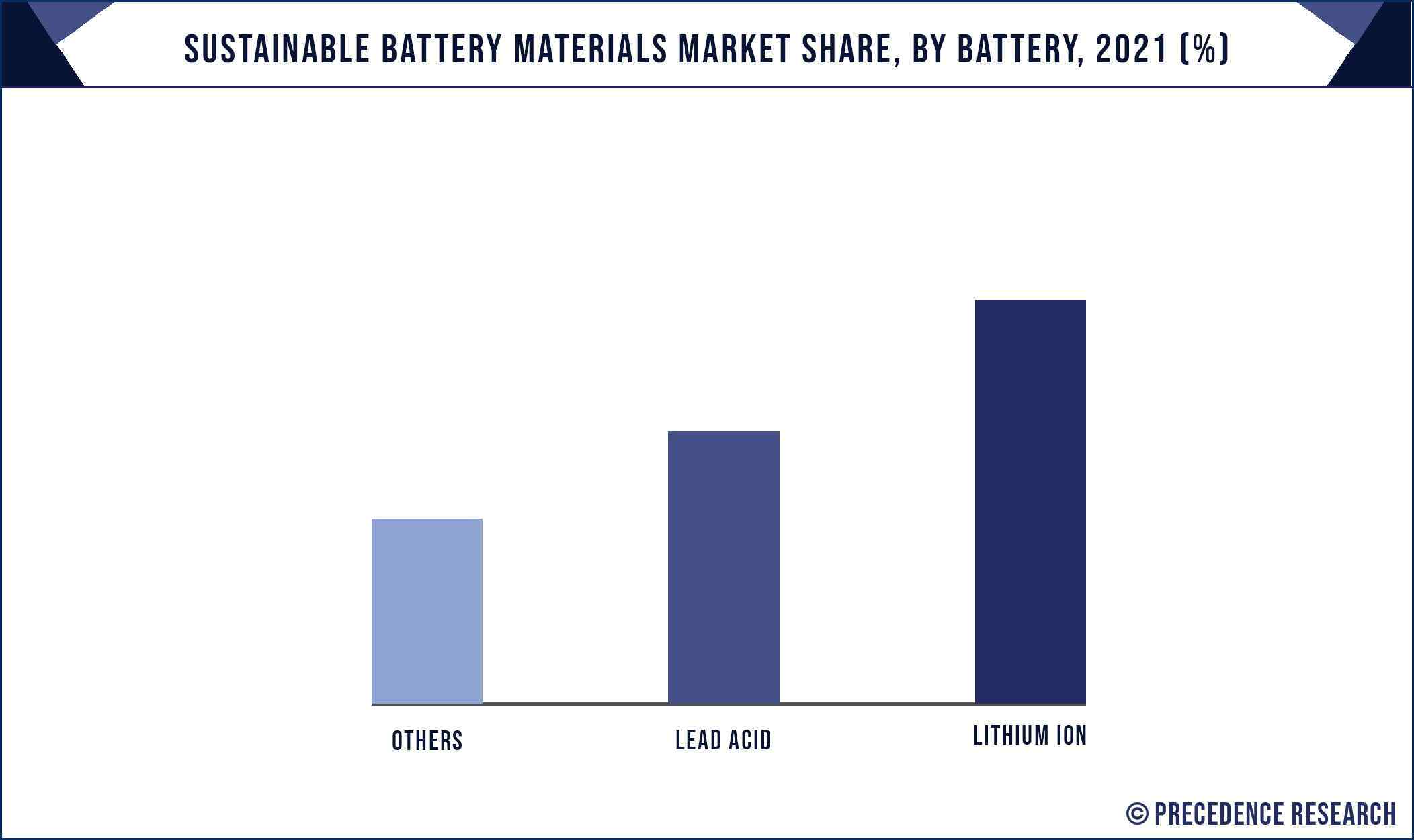 The lead acid segment, on the other hand, is predicted to develop at the quickest rate in the future years. The global demand for lead acid batteries is increasing as a result of its qualities such as ease of purchase, reliability, abuse tolerance, overcharging tolerance, and the capacity to deliver high currents.
Material Insights
In 2022, the cathode segment dominated the sustainable battery materials market. The cobalt, nickel, and manganese are the most active elements in cathode materials. Nickel, primarily lithium nickel manganese oxide and nickel cobalt aluminum oxide, is now used to partially replace cobalt.
The anode segment, on the other hand, is predicted to develop at the quickest rate in the future years. The conventional current enters a polarized electrical device through an anode, which is an electrode.
Application Insights
In 2022, the consumer electronics segment dominated the sustainable battery materials market. The growing use of lithium-ion batteries in consumer gadgets is expected to boost total sustainable battery materials industry growth.
The automotive segment, on the other hand, is predicted to develop at the quickest rate in the future years. The sustainable battery materials market is being driven by a boom in global automotive sales and production, which has resulted in a rise in vehicle electrification.
Key Developments
POSCO Chemical completed the setting-up the second anode material factory in South Korea in June 2020, increasing its anode material production capacity. This is reaction to increased demand for secondary battery material, which prompted the company to extend the anode production systems at the factory, which can produce 44 KT per year.

Glencore and Umicore formed a cooperation in May 2019 to supply cobalt to Umicore's battery materials value chain. Umicore's cobalt supply and market expansion will be aided by this deal.

Mitsubishi Chemical Corporation declared in December 2018 that it would raise its formulated electrolyte for lithium-ion batteries production capacity at its Yokkaichi Plant from 11,000 tons per year to 16,000 tons per year.
Some of the prominent players in the global sustainable battery materials market include:
BASF SE

TCI Chemicals Pvt. Ltd

Mitsubishi Chemical Holdings

TORAY INDUSTRIES INC.

Kureha Corporation

Umicore Cobalt & Specialty Materials

NEI Corporation

NICHIA Corporation

Hitachi Chemical Co. Ltd

Asahi Kasei
Segments Covered in the Report
(Note*: We offer report based on sub segments as well. Kindly, let us know if you are interested)
By Battery Type
Lithium Ion

Lead Acid

Others
By Material
Cathode

Anode

Electrolyte

Separator

Others
By Application
Consumer electronics

Automotive

Industrial

Others
By Geography
North America
Europe
Asia-Pacific

China
India
Japan
South Korea
Malaysia
Philippines

Latin America

Brazil
Rest of Latin America

Middle East & Africa (MEA)

GCC
North Africa
South Africa
Rest of the Middle East & Africa