The U.S. digital therapeutics market size was estimated at USD 1.89 billion in 2022 and is expected to hit USD 14.44 billion by 2032, registering a compound annual growth rate (CAGR) of 22.6% from 2023 to 2032.
Access our Premium Real Time Data Intelligence Tool, Visit: Precedence Statistics
Key Points:
On the basic of end use, the patient segment dominated the market growth with more than 32% of the revenue share in 2022.
On the basic of the product, the software segment is projected to hold the largest market share from 2023 to 2032.
On the basic of application, the diabetes segment holds the biggest market share from 2023 to 2032.
Market Overview
Digital Therapeutics are proven therapeutic procedures driven by software to prevent, manage or treat a medical condition or disease. In other words, Digital Therapeutics are patient-facing application software that helps in treating, preventing, or managing diseases and have been proved the clinical benefit. For instance, DTx assists the patient in self-managing symptoms and improving their quality of life and other clinical objectives. DTx uses digital tools such as mobile devices, apps, sensors, virtual reality, the Internet of Things, and others in order to induce behavioral changes in patients. DTx development has a positive impact on offering well-adapted health services as their design is targeted to the demands of the patient.
Report Scope of the U.S. Digital Therapeutics Market
Report Coverage
Details
Market Size in 2023
USD 2.31 Billion
Market Size by 2032
USD 14.44 Billion
Growth Rate from 2023 to 2032
CAGR of 22.6%
Base Year
2022
Forecast Period
2023 to 2032
Segments Covered

By Application
By Product
By End Use

Market Dynamics
Drivers
Rising demand for the digital therapeutics
The demand for U.S. digital therapeutics is on the rise owing to increased penetration of digital healthcare applications and platforms due to the rapid adoption of smartphones, tablets, and smart wearables is likely to drive market growth in the coming years. The Rising prevalence of chronic diseases with the growing need to control the rising cost of healthcare facilities is another factor that is expected to drive the market growth. Furthermore, constantly changing digital platforms in many industries have encouraged consumers to use these digital platforms. Also, increased awareness about health and fitness are the major drivers that boost the market in the upcoming years.
Restrains
Data privacy concerns
The various health applications lack the necessary authorization raising issues about the product and data quality, patient privacy, security, and data use responsibly. Digital therapeutics providers have access to the patient's information but are not permitted to share information about who is involved in the patient's treatment. However, with the digital technologies to consolidate data, the patient's information is at risk which can be accessed by any healthcare professional who is not involved in patients' treatment procedure. As a result, data privacy issues are impeding the growth of the market during the forecast period.
Opportunities
Rising investments and strategic acquisition
Increased pharma investment and healthcare-focused start-ups are more likely to act as market drivers for digital therapeutics, influencing and shaping the future of digital therapeutics. There is also a positive trend for digital medication reimbursement, with 25% of organizations currently covering them and another 45% promising to do so in the future. Consolidation in the digital therapeutics sector is ongoing, with vendors expanding their market presence through strategic acquisitions and collaborations with pharmaceutical companies. Mergers and acquisitions are being used by global and prominent regional suppliers to enhance their market positions and extend their product ranges.
Furthermore, the growing emphasis on strategic acquisitions and the formation of collaborative partnerships among key stakeholders such as providers, payers, and the US federal government to meet prevalent unmet patient needs and provide supportive healthcare services in remote locations is contributing to the growth of the digital therapeutics market in the US. These strategic alliances will boost healthcare infrastructure utilization, enhance patient and physician interaction, and deliver improved disease management and patient access services.
COVID-19 Impact
Following the outbreak of the COVID-19 pandemic, the use of DTx applications in a variety of industries increased significantly. DTx offers one-of-a-kind solutions to meet healthcare needs, lowering the risk of COVID-19 exposure during a hospital visit. The COVID-19 pandemic joined other main drivers of DTx growth, including a greater emphasis on preventative healthcare, a high prevalence of chronic diseases, and more cheap devices as a result of technological advancements. DTx became a significant participant in the digital health sector after COVID, and its scope is anticipated to raise the US digital therapeutics market.
Segments Insight
Application Insights
Based on application, the U.S Digital Therapeutics Market is segmented into Diabetes, Obesity, Central Nervous System (CNS), cardiovascular disease (CVD), Gastrointestinal Disorder (GID), Respiratory diseases, Smoking Cessation, and Others). The diabetes segment holds the largest market share during the forecast period owing to the high prevalence of diabetes. Additionally, the demand for cost-efficient healthcare options and high prevalence rates for diabetes are observed in the U.S. thus it further boosts the demand for digital therapeutics among diabetes patients in the country. Moreover, the obesity segment is estimated to account for the highest growth during the forecast period. This is due to the increasing number of overweight populations which leads to an increase in the number of chronic diseases from obesity. Furthermore, improved accessibility of digital therapeutics software applications that assist patients in maintaining a healthy diet, tracking health data, and daily physical activity boosts growth in the US digital therapeutics market. Moreover, the DTx software application offers frequent online guidance from certified doctors, which is projected to contribute to the future reduction of obesity prevalence.
Product Insights
Based on product, the U.S. digital therapeutics market is segmented into software and devices. The software segment is estimated to hold the largest market share during the forecast period. This is due to the rise in demand for the reduction of healthcare costs globally. This would provide immense opportunities to developers to use existing software and also develop new and advanced features to make them more effective and affordable. This is estimated to help propel the U.S. digital therapeutics market size.
End Use Insights
Based on End Use, the U.S. digital therapeutics market is segmented into patients, providers, payers, employers, and others. The patient segment dominated the market growth with more than 32% of the revenue share in 2022. The rising adoption of these technologies are linked to their additional advantages, one of which is effective health management at a low cost. Furthermore, the presence of advanced healthcare information systems and supportive federal programs in the country are factors that are predicted to increase patient adoption of digital therapies.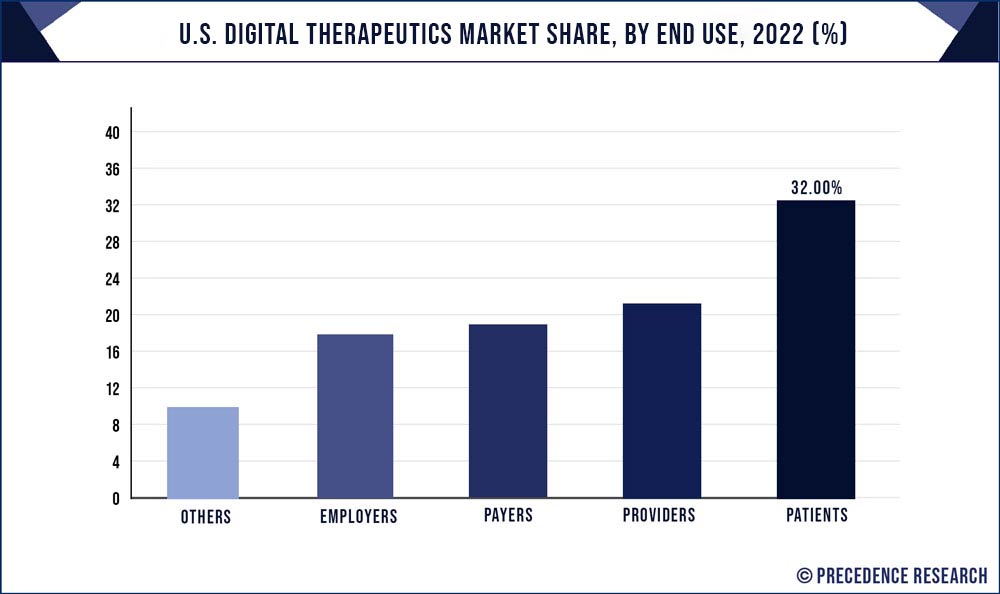 The employer segment is anticipated to grow during the forecast period owing to employers focus on employee healthcare cost control, which is estimated to boost the growth of the segment. Furthermore, increased awareness through employee healthcare programs is projected to drive the use of digital therapies for employee well-being. Availability of multiple mHealth apps like Vida Health, used by payers, providers, and employers to monitor chronic situations such as prediabetes, obesity, hypertension, and mental health disorder are the factors that are expected to drive the market.
Recent Developments
In April 2022, Pear Therapeutics was designated as a product candidate for the treatment of acute and chronic pain by FDA's Safer Technologies Program (STeP)
In March 2022, Sanofi US, which is a global healthcare firm announced a collaboration with DarioHealth, a company that is focused on digital therapeutics. This Collaboration will help accelerate the commercial adoption of DarioHealth's DTx technologies and the expansion of digital health solutions on the Dario platform.
In April 2021, Omada Health Launches the Omada Insights lap in order to improve healthcare outcomes. The Insights lab is a product development approach that uses multidisciplinary teams to accurately identify what works and does not work in a digital care setting and then expand those tools inside the organization.
In June 2020, ATAI Life Sciences launched IntroSpect Digital Therapeutics. In order to address the growing number of mental health illnesses, the company will offer DTx and precision psychiatry solutions.
In March 2020, the U.S. FDA approved Somryst by Pear Therapeutics for chronic insomnia which combines algorithm-driven sleep limitation, suggestions, and consolidation.
The Key Players
Omada Health Inc.
2Morrow Inc.
Teladoc Health, Inc
Pear Therapeutics (U.S), Inc.
Fitbit Health Solutions
Welldoc, Inc
Click Therapeutics
Noom, Inc.
Akili, Inc.
Better Therapeutics, Inc
Segments Covered in the Report
(Note*: We offer reports based on sub-segments as well. Kindly, let us know if you are interested)
By Application
Diabetes
Obesity
Central Nervous System Diseases
Cardiovascular Disease (CVD)
Respiratory Disease
Smoking Cessation
Gastrointestinal Disorder (GID)
Others
By Product
By End Use
Patients
Providers
Payers
Employers
Others