The global 3D imaging market size was exhibited at USD 30.28 billion in 2022 and is estimated to surpass around USD 166.01 billion by 2032, expanding at a registered CAGR of 18.6% during the forecast period 2023 to 2032.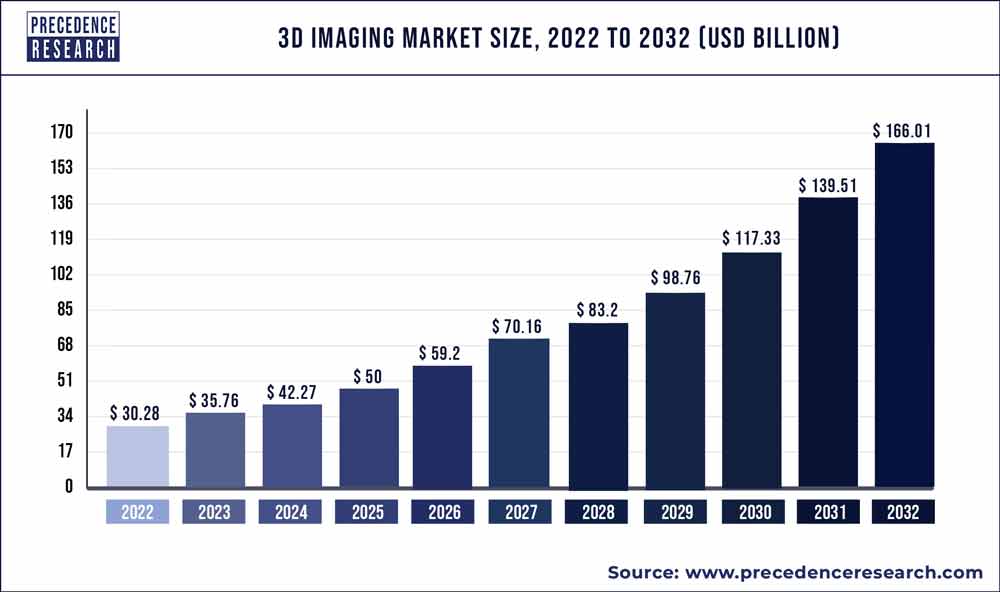 Access our Premium Real Time Data Intelligence Tool, Visit: Precedence Statistics
Key Takeaways:
North America accounted for the highest revenue share of around 35.7% in 2022.
By component, the hardware segment has held a revenue share of around 46% in 2022.
By deployment, the on-premise segment has accounted for 75.5% of revenue share in 2022.
By organization, the large enterprise segment has captured 55.6% revenue share in 2022.
By end-use, the healthcare and life sciences segment has reached 57% revenue share in 2022.
The process of producing a three-dimensional image in order to give the appearance of depth is known as 3D imaging. To capture a three-dimensional object and create these 3D photos, two or more motion cameras are used. By merging 3D image sensors, cameras, and screens, high-resolution images are produced. Numerous industries, including those that provide medical services, amusement, mechanical applications, design and designing, security and observation, and others, use 3D imaging advances. Due to advancements that have counterbalanced the medical services business, it has emerged as the primary end-use industry among them. Due to the current trend of offering 3D effects in movies and TV shows, media outlets are also growing to be a significant buyers of 3D imaging improvements.
Market expansion was negatively impacted by the COVID-19 pandemic. In 2020, the pandemic compelled governments to lock down international borders and temporarily close businesses, marketplaces, schools, and other public areas.
Growth Factors
Significant research and development into 3D imaging solutions have been conducted to create more sophisticated and practical systems. The viewers are presented with a visual image that is confined by 2D imaging technology's many limitations. As a result, there is now more demand for 3D imaging technology because it may avoid the drawbacks of 2D imaging. Furthermore, the increasing need for 3D image sensors from industries like manufacturing, the automobile, and media, and entertainment is one of the main growth factors for the 3D imaging market. The market is anticipated to expand as a result of the rising demand for 3D accelerometers in smartphones and gaming consoles.
Increasing demand for high videos games and theatrical films
Constantly increasing prevalence of chronic diseases globally
Technological Advancement
Report Scope of the 3D Imaging Market
Report Coverage
Details
Market Size in 2023
USD 35.76 Billion
Market Size by 2032
USD 166.01 Billion
Growth Rate from 2023 to 2032
CAGR of 18.6%
Base Year
2022
Forecast Period
2023 to 2032
Segments Covered

By Component
By Organization
By Deployment Mode
By Application
By End-Use

Regions Covered

North America
Europe
Asia-Pacific
Latin America
Middle East & Africa

Key Market Drivers
Technological advancement – Motion recognition, 3D delivering, 3D showing, and other applications all make use of 3D imaging market trends technology. 3D clinical imaging is one of the specialized uses for 3D technology, which has a wide range of purposes in clinical, diversion, guard, mechanical computerization, security and surveillance, engineering, development, media and amusement, modern robotization, and other fields. The market is also driven by increased demand for 3D displays and sensors for high-definition representation, growing 3D imaging awareness, expanded application in smartphones and tablets, as well as flood popularity in contemporary mechanization.
Due to its high-end representational features, this innovation is favored by various 3D imaging businesses. Additionally, a rise in consumer attentiveness has fuelled the availability of consumer electronics, having a positive impact on the global industry. Nevertheless, it is anticipated that future R&D and the creation of 4D technologies would increase the customer base.
Furthermore, the need for 3D imaging technology in the medical area is being driven by expanding developments in the healthcare and life sciences fields as well as 3D technology to see interior body structure for treatment and diagnosis. The inclination of consumers is changing in favor of high-resolution photos, movies, and animated videos as a result of technological improvements. Therefore, it is projected that the media and entertainment sector will accelerate the 3D imaging market's expansion. Over the anticipated period, the global 3D imaging market is anticipated to experience tremendous expansion due to growing investments in artificial intelligence made by the 3D medical imaging industry and rising demand from 3D retail and e-commerce. The 3D healthcare sector is predicted to experience increasing adoption of 3D imaging due to the increase in demand for better and more advanced healthcare facilities for increased resolution and visualization for precise test diagnosis.
Key Market Challenges
Lack of knowledge - Although 3D imaging technology may have a number of benefits, price-sensitive sectors are not their target audience. Therefore, the significant cost and technological challenges associated with creating high-quality 3D images are major barriers to their broad adoption in these sectors.
Key Market Opportunities
Emergence of 4D technology
The development of 4D technology and the rising popularity of consumer electronics, such as smart fitness gadgets, are also anticipated to contribute to the expansion of the 3D imaging market. Similar to other industries, the entertainment sector is expected to adopt 3D imaging techniques heavily due to technological advancements and a penchant for high-resolution visualized images and movies.
A number of rising end-user industries, including security & surveillance, architecture & engineering, and industrial automation, have strong development potential and offer profitable investment prospects for market participants.
Demand from the architecture and engineering sectors is growing
A significant factor fuelling the expansion of the worldwide 3D imaging market is the usage of 3D imaging by the healthcare, agricultural, and other end-user industries. Due to the sophisticated uses of 3D imaging in a few projects, interest in the global market for 3D imaging has increased. Because of the enormous value provided by these arrangements, 3D imaging systems have been integrated into many modern corporate establishments. Recently, the medical care sector has expanded its use of 3D imaging technology. With the aid of 3D imaging, ultrasounds, X-rays, and other imaging tasks are developed for the medical care sector.
Additionally, the use of 3D imaging in horticultural innovation work has also contributed to the rapid growth rate of the global market. Additionally, the development industry has recently emerged as a passionate customer of 3D imaging improvements. However, the general public's low levels of awareness regarding the applications and benefits of 3D photography have also sparked interest in the global market.
Segments Insight
Component Insights
The hardware sector led the market in terms of revenue share in 2022 and it is anticipated that it will hold this position throughout the forecast period. This is due to the rising need in the healthcare industry for 3D imaging equipment such X-ray machines, ultrasound systems, CT, and MRI. The need for 3D imaging technology has also increased as a result of the expanding gaming and entertainment sectors, which allow viewers to see the 3D experience firsthand. The market has been divided into software, hardware, and services based on its component parts.
Over the projection period, the software segment is anticipated to grow, this is due to the employment of 3D imaging technology in the manufacturing, automotive, and healthcare sectors. The software segment is growing at a CAGR of 19.7% during the forecast period. The segment's expansion is also being fueled by its rising appeal in other fields like media and entertainment, building and construction, and archaeological studies.
Deployment Mode Insights
The market segment with the biggest revenue share was on-premise, and it is anticipated that this segment will continue to hold this position during the forecast period. This is due to a one-time upfront license payment, a constantly accessible internal network, and strong security since data is held locally.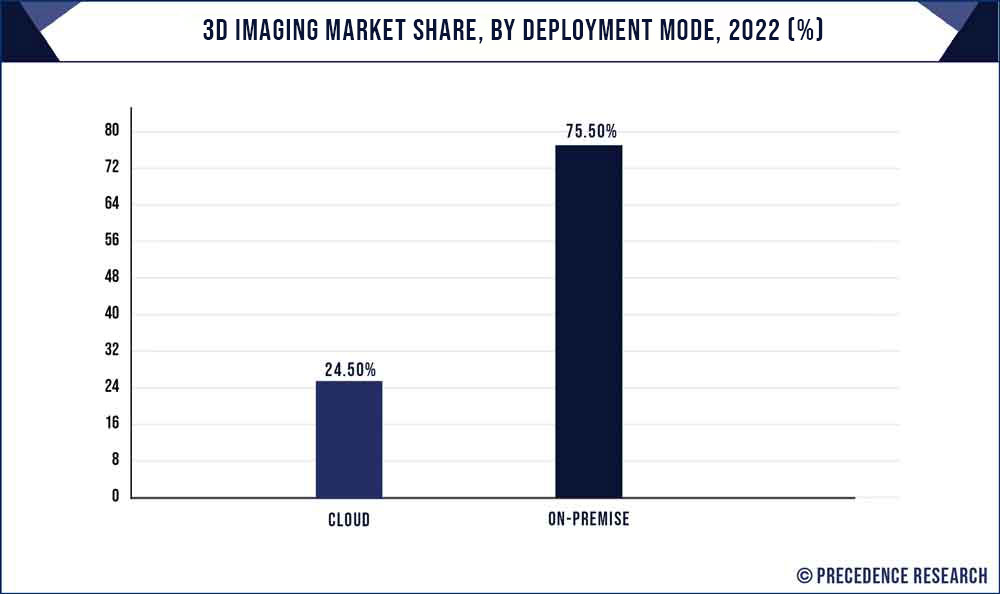 Over the course of the projected period, the cloud category is anticipated to grow at a CAGR of 19.9%. Due to their benefits, such as simple and efficient management, image data maintenance, flexibility, cost-effectiveness, agility, and scalability, the adoption of cloud-based 3D imaging systems is expanding.
Organization Insights
The biggest revenue share was accounted for by the large enterprise category in 2022, and it is anticipated that this segment would continue to rule the market during the forecast period. This is a result of huge businesses using 3D imaging hardware and software more frequently to produce better products and provide a better consumer experience. Furthermore, increased investments by big businesses are largely responsible for this market segment's supremacy.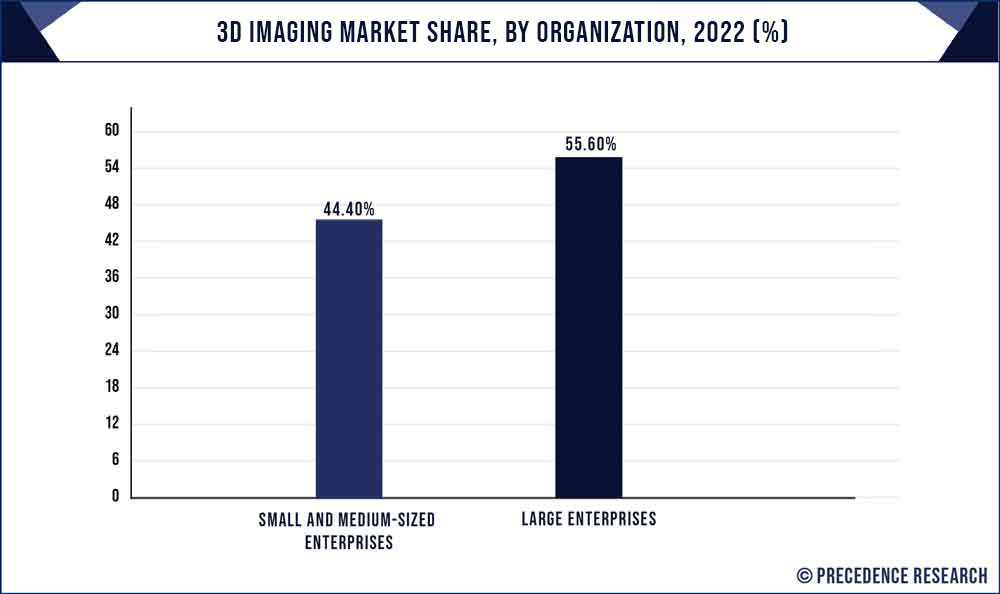 The small and medium segment is poised to grow at a notable CAGR of 19.4% over the forecast period. This is because more small and medium-sized businesses are using 3D imaging technologies to compete with other market participants.
End-Use Insights
Healthcare and life sciences segment in 2022 accounted largest market share and this segment is anticipated to maintain its dominance throughout the forecast period. This is because 3D medical imaging technology is being adopted more widely and is increasingly needed in the healthcare industry to identify and diagnose diseases in the body. The market has been divided into categories for automotive and transportation, transportation, healthcare, life science, manufacturing, media and entertainment, and security and surveillance. There has been an increase in the incidence of lifestyle diseases and age-related illnesses as a result of sedentary lifestyles, the prevalence of chronic diseases around the world, and a sizable growth in the ageing population. The need for 3D imaging devices has surged as a result.
Over the projection period, it is anticipated that the automotive and transportation segment would expand. The automotive and transportation segment is expected to reach a CAGR of 17.7% over the forecast period. The market for automotive 3D imaging is being driven by the additional features provided by 3D imaging, an increase in the number of automobiles on the road, an increase in the use of advanced driver assistance systems (ADAS), and the developing trend of driverless cars. Protection, parking monitoring, anti-theft measures, healthcare, social media, forensics, and mobile commerce are all made possible by this technology.
3D Imaging Market Share, By Region, 2022 (%)
| | |
| --- | --- |
| Regions | Revenue Share in 2022 (%) |
| North America | 35.7% |
| Asia Pacific | 25.5% |
| Europe | 30.4% |
| Latin America | 5% |
| MEA | 3.4% |

Regional Insights
On the basis of geography, North America is anticipated to dominate the 3D imaging market. Market growth in the area is being fueled by elements like the existence of key market suppliers and the increasing adoption of cutting-edge technology. Over the forecast period, Asia Pacific is anticipated to grow at the greatest CAGR. The expansion of the regional market is mostly related to the expansion of the manufacturing, media and entertainment, healthcare, and automation industries.
Asia Pacific is predicted to hit a CAGR of 20.7% during the forecast period. Asia Pacific countries like Japan, India, and China have increased their investments as a result of the prospective growth in these areas. Throughout the projection period, market growth is anticipated to be fueled by the region's expanding technological awareness and use.
Recent Developments
In April 2021 – A long-term collaboration between eCential Robotics and SIGNUS Medizintechnik GmbH aims to deliver an improved spine surgical solution that combines navigation, robotics, and implant technologies.
In February 2021– The True View 515, the newest member of GeoCue Group's 3D Imaging Systems (3DIS) line, has been released. For applications involving all-purpose sensors and dense vegetation penetration, True View 515 is created.
Key Market Players
General Electric
TomTec Imaging Systems GMBH
PLANMECA OY
Ajile Light Industry
OLYMPUS CORPORATION
EOS Imaging
Siemens Healthcare GmbH
INTRASENSE
eCential Robotics
FARO
Koninklijke Philips N.V.
Segments Covered in the Report
(Note*: We offer reports based on sub-segments as well. Kindly, let us know if you are interested)
By Component
Software
Hardware

3D Sensor
3D Display
Others

Services
By Organization
Large Enterprises
Small and Medium-sized Enterprises
By Deployment Mode
By Application
Layout and Animation
Image Reconstruction
3D Modelling
3D Scanning
3D Rendering
Others
By End-Use
Automotive and Transportation
Manufacturing
Healthcare and Life Sciences
Architecture and Construction
Media and Entertainment
Security & Surveillance
Others
By Geography
North America
Europe
Asia-Pacific
Latin America
Middle East & Africa (MEA)