The global aerial imaging market size was exhibited at USD 3.50 billion in 2022, and it is predicted to reach around USD 12.79 billion by 2032, poised to grow at a CAGR of 13.84% during the forecast period from 2023 to 2032.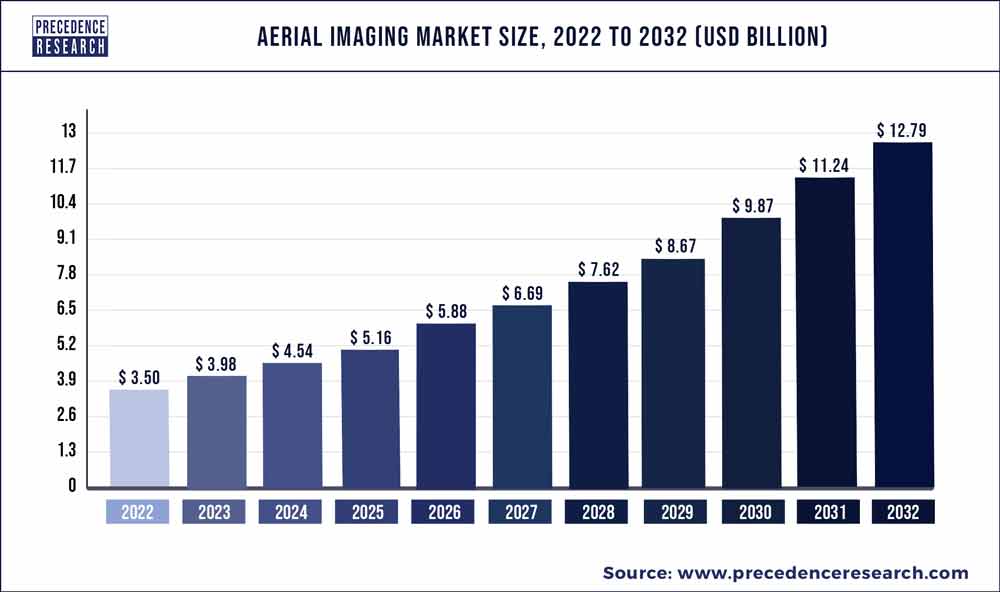 Access our Premium Real Time Data Intelligence Tool, Visit: Precedence Statistics
Key Takeaways:
North America captured the largest market share in 2022.
Asia Pacific is expected to expand at the fastest CAGR between 2023 and 2032.
By End User, the military and defense generated for the highest market share in 2022.
By End User, the government segments is registered the greatest CAGR from 2023 to 2032.
Market Overview:
All imagery captured using an airborne craft, such as a drone or an airplane, is referred to as aerial imaging. It has been applied to route design, urban planning, volume-based computations, and mapping updates. The popularity of location-based services and expanding uses for aerial images are significant market factors. The market will see new growth prospects as more cutting-edge technologies like LiDAR systems, 360-degree vision cameras, artificial intelligence, and geographic information systems are used.
Additionally, factors like the surge in demand for various commercial applications, the use of aerial imaging technology in the construction of 5G infrastructure, and the rise in demand for aerial imaging in disaster mitigation and prevention are anticipated to support the aerial imaging market growth. However, strict government regulations regarding national security, inaccurate image data collection, and an increase in worries about drone cyber-security are expected to restrain the market growth. Ample prospects for market expansion have been provided by technological developments such as sophisticated motion and 3D mapping software, temperature sensors in cameras, unmanned aerial vehicles, and others.
Growth Factors:
New growth opportunities for the aerial imaging market are anticipated to come from expanding application areas. The technology provides an effective answer for many different tasks, such as route design, planning, volume calculations, map updates, and so forth. Aerial imagery is used for many different things, including development and construction, geospatial technology, disaster management, research and conservation, etc. Growing technical developments in camera systems and aerial platforms are anticipated to fuel market expansion during the course of the estimate.
In addition, it is anticipated that greater consumer awareness of this technology's advantages will enhance demand. Over the forecast period, expanding location-based services are anticipated to fuel market growth in aerial imaging. Aerial imaging is the method of taking pictures of the ground using cameras mounted on airplanes, helicopters, parachutes, airplanes, kites, unmanned aerial vehicles, balloons, vehicle-mounted poles, and airships. Aerial photography has uses in risk reduction, mapping, resource planning, research and excavation, urban planning, security and surveillance, engineering, farming management, tourism, and other fields.
Due to its many uses, such as photogrammetric surveys, topographic map production, environmental research, surveillance, and other things, aerial imagery services have become more and more popular. In the upcoming years, the market expansion is anticipated to be fueled by expanded application areas across several verticals, including agriculture, forestry, energy & resources, and civil engineering.
Report Scope of the Aerial Imaging Market:
| | |
| --- | --- |
| Report Coverage | Details |
| Market Size in 2023 | USD 3.98 Billion |
| Market Size by 2032 | USD 12.79 Billion |
| Growth Rate from 2023 to 2032 | CAGR of 13.84% |
| Largest Market | North America |
| Base Year | 2022 |
| Forecast Period | 2023 to 2032 |
| Segments Covered | By Application, By End User, and By Platform |
| Regions Covered | North America, Europe, Asia-Pacific, Latin America, and Middle East & Africa |

Market Dynamics:
Driver:
A surge in demand for aerial imaging in varied commercial applications
All images captured from an airborne craft, such as a fixed-wing aircraft, a helicopter, a drone, a rocket, and others, are referred to as aerial imagery. Aerial imagery has recently been shown to be very useful for planning activities related to agricultural sustainability, monitoring and researching the bio-geological features of oceans, evaluation of the environment and monitoring, disaster tracking and mitigation, security of water and management, and other activities. Farmers all over the world are using remote sensing data for precision agriculture to help them decide how to best maximize crop yields and minimize agricultural waste.
In this, farmers can plan appropriate field inspection and supervision thanks to the use of aerial imagery in a variety of wavelengths. Plant health can be quickly assessed and dealt with using multispectral sensors and the normalized difference vegetation index (NDVI). In September 2019, DJI—a world leader in civilian drones and aerial imaging technology—introduced the P4 Multispectral drone for precision land and agricultural management in response to the rising need for precision agriculture using aerial imaging.
Restraints:
Lack of uniformity in regulations for drones/UAVs
Aerial imaging is the practice of taking pictures of the ground using cameras attached to moving objects like helicopters, parachutes, airplanes, kites, balloons, poles, and airships. Around the world, drones are frequently used to capture aerial imagery for commercial, military, and civil applications. For the past few years, the industry and end-use have seen severe restrictions on drone flying due to various government-related regulations. Only a few nations permit small drones to fly commercially beyond visual line of sight (BVLOS), and some require a pilot's license. One of the biggest obstacles facing the sector is the lack of uniform air traffic laws. Air traffic management that is consistent helps lessen operational difficulties.
Opportunities:
The surge in the use of aerial imaging for disaster risk reduction and prevention
Both natural and man-made disasters harm thousands of people each year. Earthquakes, hurricanes, tornadoes, floods, fires, and explosions are a few examples of disasters. ReliefWeb, a service that provides humanitarian information on behalf of the United Nations Office for the Coordination of Humanitarian Affairs (OCHA), reports that 396 natural disasters were listed in the EM-DAT international disasters database in 2019, resulting in 11,755 fatalities, 95 million affected individuals, and economic losses of about $103 billion worldwide.
The greatest impact was felt in Asia, which accounted for 40% of all disaster events, 45% of all fatalities, and 74% of all impacted people. India experienced the worst damage in Asia, accounting for over 20% of all fatalities and about 24.5% of all impacted people. Aerial imagery aids in reducing the risks associated with natural disasters and their destructive effects. Different types of aircraft can capture aerial images that can be used to analyse hazards and plan and implement quick changes that could avert a catastrophe and save lives. This include preventing landslides, spotting fires during heat waves, and keeping an eye on rivers that are overflowing during severe downpours.
Impact of COVID-19:
The aerial imaging sector was impacted globally by the COVID-19 epidemic. Due to supply chain disruption caused by the COVID-19 epidemic, the majority of major drone and UAV manufacturers have slowed new product delivery. The spread of the epidemic has also affected funding sources for R&D and the uptake of innovative technology in the aerial imaging industry. Challenges include production issues and a lackluster market for new drones and UAVs in the face of strict lockdown measures were seen during 2020 and the middle of 2021. However, due to the expanding use of aerial imagery and analytics in a variety of end-use verticals, it is anticipated that post-pandemic demand for aerial imaging will rise significantly.
Segments Insight:
Application Insights:
For planning and executing various tactics in a range of applications, including forestry, mining, oil coastal navigation, and gas exploration, and crisis management, aerial terrain mapping is essential. The generation of accurate and exact three-dimensional point clouds or sets of points using GPS and inertial technologies has grown in popularity throughout the industrial sectors of the world. The adoption of aerial imagery services has significantly increased in the past few years owing to their diverse applications, such as the development of topographic maps, surveillance, photogrammetric surveys, and others. The growing adoption of surveillance drones for applications in public, wildlife, animal, and critical infrastructure safety and security has increased demand for aerial imaging.
Platform Insights:
The aerial imaging market has been divided into categories for land surveying, energy equipment monitoring, agriculture, public safety and inspection, and defense. Defense accounted for the biggest market share in 2022. The demand for aerial imaging solutions in the market is anticipated to be influenced by the growing use of drones in homeland security and defense to pinpoint vulnerable areas and identify threats connected to terrorism. Drones assist the military in bolstering their strength, improving their ability to quell terrorism and combat new threats to national security and terrorism. Therefore, during the review timeline, the defense sector is likely to account for a sizable portion of aerial imaging market revenues.
End-user Insights:
Due to rising demand for applications such as city planning, infrastructure inspection, disaster surveys, and mapping, the government segments are anticipated to develop at the greatest CAGR during the anticipated period. For instance, aerial imaging surveys in Northern Alberta are utilized for topographic modelling and field research for railway lines. These assessments will aid in the development of a top-notch infrastructure project, including land removal, fencing, and the preparation of access roads. During the forecast period, it is expected that the agriculture segment will grow significantly. The use of drones in agricultural imaging by developing nations like China, India, and Australia is credited with this expansion.
Regional Insights:
In 2022, North America had the highest market share, and it is anticipated that throughout the anticipated period, it would expand at a moderate CAGR. Aerial imaging is being used more frequently in the United States and Canada as a result of the region's booming trade, economy, and concentration of big manufacturing, which is credited with this expansion. Additionally, the market is anticipated to grow as a result of Canada's high drone demand. Due to the demand for aerial photography in the real estate and infrastructure sectors, Europe will have moderate development throughout the projection period.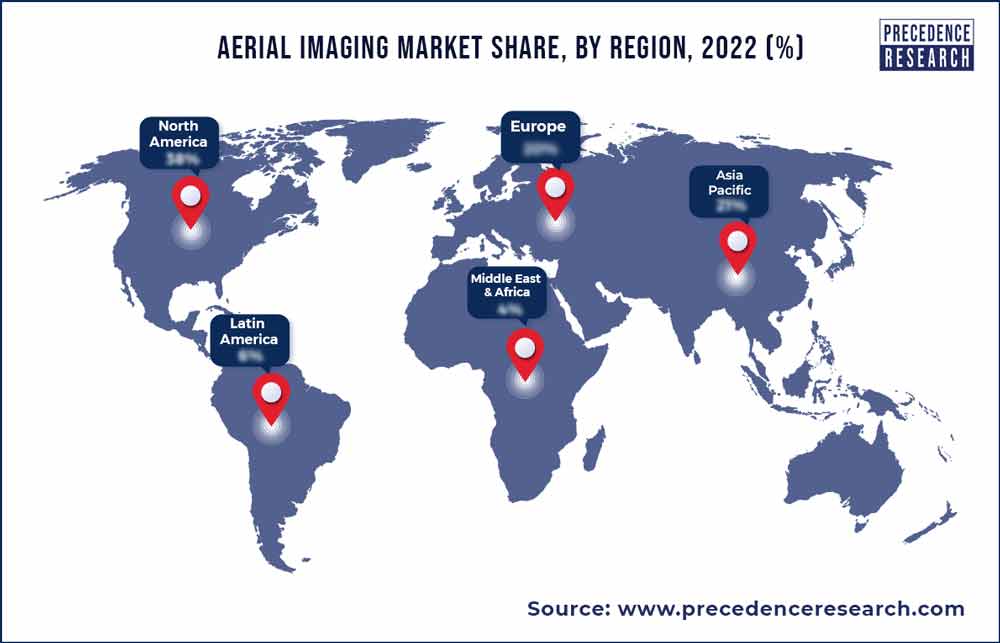 Due to the presence of significant manufacturers and the usage of drones in agriculture, this rise is ascribed to demand for use in nations like the U.K., Germany, France, and others. In addition, the industry is anticipated to grow due to the U.K.'s high drone demand. During the forecast period, the market in Asia Pacific will experience the highest growth and CAGR.
The market's growth is the result of expanding economic opportunities in the area, rising government budgets and spending, shifting political preferences, demand for drones, and an increase in imaging applications. The region is expanding as a result of the increased demand for aerial images from nations like China and India for the purpose of enhancing infrastructure and agriculture. In the Asia Pacific region, China is the primary supplier of drones.
Recent Developments:
Plymouth Rock Technologies Inc. and the Durrell Wildlife Conservation Trust inked a contract in July 2021 for the use of unmanned aircraft systems (UAS) to carry out essential environmental tasks. The company offers thermal imaging, which involves using a specialized camera to take digital photographs that record infrared or heat radiation instead of visible light.
Citadel Defense and the Pentagon agreed on a multi-million-dollar contract in April 2021 for Citadel Defense's artificial intelligence-based counter-unmanned aerial system technology. Titan is a system with AI that is intended to destroy small UAS. With the use of machine learning and a radio frequency sensor, it is capable of operating entirely on its own.
Near map revealed a huge expansion of its post-catastrophe programmed in North America in November 2021. In order to effectively prepare a disaster response and manage rebuilding and recovery operations, the programmed will deliver high-resolution aerial photography and location data to insurance providers, emergency services, government agencies, property management companies, and construction and engineering organizations.
Energinet awarded Fugro N.V. a 5-year contract for the collection of aerial and LIDAR imagery data for its electrical transmission network. To gather data, the organization will employ a compact helicopter equipped with scanning equipment.
Key Market Players:
Airobotics
NRC Group ASA
DroneDeploy
Fugro N.V.
3D Robotics
Digital Aerial Solutions LLC
EagleView Technologies, Inc.
Nearmap Ltd.
Cooper Aerial Surveys Co.
GeoVantage Inc.
Landiscor Real Estate Mapping
Kucera International Inc
Segment Covered in the Report:
(Note*: We offer report based on sub segments as well. Kindly, let us know if you are interested)
By Application
Geospatial Mapping
Disaster Management
Energy and Resource Management
Surveillance and Monitoring
Urban Planning
Others
By End User
Government
Military and Defense
Energy
Agriculture and Forestry
Civil Engineering
Media and Entertainment
Commercial
By Platform
Fixed Wing Aircraft
Helicopter
UAV and Drone
Others
By Geography
North America
Europe
Asia-Pacific
Latin America
Middle East and Africa