The global active protection systems market size was exhibited at USD 4.86 billion in 2022 and is projected to hit around USD 8 billion by 2032, growing at a CAGR of 5.11% during the forecast period 2023 to 2032.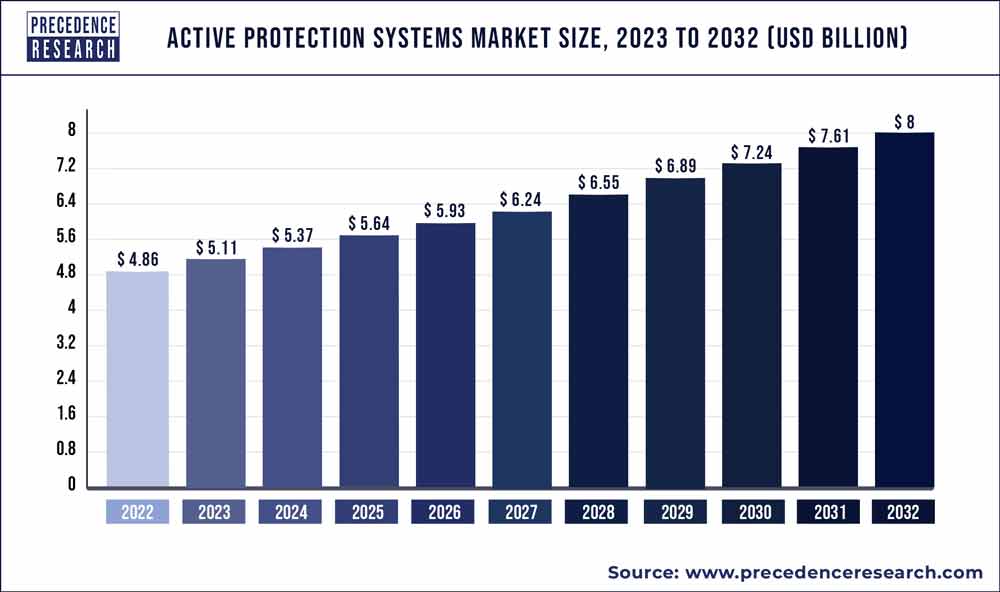 Access our Premium Real Time Data Intelligence Tool, Visit: Precedence Statistics
Key Insights:
The Europe market is growing at a CAGR of 15.238% from 2023 to 2032.
North America will dominate the market from 2023 to 2032.
The soft-kill system type segment is predicted to have the maximum market share from 2023 to 2032.
The land-based platform segment contributed the majority of the market share in 2022.
Market Overview
The increased demand for land-based defense systems and ballistic missile defense systems is one of the main factors driving the global active protection systems market. Anti-tank missiles and rocket-propelled grenades are two threats that active protection systems can intercept and fire down. Additionally, they do it quite accurately, minimizing collateral harm. Additionally, active protection systems can offer defense against these dangers in a variety of mission applications, including stationary locations, ships, and combat vehicles, among others.
Active protection systems are becoming more popular as a result of their numerous distinctive perceived benefits. The U.S. and South Korean governments' joint initiatives to develop land-based air and missile defense in South Korea are macroeconomic drivers supporting the market for active protection systems. The expansion of the missile defense system by China and India is also expected to spur the demand for active protection systems.
Market Growth
Increasing Focus on Creating Advanced Combat Systems
Many nations have developed and deployed their autonomous weapon systems during the past ten years in order to improve their militaries and support their troops in a number of international conflicts. The constant development of new sensor technologies, weapon firing systems, and other support systems aim to improve the precision and performance capabilities of the current APS generation. The emphasis on enhancing weapon system autonomy has led to the development of unmanned weapon technologies like RWS and CIWS that can successfully neutralize a target without the assistance of a person.
The new variants of APS feature advanced optronic that render them exceptionally suitable for urban warfare and thus reduce the casualties during a war. The increasing induction of armored vehicles equipped with RWS and CIWS systems for protection against incoming projectiles is driving the demand for such systems.
With the largest market share, the radar decoy segment is in first place.
The market for active protection systems worldwide can be segmented into several categories, including infrared decoy, radar decoy, directed energy, electro-optics jammers, light weapon defense, and rocket/missile based.
The market leader among them, having the largest share, is the radar decoy segment, followed by the infrared decoy segment. In the upcoming years, it is also expected that the other section, which includes the DROZD active protection system, LEDS active protection system, iron curtain active protection system, iron fist active protection system, and ZASLON active protection system, would register strong growth.
Report Scope of the Active Protection Systems Market
| | |
| --- | --- |
| Report Coverage | Details |
| Market Size in 2023 | USD 5.11 Billion |
| Market Size by 2032 | USD 8 Billion |
| Growth Rate from 2023 to 2032 | CAGR of 5.11% |
| Fastest Growing Region | Europe |
| Base Year | 2022 |
| Forecast Period | 2023 to 2032 |
| Segments Covered | By Type and By Platform |
| Regions Covered | North America, Europe, Asia-Pacific, Latin America and Middle East & Africa |

Market Dynamics:
Market Drivers:
Spending More on Defense Mechanisms Will Accelerate the Development of the Active Protection Systems Market
Before the target is reached, these protective systems are employed to identify and neutralize threat projectiles. The market for active protection systems will see new opportunities arise as a result of the rising demand for the building of a secure network against cyberattacks.
During the projection period of 2023–2032, the market for active protection systems may experience significant development potential due to the rising demand for land-based defense systems and ballistic missile defense systems. The rate of technological development in the defense industry has greatly grown over time.
The market for active protection systems may rise as a result of continued research and development efforts, considerable government and non-government organization investment, and favorable economic conditions. The active protection systems market is experiencing additional expansion due to the astounding rise in military spending among both developing and developed countries. During the period 2023–2032, the market for active protection systems will experience a promising expansion due to the modernization of existing fleets of naval and ground platforms.
Market Restraints:
The Covid-19 epidemic has caused disruptions in the supply chain management of the active protection systems market.
The COVID-19 pandemic is negatively affecting the defense sector. In December 2019, SARS-CoV-2, a distinct viral strain, caused the illness in Wuhan (China). Lockdowns in Europe and South Asia caused damage to the manufacturing facilities of the aerospace and defense industries. The global economy was impacted by supply chain disruption and the decline in demand on the global market. The demand for active protection systems has fallen, and APS supply has been delayed, which has changed the industry's dynamic.
Demand for defense products and APS-related services was impacted by the European Union's reduced defense budget. The national lockdown caused the defense sector to face serious challenges due to the reduction in defense spending and the suspension of APS production. But North American businesses like Artis, LLC and Raytheon Technologies Corporation are putting money into little active defense systems. Utilizing this kind of technology, military vehicles can better defend themselves. The market's encouraging growth during the forecast period might be a reflection of this.
Market Opportunities:
Revolutionary Parametric Countermeasure Kit (MCK) and Missile Countermeasure Device innovation (MCD)
A cutting-edge countermeasure kit developed by Giat Industries SA (France) is primarily used in armored fighting vehicles. The system includes an electro-optical IR jammer, a laser warning system, and a missile launch detection system. The use of a jammer prevents a missile strike. The missile Countermeasure Device (MCD) is used on the battlefield to identify and alert the user of an impending attack.
The MCD system emits infrared radiation (IR) signals that break up missile tracking loops. The MCD has an advanced M6 countermeasure system that releases flares and smoke to deter the adversary from the MCD. There is a good chance that several military forces around the world will use countermeasure kits and missile countermeasure devices more frequently.
Market Challenges:
The central challenges facing the industry for active protection systems are the simulation of weapons and the systems they contain.
The process of integrating US standard weapons into these systems is challenging and requires significant modernization. For instance, the US F-15/F-16 fighter jets are used by nations including Saudi Arabia, Japan, and Israel. They should have no trouble adhering to US munitions standards since these aircraft only need minor modifications. However, given that they have different fighter aircraft in their inventories, nations like China, India, France, Germany, and Angola will need significant modifications and upgrades in order to set up western smart weapon systems. It is challenging to integrate and implement updated munition control units, precision strike packages, and related training and simulation of weapons and their integrated systems in a cost-effective manner. These elements are anticipated to pose a challenge to the integration of an active protection system.
Segment Insights:
Type Insights:
The active protection system market is divided into three categories based on Type Insights: soft kill systems and hard kill systems. There are various kinds of soft kill systems, including an electro-optic jammer, radar decoy, infrared decoy, and others. The soft kill system uses decoys, jammers, munitions, signature reduction strategies, and signature reduction techniques to deflect an enemy's approaching missile.
The soft-kill system category is anticipated to have the most market share during the anticipated time frame. The hard-kill systems include rocket/missile, gun, and reactive armor-based weaponry that physically counterattacks an approaching danger in order to destroy/alter its payload/warhead in such a way that the intended effect on the target is substantially hindered. This growth is attributable to the US military forces' increased use of laser warning receiver systems.
Platform Insights:
The market for active protection systems is divided into land-based, airborne, and maritime segments. Land-based vehicles include infantry fighting vehicles (IFVs), light-protected vehicles (LPVs), amphibious armored vehicles (AAVs), mine-resistant ambush-protected (MRAPs), main battle tanks (MBTs), armored personnel carriers (APCs), and others. The Land-Based industry controlled the majority of the market in 2022.
The US government's dominance is due to the higher funding from private corporations for the acquisition of combat vehicles and defense equipment. In order to purchase an APS and its parts for the Abrams main combat tanks, the US Army and Leonardo DRS signed a contract in November 2019.
Regional Analysis
North America will dominate the market over the anticipated timeframe.
In North America, the United States and Canada are APS's two biggest users. They are actively concentrating on improving the capabilities of their fleet of current vehicles. The US's FY 2020 defense budget places an emphasis on day-to-day operations for existing conflicts, crisis response, and alliance participation while prioritizing military system modernization to compete with China and Russia on the international stage.
According to the 2020 defense budget's provisions, defense contractors are expected to continue producing APS while investing heavily in research and development for new systems. In order to formally incorporate APS into its Next-Generation Ground Vehicle (NGCV) program, the US Army. The US Army granted Leonardo DRS an add-on contract worth USD 79.6 million in March 2019 to help integrate Rafael's TROPHY active protection systems into the fleet of Abrams tanks. The North American section of the market will be the focus during the forecast period, and a number of procurement and upgrade programs are predicted to be launched in the following period.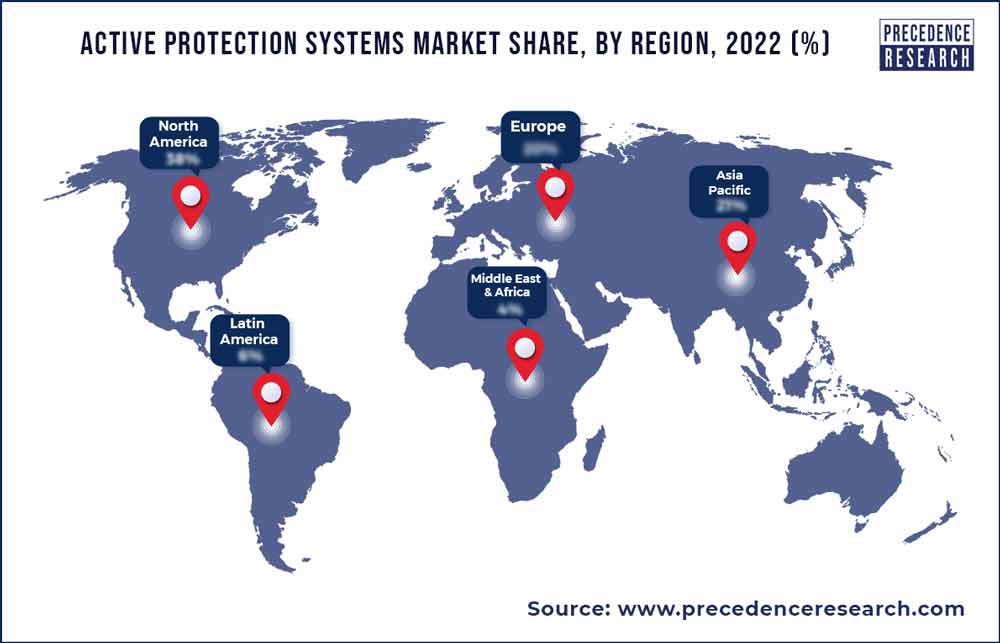 It is projected that rising demand for this system from the armed forces of the European Union will fuel market growth.
At a CAGR of 15.23% throughout the forecast period, Europe is anticipated to have extraordinary growth. The armed forces of the European Union's increased demand for this system are anticipated to fuel market expansion. Launched by BAE Systems in October 2019, the RAVEN Countermeasure system is a combat vehicle system. Within the RAVEN APS product family, which also includes an integrated vehicle protection system, the RAVEN Countermeasure system functions as a shield of defense. An LCM system with cutting-edge capabilities is the RAVEN Countermeasure system. A guided missile threat can be neutralized using the RAVEN Countermeasure system, for instance.
The need for active protection systems has increased as a result of the expanding economies of countries like China and India.
Owing to the region's deployment of naval and land platforms, as well as the region's increased innovation of current fleets, Asia-Pacific is predicted to have the highest rise in the world's active protection systems. Active protection systems are frequently used in the military in emerging economies like China and India. For instance, the Indian Defense Acquisition Council opted to implement Active Protection measures for 3000 Indian tanks and other armored vehicles on February 26, 2021. These programs help the market grow even more.
Furthermore, China has created the GL5 Active Protection System by NORINCO, which can neutralize any non-kinetic-energy weapons before they even come in contact with vehicles. It was created for main battle tanks and infantry combat vehicles. Thus, advancements and research in active protection systems are further boosting the region's economic growth.
Recent Developments:
In March 2022, The Patriot (MIM-104) air defense system, made by Raytheon and Lockheed Martin, is a long-range, all-altitude, all-weather air defense system designed to counter cruise missiles, sophisticated aircraft, and tactical ballistic missiles.
In October 2021, Rheinmetall demonstrated its next-gen technology (HX3 Tactical Truck) at the AUSA Annual Meeting & Exposition (Washington), which addresses the US Army's top modernization challenges. It has improved crew protection, greater mobility, improved driving comfort, and a digital interface architecture.
In October 2021, It was confirmed by Rheinmetall Defence Australia that the Lynx infantry fighting vehicle (IFV) test chassis would be produced in the company's Queensland, Australia, facility and exported to the US.
In May 2021, The KAMA active protection system was created by the ASELSAN and REHS Sector Presidencies and is effective at close range while causing little environmental harm.
In May 2021, Saab was given a contract to sell its Barracuda multispectral camouflage systems to France by the French defense procurement agency, Direction Générale De L'Armement (DGA).
Competitive Landscape:
New optronics and sensor subsystem R&D are being stimulated by the rising need for APS. In the meantime, businesses are attempting to increase their geographic reach in developing regions like Asia-Pacific. With the help of DRFM technology, modern systems, like the BriteCloud expendable active decoy, create a fake target that draws the RF threat system away from the aircraft. India also intends to introduce more than 1,600 T-90 tanks by 2020.
The "Make in India" project of the Indian Ministry of Defence is most likely to include an APS made domestically. Therefore, in order to produce these weapon systems, foreign businesses will have to work with Indian manufacturers in accordance with the "buy and make" condition of the defense purchase procedure.
Market Key Players:
SAAB AB
The Raytheon Company
Airbus Group
Konstruktorskoye Byuro Mashynostroyeniya
Rafael Advanced Defense Systems Ltd.
Rheinmetall AG
Safran Electronics & Defense
Aselsan A.S.
Artis, LLC
Israel Military Industries
Segments Covered in the Report:
(Note*: We offer report based on sub segments as well. Kindly, let us know if you are interested)
By Type
Hard-Kill Systems
Soft-Kill Systems
By Platform
Land-Based
Airborne
Marine
By Geography
North America
Europe
Asia-Pacific
Latin America
The Middle East and Africa