The global aircraft actuators market size was reached at USD 16.74 billion in 2022 and it is expected to hit around USD 28.38 billion by 2032, growing at a CAGR of 5.42% during the forecast period from 2023 to 2032.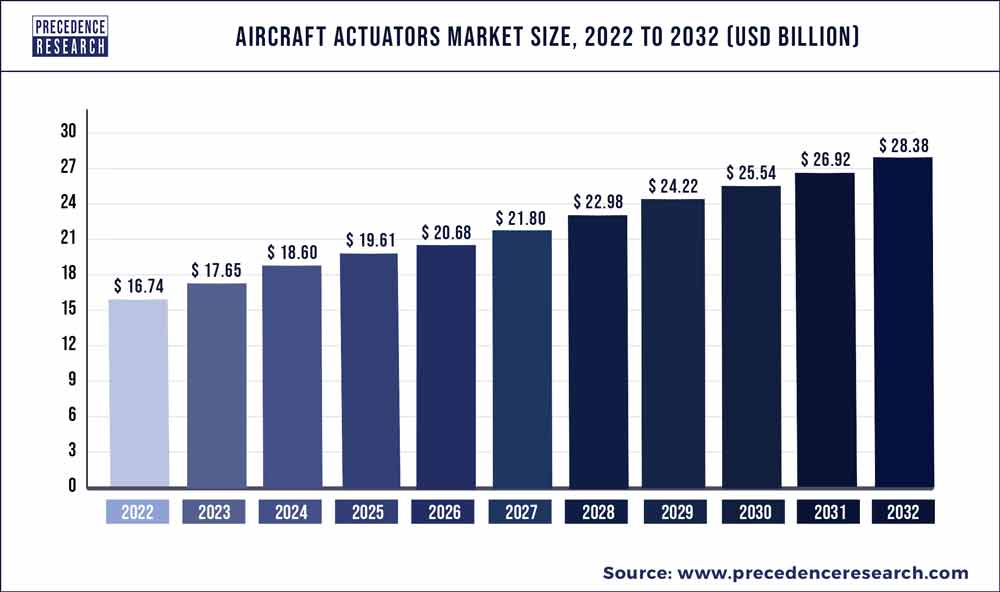 Key Takeaways:
North America generated more than 34% of the revenue share in 2022.
By Type, the linear segment captured more than 80% of revenue share in 2022.
By System, the hydraulic actuator segment led the global market in 2022.
Market Overview:
On an aircraft, actuators carry out a variety of crucial tasks, including adjusting various flight control surfaces, including flaps, rudder, slats, and spoilers, ailerons, extending and retracting landing gear, positioning engine inlet guide vanes and thrust reversers, and closing and opening cargo or weapon bay doors, among others. Strong vibrations, extreme heat, and extreme cold can all be handled by aircraft actuators. Pneumatic and hydraulic actuators have historically been used extensively in aeroplanes, however, due to the increased requirement for fuel efficiency, electric actuator adoption is rapidly rising.
During the forecast period, factors such as an increase in commercial aviation operations and a rise in demand from emerging markets are anticipated to propel the development of the global aircraft actuators market. However, during the forecast period, high aircraft actuator costs, leakage problems, and maintenance issues are anticipated to restrain the industry's expansion. Additionally, it is anticipated that in the near future, the market will benefit from an increase in air travel activity and air traffic as well as an increase in demand for electric actuators.
Growth Factors:
The global market for actuators is expanding as a result of rising demand for both commercial and military aircraft. With a combined share of more than half of the global aircraft fleet, APAC and Europe are the two largest aircraft owners. The number of aircraft fleets is growing as a result of the increase in air passenger traffic. In commercial and defence aircraft, electric actuators offer a practical and affordable replacement for hydraulic and pneumatic actuator systems. They offer accurate control, quick response times, and assistance in enhancing aircraft performance. Aside from offering high reliability and low lifecycle costs, the use of electric actuators in commercial and defence aircraft also lessens the workload on maintenance staff. Therefore, it is anticipated that during the forecast period, there will be an increase in demand for electric actuators due to the rising demand for commercial and defense aircraft.
One of the main reasons propelling the market's expansion is rapid industrialization. Actuators are now used much more frequently thanks to technical developments in the automotive sector, such as the advent of advanced driver assistance systems (ADAS). Another significant growth-inducing aspect is the expanding trend of automation across numerous industries.
The adoption of the Internet of Things (IoT) has made it possible to automate actuators, which has increased productivity and decreased downtime in manufacturing and industrial units. They offer excellent control and precision, as well as less noise production and fuel loss. Additionally, the demand for the product is being driven by the growing number of aircraft carriers that have actuators on each wing to maintain effective flight at low airspeeds.
Report Scope of the Aircraft Actuators Market:
| | |
| --- | --- |
| Report Coverage | Details |
| Market Size in 2023 | USD 17.65 Billion |
| Market Size by 2032 | USD 28.38 Billion |
| Growth Rate from 2023 to 2032 | CAGR of 5.42% |
| Largest Market | North America |
| Base Year | 2022 |
| Forecast Period | 2023 to 2032 |
| Segments Covered | By Type, By System, By Aircraft Type, and By End-User Type |
| Regions Covered | North America, Europe, Asia-Pacific, Latin America and Middle East & Africa |

Market Dynamics:
Driver:
Growing adoption of more electric aircraft
The development of more electric aircraft (MEA) is receiving more attention, which has prompted aircraft OEMs to work with suppliers to design and create new electric-intensive aircraft architecture more quickly. In the aviation sector, the MEA idea plays a crucial role as an enabler and offers enormous possibilities for lighter aircraft, more fuel-efficient engines, lower operating costs due to lower maintenance expenses, and higher aircraft reliability. While hydraulic, pneumatic, and mechanical power sources currently power non-propulsive systems, the MEA concept offers a motivation to use electricity in these conventional systems.
Additionally, electrical actuators are more efficient (around 80%) than their hydraulic counterparts because they use a more effective motor, which eliminates the problem of heating and reduces the possibility of component damage. The usage of electrical actuation systems is safer and more environmentally friendly than that of conventional actuators, which use hydraulic fluids that, when heated to high temperatures, can burn the skin and contaminate or infect people. As a result, there is a growing need for electrical actuation solutions, which in turn is driving the market for aviation actuators.
Restraints:
Faulty and loosely insulated electric actuators and their malfunction risks
During the anticipated period, the global actuator market share will experience difficult growth. Electric actuators are designed to work and sustain their performance across a range of temperatures. To prevent leaks, these goods must be stored properly with the appropriate insulation. The health of workers and other nearby electric actuators may be negatively impacted by gas leaks caused by defective or inadequately insulated electric actuators. Suffocation or asphyxiation can result from argon inhalation. Eye stinging, vomiting, dizziness, rapid breathing, ecstasy, headache, excessive salivation, prickling in the nose and throat, and fainting are some of the possible side effects. Issues with compliance with the authorities may result from this. Therefore, their demand during the projected time frame may be impacted by defective and poorly fitting electric actuators.
Opportunities:
Ongoing digitalization and adoption of IOT
The networking of physical objects with the use of devices, such as sensors and actuators, allowing the transfer of information within the network, is known as the Internet of Things (IoT). The use of IoT in aviation provides numerous opportunities to improve automation and operational effectiveness across a range of aircraft activities. IoT makes it possible to combine numerous actuators with different capabilities into a network so that they may communicate with one another and carry out a variety of tasks that would otherwise be impossible for each type of actuator to carry out on its own. During the forecast period, analytics is anticipated to have a significant impact on aircraft design, production, and maintenance.
IoT technology is currently being used in aeroplane engines by Pratt & Whitney (a United Technologies Group company) to increase their effectiveness. However, IoT can be applied to electrical appliances (like actuators) to make it simple for them to talk to each other and move in unison. The growing application scope of actuators in IoT for these applications is anticipated to drive up demand for actuators throughout the projected period because IoT offers aviation applications the chance to improve automation in these areas.
Impact of COVID-19:
To stop the COVID-19 virus from spreading, governments everywhere imposed stringent lockdowns and mandated social seclusion. Consequently, many businesses started work-from-home programmes as a preventative measure. As a result, there was a dramatic drop in demand for travel on a global scale, which had an impact on the market for aeroplane actuators. In February 2022, air traffic grew 115.9% year over year, according to IATA estimates, but it was only 54.5% of pre-pandemic levels (February 2019 level), a gauge of worldwide passenger demand.
Additionally, a rise in vaccination rates and fewer travel restrictions in many areas are fueling the recovery of international air travel. RPKs increased by 256.8% YoY in February but are still only 40.4% higher than in February 2018 before the outbreak. The surge in air travel following the epidemic has given aviation actuator firms tremendous prospects in recent years. Plans to reopen are expected to provide the aircraft sector with a boost, which would open up new growth potential for the market for aircraft actuators.
Segments Insight:
Type Insights:
The market is divided into linear and rotary actuators according to type. Due to its accuracy and controllability, the linear actuator market sector was expected to be the largest one. During the forecast period, the linear actuator segment is expected to grow at the fastest rate.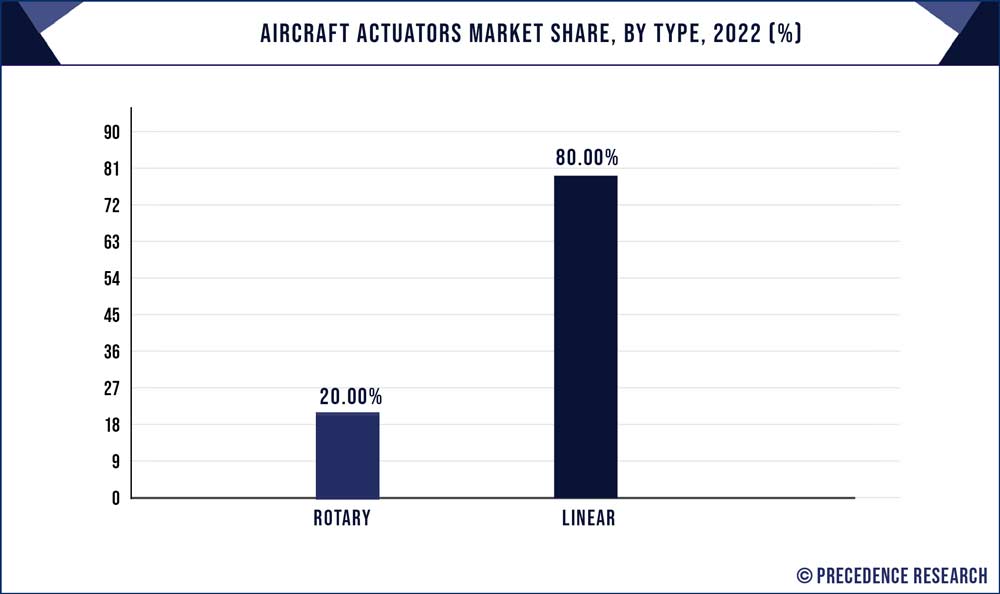 The market is expected to expand more quickly due to the increase in demand for electro-mechanical linear actuators, such as ball screw actuators in aeroplanes. The market's expansion is anticipated to be significantly influenced by the rotary actuator segment. The market for aircraft actuators is expected to expand due to the increased use of servo motors in flight control systems.
System Insights:
The hydraulic, electromechanical, pneumatic, electric, and electro hydrostatic segments of the market. According to estimates, the hydraulic actuator sector dominated the market. Because it has advantages like integrated redundancy in case of failure, overload protection, and a free-floating control surface that is frequently used in conventional aircraft, the hydraulic actuator is becoming more and more popular, which is boosting the market's expansion. Electromechanical actuators (EMA) combine electrical and mechanical components. Due to its accuracy and effectiveness, the EMA segment is anticipated to experience significant market growth over the course of the forecast period. EMAs are mostly employed in seat actuation systems for aircraft. Due to the rising trend of more electric aircraft to reduce costs and fuel consumption, the electric actuator market is anticipated to develop at the fastest rate throughout the projection period.
End-user Type Insights:
The flight control system, power generation, fuel management system & gearbox system, landing gear & braking system, firing or weapon control system and aircraft health monitoring system are the systems by which the aircraft actuator market is divided. The market's largest segment was anticipated to be the power generation and gearbox system and flight control system. Due to the benefits of lightweight aircraft and better reliability and efficiency, the market will grow as EMAs and EHAs are increasingly being used in surface control systems. During the forecast period, the passenger comfort segment is anticipated to grow at the fastest rate. Due to the rise in demand for comfort, safety, and luxury associated with air travel, there is a greater need for passenger comfort.
Aircraft Type Insights:
The fixed-wing and rotary-wing segments of the aviation actuator market. Due to rising demand for aircraft across a number of industries, including commercial, military, and general aviation, the fixed-wing category was anticipated to be the largest part of the market. Commercial, business, military, general aviation, and fixed-wing UAVs are further categories under the fixed-wing category. The commercial aircraft market sector was anticipated to hold the biggest market share in. The primary element boosting the expansion of this market is the increase in air travel.
Due to the increasing demand for helicopters for various military purposes, including surveillance, emergency services, and transport, the rotary-wing category is anticipated to experience the quickest growth during the projection period.
Regional Insights:
Aviation actuator sales are predicted to be dominated by North America, followed by Europe and Asia-Pacific. Due to the increased adoption of updated safety rules by major American airlines, including United Airlines, Inc., the market in North America is anticipated to expand during the projected period. Lightweight systems in actuators are anticipated to drive the expansion of the market, and producers of aircraft actuators in developed nations like the U.S. are investing in the R&D of more electric aircraft. The market is anticipated to expand significantly in Europe over the course of the forecast period as a result of the rising demand for actuator technologies that would increase aircraft dependability and efficiency. The market is anticipated to expand quickly in the Asia-Pacific region as a result of the rising number of commercial and military aircraft orders. Regional airlines are expanding their fleet of aircraft to launch new routes and handle the increased passenger traffic in the commercial aviation sector as passenger volume is recovering to pre-pandemic levels.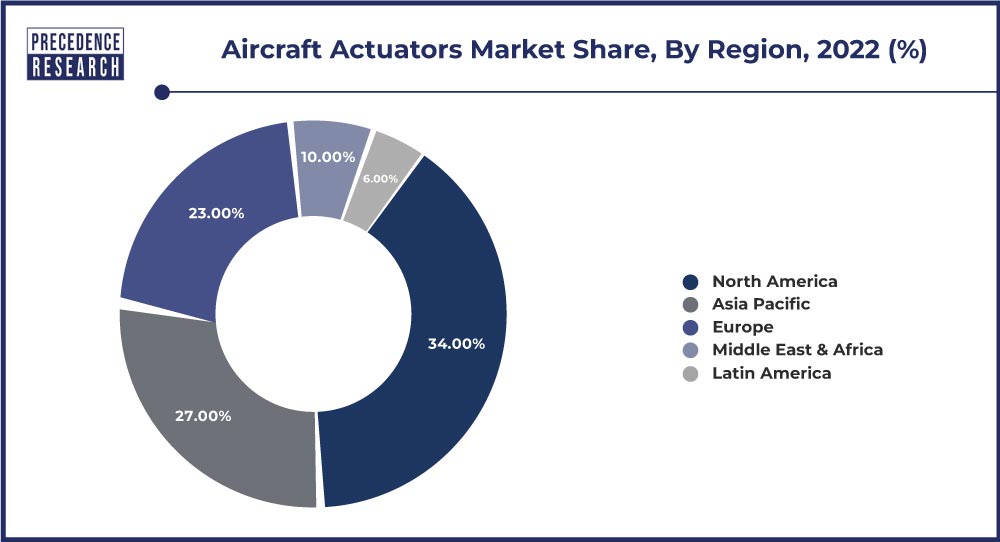 According to the International Civil Aviation Organisation, China's overall air traffic passengers dropped drastically from 659 million in 2019 to 417 million in 2020. The COVID-19 epidemic, which China was the epicentre of, had a significant negative influence on the country's aviation sector and, as a result, on the market for aircraft actuators. This decrease is primarily attributable to the pandemic. The market prospects for the aviation industry and the actuators market are, however, looking positive during the forecast period due to the IATA's projections of positive growth by the end of 2024 and the enormous population of China, the majority of whom has yet to become a regular air traveller crowd. Chinese airlines are making substantial investments in expanding their commercial aeroplane fleet in response to the anticipated rise in passenger demand. For instance, 140 Airbus planes were purchased in bulk by China Aviation Supplies (CASC) in November 2022. The deal, worth USD 17 billion, is made up of orders already placed by CASC.
Recent Developments:
In July 2022, Vertical Aerospace, a manufacturer of electric vertical takeoff and landing aircraft based in the United Kingdom, and Hanwha Aerospace Co. Ltd., a South Korean aerospace industrial company, established a joint development programme to design, test, produce, and supply electromechanical actuators for Vertical's VX4 electric aircraft. The goal of this programme is to promote the advancement of electrically powered, zero-emission aircraft technology.
In January 2022, Moog supplied electromechanical actuators for the DARPA Gremlins unmanned aircraft's launch motion control. Three Gremlins were successfully flown using the Gremlins demonstration system in four separate sorties totalling 6.7 hours of flight time, including the 1.4-hour aerial recovery mission. The company's involvement in this programme demonstrates Moog's proficiency in designing and supplying high-performance electromechanical systems for the aerospace sector.
A new range of electro-hydrostatic actuators (EHA) for the nose landing gear of various aircraft platforms used by Safran SA was introduced in July 2022.
The development of a new line of electromechanical actuators specifically suited for urban air mobility (UAM) was announced by Honeywell International Inc. in January 2020.
Key Market Players:
Collins Aerospace
Eaton
Curtiss-Wright
Honeywell International Inc.
Meggit Plc.
Moog Inc.
NOOK Industries, Inc.
PARKER HANNIFIN CORP
Transdigm Group, Inc
Woodward, Inc
Segment Covered in the Report:
(Note*: We offer report based on sub segments as well. Kindly, let us know if you are interested)
By Type
By System
Hydraulic Actuators
Electrical Actuators
Pneumatic Actuators
Mechanical Actuators
By Aircraft Type
By End User Type
Commercial Aircraft
Military Aircraft
General Aviation Aircraft
By Geography
North America
Europe
Asia-Pacific
Latin America
Middle East and Africa