The global metaverse market was accounted for USD 68.49 billion in 2022 and it is estimated to surpass around USD 1.3 trillion by 2030 with a registered CAGR of 44.5% during the forecast period 2022 to 2030.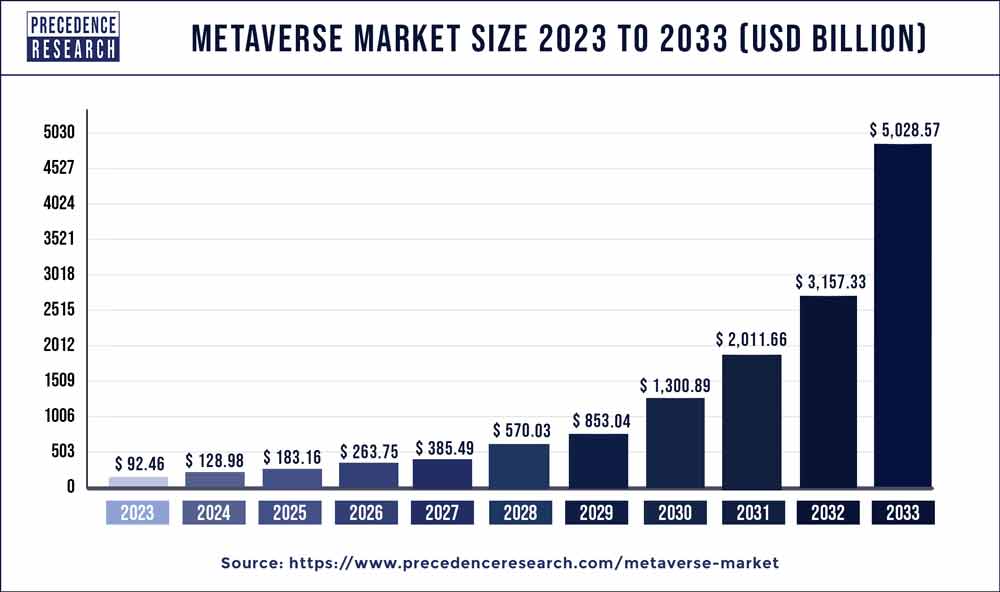 Access our Premium Real Time Data Intelligence Tool, Visit: Precedence Statistics
The metaverse is a smooth convergence of the digital and physical lives, creating a virtual, unified community where people can play, work, transact, socialize, and relax. The metaverse is still in its early evolution, and there is no such definite meaning to which people can turn. Ideas of what the metaverse currently is and could be, still, are looming. A major point is that there is no one digital world but various worlds, which are shaping to enable people to extend and deepen social interactions virtually. This is accomplished by adding an enveloping, 3D layers to the web, and creating more natural and authentic user experiences. The metaverse even has the assurance of augmenting accessibility from the home, democratizing access to key services, goods, and experiences and breaking down boundaries. The metaverse has the ability to impact everything from customer experience to employee engagement, community building, product innovation, and omnichannel marketing and sales. Examining its effect potentially should be a factor for strategic discussions, with leaders intensifying their analysis of how this metaverse could fuel this virtual world within the coming years.
A rising number of operators in mobile have set out on their path for metaverse, including Verizon, KDDI, AT&T, and SKT. There are various ways that these operators can participate in the development of metaverse and capture value, by leveraging the advanced possibilities of 5G networks or non-infrastructure circumstances such as utilising present virtual identity efforts to create incremental revenue from these services.
Appropriate policymaking will be required to turn these ambitions into reality while also keeping safe the users from any abuse. Regulatory frameworks will be required to augment mobile operators' steady investments in deployments of 5G network, ensure impartial competition and diminish concerns related to safety, data privacy, and security. Furthermore, planning for the metaverse impact on their networks, these operators should drift now to recognize potential opportunities, work together with content creators, partner with companies who make hardware to make compelling propositions for enterprise and consumer markets.
Metaverse development is often linked to the advanced virtual reality technology as there is an increasing demand for immersion. Information privacy, user addiction, and user safety are the various concerns with metaverse. Access points for the metaverse includes general-purpose computers and smartphones, augmented reality, mixed reality, and virtual reality.
Dependency on the VR technology has limited the growth of metaverse and limited the development and wide-scale adoption. There are many limitations of portable hardware and there is need to balance cost and design that has caused a lack of high-quality graphics in this field and lack of mobility.
The Metaverse is a collection of interconnected online realm which offers the interactions between the augmented, physical and virtual reality. Users are able to interact with their friends, work, travel, purchase goods and services, and attend different events. As more and more people have started working and going to school remotely, there has been an increased demand for ways in order to make online interaction more lifelike in the future. As a result, rising focus on converging digital and physical worlds with the use of Internet is driving the metaverse market growth. There is a growth of this market due to crypto gaming. Investments are increasing as the number of investors is contributing to this growth. The concept of play to on models it's followed by many game developers where the players are able to own assets or use tokens within the games. These on tokens are used to get their real life value. Or it can be reused for the in game assets. A new AR game was developed which allowed the players to earn Bitcoin in the metaverse. This game is called fold AR Displayed by small number of people for the purpose of testing.
The global metaverse was marked is expected to witness good growth during the forecast as there is an increased focus on converging the digital and the physical worlds with the help of Internet. This is a major factor that is driving the market of but hours. There's a growing demand for metaverse in order to purchase digital assets using crypto currencies. This platform allows users to interact online, simulate situations and helps Winstanley takes sensor data. Metaphor serves as a link between the real and virtual worlds. The next stage in the evolution of Internet is the metaverse Augmented reality virtual reality machine learning and blockchain technology along with artificial intelligence are all the driving factors in the metaverse.
Report Scope of the Metaverse Market
| | |
| --- | --- |
| Report Coverage | Details |
| Market Size by 2030 | USD 1.3 Trillion |
| Growth Rate from 2022 to 2030 | CAGR of 44.5% |
| Largest Market | North America |
| Fastest Growing Region | Asia Pacific |
| Base Year | 2021 |
| Forecast Period | 2022 to 2030 |
| Segments Covered | Components, Offering's, Platform, Technology, Application, End User, Geography |
| Companies Mentioned | Meta (Facebook,Inc.), Tencent holdings Ltd, Roblox corporation, Nvidia corporation, NetEase, Inc. |
Market Drivers
Increasing Investment in Metaverse
Facebook caught everyone's attention when it rebranded as Meta. This change ushered awareness of the metaverse among public on a level never seen before. Many companies from various industries are working on metaverse-based projects currently. Some of these are based on gaming. Other firms are working on solutions which are on enterprise-level. Companies like Microsoft and NVIDIA produce software and hardware which helps power the metaverse. Platforms for gaming like ROBLOX have developed into the metaverse. Other companies such as Sony, Tencent, and among others are shifting their platforms to new ventures in metaverse.
This opens up points of entry into the metaverse for users using their products. Meta's investment worth $10 billion is just the tip of an iceberg when it comes to investment being made in metaverse. Microsoft spent over $70 billion on metaverse-based interests.
Large technology firms, private equity (PE), venture capital (VC), established brands, and start-ups are looking to capitalize in this metaverse opportunity. VC, Corporations, and PE have invested over $120 billion already in the metaverse in these initial five months of the year2022, over double the $57 billion which was invested in all of the year 2021, a large part of it is fuelled by the planned acquisition by Microsoft's of Activision for $69 billion. Industries which are leading currently in the adoption of metaverse also plan to dedicate a substantial share of their digital investments to it. Additionally, Travis Scott drew a crowd of 12 million fans recently for his performance with the firm Fortnite. This digital concert was such an achievement that it's become popular as an exceptional historical event. Moreover, ABBA, the Swedish pop sensation announced recently that they would take this to the next level by making a digital experience with "ABBAtars". Stars likewenty One Pilots, Justin Bieber, and Ariana Grande have all also had successful concerts in digital worlds.
There are a number of other examples of firms spending gigantic amount of money to facilitate themselves within the metaverse. The expanded interest of corporate enterprises shows that it has become greatly valuable. The biggest firms are heavily investing for a good reason. These companies can see just how much the metaverse sector is rising.
Rising demands in the medica and entertainment industry
Media and entertainment industry is growing exponentially, as the adoption rate of augmented reality (AR), and virtual reality (VR) is burgeoning tremendously in this sector. One of the key factors of the increased adoption of these technologies is creating realistic virtual scenarios to improve the whole gaming experience for its end users. Devices like MR headsets, VR headsets, Heads Up Display (HUD), Helmet Mounted Display (HMD), smart helmet, smart glasses are able to provide the first person view, offer 6-degree freedom, portray natural user interface (UI) which makes its adoption rate higher.
User interface designs have augmented diversely as a result of the introduction of these device as well as solutions provided. The exposure to a virtual experience in the coexistent scenarios has been one the best contributions of the technology offered to the humankind. The fast pacing demand for mixed reality devices lured considerable investments by the prominent players in the market. These factors are propelling the revenue growth trajectory of the global metaverse market.
Increasing uses of metaverse platforms
With the increase in the usage of metaverse platforms, individuals have come to know an inventive way of socializing with populace across the world and to hang out with them virtually with endless possibilities. Metaverse is able to provide several tools to cope up with present challenges connected with working remotely, working from home, as well as educating remotely. It is able to give associations and institutions an environment in which they are able to meet and handle their workers virtually, interact with them, keep a check on their body language, and manage in-person consultation while working remotely.
Furthermore, employers and professors can manage issues related with the time theft at the workplace or during the class, by maintaining track of employees inside the virtual office or school. For instance, Meta invested $150 billion to train the next generation of creators building immersive educational content, on 28th October 2021. These factors are also augmenting the growth of this segment.
Rising popularity of interaction models and digitla identities across the globe
Nowadays virtual identities are as real as the physical identities for instance, relationships with your network, online reputation, API-based logins, among others. Metaverse is being used in developed and especially in developing countries more since the arrival of Covid-19. Before this pandemic, less than 10% of economic output and work was online. Conventional physical interaction used to override at work over the virtual interaction, but that changed in the year of pandemic with more than 70% of people working from their home, and this percentage of online and offline is likely going to settle around 50% physical and 30-40% virtual even with the return-to-office in vogue.
This is another key driver for the Metaverse market, collaborating and engaging people in real-time in an enveloping social world. Whether interacting over social media platform, participating in games, working, the digital identity and interaction becomes the central point. The Metaverse is going to facilitate with respect to agreement of the interaction models and digital identity woven around it.
MARKET RESTRAINTS
High cost of installation and maintenance of meta components
Metaverse hardware involves XR devices, coupled with the sensors, trackers, semiconductor components, among other state-of-the-art equipment. To take an experience of metaverse in a realistic and the most engrossing way, big storage, high node hardware, as well as fast networking play an important part, which are costlier. These devices which are being utilized in the metaverse employ 3D and some other developed technologies to create a realistic virtual environment, which upgrades their prices.
The software of metaverse like 3D modelling, engines, as well as rendering tools are costlier. Furthermore, the installation of these devices and their solutions require additional prices. In addition to this, prices of the maintenance of these devices rise the whole investments needed to perceive this technology. Hence, high costs of installation and maintenance are impeding the growth of the global metaverse market.
Security concerns rlated to virtual currencies
One of the major concerns posing a restrain to this exponentially growing market is the concern related with the security and legalities of virtual currencies. It has been dificult to convince users in accorddance with the safety of any trade over the virtual marketplace that combines various digital and physical currencies to make it quick and effortless exchange. In addition, cryptocurrencies are banned in several countries as a few of them perceive it as a threat to their ongoing monetary systems while being distressed about its usage to give access to unlawful activities such as money laundering, drug trafficking, and terrorism. For instance, as of 2021, the government of India has forbidden financial institutions along with banks from dealing in virtual currencies and offering any services to facility use.
Furthermore, some of the major leading players in the metaverse market have gone through a loss of billions of dollars, due to the cyberattacks in the atmosphere. Thus, with the increase in the cyber-attacks, and highly sensitive issues are hampering the growth of this market.
MARKET OPPORTUNITY
Infrastucture development in emerging nations
There are several ways in which the metaverse could grow, all dependent on an ecosystem of innovation, investment, research, and policy. If the metaverse materializes, it is expected to develop into experiences that one cannot anticipate, and anyone who claims that they know what is going happen with certainty is probably lacking the adaptability of curious optimism.
Metaverse has the potential and promise to become an expansion of people's lives where they could choose to work, live, and play in realtime continuously. While metaverse is providing consumers with an immersive user experience, it is also extending opportunities for various businesses. However, this opportunity can only be fully leveraged with effective internet penetration including WiFi, in-home fiber, 5G, satellite broadband, private networks, and more. These services will need a high connection throughout that can support intensive, seamless user experiences on demand. Attributed to dependency, communications service providers (CSPs) are in a prime place to participate and enable in the endless opportunities this market has to offer. Additionally, along with telecom companies, technology companies and government need to work together to achieve network improvements and building an effective infrastructure that supports 5G and other high-end technology such as metaverse. Moreover, optimization of network, improved latency among devices and within networks which are radio accessed also needs to be revaluated.
With respect to advance connectivity, there are several technologies withing wireless connectivity today that must be addressed. For instance, Bluetooth lacks range, reliability, and rate. Current WiFi generations offer the required speed but often suffer from congestion and huge latencies when multiple devices are connected. It is believed that there will be opportunities for communications service providers to act as ggregators for several types of networks. When it comes to advance connectivity, a seamless customer experience end-to-end will be a critical puzzle, either when going or coming from a network. Artificial Intelligence and governance in network will become extremely important in order to manage this.
Components Insights
Based on the component, the hardware segment has accounted for the largest revenue share in 2021 and growing at a CAGR of 39% from 2022 to 2030. This segment is made up of providers of consumer hardware such as extended reality hardware, AR/VR headsets and displays. There are other hardware devices which are included in this segment which are tracking systems, projection, industrial cameras and scanning sensors. Advanced technological progress in the ER and VR are the key factors that are driving the growth of the hardware segment the software segment is also expected to register a significant growth during the forecast period. There are many companies that provide asset creation tools and programming engines.
Unreal Engine and unity are the game engines which are used to create digital worlds in the gaming sector. The use of Unreal Engine and unity is used to create digital world in the game such as Fortnite. There's a creation of more realistic environment in games due to the rising interest in online gaming and this happens to be the major factor which is supporting the revenue growth of the software and the hardware segments.
The hardware segment was valued at $38 billion in 2021 and registering growth at a CAGR of 44.2% from 2022 to 2030.
The Software segment was reached at $13.70 billion in 2021 and growing at a CAGR of 45.3% from 2022 to 2030.
Platform Insights
On the basis of the platform used the desktop segment had the largest revenue share in the global metals market till the year 2021. Valve index, HTC vive and Oculus are the augmented reality and virtual reality headsets which work well in conjunction with a powerful desktop computer. It is expected that there shall be a boost in the revenue growth of the desktop platform segment in the future as there is development in the enterprise spaces as well as the consumer space. There are many virtual reality experiences that are exclusive to the PC's which have high resolutions.
Global Metaverse Market, By Platform ($BILLION)
| | | | | |
| --- | --- | --- | --- | --- |
| Platform | 2020 | 2021 | 2030 | CAGR (2022 to 2030) |
| Mobile | 21.47 | 3039 | 792.87 | 45.1% |
| Desktop | 15.19 | 21.30 | 508.02 | 43.6% |
| Total | 36.66 | 51.69 | 1,300.89 | 44.5% |
The desktop segment the mobile segment is also expected to register a steady revenue growth during the forecast period. The use of smartphones has become extremely significant over past decade. It has been noted that over the past decade there has been a major shift of watching YouTube content which is about 70% on mobile phones across the globe. Across many developing nations the smartphone is the only powerful multimedia device which the users have at their disposal. Therefore there is a growth in the concept of the metaverse on a mobile. In order to capture the developing nations this happens to be a growing area for many competing companies. Due to the COVID-19 pandemic and the lock down there was a significant market growth in the developing nations for the metaverse market. Owing to the reasons mentioned the metals market is expected to grow even in the developing nations.
Offering Insights
On the basis of offering, the asset marketplace segment is expected to grow at the highest CAGR of 41% over the forecast period.
The virtual platform is it related with the creation and management of immersive, settings, digital three-dimensional simulations and environments which enable people and other enterprises to create socialize explore and engage in wide range of activities. Increasing use of smartphones in the developing nations is helping in the penetration of metals along with the increase in the number of application developers. There is an increased availability of high speed and bandwidth connectivity of Internet which serve as the major reasons which are helping in the growth of revenue of the virtual platforms segment.
Global Metaverse Market, By Offering ($BILLION)
| | | | | |
| --- | --- | --- | --- | --- |
| Offering | 2020 | 2021 | 2030 | CAGR (2022 to 2030) |
| Avatars | 1.96 | 2.78 | 73.11 | 45.2% |
| Virtual platforms | 14.96 | 20.90 | 485 | 43.2% |
| Asset marketplace | 10.65 | 15.25 | 438.72 | 46.7% |
| Financial services | 9.09 | 12.76 | 304.06 | 43.6% |
| Total | 36.66 | 51.69 | 1,300.89 | 44.5% |
Followed by the world zoom platform segment the asset marketplaces segment is also expected to grow well during the forecast period. This segment will represent major revenue opportunities for many market players in the market. Asset marketplaces are used to purchase digital assets. Somnium space VR is an asset marketplace which is used to purchase digital assets. It allows the users to sell and buy virtual land on Etherium it is a platform that is powered by the blockchain technology. Many major investments are coming this way during the forecast and it is expected to support the growth of this segment.
Technology Insights
On the basis of technology, the virtual reality and augmented reality segment accounted market share of around 36% in 2021. The metaverse creates a sense of virtual presence with the use of 3D virtual environments. The technology which is used in order to create this sense of virtual presence is virtual reality and augmented reality. Virtual reality and augmented reality are expected to be the most transformative technological change in the coming five years. This happens to be a major factor which is expected to drive the marked during the forecast period.
Global Metaverse Market, By Technology ($BILLION)
| | | | | |
| --- | --- | --- | --- | --- |
| Technology | 2020 | 2021 | 2030 | CAGR (2022 to 2030) |
| AR &VR | 22.52 | 31.60 | 760.08 | 43.8% |
| Mixed Reality | 1.95 | 2.79 | 80.14 | 46.7% |
| Blockchain | 7.77 | 11.04 | 298.50 | 45.6% |
| Others | 4.43 | 6.27 | 162.17 | 44.9% |
| Total | 36.66 | 51.69 | 1,300.89 | 44.5% |
Followed by the augmented reality and virtual reality segment the block chain segment is also expected to witness a steady growth during the forecast period. Blockchain technology helps in providing a digital proof of ownership, transfer of value through crypto or governors and digital collectability of assets. Axie Infinity, Secondlife and Decentraland are the blockchain based metaphors which are creating opportunities for various companies to serve the rising demand.
Application Insights
On the basis of application, the gaming segment held largest revenue share of around 28% in 2021.
The social media segment is expected to grow strongly during the forecast period. There's an increasing focus in order to enhance the social interactions of various users on the social media platforms. This happens to be the key factor which is driving the trend in the market. Virtual reality and 3D of the metals are being used by maybe social media companies to improve their social connections and to enhance the experience of the users. Due to the introduction of 5G networks and artificial technology apart from cloud processing are the key factors that are expected to support the revenue growth of the social media segment in the future. Across the gaming sector the adoption of metaverse is expected to gain momentum. There are many increasing investments in play to earn gains which is helping the gamers in earning money. There is also an increase in spending of money over virtual skins, virtual avatars, virtual events and other virtual items.
End User Insights
The media and entertainment accounted market share 39% in 2021. Metaverse is able to impact the content and experience of all these sectors. The media and entertainment sector is helping in improving the social interactions of the participants. In order to add value to the entertainment brands to enhance their operations like world building, immersive storytelling and unleashing the fan creativity the companies are making use of metaphors concept. Immersive storytelling, ward building and unleashing the frank creativity or helping in the franchise building process. It also helps in increasing the number of people that are engaged in these activities. Due to the immersive and interactive experience the concept of storytelling will be enhanced. During the pandemic the media and entertainment segment was supported well. Many performing artists had to play virtual concerts in 2020 due to the strict lockdowns during the pandemic. Insomniac partnered with Roblox. A music event was created with the help of this platform.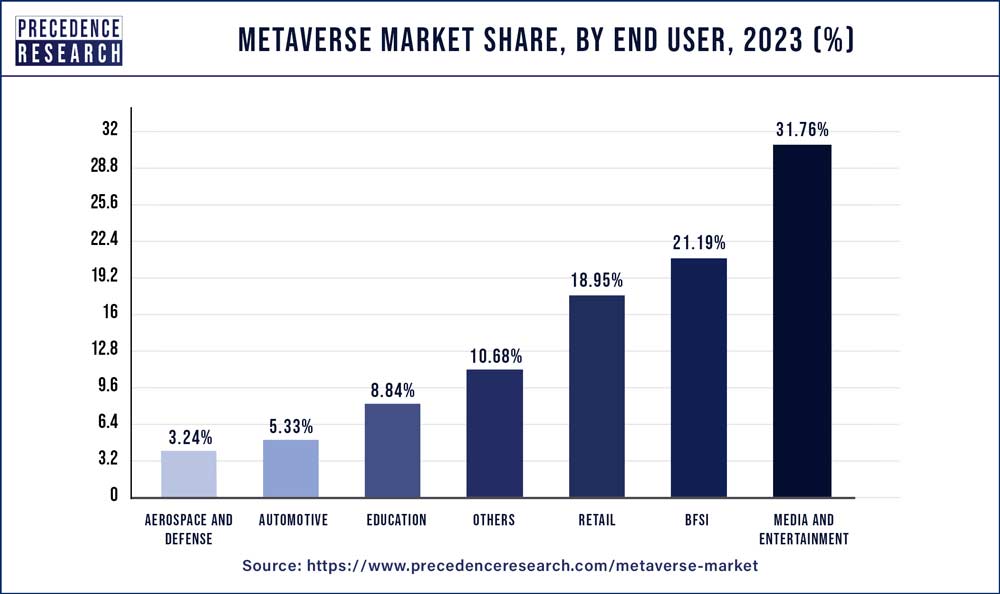 The defense and aerospace segment is also expected to grow significantly during the forecast period. There are many cases of military training for Navy army and Air Force with the help of metaverse which has enhanced the quality of personal training and increase the chances of delivering successful missions. The meter was training of soldiers and other personnel is extremely immersive and entertaining and enjoyable experience. It provides higher engagement and better understanding of the concept which helps in better learning.
Region Insights
The North American has garnered a revenue share of around 37.37% in 2022. Due to the presence of many major companies which are situated in the North American market the market is expected to see a great growth.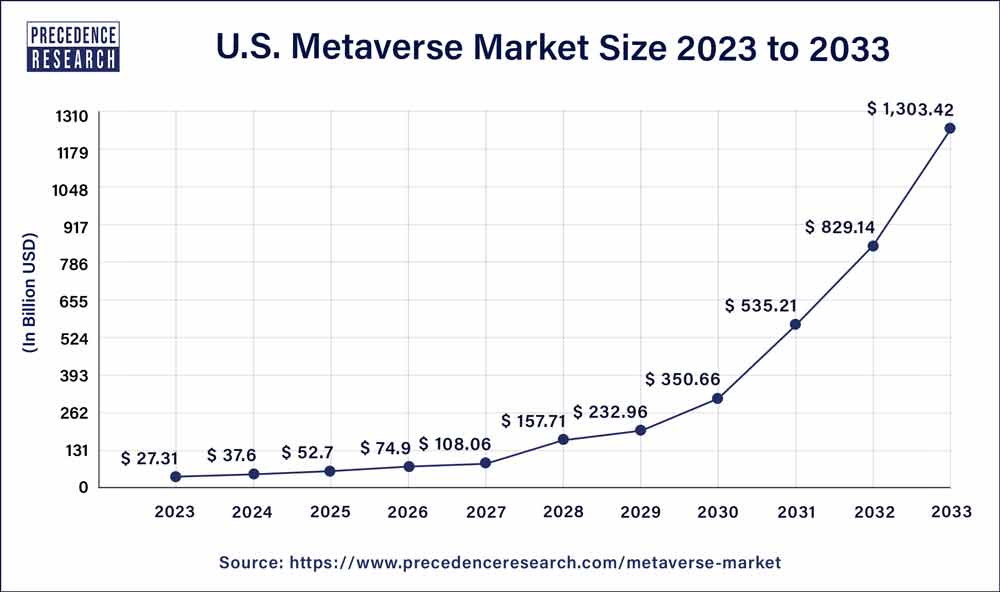 Europe
Europe accounted second among all the regions in metaverse market. The leading country in the region with respect to metaverse is UK which is followed by Germany and France respectively. The existence of companies such as Engine Creative, Blippar, Inde, and Holition that are involved actively in AR/VR sector is likely to fuel the metaverse market growth in the region. The virtual change in the UK is likely to fuel the growth in the country, the country is becoming a hotbed for Augmented Reality devices. The demand with respect to metaverse is likely to increase in the region, particularly from the gaming sector, as UK has one of the biggest video gaming sectors in the globe.
Leaving aside the reality that investing in Europe has its plus sides, which includes access to top universities, good-quality talent, and a big consumer market. Of all the services which could be made accessible in the metaverse, British are most expected to use it for shopping online. Consumers also anticipate to see the brands from which they shop in virtual worlds. Although the metaverse may appear a long way off, but Britishers are most likely to use it in shopping habits in the coming years and that businesses need to be on top of emerging technology.
The Europe metaverse market was valued at $18.04 billion in 2022, and is projected to reach $348.14 billion by 2030, growing at a CAGR of 44.8% from 2022 to 2030.
The UK was the highest contributor to this market, with $5.03 billion in 2022, and is anticipated to reach $94.68 billion by 2030, registering a CAGR of 44.3%.
Germany was valued at $4.45 billion in 2022, and is projected to reach $89.37 billion by 2030, registering a CAGR of 45.5% from 2022 to 2030.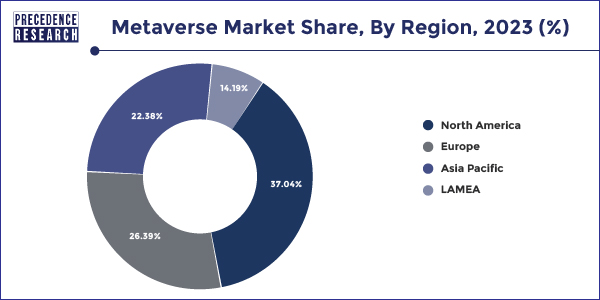 Asia Pacific
The Asia Pacific region is poised to reach at a CAGR over the forecast period. The various academic and research centers which are present in this region are working in order to explore the other potentials of the metals market theater there shall be or rapid and attributable growth in the Asia Pacific region. Due to steady economic developments and increase reduction of the digitization across countries like India China and Japan the market is expected to grow during the forecast period. Technological advancements are favored by the presence of various tech giants, government departments and startups in this region. The presence of robust industrial environment, high commercial value and the technological revolution in the Asia Pacific market relating to the social networking, entertainment, digitization trend, education and gaming are the reasons why the market is expected to grow.
LAMEA
Latin America & Middle East and Africa is expected to hold a significant CAGR in the forecast period. Brazil is the leader here followed by Mexico and South Africa. Participation is becoming increasingly popular with respect to metaverse in the LAMEA countries. Regulators must also achieve an efficient governance structure to form transparency, trust, and accountability around this paradigm-operative technology. The pandemic made digital investments even more important, as everyday activities from schooling to shopping now feature a substantial online component which is here to stay.
Realising both the challenges and the opportunities, governments across the region have placed virtual transformation at the focus of their social development and economic plans. Moreover, South Africa's non-fungible tokens (NFT) and metaverse market is likely to gain traction this year, as more companies dabble locally with immersive technologies to provide revenue and operational improvements. Metaverse and the NFTs are going to bolster, especially in the local entertainment and art areas, in the region.
The LAMEA metaverse market was valued at $9.71 billion in 2022, and is projected to reach $183.96 billion by 2030, growing at a CAGR of 44.4% from 2022 to 2030.
Brazil was the highest contributor to this market, with $2.83 billion in 2022, and is anticipated to reach $52.33 billion by 2030, registering a CAGR of 44.0%.
South Africa exhibits the fastest growth over the forecast time period. It was valued at $1.96 billion in 2022, and is projected to reach $38.90 billion by 2030, registering a CAGR of 45.3% from 2022 to 2030.
Key Market Players
META
NVIDIA Corporation
Epic Games
Microsoft
Snap Inc.
Nextech AR Solutions Inc.
The Sandbox
Decentraland
Roblox Corporation
Qualcomm Technologies, Inc.
Key market developments
In collaboration with videogame platform Roblox Corp Nike Inc launched a virtual world. NIKELAND is the digital space which was launched in November 2021 it allows the players to provide outfits Buddha router with Nike products and it is free of cost for the visit through Roblox.
Facebook changed its name to Meta Platforms Inc In order to reflect the focus and interest on metaphors. Facebook changed its name on 28th October 2021. The company has started working on finding ways to protect the users in the metaverse. It has collaborated with color in tech which is a UK based organization which works on transparent and inclusive Tech economy. This collaboration will facilitate competition and will support new ideas in this field.
Segments covered in the report
(Note*: We offer report based on sub segments as well. Kindly, let us know if you are interested)
By Components
Software

Asset Creation Tools

Programming Engines

Hardware

Haptic Sensors & Devices

Smart Glasses

Omni Treadmills
By Platform
By Offering's
Avatars

Virtual platforms

Asset marketplace

Financial services
By Technology
AR & VR
Mixed Reality
Blockchain
Others
By Application
Aircraft maintenance

Gaming

Online shopping

Social media

Virtual runway shows

Content creation

Others
By End User
Media and Entertainment

BFSI

Retail

Aerospace and defense

Education

Automotive

Others
By Geography
North America
Europe
Asia-Pacific

China
India
Japan
South Korea
Malaysia
Philippines

Latin America

Brazil
Rest of Latin America

Middle East & Africa (MEA)

GCC
North Africa
South Africa
Rest of the Middle East & Africa