The global ambulatory EHR market size was estimated at USD 5.2 billion in 2022 and is expected to surpass around USD 9.44 billion by the end of 2032 with a registered CAGR of 6.2% over the forecast period 2023 to 2032. The North America market was accounted for 43.7% revenue share in 2022.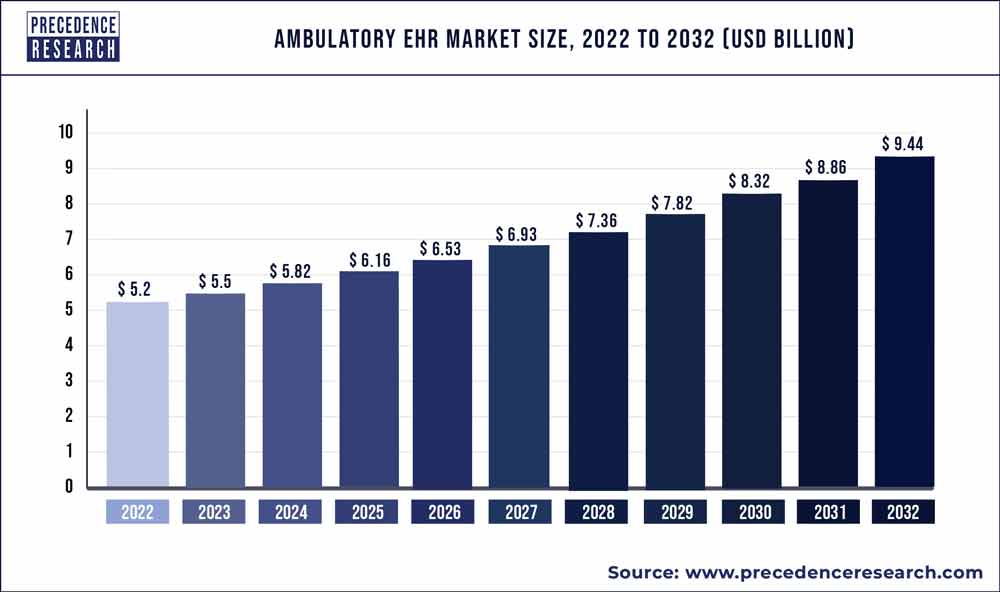 As an alternative to the intricate labyrinth of hospital departmental services, portable electronic medical records (EHR) are created to assist outpatient treatment institutions and straightforward practices. Freestanding Electronic Health Records (EHRs) offer more benefits in long-term care because they continuously monitor the physician's record. Freestanding EHRs incorporate all patient health-related data, including details on illnesses, accidents, as well as other medical issues. This comprehensive picture of data aids doctors in the future diagnosis of diseases and consumer preventative medicine. To connect several specialist clinics for better data gathering, eClinicalWorks and FIGmd, Inc. engaged in a strategic alliance in April 2020.
Significant drivers of the growth of the global outpatient electronic medical record market include increasing demand for physician treatment centers, improved patient information registration for proper diagnosis, an increasingly large birth-rate percentage, and the requirement for earlier detection to lower the prevalence of chronic diseases. Moreover, the requirement for thorough patient data to enhance patient safety, the rise in the demand for smart software products within every growing number of patients, and workflow effectiveness are anticipated to accelerate the adoption of outpatient electronic health records over the projected timeframe. The demand for hospital outpatient electronic health records is being hindered by the high costs of software design and deployment, regular reports of data breaches, ineffective information management systems, the complexity of switching from a traditional to an effective system, and a lack of amiable medical staff.
Growth Factors
A software application called an outpatient electronic medical record (EHR) is made to be used in outpatient treatment environments and smaller organizations. A patient's comprehensive medical information is accessible to medical practitioners and is kept in an online format. All information on surgeries or treatments that don't necessitate hospitalization is generally contained in these papers. The monitoring of a patient's health history and ongoing care is made simpler for healthcare professionals by transportable EHR systems. As a consequence of the collection and analysis of pertinent data about every patient by doctors using this software, extensive databases of the patient's health records are created. This extensive database aids doctors in developing a more thorough grasp of the health of their patients, thereby simplifying subsequent diagnoses.
The growing demand for outpatient treatment over in-patient care among patients increased government assistance for the use of EHR solutions and rising operational costs within the health industry are the main factors propelling the worldwide outpatient EHR market. A few other aspects that provide substantial potential prospects for market players include the incorporation of machine learning and deep learning technologies, as well as the shifting technology backdrop in emerging economies. However, it is anticipated that limitations in IT infrastructures in low-income nations, information security issues, high installation expenses, and hefty investments in infrastructure will to some degree restrain the growth of this industry.
Report Scope of the Ambulatory EHR Market
Report Coverage
Details
Market Size in 2023
USD 5.5 Billion
Market Size by 2032
USD 9.44 Billion
Growth Rate from 2023 to 2032
CAGR of 6.2%
Largest Market
North America
Fastest Growing Market
Asia Pacific
Base Year
2022
Forecast Period
2023 to 2032
Segments Covered

By Deployment Mode
By Type
By Practice Size
By Application
By End User

Regions Covered

North America
Europe
Asia-Pacific
Latin America
Middle East & Africa

Key Market Drivers
EHR solutions are being more widely adopted in mature economies
One of the industries with the quickest growth rates is HCIT, which mostly benefits from regulatory requirements. EHRs are a fundamental part of HCIT. Freestanding EHRs are a computerized representation of ambulatory health records. Demographic information, progress logs, medications, treatment plan, heart rhythms, medical histories, immunization information, lab results, and radiological reports are all provided.
Freestanding EHRs facilitate quick communication and information exchange among healthcare professionals. During the anticipated period, the ambulatory EHR market is most likely to be driven by the growing usage of EHR systems together with subsidies and reimbursement adjustments.
Initiatives by the government to improve patient health information portals
The expanding requirement for an efficient stream of information, technological developments in hospitals, and government attempt to maintain and build patient health information websites are among the factors propelling the development of the ambulatory EHR market. The government is investing more money in customer health information portal development and preservation.
The American federal government has invested much in bringing the healthcare industry into the technological era. Doctors and hospitals who use EMR systems are compensated under such an act. The project also aims to reduce healthcare spending in the United States and preserve improvements in outcomes. Hospital businesses across the nation are also deploying EHR programs to reduce their operational costs. The industry for ambulatory EHRs is expanding as a result of the quick implementation of HCITs.
There are more outpatient facilities and there are more patients
A broad range of surgical treatments are offered by outpatient treatment facilities. These facilities mostly consist of doctor's offices, ERs, and outpatient wings of mobility care facilities. The sector is moving toward outpatient clinics to cut the cost of treatment as healthcare systems come under growing pressure to do so.
Procedures are carried out at outpatient procedure centers in hospital outpatient settings, based on the Ambulatory Surgical Equitable And inclusive (US). The need for and utilization of EHR systems in outpatient clinics is anticipated to rise in the upcoming years due to the expansion of outpatient clinics and the rising patient load.
Key Market Challenges
Establishing a safe communication channel
The landscape of medical security and privacy has expanded as a result of the rising usage of automated EHR technology and the shift toward healthcare unification and medical exchange of information. Due to its wide reach, increasing the electronic interchange of patient records increases accessibility & effectiveness while increasing data liability and risk. Widespread patient data transfers raise the likelihood of security breaches by posing security and privacy threats.
Roughly one-third of data theft within the health industry culminates in clinical identity fraud, which is mostly caused by a lack of control environment around health information, out-of-date rules and procedures, or a failure to follow already-existing ones. IT companies that serve the healthcare sector confront a significant problem in developing a secure messaging platform. Possible security issues with EHR systems in outpatient care facilities could increase user discomfort and prevent their implementation. This presents a significant obstacle for providers of outpatient EHR software.
Key Market Opportunities
The cloud system's innovation has opened up new business opportunities
Healthcare businesses all over the world now have new company abilities and possibilities thanks to the development of the software platform. Providers and customers are increasingly favoring cloud-based systems over on-premise ones. Better patient information interchange, fewer start-up costs, on-demand resource availability, straightforward installation & scalability, and speedy installation are some benefits of cloud-based solutions for medical businesses.
Simple, usable implementations of complex systems are possible
The widespread use of cloud technology in the healthcare sector provides much-needed flexibility for companies to expand globally. The ability of networks to handle increasingly complicated data is enabling the development of interconnections. Large volumes of data will be managed via the cloud, making mobile user architecture easier and enabling the implementation of sophisticated systems in an approachable manner. In the upcoming years, these benefits are anticipated to present considerable growth potential for portable EHR technologies.
Segments Insight
Deployment Mode Insights
The largest portion of the worldwide outpatient EHR industry was catered for by the cloud/web-based installation method category. The main reasons influencing the expansion of this market are the benefits that the public cloud offers, including flexibility, data security, mobility, and reduced system prices compared to on-premise implementation. Implementing an EHR in the cloud gives doctors access to patient records in real-time, which enhances wellness.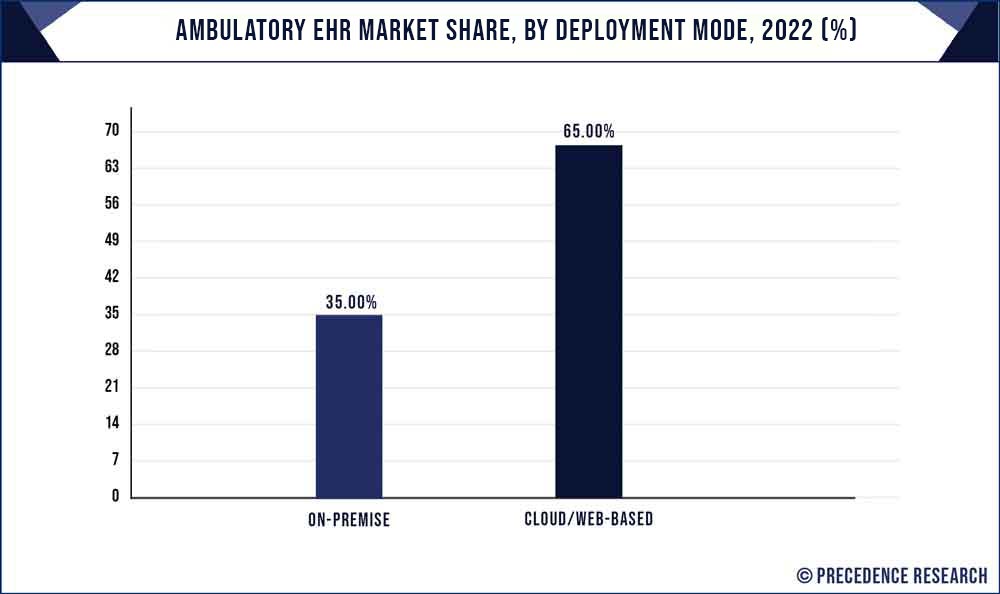 Cloud-based EHR systems are also renowned for their adaptability, enhanced collaboration possibilities, and increased patient security. Furthermore, cloud computing is more secure because it complies with HIPAA regulations. Additionally, a cloud-based EHR program enables more secure patient data than in-house electronic health records and is far less expensive to deploy and operate than an internal EHR system.
Additionally, the launches of many leading competitors place a strong emphasis on such technology-based items. For instance, Somo General Hospital announced in Oct 2021 the adoption of a cloud-based EHR from healthcare IT vendor eClinical Works to enhance clinical decision-making. The abovementioned factors are driving segment expansion, which in turn fuels the outpatient EHR industry's overall expansion over the projection year.
Type Insights
The biggest proportion of the worldwide ambulatory EHR industry was held by the all-in-one segment. The significant market position of such a category is mostly due to elements like user-friendliness, accessibility to all features, and integrated software and hardware integration.
Practice Size Insights
The largest portion of the worldwide ambulatory EHR market was occupied by large practices. The ability of larger practitioners to handle potential productivity, administration, and handling problems brought on by the adoption of new EHR technologies, as well as their financial capability to select from a variety of options, is what is driving this market's expansion.
Application Insights
The industry for ambulatory EHRs worldwide was dominated by the managed services sector. The program's sophisticated capabilities for medical record-keeping, appointment scheduling, and billing chores are what is fueling this market's expansion.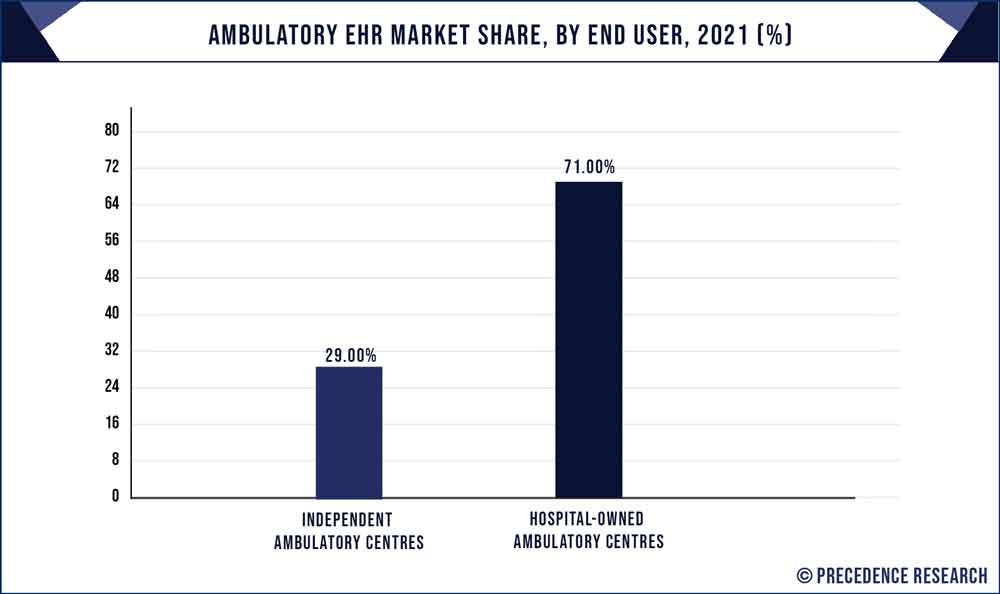 End-User Insights
The sector of hospital-owned outpatient facilities held the biggest market share of mobile EHR globally. Hospital-owned outpatient centers' increased requirement to manage unorganized health information and their acceptance of EHR systems at a higher rate than freestanding outpatient institutes are also factors in the company's size.
Ambulatory EHR Market Share, By Region, 2022 (%)
| | |
| --- | --- |
| Regions | Revenue Share in 2022 (%) |
| North America | 43.7% |
| Asia Pacific | 21% |
| Europe | 26.1% |
| Latin America | 6% |
| MEA | 3.2% |

Regional Insights
The international demand for portable EHR was controlled by North America. Developing government assistance to encourage the use of EHR systems and patients' rising preference for outpatient treatment above hospitalization are the main factors driving the expansion of such a market throughout North America, which accounts for the highest share. The United States had the greatest share of the outpatient EHR industry, and it is expected to keep that position throughout the forecast timeframe.
Europe had the second-highest share. The quick adoption of EHR solutions, the expansion of socialized medicine promotion initiatives, and the country's burgeoning aging people are all factors in Northern America's supremacy.
Asia-Pacific is anticipated to have the quickest growth rate because of the significant investment made in EHR systems from ministries, non-profits, and the financial industry. The population's advancing age and the increased prevalence of chronic illnesses are the driving forces behind development in many nations like China and India. Additionally, there are more medical doctors and outpatient treatment services available in the region thanks to a stronger hospital network as well as a training course.
Recent Developments
To change treatment and advance enhanced health outcomes among the more than 1.8 million individuals it serves across 20 varied areas, MEDITECH (US) & Fraser Healthcare (Canada) joined in Apr 2022.
To include Nuance's Dragon Ambience itself into Millennium EHR, Cerner Corp (US) increased its partnership using Nuance Communication, Incorporated in Mar 2022.
On January 20, 2022. Essential Healthcare (US), as well as Epic Technologies Corporation (US), collaborated to integrate the payer portal of the EHR supplier to simplify client data sharing with physicians, decrease healthcare costs, & enhance membership quality care.
As a leader in cloud-based portable electronic medical records, iPatientCare attended HIMSS19 in Feb 2019 to showcase their ONC Healthcare IT Accredited HER.
Aprima Healthcare Software, a top supplier of Electronic Medical Record systems, Practice Management, & Revenue Cycle Administration solutions to ambulatory surgery companies, was acquired by eMDs, Inc. in Jan 2019.
To link multiple specialist clinics for improved data gathering, eClinicalWorks and FIGmd Inc. engaged in a strong partnership in Apr 2018.
Key Market Players
AdvancedMD, Inc. (U.S.).
Allscripts Healthcare Solutions, Inc. (US)
Amazing Charts, LLC (The U.S),
Athenahealth (The U.S),
CareCloud, Inc. (The U.S),
Cerner Corporation (US)
Computer Programs and Systems, Inc. (US)
CureMD Healthcare (The U.S),
DrChrono (The U.S),
eClinicalWorks (The U.S),
eMDs, Inc.
Epic Systems Corporation (US)
General Electric Company
Greenway Health, LLC (The U.S),
Healthland
Kareo (The U.S),
McKesson Corporation
Medical Information Technology, Inc. (US)
Medical Transcription Billing Corporation
Modernizing Medicine, Inc.
Netsmart Technologies (The U.S),
Nextgen Healthcare Information Systems LLC
Practice Fusion Inc.
QSI Management, LLC
Segments Covered in the Report
(Note*: We offer reports based on sub-segments as well. Kindly, let us know if you are interested)
By Deployment Mode
Cloud/Web-based
On-premise
By Type
By Practice Size
Large Practices
Small-to-medium-sized Practices
Solo Practices
By Application
Practice Management
Patient Portals
Computerized Physician Order Entry (CPOE)
Clinical Decision Support (CDS)
Referral Management
Other Applications
By End User
Hospital-owned Ambulatory Centres
Independent Ambulatory Centres
By Geography
North America
Europe
Asia-Pacific
Latin America
Middle East & Africa (MEA)